Crave Interactive Named 2018's Top Rated Guest Room Tablet Provider in the HotelTechAwards
By Hotel Tech Report / Guest Room Tablets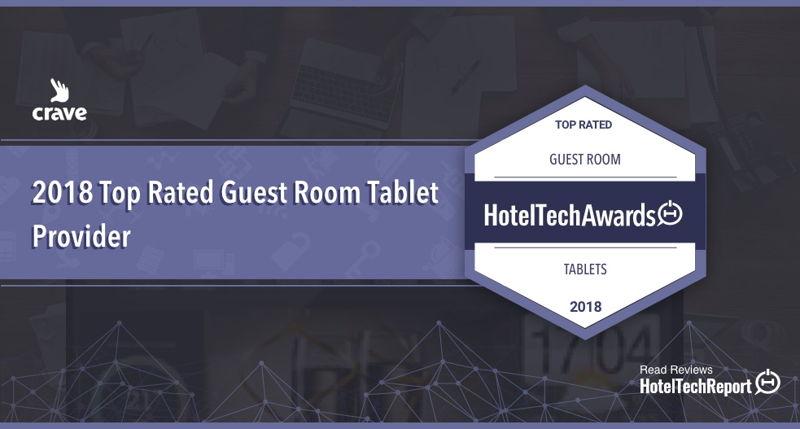 February 12, 2018 - Hotel Tech Report has named Crave Interactive 2018's top rated Guest Room Tablet provider based on data from thousands of hoteliers in more than 40 countries around the world. Over 100 of the world's elite hotel technology products competed for a chance to win this prestigious title.
The HotelTechAwards platform (by HotelTechReport.com) leverages real customer data to determine best of breed products that help hoteliers grow their bottom lines.
"In the age of smartphones and smarthomes guests increasingly expect their hotel rooms to be smart, too. Tablets not only provide a frictionless control experience for guests upon arrival but have been proven to drive increased ancillary revenue and incredible ROIs. Las Vegas hotels have historically been technology mavens because of their immense profitability, scale and technical requirements. The Vegas market has understood the importance of in room tablets for years, now we're seeing venture capital flood into the space and Crave is well positioned to capitalize on the trend," says Hotel Tech Report's Adam Hollander.
Crave Interactive is poised for sustained growth in 2018. Hoteliers frequently cite Crave's increasingly dominant market position globally. While the company's foundation is in the U.K. they've got installations across the USA, Panama, Costa Rica, St Lucia & Mexico. Scaling a hardware business globally is no easy feat and Crave has executed with precision.
Crave also has leading integrations with platforms like HotSoS (by Amadeus) and Quore to streamline guest service culture on property.
To read the full review and more, head to Crave's profile on Hotel Tech Report