The 10 Best Places to Work in Hotel Tech 2018
By Jordan Hollander
Last updated October 28, 2022
8 min read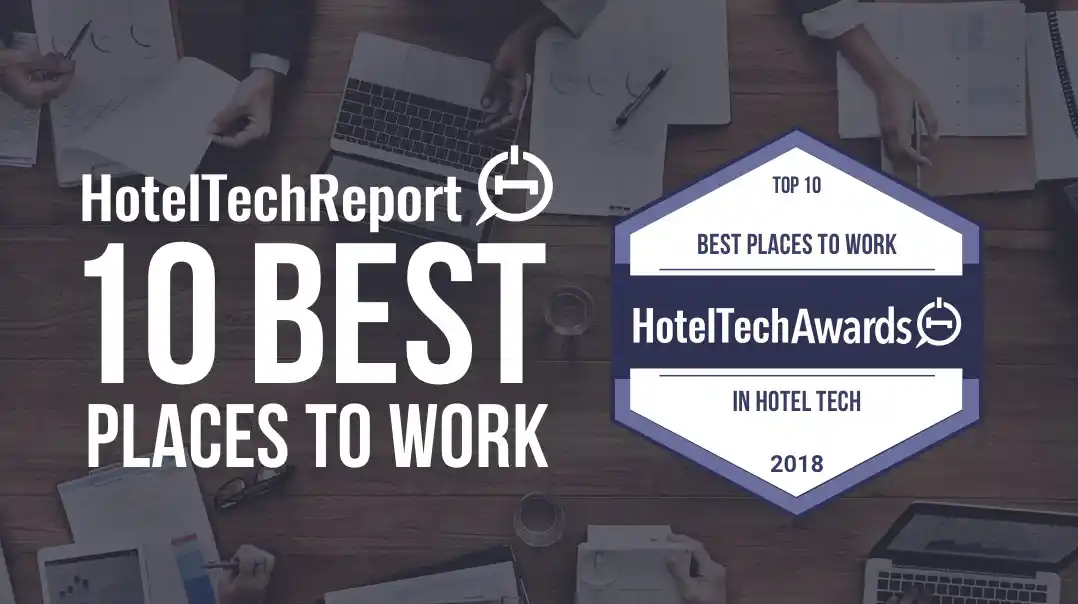 Behind every great product, there is a great company.  Great companies excel at fostering work environments where employees prioritize collective interests over their individual needs.  Community, in effect, is the key ingredient to creating a successful business.  When employees connect to a mission, they work harder.  When they believe in the execution of that vision, there is no mountain too tall and no challenge too cumbersome.
Culture is equally important for employees as it is for customers.  Culture and workplace satisfaction is an indicator of the business' longevity and determines the pace of product development.  It also lets you know whether you'll have a new customer success rep every few months who needs to get up to speed with your account or one that's there for the long haul.  As a technology buyer, gleaning insights from suppliers' employees can often help you make better hotel technology buying decisions.
Creating this kind of office culture is one of the hardest things about creating a business and it's also the most important.  Perhaps the only thing harder than creating a great culture is maintaining that culture over time through different phases of a business.  Our team surveyed (methodology here) thousands of hotel tech employees around the world about what it was like inside the operations of the industry's greatest companies and are thrilled to announce 2018's "10 Best Places to Work in Hotel Technology".
#10 Travel Tripper
Products: Digital Marketing Agencies, Central Reservations Systems, Booking Engines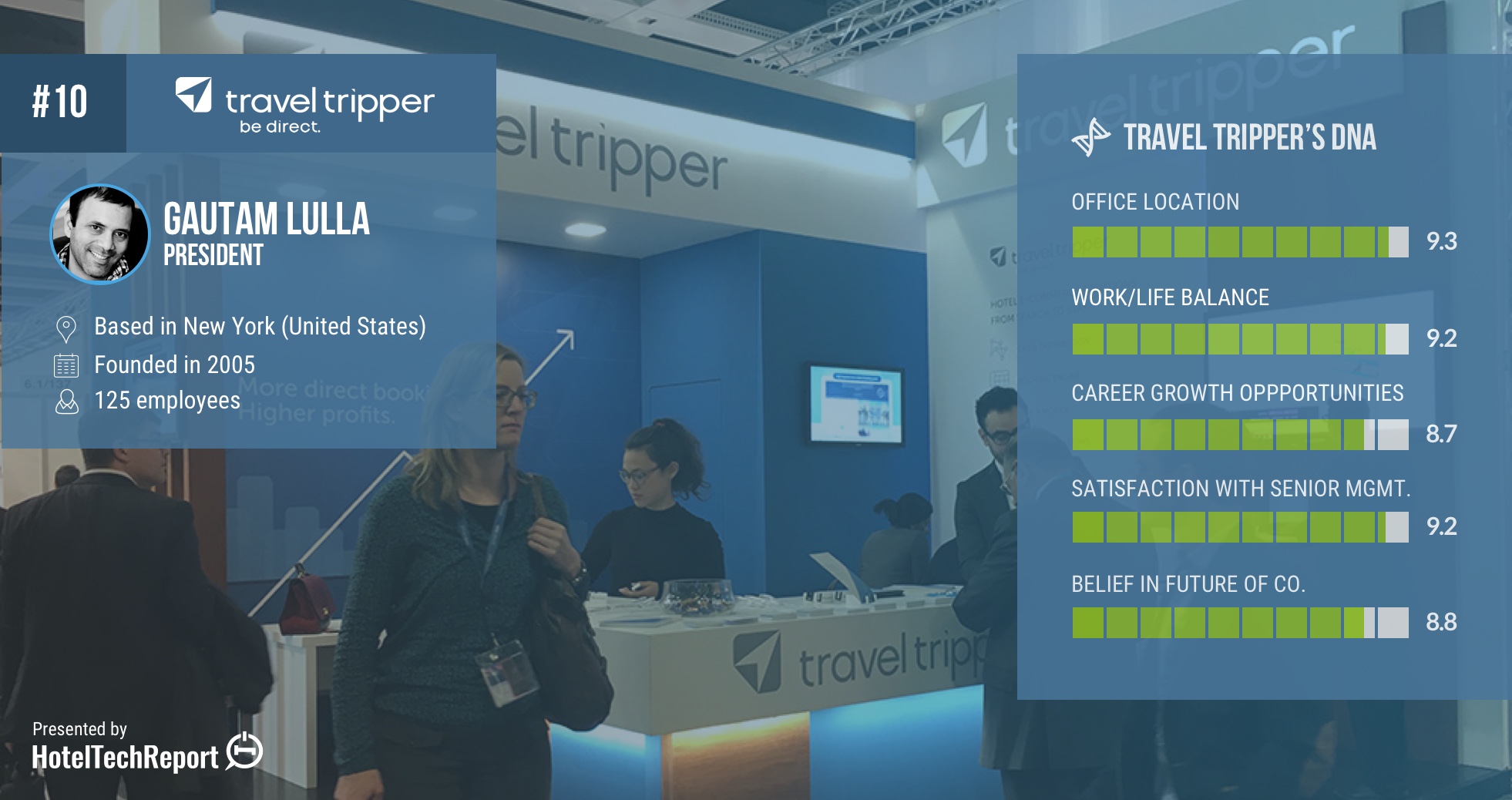 In the early 2000's Highgate Hotels management found themselves frustrated with legacy hotel distribution software so they decided to create their own software company - Travel Tripper was formed.  The Company is known for putting out killer content and thought leadership like their 2017 Google Eye Tracking Study.  Content this good doesn't come without collaboration - marketing, sales, tech and product all work closely to ensure that TT content is in a league of its own.  Great content helps to not just demonstrate their expertise to prospects but is also a huge benefit for clients.
While Travel Tripper is technically headquartered in the U.S., the majority of it's staff is actually based in India so it's a very global organization.  Despite the dispersion, employees across the board praise the business for having a flat organizational structure that fosters a sense of empowerment and creates lots of growth opportunities for their careers.
Related article: Travel Tripper's founding story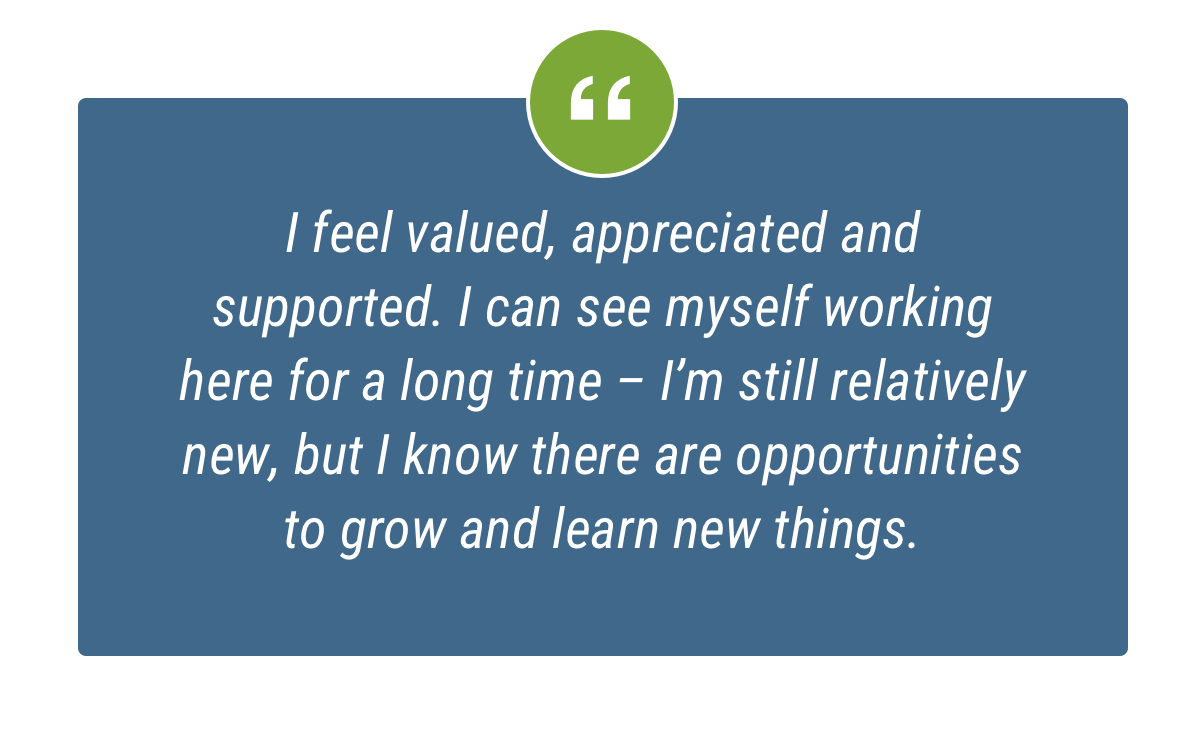 A remote employee working internationally hit the nail on the head, "After changing jobs a few months ago, I actually want to get out of bed every morning. Working at Travel Tripper and interacting with my colleagues has given me the boost that I needed to just enjoy life. I feel valued, appreciated and supported. I can see myself working here for a long time - I'm still relatively new, but I know there are opportunities to grow and learn new things."

#9 Amadeus Hospitality
Products: Sales Software (#1 rated), Staff Task Management, Central Reservations, Property Management Systems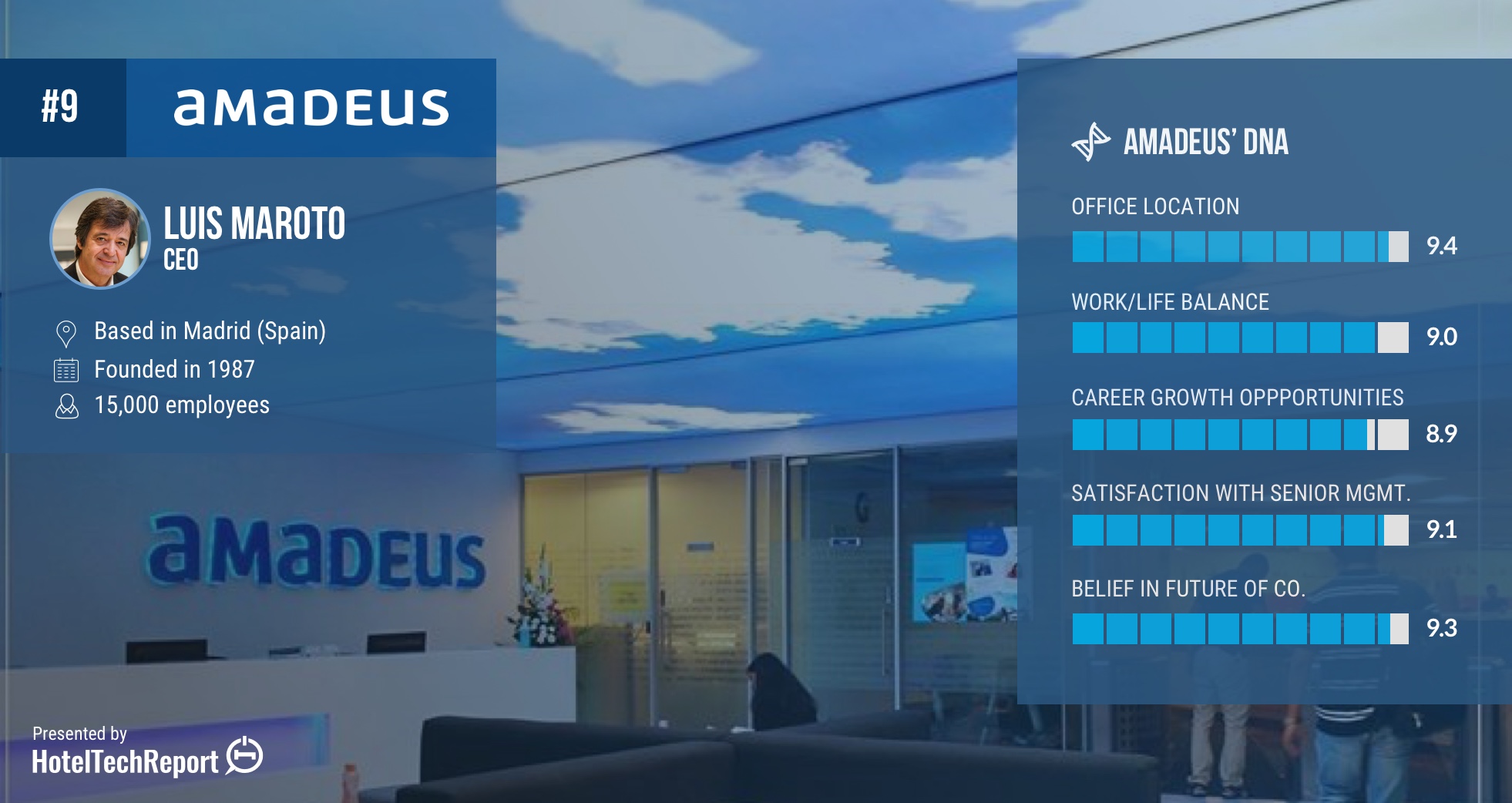 Hospitality juggernaut and publicly traded company Amadeus needs no introduction.  Many times when companies grow through acquisitions it becomes incredibly difficult to orchestrate a healthy or even consistent culture but that doesn't seem to be the case for Amadeus. Amadeus employees rave about tasty office snacks and the inspiring speakers that come through the office. They come to work to dominate the industry but stay because it feels like a big family.
Perhaps the most notable commentary we heard about Amadeus lies in the unique organizational structure.  Despite being a massive company, Amadeus keeps it's teams small so everyone feels ownership and responsibility for their workstreams.  If you're looking for a bureaucratic corporate environment, this probably isn't the place for you as Amadeus works hard to give these teams autonomy.  This is paying off as employees feel valued and engaged.
Related article: Learn how Kevin Brown went from Guest Services to Amadeus Product Marketer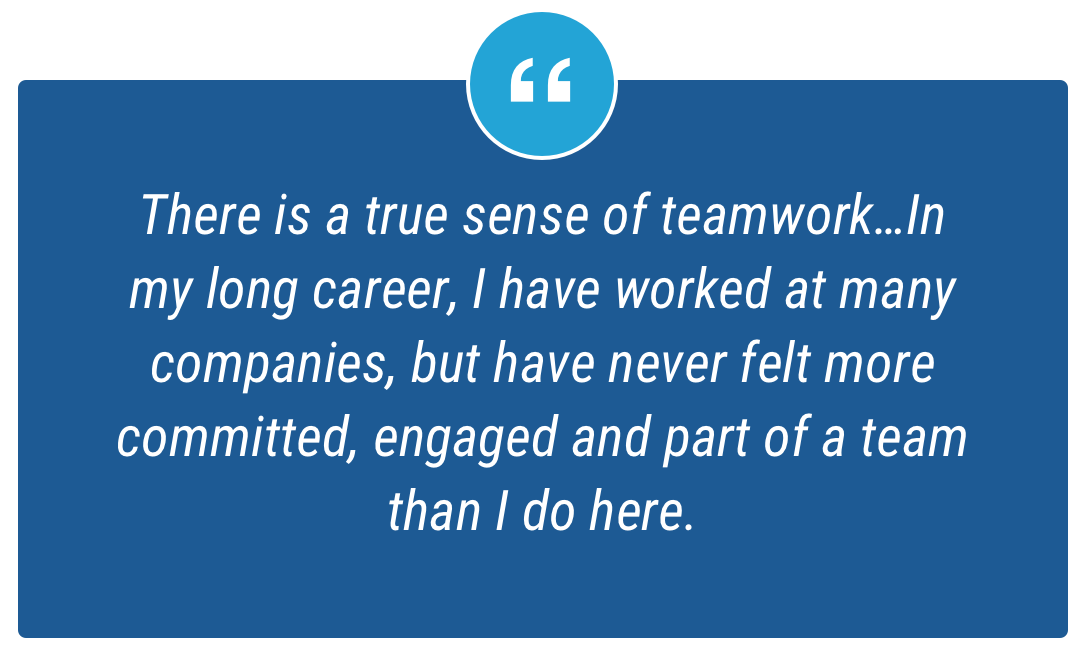 "I really enjoy the people I work with. There is a true sense of teamwork; we all do our best to help our colleagues succeed. Managers on all levels encourage and respect input from their team. In my long career, I have worked at many companies, but have never felt more committed, engaged and part of a team than I do here," says one Amadeus employee.

#8 Clock Software
Products: Property Management Systems (#1 rated)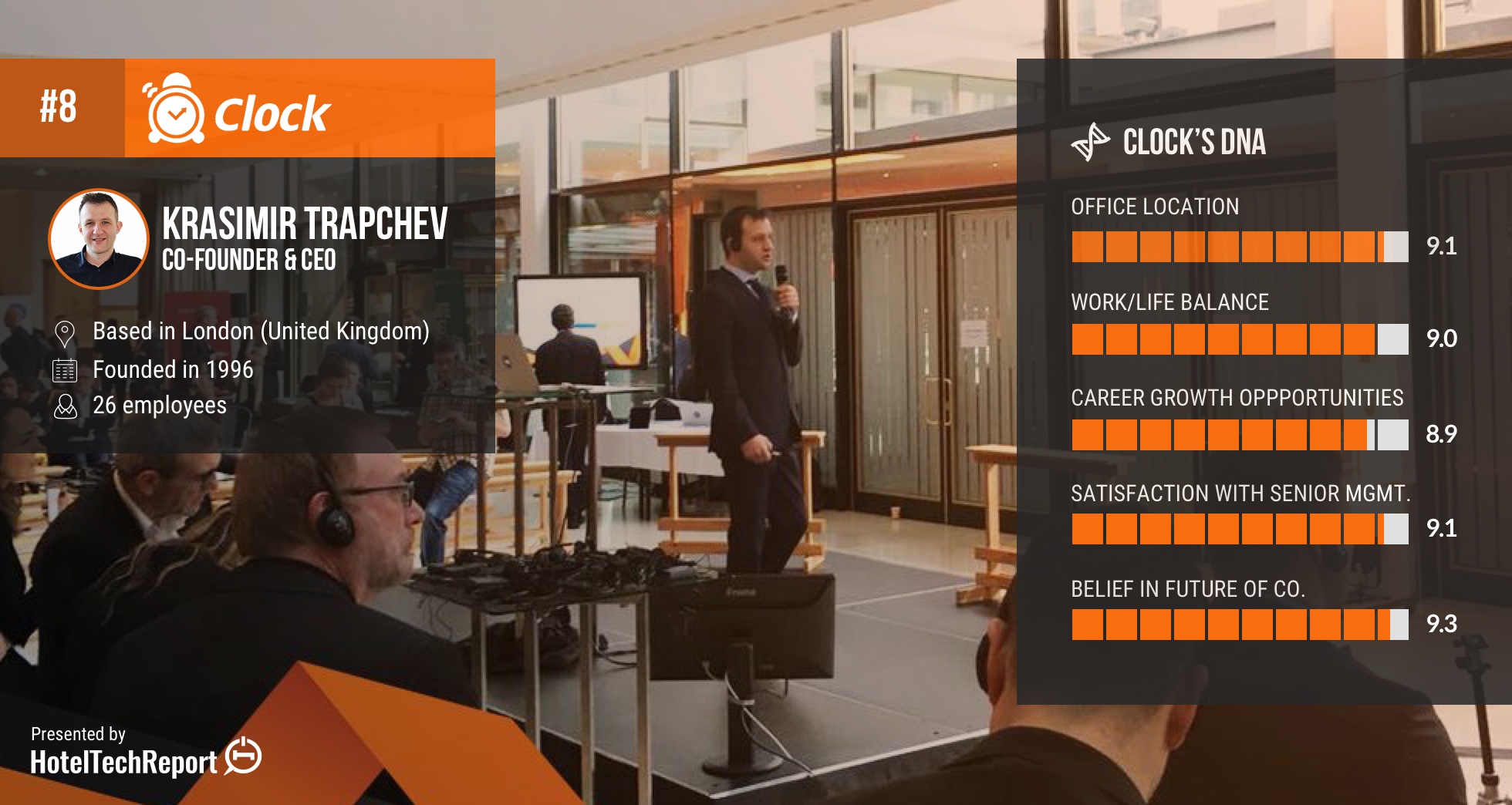 CEO Krasimir Trapchev runs a tight ship at London based Clock Software.  Trapchev has been in the game for 20 years after founding the business in 1996 but you wouldn't know it from the way employees talk about the company.  Clock employees describe the company's culture as "fun", "creative" and "youthful." Let's be honest, these words aren't usually used to describe companies that have been in business for that long.
Even more importantly than a fun culture is one in which employees feel supported.  Clock employees rave about the way their peers support them through both business and personal problems - Clock is a team in the truest sense of the word.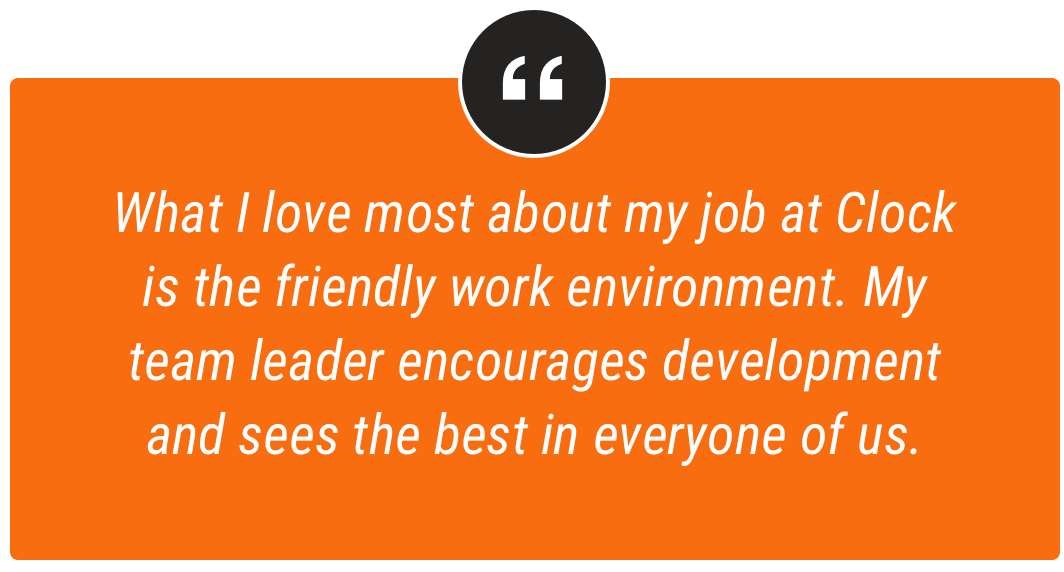 When asked what makes Clock a special place to work, one software specialist on staff told us "What I love most about my job at Clock Software is the friendly work environment. My team leader encourages development and sees the best in everyone of us. The workmates are also great professionals you can always rely on."
#7 The RainMaker Group
Products: Revenue Management, Market Intelligence (#1 rated), Business Intelligence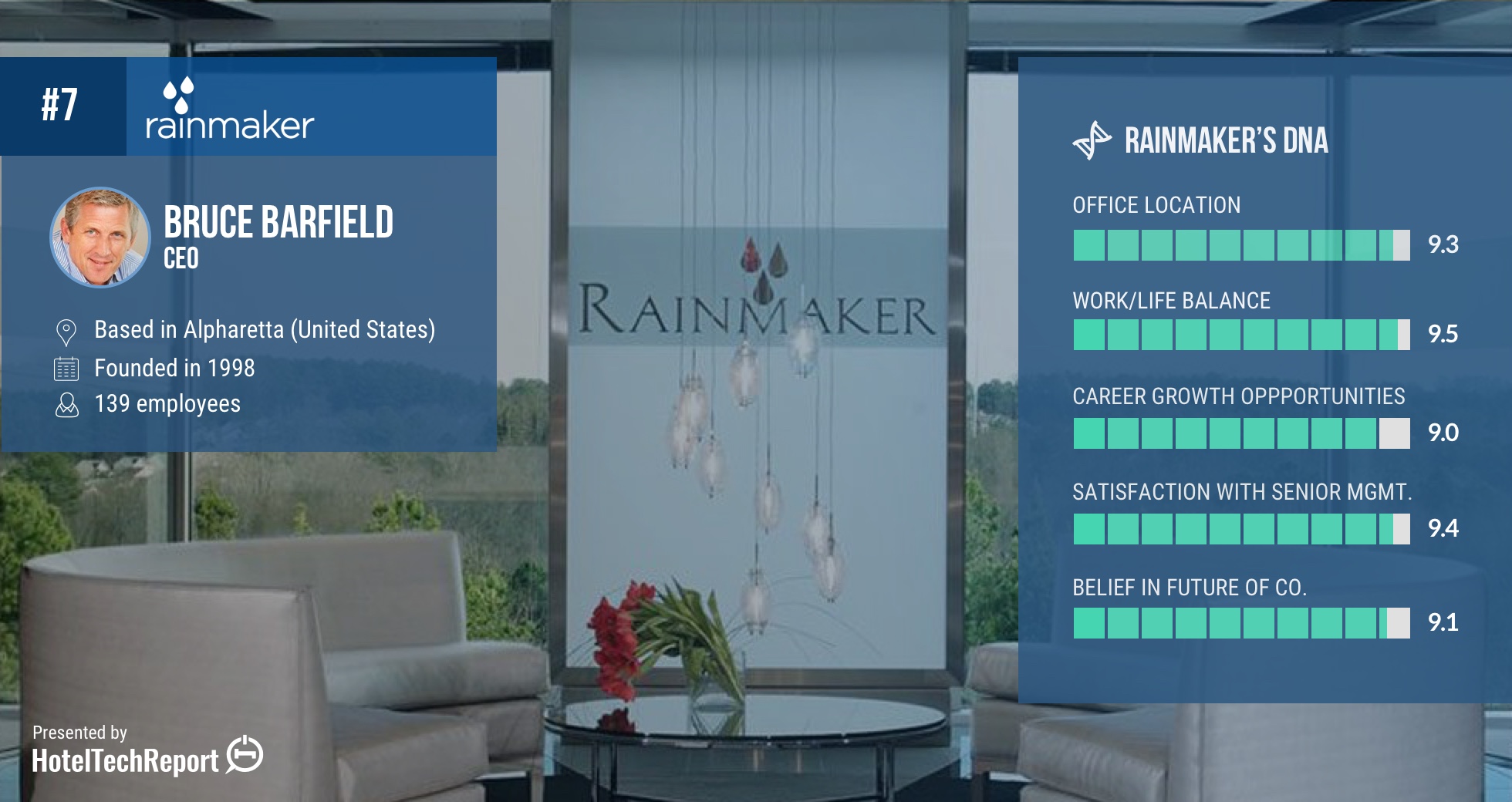 The Rainmaker Group is the second to largest company that made our 2018 list and also the only business lead by a female founder (c'mon hotel tech!).  We hope that with Tammy Farley as inspiration, more women entrepreneurs and managers to jump into the space for our 2019 list.
"Rainmaker is a fast-paced environment where I get to make a daily impact as an individual employee.  That's an empowering attribute. Not every job out there gives you a direct sense of accomplishment" said one RainMaker employee.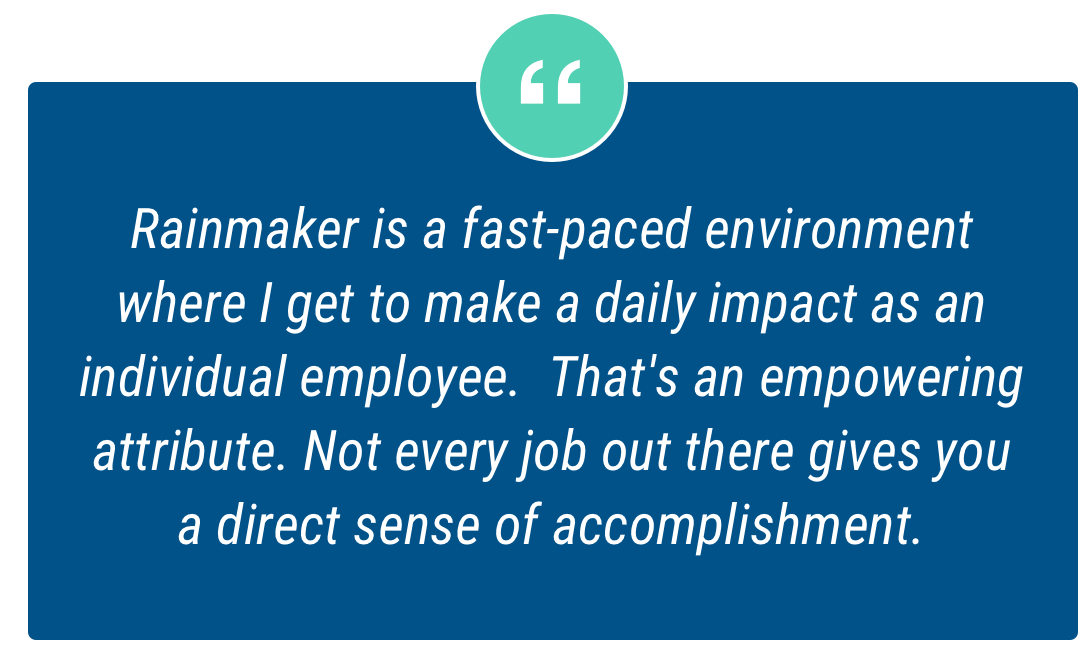 Free lunches 3 days a week is great, but coming into work knowing that your work (and your mind) are valued by management is office nirvana.  Lucky for RainMaker staff, they've got both in spades.

#6 Cloudbeds
Products: Property Management System, Booking Engine, Channel Manager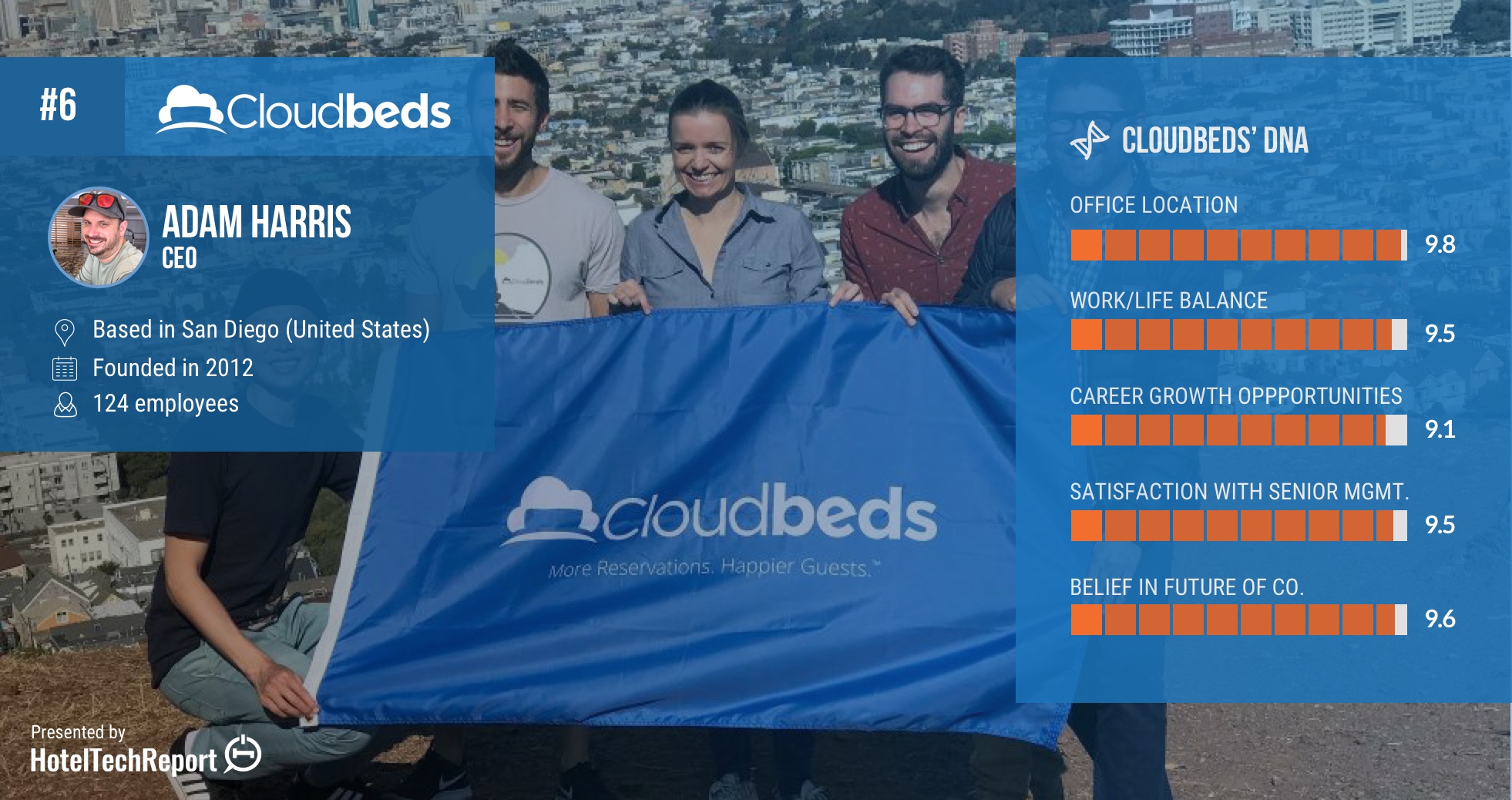 Cloudbeds' Adam Harris has obsessively worked to build a global organization that is designed to scale (read more about it here).  Cloudbeds has both embraced the efficiencies of remote work with employees in 23 countries and laid its flag with official offices on several continents.  It's no wonder that Cloudbeds employees rated the company higher than any other company we surveyed when asked about office location.
An employee working out of the Philippines told us, "My favorite part about coming to work everyday is being part of an amazingly driven team that feels like a family, even though we work all around the globe. There's something really special about working with people who genuinely care about our customers, and share a common goal across so many different cultures."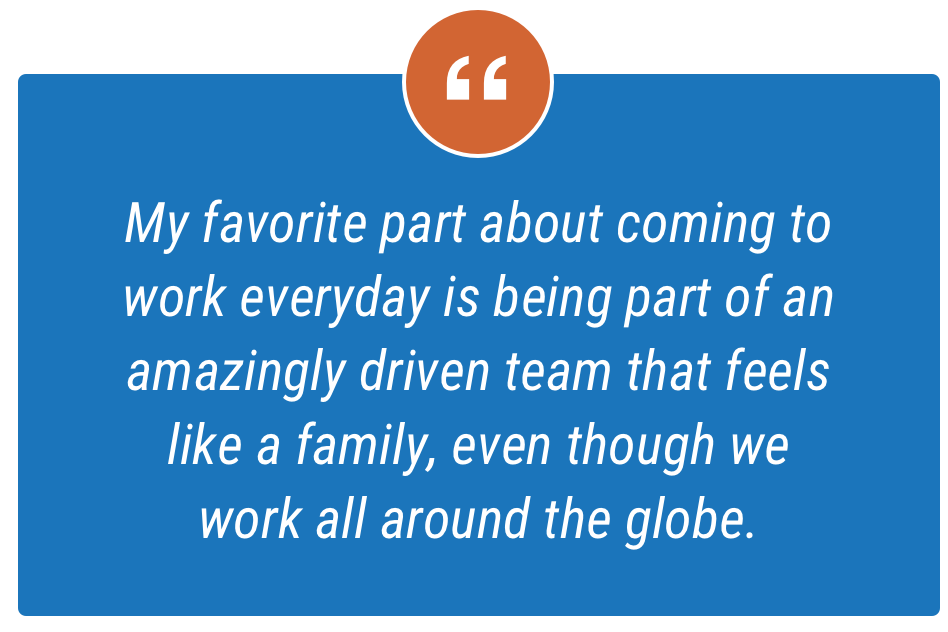 Cloudbeds encourages its employees to travel and work from anywhere since after all - travel makes them better at their jobs!  The Company has even rented apartments full time to encourage colleague connectivity.  True to its DNA the Company leverages technology to quickly communicate and manage processes around the world.  If you're a millennial wanderlust who loves creating great products, traveling and connecting with people from around the world - you'd be a fool not to take a peek at the open jobs at Cloudbeds.

#5 Kipsu
Products: Guest Messaging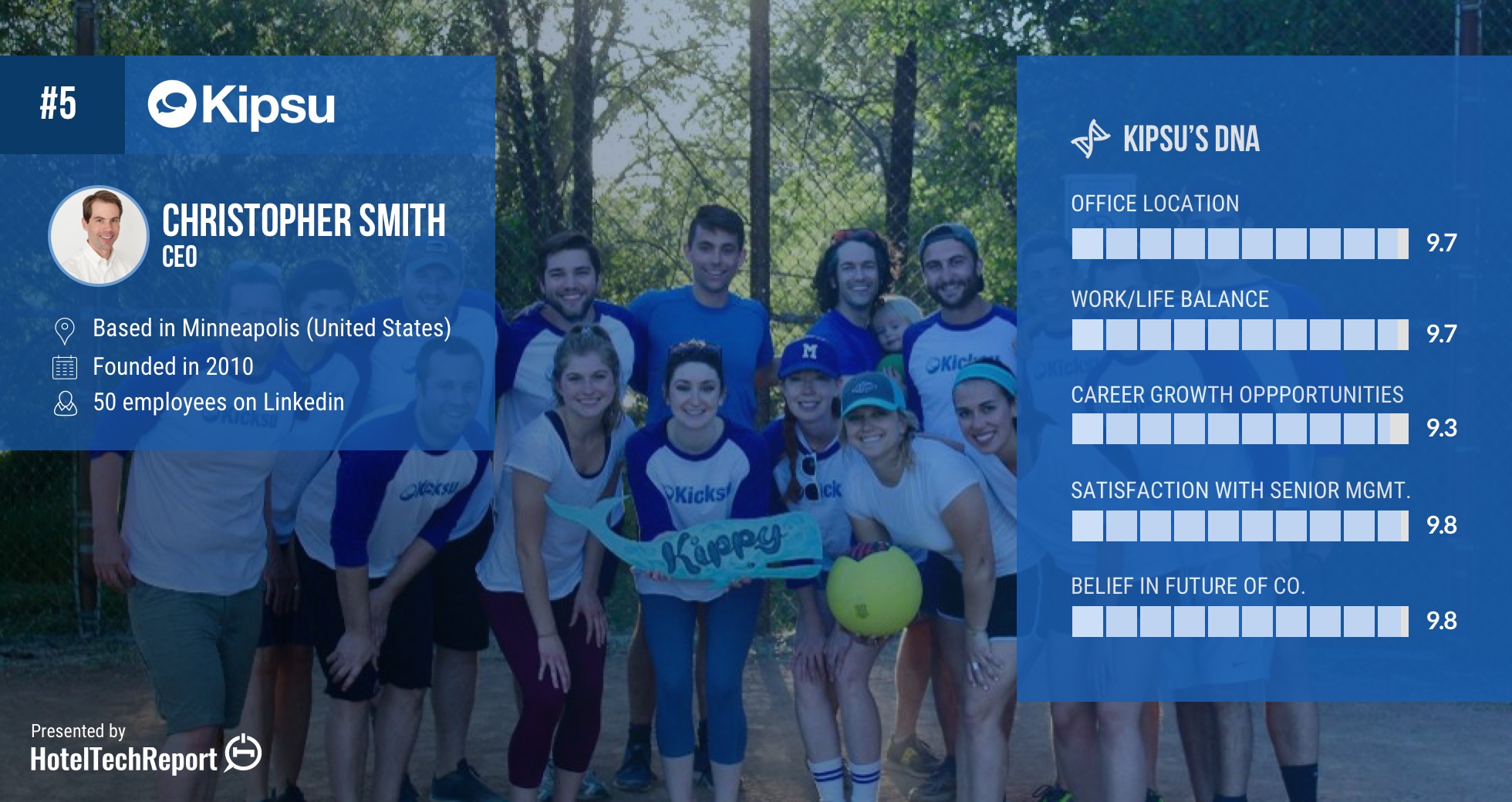 Chris Smith is a seasoned operator and former venture capitalist turned entrepreneur.  Chris is precisely the kind of leader that VCs look for in portfolio companies but decided he didn't want to take much of OPM (other people's money).  Chris and Kipsu co-founder Geoff wanted to build the business their way and they've reaped handsome rewards for taking the path less traveled.
The team has bootstrapped its way to nearly $5M in annual sales, no easy feat.  Even more impressive is they did it all while creating a work environment that employees love.
Chris attributes this success to the firm's recruiting process, "One of the advantages of being based in Minneapolis rather than Silicon Valley is that our talent pool is more naturally inclined to long term commitment. They are not seeking a jump to the next Facebook around the corner."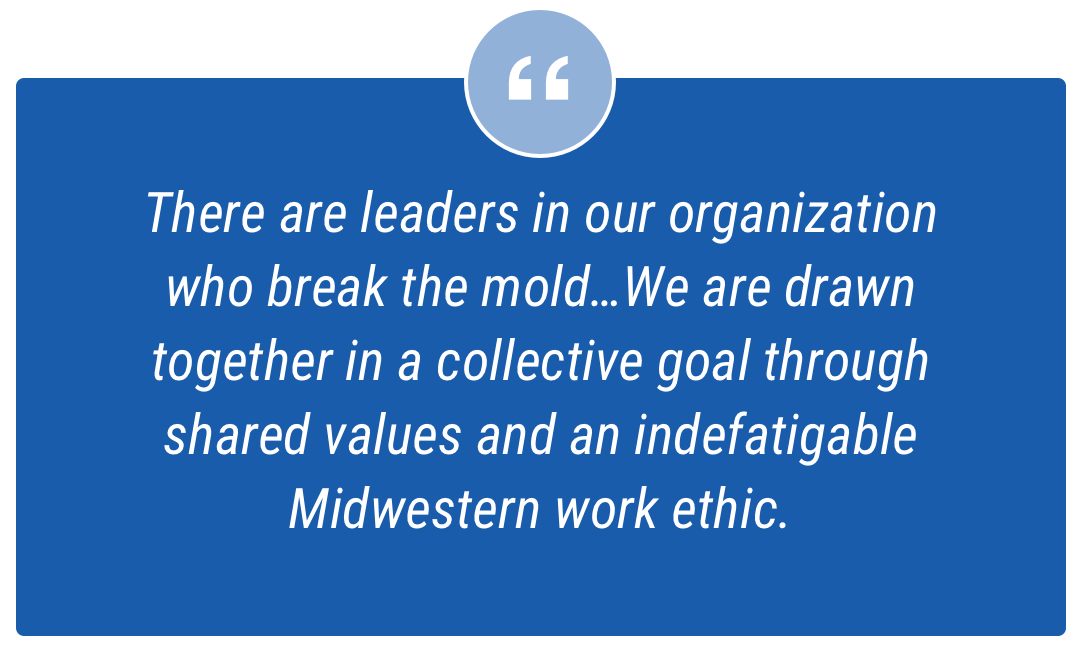 Betting for the long term has paid off.
Kipsu employees are certainly taking notes from leadership, "There are leaders in our organization who break the mold and because of that are able to provide something for our team that truly no other company and certainly none of our peers can. We are drawn together in a collective goal through shared values and an indefatigable Midwestern work ethic."

#4 Quore
Products: Staff Task Management, Housekeeping (#1 rated), Engineering, Messaging, Sales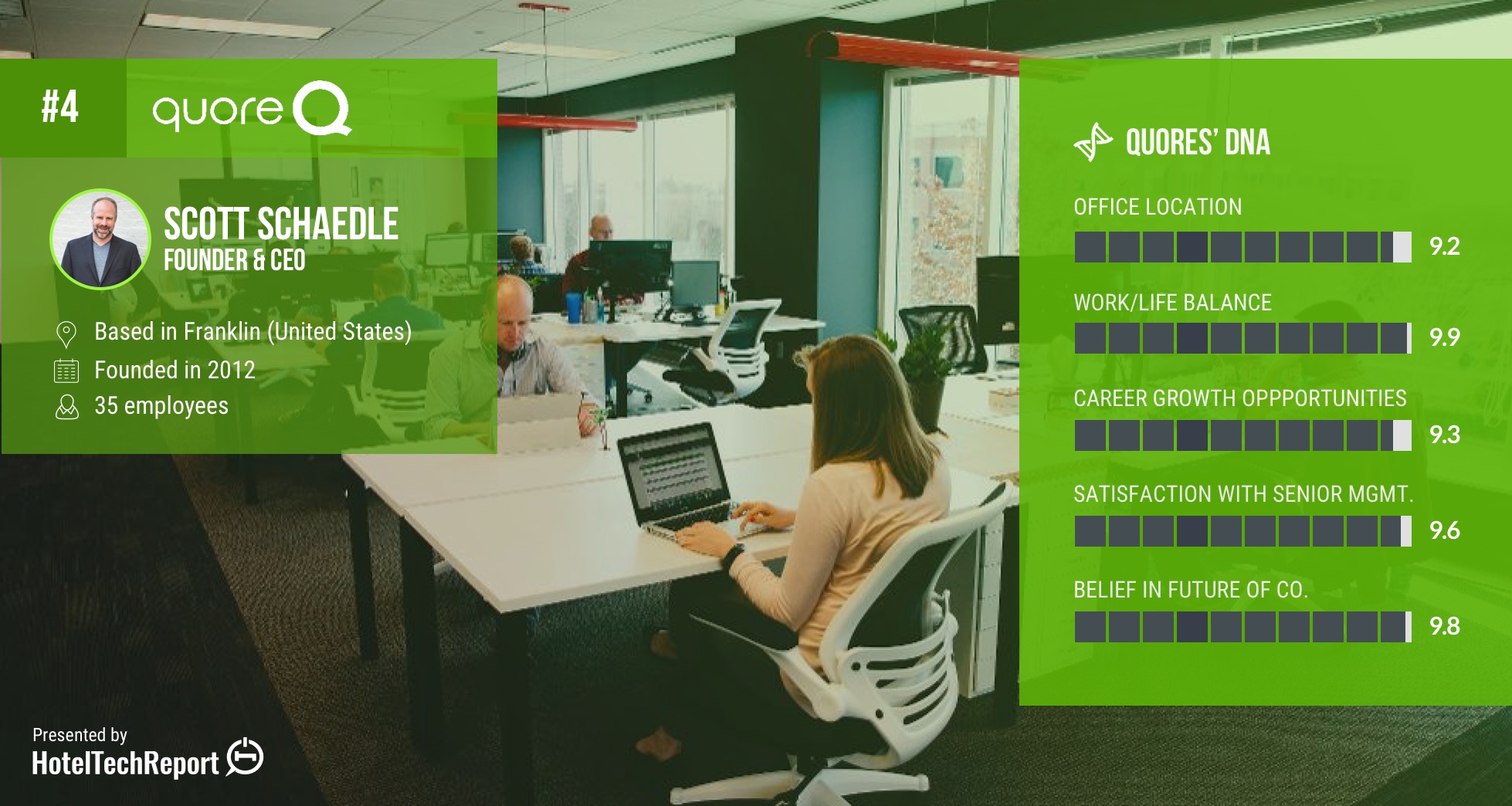 Quore is the poster child for the idea that a great culture creates great products.  It seems that Quore employees love coming into work as much as hoteliers love their top rated housekeeping software for hotels.
The Hotel Tech Report team had a lot of fun learning about the culture where employees often playfully refer to themselves as part of one big quirky and eccentric family - rock on, team Quore!
One of the things that can slow down a company such as Quore that is experiencing hockey stick growth is when the entrepreneurial spirit fades.  With Quore, it seems that entrepreneurial spirit and autonomy is only getting stronger - a sign that hoteliers should be paying close attention to the developments coming out of this Nashville based firm.
As a longtime Quore employee puts it, "I feel supported and appreciated for the work I do. I feel I have opportunities to be entrepreneurial and those ideas are taken to heart, and I'm given the agency to pursue them."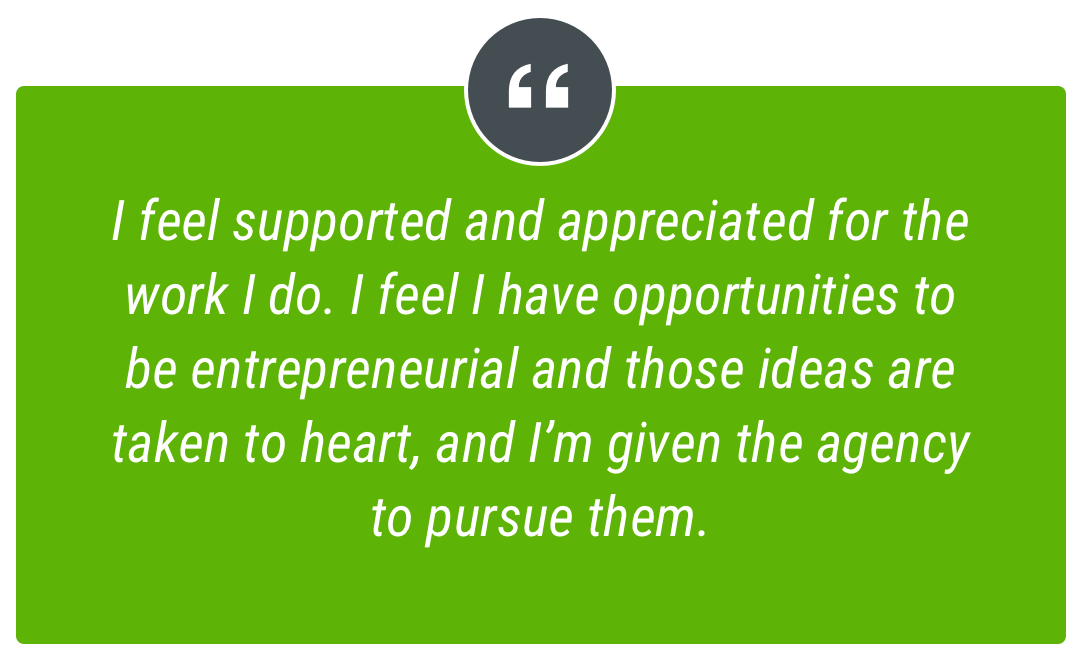 CEO Scott Schaedle is really driving an incredible startup culture.  Kudos to you Scott on clearly having built a well oiled machine for hiring like minded and passionate operators.

#3 ALICE
Products: Staff Task Management, Concierge (#1 rated), Guest Messaging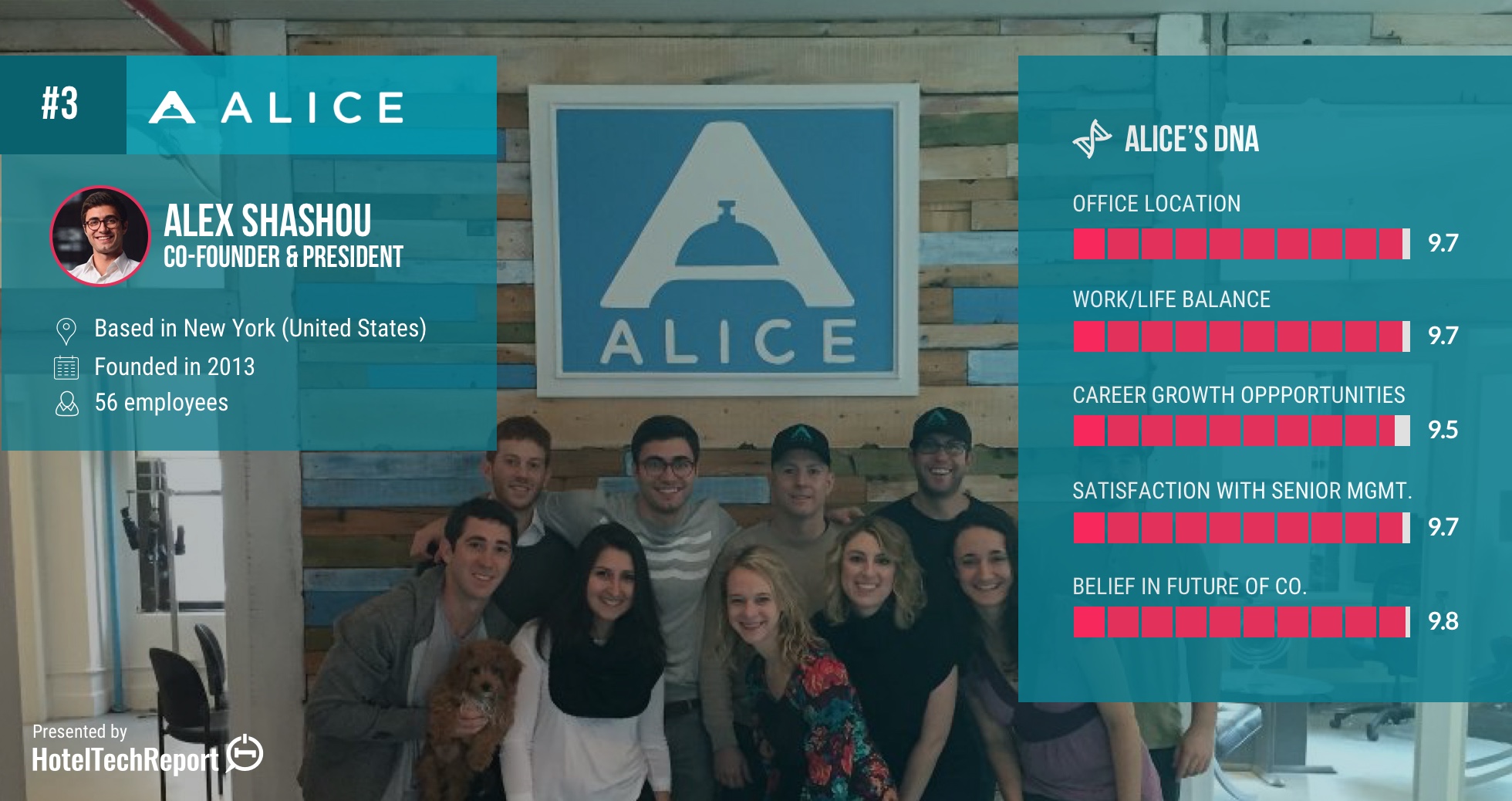 They say that startups get made or broken by the depth of talent amongst founders - perhaps that's why Expedia backed ALICE has made it - big time.  Justin is the money guy, Alex the marketing visionary and Dmitry the technical mastermind.  Together they've taken the hotel world by storm and really changed the game for what a hotel technology company should look like.
Swanky New York City office, check.  Rockstar investors with unlimited money and power, check.  It's no wonder that ALICE was amongst the highest ranked when we asked hotel tech employees about how much confidence they had in the future of their respective employers.  ALICE got nearly 100% participation rates amongst employees, a testament to the strong leadership and initiative that's enabled them to redefine their category.
Related article: ALICE wins #1 best place to work in hotel tech 2019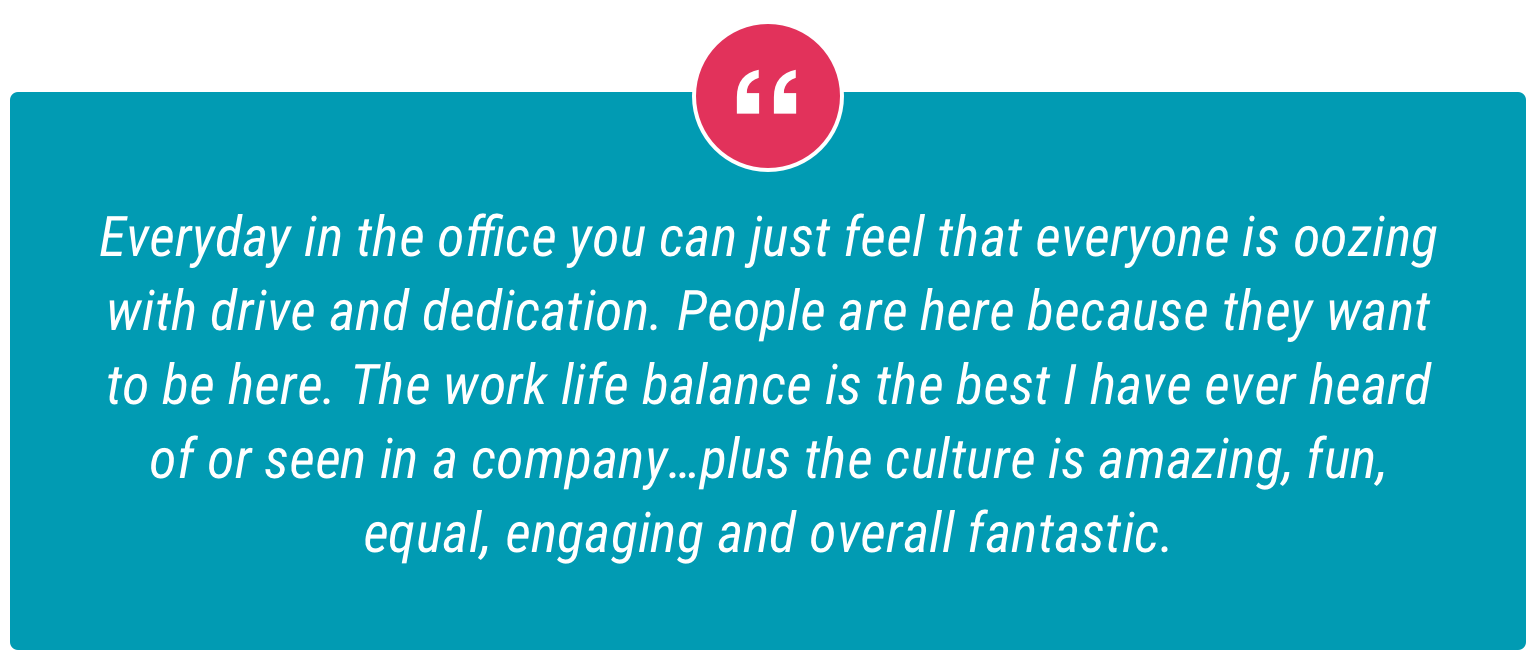 "Everyday in the office you can just feel that everyone is oozing with drive and dedication. People are here because they want to be here. The work life balance is the best I have ever heard of or seen in a company...plus the culture is amazing, fun, equal, engaging and overall fantastic," says one ALICE employee.
ALICE employees have autonomy to work from home when needed because management trusts that they've hired a team who will stop at nothing to become an industry standard in short order.

#2 Koddi
Products: Social Media Tools (#1 rated)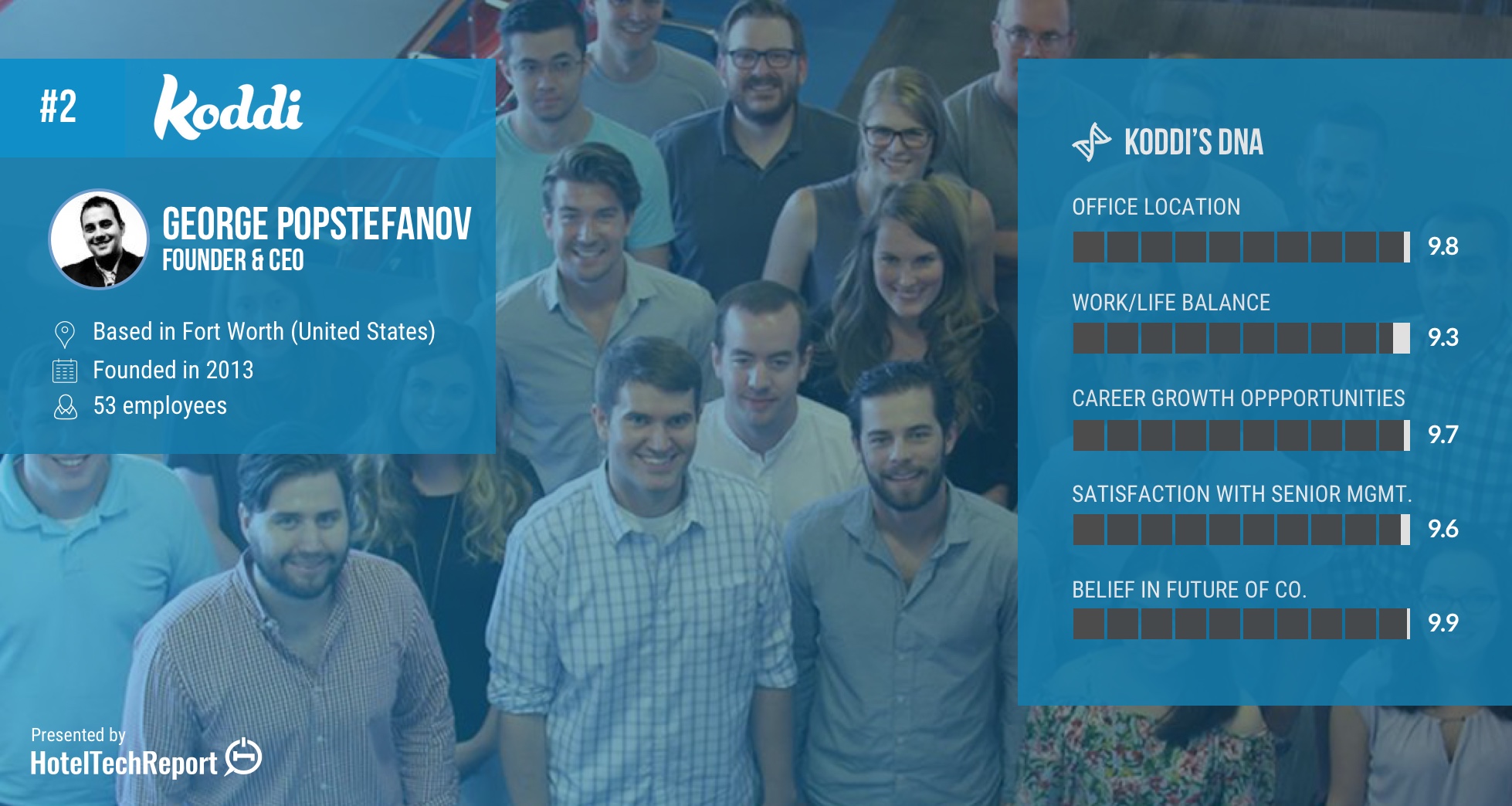 Texas based ad tech maven, Koddi grants employees gym membership reimbursement and an unlimited vacation policy with wellness at the core of its HR strategy.  Koddi is an advanced reporting, bid management and campaign intelligence platform for metasearch - hoteliers looking to save time and improve ROI should look no further than 2018's top rated metasearch management software.
Ad tech is a fast paced business, one that Koddi employees thrive on.  "I love that everything that I do matters and impacts the bottom line. The speed with which we can implement ideas means that if you have a great idea on Monday, by Friday you can be seeing the impacts on your client's bottom line," one employee told Hotel Tech Report.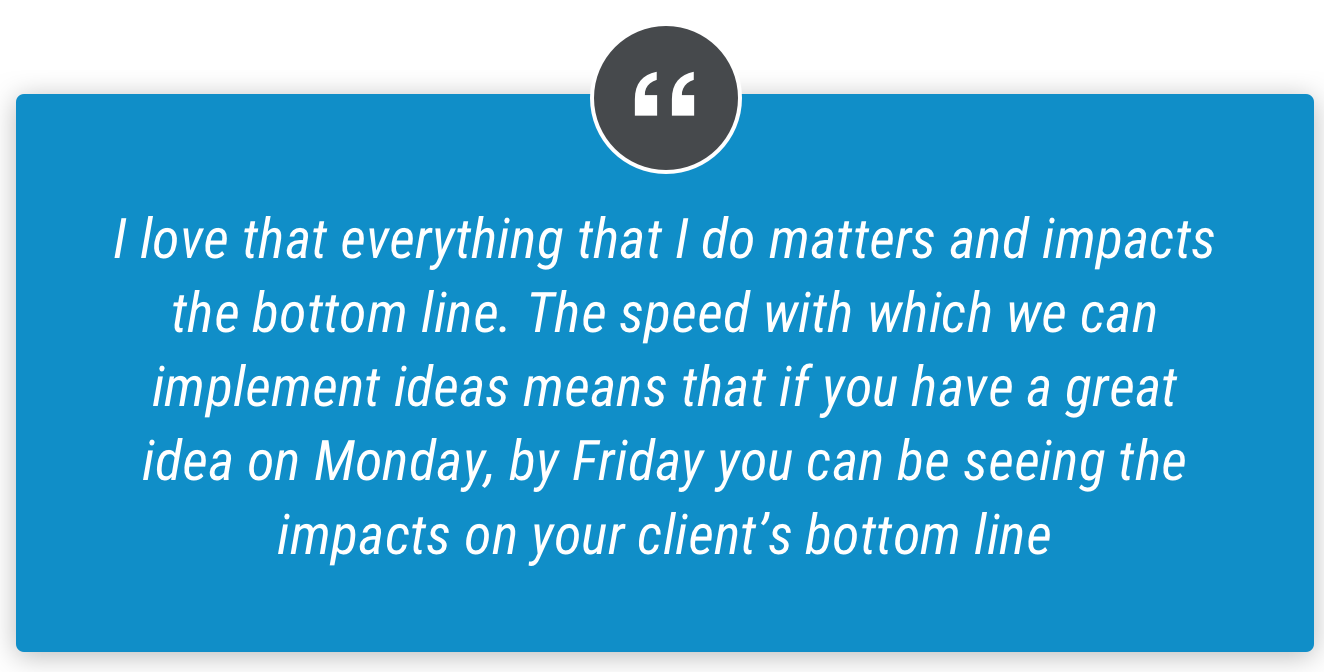 Texas has a low cost of living, low income tax and world class cowboy boots - need we say more?  When they say "everything is bigger in Texas" the culture at Koddi is certainly no exception.

#1 Suiteness
Products: Alternative Distribution Platform (#1 rated)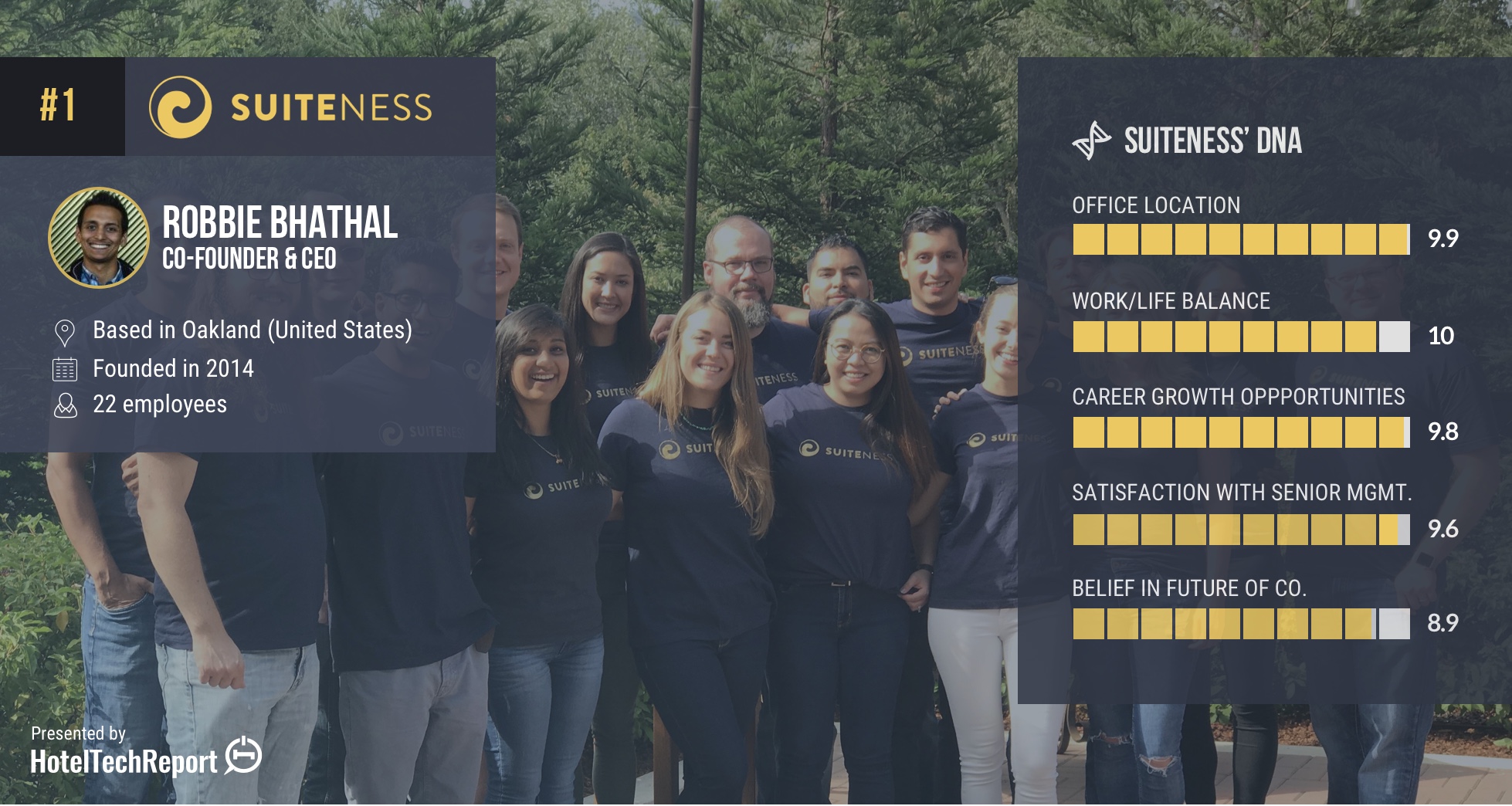 It's no secret that AirBnB has been eating the hotel industry's lunch when it comes to special occasion bookings.  Whether it's a family of 5 who wants to all be together for their familial retreat or a bachelor party looking for some reprieve from the banality of daily life, guests have been flocking to AirBnB in droves for unique accommodations that meet their requirements.  In comes Suiteness like a knight in shining armor to bring sexy back - or at least bring guests back into suites.
Suiteness topped our list as the only company to receive a perfect score for one of the factors in our study.  Apparently working for Suiteness is pretty sweet since employees rated the company 10/10 for work-life balance.  Suiteness employees are addicted to growth and that's ok because they've got plenty of it to go around.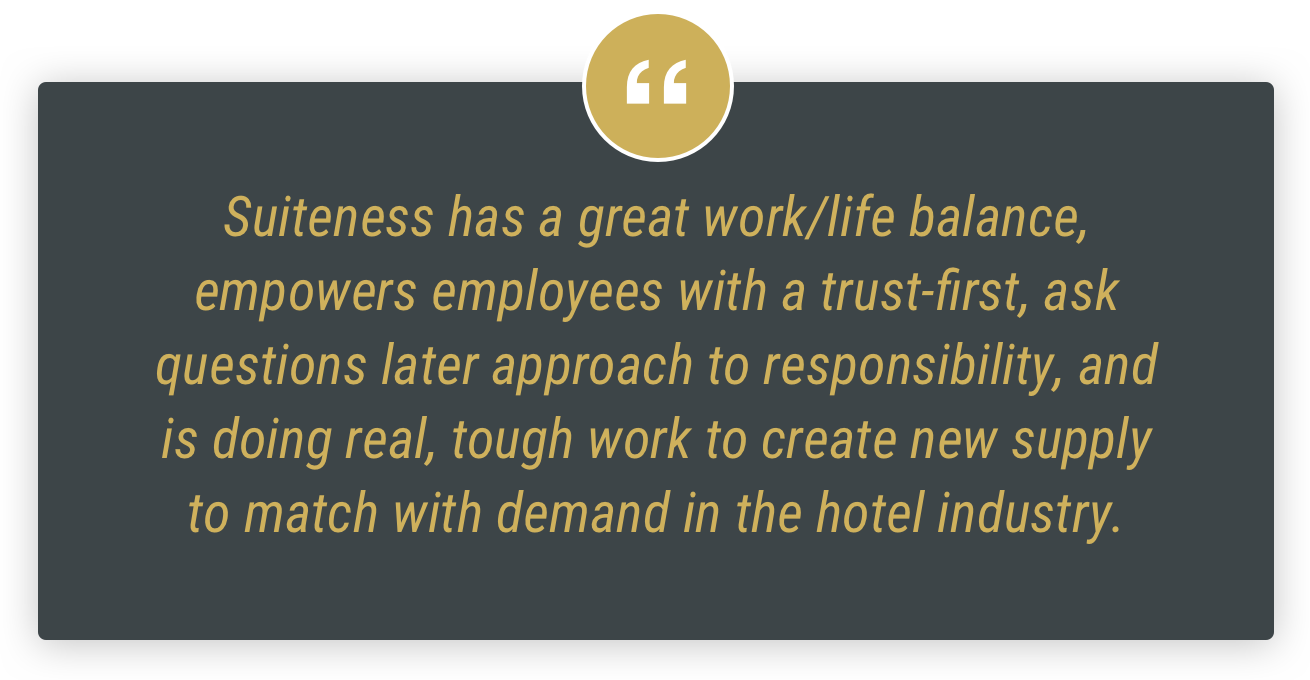 While there is certainly a lot to love about being a Suiteness employee, the single factor that enabled them to top our list is management's trust in it's employees.  Warren Buffett likes to say that he got rich by not meddling in the affairs of his trusted lieutenants - Kyle and Robbie seem to have taken notes.
"Suiteness has a great work/life balance, empowers employees with a trust-first, ask questions later approach to responsibility, and is doing real, tough work to create new supply to match with demand in the hotel industry."

Check out the 2019 Best Places to Work in Hotel Tech