8 tips to choose a hotel marketing agency
By Simone Puorto
Last updated January 26, 2022
5 min read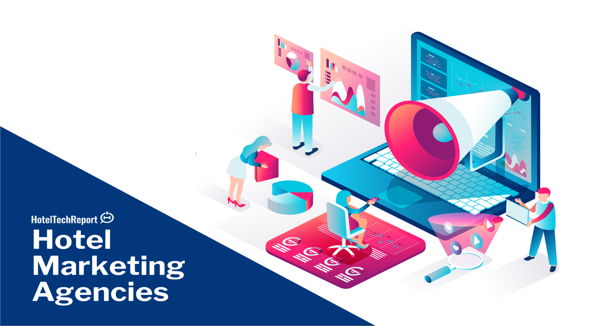 The speed of evolution in technology has fuelled the creation of hundreds of web agencies in the world. Try Googling hotel marketing agency and you get thousand of results, very similar one to the other: All in one, Low commission, Best Conversion, Your marketing partner, High ROI, you name it. Under these conditions it's easy to get lost and give trust to the wrong agency. I have gathered eight tips that hoteliers can use to choose the right hotel marketing agency.
The Evolution of Online Marketing for Hotels
We consider modem internet connections and static page websites as ancient, but let's look at the calendar: this happened only a few years ago! Can you imagine your life without Google, WikiPedia, or Facebook? You don't, do you? But just a decade passed since their birth. Can you imagine a world without any online hotel reviews? or comparison site to check prices? Yet a few years ago that was the case. The idea of time and evolution has changed with the advent of the internet. Things that used to change over a generation now change over a decade. And in a single decade technology can come and go only to be entirely replaced by something new. So, if you think your hotel's website does not need updating because it has been renewed recently, you're probably misunderstanding this different concept of time. This short 8 points-guide is intended to help you choose the partner that suits you the most:
A Good Marketing Agency Creates Global Websites
Hotels have their own needs, so their websites must be created according to different rules and specifications. The competition of booking platforms (OTA, Tour Operators, metasearch) is a unique to the hotel business and it makes the planning of the hotel website possible long before the design is started. Creating a website for a hotel without fully understanding their needs, their strengths and weaknesses is like selling expensive shoes without asking the customer for the size that he fits; they will do a good impression in the shoe rack, but you won't be able to wear them and walk.
A Great Marketing Agency Asks About Your Strategic Problems and Proposes Solutions
Every hotel has something that does not work properly or that could be improved: it could be the global turnover, or the high amount of OTA monthly commissions, or the lack of a specific type of market, etc. Who knows more about these needs than you? What a good agency needs is data, problems, situations etc, then it will make its own strategy based on your needs. You don't need to tell them what to do or how to do it. They will set-up a whole strategy based on your needs and followed up by professionals. If you find yourself telling your agency what to do, it's a strong sign that you should be changing to a new agency.
A Good Marketing Agency Gets to Know the Product
Every marketing strategy is created around a product or a service. If your agency doesn't know the product like the back of their hands how can they even imagine to market it? A good marketing agency builds your strategy with highly trained hotel specialist. They will literally knock at your door to make a audit of the hotel, finding the good and the bad of your product and determine your USP and your Positioning Statement.
A Good Marketing Agency is Interested
In the process of working with your new agency you should be getting tons of questions such as: What's your ADR?, Occupancy rate?, Booking window?, Most booked rate?, Unique visitors on the site?, Conversion rate? , Could you give access to your Analytics stats?, Exit pages? etc. All this info is necessary to setup your strategy, so even if it would be great to sign a contract and forget about it until the site goes online, that's not going to happen, because your future can't be improved if you don't study your past.
A Good Marketing Agency Knows Your Hotel Website is Just One Piece of the Puzzle
Remember that the website must be seen only as a part of a complete strategy. Very important, yes, but what is a site without a fast and fully integrable CRS? Or what if your beautiful expensive new website is put on a slow server? And, most important, what if your brand new site brings you less reservation than the old one? Imagine your new strategy as a car: the website is the body but in order to drive it's not enough, you will need wheels (SEO), fuel (SEA), engine (strategy), etc. A site alone never made the trick, why should you be the exception? It is quite common for hotels and chains to get a full redesign of their website by agencies that don't know the hotel market and see the sales decrease. Not so with a good agency, the sales should increase immediately if they know what they are doing.
A Good Digital Marketing Agency Calls You Before You Call Them
Ok, now you have the new site on-line. It's beautiful and exactly as you dreamed it. However the sales haven't improved much or at all. Well, maybe the strategy is not good and has to be reworked. Remember that a good marketing agency knows if something is not working properly before you do. Professionals check and study visits, conversions and trends on a daily basis so they fix the bugs before they affect your revenue and can react fast and try something else.
A Good Hotel Marketing Agency Tracks Everything and Gives Actionable Insights
Do you know wich the top-5 keywords that brings you reservations are? Any idea of your exit pages on your site? Your bounce rate? Unique visitors? Conversion rates? The most clicked typo errors of your hotel name on Google? Do you know what are the important stats to look at and which ones are not? How does one synthesize the huge amount of data one can collect and make it into key information that will solve problems? A good marketing agency can. And with their help so can you. All you need is a laptop and a internet connection. Trust the agencies that gives you professional stats software where you can see with your own eyes all these data in real time. Every cent you spend must be tracked and analyzed, you have to verify your R.O.I. for every campaign.
A Good Marketing Agency is Never Cheap
Remember that a good marketing agency wants to keep you as a client forever, not just sell you the most it can and leave. That's why everyone in the (good) agency will work hard to bring you the best results, contacting you on a weekly or monthly basis, giving you advices, coming to your hotel, study your stats, etc. As you can imagine there's a lot of work behind a real "all inclusive" project, that means hours of professionals working for you, not just a bunch of guys creating websites with templates. That brings us to the 8th and last tip: a good marketing agency is never cheap. But what is cheap in marketing? Cheap is inefficient – it's something that cost little money but produces little effect. If you agency costs you 20X more than the previous one, but produces 400X more results then it's actually cheaper when you're looking at your bottom line. So, when it comes to choosing your marketing agency there are only 2 questions to ask yourself: "How much does it cost?" and "How much can they increase my revenue?" If you ask yourself the second question congratulations! You're looking for a good marketing agency.
Conclusions
Find a good agency and measure the results. Ensure you have an exit clause in case there are no results (providing you have respected your part of the deal and listened to their advice) and go for it. We believe that hotels and marketing agencies can form incredible partnerships because marketing a hotel isn't just making a site, or some advertising. It's working with the hotel to improve the product so guests are happy and share their experience. The longer the relationship the better it is for both parties.