Thayer Ventures: An Exclusive Interview With Katherine Grass
By Jordan Hollander
Last updated January 26, 2022
2 min read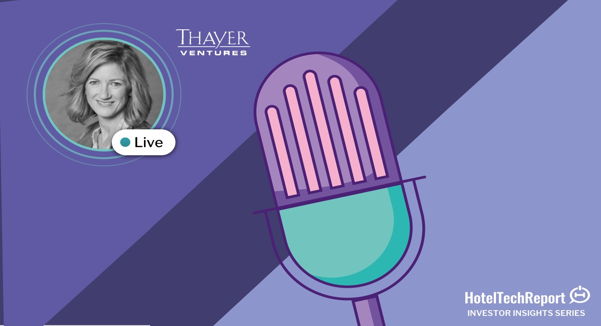 One of the major proponents of the alternative lodging sector has been Thayer Ventures, a travel tech focused venture capital firm with deep ties to the hotel industry. Thayer's focus on travel and hospitality gives the firm a unique perspective so we sat down with Venture Partner Katherine Grass to discuss hotel tech, the rise of alternative lodging and more.  Katherine previously founded Amadeus Ventures and has met with literally thousands of startups in the space over the years - she's seen it all and has unparalleled insight into the alternative accomodation trend.
How did you get into travel tech venture investing?
I started my venture career at Amadeus IT Group where I founded Amadeus Ventures and went on to build out an entire ecosystem of programs working with external players and created their global Innovation & Venturing unit. Ventures had always been my first passion - aiding startups to be successful. Therefore, when the opportunity arose to join Thayer Ventures, Thayer being the leading travel-technology fund globally, I naturally jumped at the idea!
Thayer Ventures is unique because we are not only one of the few travel-technology focused funds globally, but all partners come with a very deep expertise and network in this space. Therefore, we are not only able to make solid investment decisions based on our industry expertise, but we are able to truly help our portfolio companies, whether that be with industry contacts, strategic direction or business development.
What hotel and hospitality tech companies have you invested in?
Being travel-technology focused, we have many hospitality tech investments in our portfolio. Mews Systems, Optii Solutions, HYP3R, Sonder, BookingPal, Duetto, Groupize and Social Tables are examples of hospitality tech investments. Social Tables recently being sold to Cvent. While Dishcraft Robotics and xx are additional investments that apply to the hotel sector.
How do you usually come across hotel tech investment opportunities?
Because we are one of the leading funds in travel technology, we have a combination of companies reaching out to us, referrals from other generalist funds looking for a travel-tech expert as well as directly discovering startups at major events.
Most of our investments tend to be Series A and we will absolutely lead rounds where it makes sense.
What's one piece of advice you have for hotel tech entrepreneurs when raising capital?
Hard to pick one piece of advice! My advice would be to ensure you are addressing a real business problem in the industry. You would be surprised by how many startups develop ideas for concepts that aren't seen as real pain point opportunities by the hotels. Additionally, ensure your opportunity has a big enough addressable market. This means there is enough profit to be made by your idea if you're successful. Small opportunity means small profits, and you won't get investors attention with this.
How do you think the hotel technology space will change over the next 5 years?
We will definitely see the hospitality tech stack open up and be more interactive. This means open APIs and the ability for various pieces to interact with each other and not necessarily all be from the same vendor. On alternative lodging, we still have massive growth in this sector and we will see this continue over the next 5 years.
People often say that the hotel industry is slow to adopt technology. Do you agree?
I don't agree. We have seen hotels becoming increasingly open to quick experimentation and pilots, and as solutions become more cloud-based and API-led, it will only increase. Some legacy systems made this testing more difficult in the past due to the integration effort required for experimentation, but we are definitely seeing this change.
What is the most interesting or surprising thing that you've learned from investing in hotel tech?
An interesting trend we are seeing in the hospitality tech space has been the continued growth and strength of what we call alternative accommodations.
For all of the startups that might want to pitch in your office, what can you tell them about your investment criteria, etc. to help them decide if they are a good fit for your portfolio?
We are looking for stellar teams. Most all of our investments are Series A, meaning the startup already has some initial traction and customers with strong growth potential. Are investments are global but must be in the space of travel-technology. For us this means hospitality tech stack, alternative lodging, tours & activities, corporates & meetings, smart cities and mobility & transportation.