The Legend of Triptease (and the unspoken costs of scaling hotel technology)
By Jordan Hollander
Last updated October 12, 2022
8 min read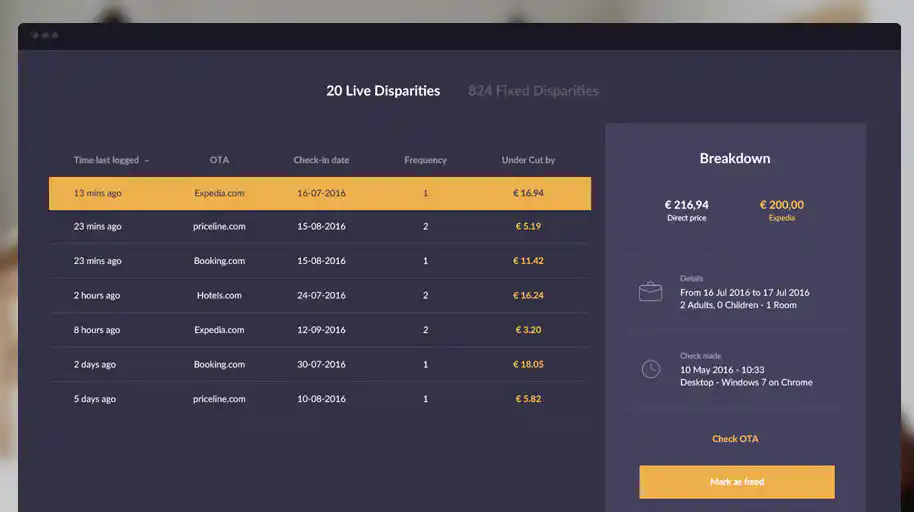 It's a commonly held (and true) belief that most travel startups fail. On the consumer side, it's easy to see why. High acquisition costs, a crowded market and for the users who do engage with a product they rarely spend enough time to monetize because after all – they only use these products when they travel.  The reason for high failure rates in B2B travel startups is completely different and I'll examine arguably one of the most successful hotel tech startups in the last decade to demonstrate why. 
Today, Triptease (yeah, awesome name) is in 12,000 hotels and claims to have saved them more than $150M – but the business they're in now is completely different than the one they founded in 2012.
Prior to starting Triptease, Charlie Osmond started several ad agencies and even won Esquire's prestigious entrepreneur of the year award. Charlie teamed up with product guru Alasdair Snow and most recently Alexandra Zubko – formerly head of strategy at Intercontinental. Alexandra joined in 2014 presumably when she saw Triptease really start to hit their stride and help take it to the next level with her connections and industry experience. The company has won numerous awards from Phocuswright and other industry organizations, so if you haven't heard of them it might be time to get outside and smell the roses.
Prior to Alexandra's participation, Triptease began as Triptease Magazine with the ambition to disrupt TripAdvisor. I watched an old pitch of Charlie's and it was actually a really cool product. I mean who wouldn't agree that Trip Advisor has awful design? Unfortunately, beautiful design wasn't enough so they pivoted to social referral postcards that helped hotels spread word of mouth and disseminate content across social media networks. Then, 2 years later, they found their sweet spot in a kernel of wisdom that took years to develop. The epiphany?
It turns out consumers believe that prices are cheaper on OTAs (e.g. Expedia) vs. hotel websites. So simple and so obvious, but this is the hard work of starting up – seeking out simple truths that no one has exploited to make a better world. So Charlie and Alasdair thought that if only they could find a way to change that perception, they could theoretically shift guest spend onto hotel websites and save up to hundreds of thousands of dollars for even relatively small hotel properties.
The price checker widget was born. Simple and scalable is a dangerous combination. Dangerous enough that Booking.com threatened a lawsuit to shut them down in 2015. That's when you know you're really onto something. And how could you not love a guy with the title Chief Tease telling the soulless corporate behemoth Priceline to stick it up their you know whats?
Then in February of 2015, Notion Capital and Episode 1 poured $7M into Triptease's Series A as a vote of confidence (and just this morning announced their $9M series B for Asian expansion, congrats to the team). Despite the Series A equity raise, the company followed on with another $1.2M of debt financing just 2 months later (according to Crunchbase).
But why raise $9M ($18M as of today) for a price checker widget? Well, that's a great question.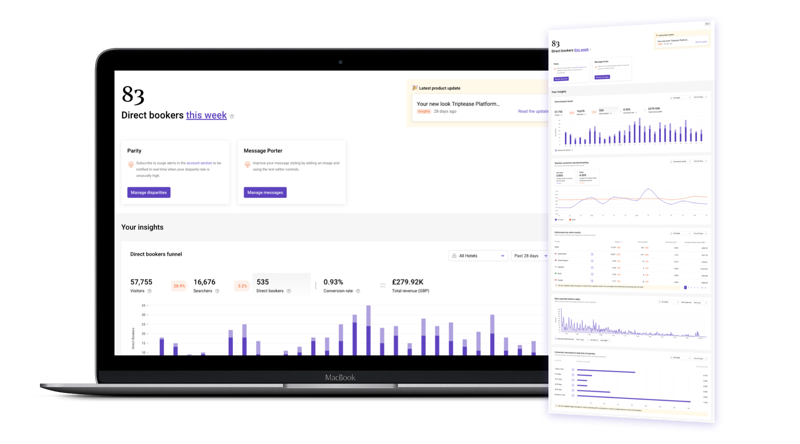 Triptease Go-to-Market
Selling SaaS into hotels is really, really, really hard. Did I mention that it's really hard? Triptease generally charges somewhere in the range of a $200/hotel monthly subscription with varied pricing based on number of rooms.
I'm going to make significant assumptions based on external data and posit in no way that these are internal Triptease numbers. I'm using public information as a "best guess" case study to help further the understanding of what it takes to deploy technology into hotels at scale unless you're an evil corporation (yeah, that's you Oracle…don't look so surprised).
Okay, so let's assume the average lifetime of a customer is 21 months (although it's really still too early to tell). So we've got $200/month x 21 months = $4,200 (we need to discount this to present value but I won't for simplicity).
So what does it take to get each new customer on board?
Well we have several key tactics we can employ to acquire new hotels: 1) Drive web traffic via search, press and advertising 2) Build a sales force 3) Attend conferences 4) Join industry groups
Search is a weak option for companies like Triptease
So right about now you're probably thinking "hey Jordan we've got that thing called 'The Internet', it's easy to get traffic to our website so customers can convert."
So how many people are actually searching for Triptease each month? Less than 1,000 worldwide! That's including the drunk people who just misspelled "striptease." Ok, but how many people search for terms like "price checker widget" or "price comparison widget"? It turns out even less.

According to data from Similar Web and SEM Rush, Triptease.com had approximately 38,000 visits in February (12k uniques) breaking down to about 70% direct 30% search. 75% of search came from the UK so we're only looking at ~22% of traffic coming to the site from search outside of their domestic market. Ironically almost all of that search traffic went to a blog post titled "Bad day for hotels - Amoma announces Google partnership" with people searching for "amoma" and "amoma reviews."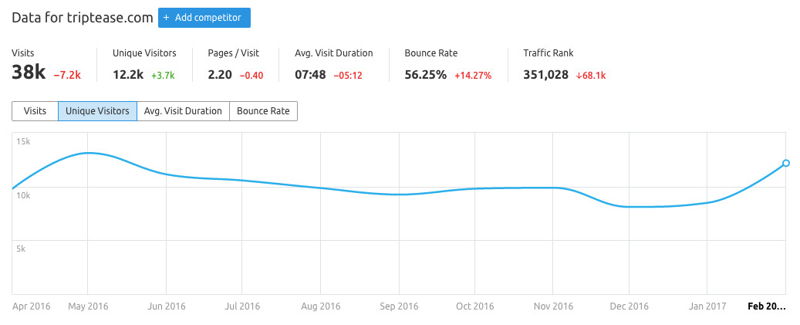 In other words, the small number of people who came to triptease.com from search presumably weren't even in the market for this product (or had authority to sign a deal). Those blog posts average 700-1,000 words so with a high quality copywriter that could run $200/week if they weren't written in house. Webinars are far more expensive and time consuming but can often yield stronger results in absolute terms.
This isn't to take anything away from Triptease. These guys have an insanely beautiful site that is helpful, well indexed and fast loading. The problem isn't Triptease, it's just a tough market. It's pretty damn easy to find people searching for "red shoes" or even "mermaid blankets" online but niche B2B products tend to be much trickier and require finesse.
This leads nicely into the finale: so if no one is looking for you, what do you do? Simple, you do everything.
Build a Sales Force
You start by hiring a sales team. According to the most recent LinkedIn data, Triptease has 81 employees of which 25 are in sales and 7 are marketers. If we assume 80% are sales reps getting paid $50,000 average salary and 20% are senior managers at $125,000 average salary we've got (20 x $50k) + (5 x 125k) or $1.6M in salaries for the sales team alone.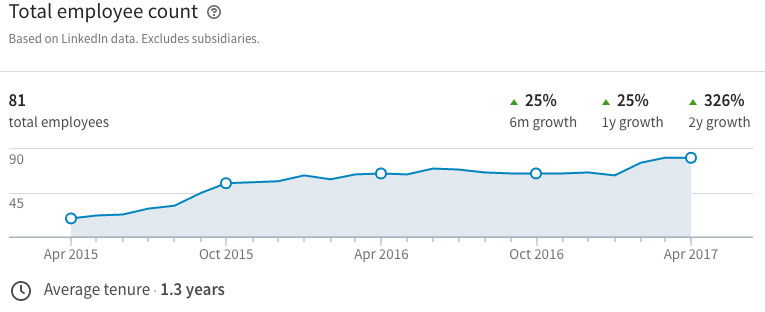 Let's budget 7 marketers at $70,000 average salary and we've got $2.1M in sales and marketing salaries expenses. I'd venture to say these numbers might even be conservative. Starting to see why they might have wanted to add $1.2M as a follow on to the Series A? Triptease is by no means alone, when I ran the data on 50-75 top hotel tech providers I saw companies with up to 45% of their team comprised of sales and most hovering in the 20-30% range.
There aren't effective advertising options either
This is my personal favorite. So if companies like Triptease want to reach hoteliers with display ads, where do they go? Maybe they want to advertise on HotelBusiness.com with 65,000 visits (only 2x their own site) for $2,000-$5,000/month. They're given no performance metrics or click guarantees (proof below) – this is some old school stuff here.
Even worse they can advertise on the Nevistas network (runs hotelnewsresource pictured below - ads are outlined in red). Nevistas' mystery is only exceeded by its sketchiness. It's a secretive company based out of Mexico that makes companies pay to launch press releases – so it's no wonder the entire site is filled with press releases, advertisements and click bait like "7 Ways to Make Your Hotel More Awesome Than AirBnB."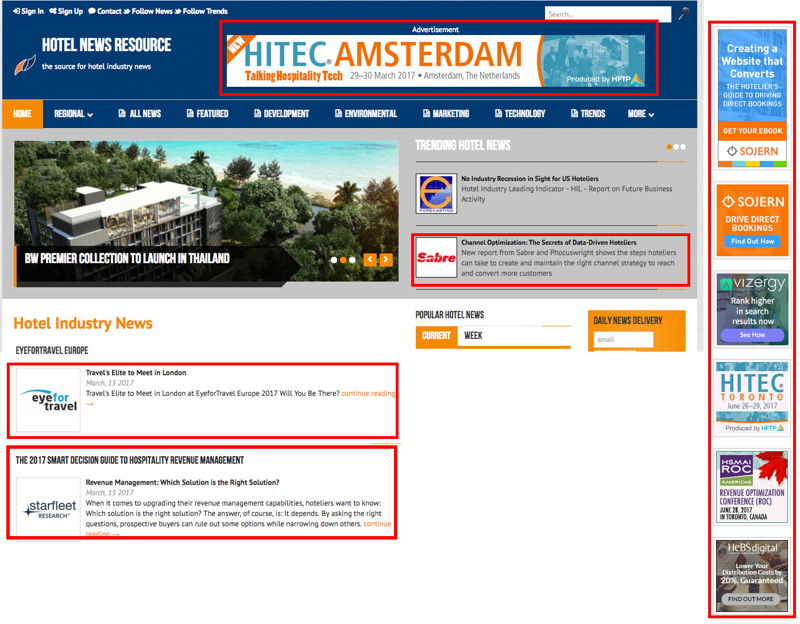 So let's say they concede - they buy 5 spots on these various sites for an average of $2,000/month. They're looking at $120,000 in advertising expenses on extremely inefficient channels.
Conferences
There's ITB Berlin, HITEC, Phocuswright, Skift Global Forum, HT-Next…the list goes on and on and on. Let's say we want to attend 5 conferences and send 3 presenters to each. These can range from $3,500/ticket at the cheap seats to $25,000+ for a booth (before materials and setup). Add in a $600 budget for each teammate and assume $7,500 per conference - and each event costs more than $10,000 (plus the opportunity cost of having those employees working on other things).
Triptease even went on to create their own successful company branded conference, The Direct Booking Summit, which presumably they could breakeven on via ticket sales and sponsorships. This is also likely more about retention than acquisition with an attendee base of existing customers.
Industry Groups
Industry groups provide another legitimate channel to exploit – there's HTNG, HFTP, HSMAI, HEDNA – pretty much any acronym you can think of, there's a hotel association for it.
HTNG (Hotel Technology Next Generation) runs $8,250 for a supplier like Triptease and the benefits include: discounted event tickets, "overall greater exposure through logo placement on website" (web traffic = 11,000 pages visited and 90% are hotel tech vendors) and "Recognized support of the industry." 
Industry groups can be great for networking but let's see it for what it is: pay to play. Joining four groups at $5,000/group will run you $20k and that's just to get your seat at the table - no sponsorships, no event tickets, nothing. I have nothing against these organizations and even met CEO of HTNG once over coffee in suburban Illinois; he's a really great (and smart) guy with a strong hospitality IT leadership background and an incredible resume. There are no malevolent players here, just an industry ripe for disruption.
Partnerships are the sweet spot
In April of 2015 Triptease launched a major campaign to partner with popular booking engines. Partnerships enable parties to gain huge exposure and onboard very quickly. Triptease partnered with 6 players to tap 10,000 potential hotels before landing the big fish – Synxis in May 2015.
Partnerships can come in many forms: strategic investment, bundling, cross selling, co-branded webinars, distribution deals, etc. Partnerships are low cost and all they require is a little creativity, trust and execution. Ok, having worked on the Global Partnerships team at Starwood I know that sounds way easier than it actually is.
Conclusion
So when we look at Charlie's 12,000 hotel install base and assume 25% of customers still get the product free as early adopters, we've still got around $1.8M monthly recurring revenue (MRR), assuming $200 average monthly subscription. Charlie's been quoted with a goal of hitting 30,000 hotels in the next few years ($6M MRR) and I'm a believer. That's a pretty incredible business and even at the aggressive target it's less than 17% penetration of the current hotel market (which will grow materially by then).
Triptease has already derisked the business in a major way (although there are always risks). The probability of getting to where they are today is probably .0001% (for a new startup). And if you think that's you, you'd better have the grit and tenacity demonstrated by Charlie and Alasdair during their 2-year journey to product market fit.
As Charlie and Alastair learned in Triptease's formative years, it's still a pay to play industry. Buyers (hotel teams) haven't evolved competencies to understand the benefits of many SaaS products and their organizational structures for the most part haven't evolved either (hence the title VP of Sales & Marketing). The fact that the hotel industry is highly fragmented and has a convoluted ownership/management/franchise structure certainly doesn't help.
Hospitality still relies on industry groups like those whose importance faded decades ago for many other industries. Suppliers are stuck buying ads in print magazines with artificial circulation and on sketchy link farms from Mexico (Nevistas, I'm looking at you).
Charlie, Alasdair and the Triptease team (also shout out to Marketing Director Ian Macleod) have done an incredible job at creating a first class product (and brand) then deploying the product with near perfect execution. They discovered a simple and scalable truth then used it to grow at an astonishing rate – I'd argue unheard of for suppliers of hotel tech.
I truly believe that if hotel technology suppliers could work together more efficiently without the confines of archaic hospitality rituals - hotels could make more money and would be better equipped to compete with the likes of the home sharing economy and OTAs. No I'm not talking about robot butlers and drone Champagne delivery – I'm talking about real innovation. Although, the old head of PR at Starwood told me this stunt took the spotlight from SPG Keyless in the media for 2 weeks so congrats to the team at Casa Madrona for a hilariously awesome stunt.
"Hotel technology suppliers are creating killer products every day - the problem is that the market hasn't caught up."
By working together through strategic partnerships and sharing best practices, hotel suppliers can increase chances of success and lower costs to deployment. Hospitality isn't zero sum and working together can raise all ships. For those interested, we've started a LinkedIn group called Hotel Tech Insider to do just that, so join many of the industries top executives and apply today.