50 Online Ordering & Food Delivery Statistics that Will Blow Your Mind
By Jordan Hollander
Last updated February 16, 2023
6 min read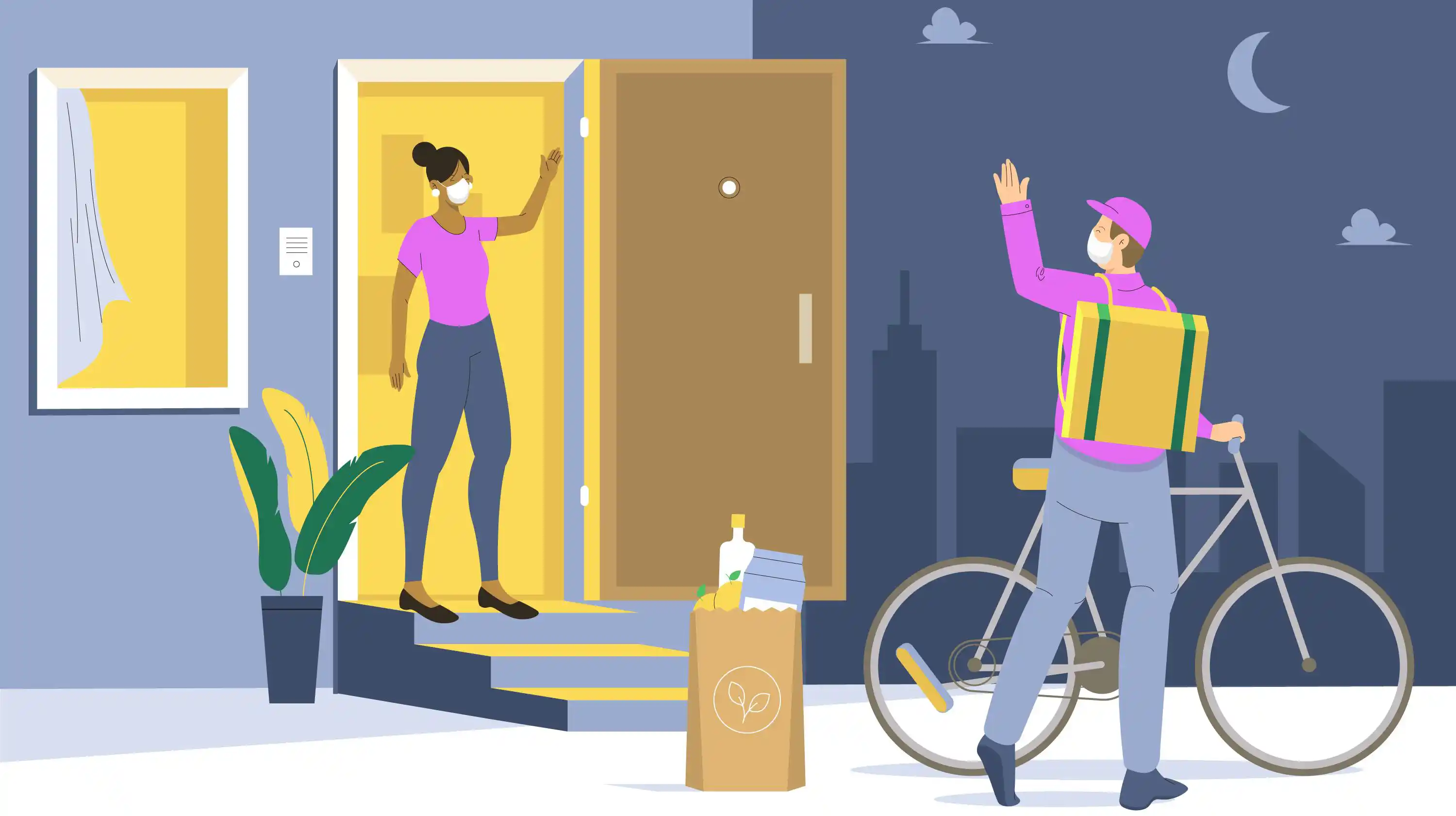 In the midst of all the challenges that the hospitality industry has faced over the last year, one segment of the industry is booming: food delivery. As people hunkered down at home, after getting tired of baking sourdough bread, they turned to their smartphones to order food for delivery or carry-out. Perhaps you've heard a little about the growth of food delivery and mobile ordering (or maybe you've experienced it firsthand), but this article will give you a comprehensive look at this exciting new frontier of hospitality. Ready to be wowed? Let's jump into 50 astonishing statistics about online ordering and food delivery.
Just how big is the food delivery industry?
The food delivery industry in the United States has tripled in revenue in the past five years. In 2015, 66 million Americans ordered $8.7 billion of food delivery; in 2020 food delivery revenue surpassed $26 billion and 111 million users.

The sky's the limit! The US food delivery market shows no signs of slowing down. It's predicted to further grow to $43 billion by 2025.

As of March 2020, 38% of American consumers had ordered food via a food delivery app. By March 2021, 47% of Americans had used a food delivery app, illustrating just how significantly the pandemic affected the food delivery industry.

Food delivery is here to stay; in 2021, 53% of survey respondents - and 64% of millennial respondents - say that food delivery and takeout are "essential to the way they live."

In a November 2020 study conducted by the National Restaurant Association, 66% of survey respondents said they had ordered takeout or delivery food for dinner within the past week, and 47% of respondents said they had takeout or delivery for lunch within the same time period.

Nearly everyone orders food delivery in the US; Gloria Food's study found that 86% of Americans had ordered food delivery at least once a month.

The pandemic was a big player in customers' dining and ordering habits. 68% of consumers say they're more likely to order takeout in 2021 than they were pre-pandemic.

Although food delivery companies are seeing impressive growth, many customers still prefer to order directly from restaurants. By the end of 2021, revenue for restaurant-to-customer delivery is expected to reach nearly $72 million, while revenue for platform food delivery orders is expected to hit $79 million.

Across all demographics and geographic areas studied, US consumers prefer to order food delivery directly from the restaurant, when given a choice.

Restaurants were quick to adapt to the changing industry after the pandemic began. 81% of fine dining restaurants, 78% of family dining establishments, and 77% of fast casual restaurants added curbside takeout to their operations after March 2020. Nearly half of restaurateurs said they added food delivery options.
What are the biggest food delivery companies?
What about online ordering directly from restaurants?
Who's ordering, how are they ordering, and what are they ordering?
Many food delivery customers are using food delivery apps for the first time. A study of over 100,000 food delivery app reviews mentioned phrases like "first time" 36% more frequently in 2020 than in 2019.

Millennials and Gen Z are spending a significant chunk of their paychecks on food delivery or at restaurants. After groceries, dining out is the second-highest monthly spending category for both generations.

According to a 2020 National Restaurant Association study, millennials are the food delivery generation. Three-quarters of millennial respondents had ordered takeout or delivery for dinner in the past week.

Millennials aren't the only generation who loves their takeout, though. The National Restaurant Association found that while just 41% of baby boomers had ordered delivery last week during their March 2020 survey, that number grew to 60% when the same group was surveyed in November 2020.

Sausage or pepperoni? The average pizza order placed online is 18% larger than pizza-lovers who ordered over the phone. 

But it's not just pizza; revenue from online orders in general is around 23% higher than an in-person order. 

No love for the humble onion! The most popular special request on UberEats in 2020 was "no onion." Runners up were "extra sauce" and "no tomatoes."

35% of delivery and takeout customers - and 53% of millennial customers - said they would be more likely to order from a restaurant that offered to-go alcoholic beverages.

In a 2019 study of top complaints related to food delivery, 17% of consumers said their food arrived not warm or not fresh, and 16% said their food arrived late.

Customers don't always place their mobile orders with a few taps of a finger. About 14% of people have used voice assistants, like Siri and Alexa, to order food delivery while they're driving.

Google has integrated food delivery options into Google Maps and Google Search listings for restaurants, making it even easier for consumers to find restaurants that offer mobile ordering and delivery.

Mother's Day, New Year's Eve, and Halloween are the most popular holidays for food delivery, according to a 2020 DoorDash report.

Speed is the name of the game. The average delivery window for food is around 35 minutes, but 27% of people say they would be willing to pay extra for their food to arrive faster.

The volume of off-premises food orders placed online surpassed the volume of phone orders back in 2017.

French fries were the most popular menu item in the US on UberEats in March 2020, while cheesecake was the most frequently ordered dessert.
What else is happening in the food delivery and mobile ordering space?
What statistics were most surprising to you? As the food delivery and online ordering trend continues to grow, there are surely more surprises in store.