Panera Delivery's 5 Lessons for the Hospitality Industry
By Hotel Tech Report
Last updated January 26, 2022
5 min read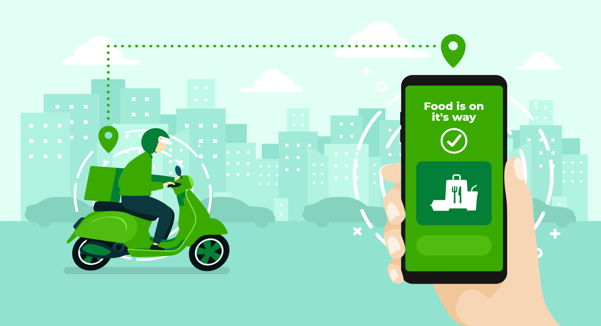 Worried about a recession? A new survey reports that 97% of CFOs believe there will be an economic slowdown before the end of 2020. Luckily, the success of Panera delivery and it's overall digital strategy and its commitment to investing in technology, even when the market segment suffers from declining sales, provide a blueprint for fortifying sales at your property and meeting evolving guest demands.
Panera 2.0 is the title of the company's commitment to digitizing the ordering experience that launched in 2014. Within this initiative, Panera has focused its technology investment on opening new digital channels, launching an in-house delivery fleet, providing new ways to surprise and delight customers, and future-proofing their sales. The hospitality industry can learn plenty from Panera's proactive digital transformation strategy. Investing in digital and catering pays off – here's what hoteliers can learn from the phenomenal success of Panera 2.0.
Lesson #1: Panera Delivery shows that consumers want to self-order
At Panera, 30% of sales come from the brand's digital channels. Panera's digital channels include the company's smartphone app, Google Assistant integration, and self-order kiosks in-store at select Panera locations. This omnichannel approach lets customers interact with the brand across multiple touchpoints, thereby exercising a new degree of control over their Panera experience.
Consumers can order lunch and dinner service from the Panera website or from their mobile app. The brand, in return, collects data and receives deeper insight into their customer's behavior than if they partnered with a third party like GrubHub or Uber Eats. As the Panera EVP chief growth and strategy officer reported to Forbes, customers "purchases go up, their frequency goes up and the incremental value of their orders go up. The return is very clear for us. If you go through a third party, you don't have that visibility."
This return might be surprising given the hospitality's long-standing belief that face-to-face service is what builds customer satisfaction. But what Panera Delivery has discovered is that speed, efficiency, and ease outrank interpersonal communication. Mundane and impersonal things like ordering and waiting on the phone or in line at a restaurant aren't driving customer satisfaction.
What does this mean for your hotel? Let guests "do it themselves" and drive incremental sales by giving guests every opportunity to purchase through digital touchpoints. A web app like Crave Appless or on a physical in-room tablet are both ways to create a frictionless, self-determined ordering experience. The ability to order with a few finger taps creates an "Amazon Prime" style effect where guests can purchase in a click. The end result: higher revenue from ancillary purchases and a better customer experience.
Lesson #2: Voice is the future
Initial testing of voice-activated ordering has shown promise for Panera, who began testing delivery and Rapid Pick-Up with the Google Assistant on their mobile devices at locations in St. Louis and Silicon Valley. "Placing a voice-activated order in many cases is more than 80% faster than a traditional app order," says Blaine Hurst, president at Panera.
Panera's app works with Google Assistant using AI to allow customers to place an order through simple voice commands – "OK Google, ask Panera for delivery" for instance. Through the app, Google Assistant will display menu items, suggest products based off someone's order history, and allow users to pay through saved wallet information.
While the experience might seem futuristic for a fast-casual brand, voice activation has exploded over the last year. At the beginning of 2019, Amazon announced that more than 100 million Alexa devices had been sold; analysts estimate that 55% of American households will have some kind of voice-activated device by 2022. Voice is exploding and is already a huge asset for hotels.
Lesson #3: In a tight market, digital prowess separates winners and losers
Quick-service restaurants have suffered in recent years: same-store sales at most QSRs are down 3.4%. Panera breaks the mold, posting an impressive 6% same-store sales growth at their company stores. Analysts and experts at Panera attribute their trend-breaking success to the brand's investment in digital. Even when the market was in decline, and times were tough, Panera was making investments in technology. While the rest of the industry battled declining sales, Panera doubled down on digital – a commitment that paid off. In 2018, "Digital sales now represent $1.2 billion, or 29% of company sales, and the company's MyPanera loyalty program now has 28 million members, or more than half of its customers."
By adding a new segment with rapid growth, Panera was able to offset the decline in same-store sales. "Moving Panera forward took a willingness to share in a dream," Ron Shaich, the former Panera CEO told Restaurant Business Online. "And it took countless hours of assessing, reassessing, iteration and tough decisions."
What that tells hotel owners is that you should constantly be investing in technology, even in a declining market. Two areas where you can focus your technology budget are upsell software and in-room tablets, like Crave. Crave Interactive works as an in-room concierge to help guests find information easily and quickly. In room tablets also boost incremental revenue by promoting destination-specific activities and on-property hotel amenities like spa and room service. More money from existing guests makes a healthier, more resilient business that can survive – and thrive – regardless of market downturns.
Lesson #4: When working on tech initiatives, flexibility and integration are key
Panera developed its delivery service in partnership with Bringg, a delivery logistics platform. Bringg provides the digital infrastructure and industry knowledge; while Bringg's agreement with Panera allows the brand to have its own in-house delivery fleet, Bringg also has partnerships with Postmates and DoorDash.
A hotelier might look at this arrangement and judge it unfavorable to Panera. Wouldn't it be better to control the entire experience, end-to-end, than to partner with someone who works with your competitors? Certainly in a perfect world, that's a nice thought; however, in reality, Panera gains the flexibility to shift direction and pivot with demand by working with Bringg. It's far more expensive, burdensome, and time-consuming to create a unique, native platform entirely owned by Panera
Hoteliers can learn from Panera's example: don't build your own tech. Partnering can add flexibility to your marketing approach. Make sure that you have an integration infrastructure to quickly switch out solutions when they're not working. Case-in-point: don't work with vendors who lock you into contracts. A firm like Crave will rent tablets to your property in a model that allows you to pay as you go. This kind of business model helps ensure that your vendors are always looking out for your best interests and care about your success.
Lesson #5: Panera's catering segment shows that business is booming
Catering has always been Panera's bread and butter (pun not intended). The catering market in the US is massive – in 2017, it reached $58 billion. Panera has cornered about 2% of business catering sales, worth over $40 million.
The brand has become virtually synonymous with office lunch delivery, a position that hasn't changed despite increased competition from QSRs like California Pizza Kitchen, Au Bon Pain, and Applebees. Rather than continuing to focus on lunch orders, Panera leveraged their dominance in catering to expand their breakfast offering: Dan Wegiel, Panera's chief growth and strategy officer, told CNBC that expanding the breakfast menu would lead to more opportunities for Panera's catering business, and vice versa. Catering gives Panera a competitive edge in the so-called "breakfast wars" with brands such as Dunkin', McDonald's, and Taco Bell. Thirty percent of Panera's catering orders come from breakfast; adding new menu items, such as breakfast wraps and premium coffee, incentivize customers to order more often.
STR research found that catering is driving higher revenue at hotels; in 2017, catering-and-banquet revenue per available square foot (RevPAS) rose 2%, outperforming all other segments of hotel F&B performance. Hoteliers can't ignore catering as a key revenue stream. Get smart and creative about catering: how can you change up the menu or repackage existing menu items in a way that incentivizes big group orders? Are there new and unique market segments within your existing bookings that might be interested in catering? Are there changes you need to make to your F&B that can refresh your catering menu? Take note of Panera's example to leverage catering for higher revenue.