Why is PMS Software Different for Hotels, Vacation Rentals and Apartments?
By Jordan Hollander
Last updated February 16, 2023
5 min read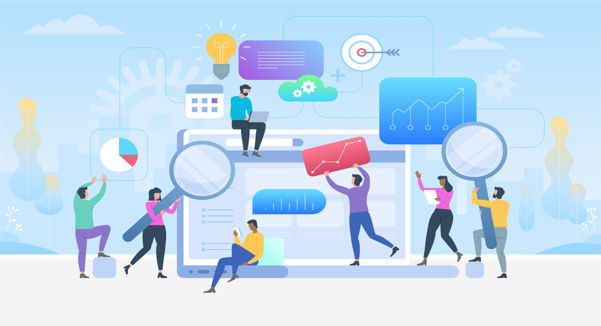 Hotels, apartments, and vacation rentals each have their unique characteristics but what about their software? The property management system is the core of the tech stack at any accommodation business, but, as we'll discuss in this article, not all property management systems are the same. If you're considering implementing a PMS or switching from your current vendor, this article will help you understand the intricacies of systems designed for specific types of properties. With the right software partnership, you can run your hospitality business more efficiently and focus on delighting your guests (or tenants).
Very Different Guest Journeys Based on Length of Stay
The apartment "guest journey" is relatively straightforward.  Prospective tenants view an apartment they like with a leasing agent, decides to rent and then moves in.  Prior to move in they complete a credit check and setup payment through an online payment portal that gets drawn upon in monthly increments.
The next most complex guest journey exists in vacation rentals where prospective guests find a rental unit via an online travel agency like Booking.com or Airbnb.  They'll often communicate with the owner via the platform they booked on and use a mobile check-in method like keyless entry upon arrival.  Rooms aren't cleaned until the guest checks out and there are no on site outlets or amenities.
Hotels offer the most complexity in guest journey with ultra high touch amenities delivered by often large teams of hotel staff.  The hotel industry is all about guest service.  Guests usually make direct bookings on a hotel website or via an OTA.  They'll receive email or text message communication prior to arrival.  Upon check-in, guests are greeted by a front desk agent and taken to their room by a bellman.  Their room gets cleaned each night and they enjoy hotel amenities like room service, on-site restaurant and spa outlets and more.
What is PMS Software?
Let's start at the beginning: what is a property management system anyway? A PMS houses all the organizational and administrative tools you need to run a multi-family business, hotel or short-term rental in real-time and automate core functions like booking and reservation management. 
Key functionality in hotels and vacation rentals includes a calendar where you can manage reservations, a booking engine for your website, a dashboard for housekeeping to mark clean and dirty rooms, a guest information database, and various financial reporting. Some PMSs have an integrated channel manager which handles connections to third-party booking sites. Many PMSs are cloud-based and offer mobile apps so you can manage your property from anywhere at any time.
It's important to understand each of these journeys before diving into the core operating system of each, a cloud PMS, because each PMS is designed for both the complexity and jobs to be done of both staff and guest journeys.  Where hotel property management software requires functionality like connecting to major international payment gateways an apartment reservation system might only require local payment processing since tenants are by definition locals.
Hotels, Apartments and Vacation Rentals Are Converging
We're seeing a major convergence in the real estate and hospitality industry where the guest experience in certain segments of the hotel market is looking more like vacation rentals and vice versa.   Adding to that, companies like Sonder and Why Hotels are turning apartments into short term rentals and hotel rooms while Airbnb is now a major distributor of hotel inventory.
It's not hard to understand why.  The hotel business is all about delivering high guest satisfaction and incredible guest experiences - it's ultimately doing the same thing as the vacation rental business and even apartments.  Hotel operations tend to be the most complex given the focus on guest experience and presence of front office teams.  Generally speaking, the longer the duration of the rental, the easier the business is to manage meaning that apartments are the least operationally complex to run.
The key difference between short term vs. long term accommodation software lies in the fact that apartment management systems generally focus on tenant functionality like community portals and subscription rent payments.  For shorter term accommodations, hotel and vacation rental PMS software focuses on credit card and payment functionality, facilitating online bookings and rate management.
Key differences in PMS software for Hotels vs. Vacation Rentals
The daily operations of hotels and short-term rentals can be quite different, so it makes sense that property management systems would have unique functionality for different property types. But what are the biggest differences? Key points of differentiation include the room or unit type setup, the connections available in the channel manager, tools for daily operations, and integrations with third-party software.
Room Types vs. Separate Units
When we think about the physical layouts of a hotel, short-term rental apartments, and vacation homes, several differences come to mind. At a hotel, you'll find a lot of rooms, but those rooms usually fall into a few distinct room types. Short-term rental operators might manage many apartments, but each of those apartments might be unique and located in a few different buildings. Vacation homes can have their own addresses and often have different sizes, amenities, and policies.
In order for hoteliers and property managers to get the most utility out of their software, property management systems must account for these differences. Hotel-specific software like Hoteltime will be set up for room types in the same building, while vacation rental-specific software is built for unique individual units often at different addresses. While hoteliers probably don't add new room types on a regular basis, short-term rental operators expand their portfolios regularly, so it's important that their software allows for easy addition of new units.
Daily Operations
The who, what, and where for daily operations is another major point of differentiation between hotels and short-term rental properties - and their software. At a hotel, many employees from various departments will use the PMS on a daily basis. Front desk agents, housekeeping staff, back-office employees, and the leadership team might all use the PMS at the same time. Tasks range from checking in guests, tracking housekeeping status, upselling rooms, entering reservations taken over the phone, and running reports for leadership meetings. It's important for a hotel PMS like Hoteltime to allow multiple user accounts and levels of access rights.
A vacation rental PMS, on the other hand, is used by fewer people and for fewer manual tasks. Vacation rental reservations are rarely taken over the phone, and, usually, a smaller team of staff interacts with the system. Since short-term rentals often don't have a front desk, it's crucial that property managers can access the PMS on the go, like via a mobile app. Most short-term rentals do not offer housekeeping mid-stay, so that functionality is less important. However, it's crucial that a PMS can support automated check-in instructions and other communications that allow the guest to complete a self-service check-in.
Smaller hotels (under 20 rooms) generally require all-in-one affordable hotel management software but may be able to use vacation rental software to manage their properties.  Check out our list of best hotel software for smaller properties.
Channel Connections
Not only do daily operations differ based on property type, but so do distribution strategies. If a PMS offers channel management functionality, you'll notice that the supported channels vary with property type. Hotel-specific software will focus on connections to the big OTAs, like Expedia, Booking.com, and Agoda, plus to the GDS and travel agents. Most vacation rental-specific software also connects to Booking.com and Expedia, but connections to vacation rental booking sites like Airbnb, Vrbo, and Tripadvisor Rentals are essential. Hotel-specific software likely does not support connections to Airbnb, Vrbo, or Tripadvisor Rentals.
Integrations
Channel connections aren't the only links between a PMS and other systems; property management software can connect to third-party apps that bring additional value to your operations. Hotel-specific PMSs will offer integrations with other hotel systems that usually happen via API, such as revenue management systems (IDeaS, for example), work order software (HotSOS), upsell software and point of sale systems (Micros). Vacation rental-specific PMSs integrate with a slew of vacation rental-specific software and apps, including dynamic pricing tools (PriceLabs), property-level security and monitoring systems (NoiseAware), keyless entry solutions (RemoteLock), guest communication tools (Hostfully), and more.
Have we missed any major differences between property management systems? Let us know!