What Can Hotels Learn From the Retail Industry?
By Hotel Tech Report
Last updated January 26, 2022
5 min read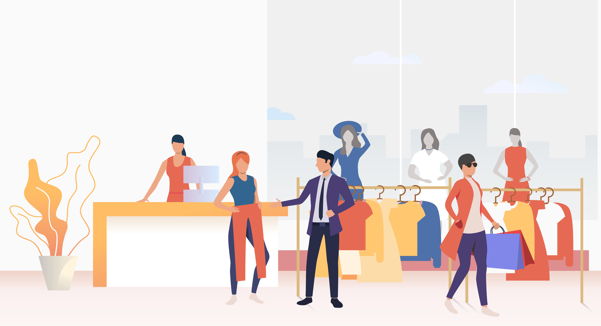 Even in the age of eCommerce the retail industry is thriving and innovating. Think about the last time you went shopping online or in a brick-and-mortar store. Maybe you were wowed by the brand's focus on sustainable hospitality or your interest was piqued by an ad for an in-store event. Maybe you even interacted with the brand on social media before or after you made your purchase. In the last few years, retail brands have faced fiercer competition as many consumers shift to online shopping, especially via marketplaces like Amazon which charge hefty commissions. Sound familiar? Perhaps your hotel is under pressure too - from short-term rental competitors, OTAs, and guest review sites. If your hotel wants to add some creativity to your marketing campaigns, reach new guests, and book more rooms, let's look to the retail industry from some inspiration.
Comparing the retail industry to the hotel industry might not seem like the most logical pair at first, but as we dig into the intricacies of these two customer-focused verticals, the overlap becomes more clear. In fact, the line between retail and hospitality is blurring as brands like Parachute Mattress, Restoration Hardware, and even Taco Bell are opening hotels of their own. So how does the retail industry find success in today's ever-changing marketplace? Let's dig into five best practices.
Focus on direct-to-consumer strategies
Years ago, if you needed a new pair of jeans or a new washing machine, you would go to your reliable local department store. Department stores made sense back then, since smaller, specialized brands might not have had the marketing power to reach consumers directly. Fast forward to today, when the internet makes it possible for customers to follow brands on Instagram, retailers don't necessarily need department stores - or any marketplace, for that matter - to sell their products. While some brands do rely on marketplaces like Amazon, others find success with no middleman whatsoever. If you're a hotelier who's trying to reduce your hotel's dependence on OTAs and drive direct bookings, you can look to retail brands like Glossier as masters of the direct-to-consumer business.
Glossier, a cosmetics company, only sells their products online, and, just recently, through a handful of their own boutiques. The company doesn't distribute via Amazon, Sephora, or any department stores. Because selling directly to the consumer allows Glossier to have full control over the purchase experience, they can build a stronger relationship with their customers, and, as a result, Glossier built such a cult following that it opened its first brick-and-mortar storefront in 2018. In their stores and online, Glossier solicits feedback from customers and integrates that feedback into new products and improvements to current products. Their website is user-friendly, and loyal customers often receive freebies or access to special sales. Rather than trying to build a distribution network, Glossier invests in its direct relationship with customers and reaps the benefits of customer loyalty.
Add personality to your social media channels
Those department stores of the past didn't need to have a catchy personality because consumers had much less choice then. Today brands need to have a distinct brand persona in order to stand out in a crowded marketplace - especially online. One way for customers to get acquainted with brands is via social media, and some do a great job of conveying their personality online, like Casper, Warby Parker, and Charmin. These brands, which sell mattresses, eyeglasses, and toilet paper, prove that you don't need to sell the most exciting product to cultivate a personality that consumers love.
Casper is known for its playful social media posts that often include kids and pets snuggling on one of their mattresses.
Warby Parker is another brand that started online with no physical stores, but has since expanded to include brick-and-mortar shops around the country. Their social media personality is down-to-earth and lighthearted, and they often incorporate their employees in photos and videos. The brand recently posted a video showing employees reading funny misspellings of "Warby Parker" which come up in Google searches.
And Charmin, a longtime toilet paper company, has gained social media fans with its signature potty humor.
Emphasize sustainability
Though it might seem counterintuitive for a retail company to encourage people to consume less, many brands understand that today's consumer wants to support sustainable business practices. Consumers are shifting their preferences toward sustainable products, from food to cleaning products to clothing, and sales of products labeled as "sustainable" grew nearly 30% between 2013 and 2019. This trend is creating entirely new business models and encouraging retailers to use sustainable materials, especially in the clothing industry.
While the environmental consequences of "fast fashion" make headlines, Rent the Runway is in the news for an entirely different reason - its sustainable business practices. This clothing rental service lets consumers rent high-end apparel that they wear and ship back to the company to be dry cleaned and shipped off to the next renter. Rent the Runway's success highlights the opportunity for environmentally friendly fashion businesses, as the company reached a $1B valuation in late 2019. But retailers don't need to create entirely new business models to be green. Allbirds, a New Zealand-based shoe company, uses a combination of merino wool, eucalyptus fibers, and recycled plastics in its footwear. This brand started from humble roots in 2014 and hit a $1.4B valuation in 2018.
Hotels have been conscious about sustainability for years, but asking guests to reuse their towels for an extra day just doesn't cut it anymore. Today's guests expect bigger strides when it comes to reducing environmental impact. In addition to replacing tiny shampoo bottles with eco-friendly dispensers, hotels with retail outlets or sundry shops can use software like Infor POS to understand exactly what guests are buying so they can reduce waste and sell more efficiently.
Turn regular public space into creative event space
Stores, like hotels, often have beautiful physical spaces that sit empty for portions of the day. Some creative retailers have found alternate uses for their storefronts by hosting events, fitness classes, or even lectures during or outside business hours. Lululemon, for example, regularly moves their racks of athletic clothing aside to hold in-store yoga classes. Besides being an innovative use of space, these special in-store events can also generate buzz about the brand or kick off the launch of a new product.
Hotels are accustomed to selling meeting and banquet space, but properties that don't have formal event space can still think outside the box and hold events in the lobby, in dining outlets, or even in guestrooms. And rather than selling the space to an outside organization, you can consider hosting free events that promote the hotel itself, such as a F&B tasting, spa open house, or career day that targets locals.
Form partnerships with complementary brands
Holding in-store events isn't the only way brands are bringing innovation to their marketing strategies. Many retailers are collaborating with other brands that reach similar audiences or sell complementary products in an effort to generate publicity and offer unique products.
One type of partnership involves a popular, value-oriented brand that joins forces with a luxury brand. Target, for example, sells affordably priced capsule collections with designers like Zac Posen, Lilly Pulitzer, and Proenza Schouler. H&M, another affordable retailer, has launched collections with couture brands like Balmain and Versace, offering their take on designer items at significantly lower prices. These collections often sell out quickly, which generates demand and publicity for the brand.
But collaborations aren't limited to the fashion industry. Home Depot recently teamed up with Pinterest to promote lighting, paint, textiles, bathroom fixtures, home decor products, and more in its "Shop the Look" program. In this program, consumers who are looking for DIY project inspiration on Pinterest can quickly find and purchase the items they need for the project at Home Depot.
Hotels can engage complementary brands in similar partnerships, just like how Westin partnered with New Balance to offer sneakers and exercise clothing in its hotels. The key is collaborating with brands that resonate with your guests. If your hotel is well suited for families, perhaps consider partnering with a local toy shop to provide a selection of toys in some co-branded guestrooms. Or, if your hotel gets a lot of business from foodies, maybe collaborate with a local bakery on a tasty welcome amenity.
Though the retail industry and the hotel industry have their differences, many of the most important business goals are shared: build brand loyalty, drive direct purchases or bookings, and stand out among a sea of competitors. Since both industries face some kind of internet-fueled disruption, hotels can take best practices from retailers who have found success in today's dynamic marketplace. By learning from these creative retail tactics, hotels can gain traction online and book more rooms.