The Five Boxes Your New RMS Should Check
By Alexandra Fjällman
Last updated January 26, 2022
4 min read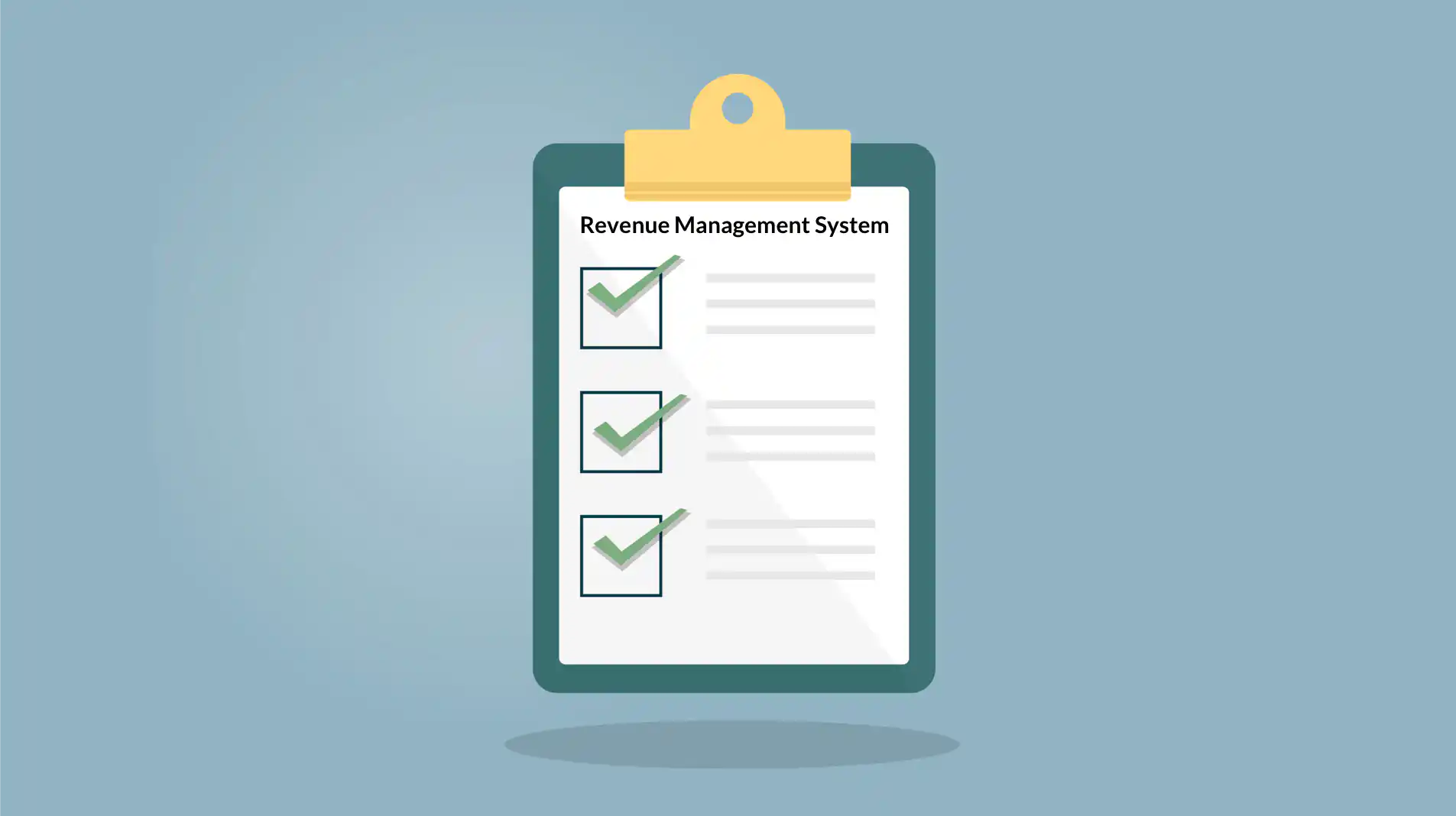 Picking the perfect revenue management solution (RMS) for your hotel used to be a challenging process. 
Luckily that's different today. Now, you have a wide variety of easy-to-use RMSs to choose from and most of them are quicker to implement than legacy systems. This means getting your hands on a suitable RMS has gotten a lot less complicated. 
That's fantastic because a powerful RMS is crucial to understanding and making the most of unpredictable demand trends, especially in today's volatile market. 
In this post, you'll find out how to choose the RMS that'll help you with precisely that. And once you have it all set up, you'll be on track to optimized rates, boosted profits and time-saving processes. 
Integration Options With Other Tech Tools
Any new tech solution you choose should seamlessly integrate with your current tech stack. For example, your new RMS should allow for a two-way integration with your PMS to ensure automatic data exchanges between the two systems. This cuts back on manual data entry which saves you time and reduces the risk of human error. 
Consider this real-life example: A higher-than-average number of reservations comes in for a certain date. The PMS sends this pick-up data to the RMS which in turn ups the room rates for this day. It also sends these new numbers back to the PMS, so it can push them into the distribution system. 
Look for an integration with a reputable business intelligence solution as well. This is important because an RMS needs both external and internal data to recommend optimal prices. Check where your RMS gets its external data from since its quality influences your results. 
Data Types Used
Your RMS' forecast accuracy and its ability to optimise your prices depend strongly on which types of data the system uses for its calculations. 
Start by looking at whether the RMS uses both external and internal data. Your property's data on past results is a good gauge of what your business can achieve. But given recent events, it's not the most reliable predictor for business in the short to medium term. This is why you need an RMS that incorporates broad market and compset data into its rate calculations. Of course, this doesn't mean your RMS will just follow your competitors' pricing tactics or start a price war. Instead, the system will examine how market rates impact pick-up at your property and make relevant price recommendations. 
Next, it's important to know if an RMS leverages both forward-looking and historical data. Since the pandemic, using historical data alone is no longer enough to predict demand trends because most established booking patterns have changed in the short to medium term. Incorporating future-facing information is the best way for the RMS to fully understand the market and make optimized rate recommendations. 
Automation and Configurability
Automation has gained extra importance since many revenue teams today are smaller than pre-Covid but still have the same workload. While most RMSs have automated at least some of the manual processes, the overall level of automation differs a lot between platforms. To save the most time and speed up your decision-making process, pick an RMS that lets you automate and customize as many steps as possible. 
This brings you many benefits, like being able to cut back on manual market research and rate updates. You can also adapt to demand shifts faster and seize every opportunity to drive revenue. If you keep doing all this manually, you risk missing these chances and losing business. Address this problem by using an RMS which supports automatic, real-time rate updates. 
Finally, today's more customizable RMSs allow you to adapt which processes you want to automate. They let you choose if, when and where you want to change your rates yourself. This could be when you know something the system doesn't, or if you'd rather manually manage rates for your top room categories. 
A Good Fit for Your Pricing Strategy
You'll also need to check if your potential RMS is a good fit for your pricing strategy. Some RMSs optimise room prices only for your basic category. A set supplement matrix determines how much to adjust rates for the other room types. This may have worked in the past, but this rigid approach is not flexible enough for today's dynamic markets. 
An RMS that allows open pricing solves this issue. It understands that demand is different for each room type and will calculate the ideal rate for each one. This type of system can even evaluate how price changes for one room category influence demand for the others. Taking this into account is the way to continuously sell all room types at the ideal rate. 
Organisational Aspects and Useability
Yes, you're only going to do it once. But knowing how your new RMS' implementation process will work is important. Additionally, find out how they price their service. Is there a set-up fee? Do you pay a monthly flat fee, or does it depend on your revenue? Do they offer standard vs. advanced plans? The idea here is not to find ways to cut costs but to know exactly which ongoing expenses you're incurring. 
Ease-of-use and system maintenance are two more critical points. Unfortunately, many legacy RMSs require lengthy training. As a result, only specialized pros can get the most out of them and you end up with information silos at your hotel. The good news is that new-age platforms that connect with your remaining tech tools are usually easy to learn and use for all staff. This ensures that your team takes full advantage of your RMS. It also breaks down silos and encourages cross-departmental collaboration. 
For the highest level of flexibility, choose an RMS that's cloud-based, mobile-responsive and device-agnostic. That way your team can log on from anywhere they have a stable internet connection, whether it's at the office, while working from home, or on the go. Given that flexible work arrangements are becoming more common, this aspect keeps gaining importance. 
Lastly, a well-structured layout and the chance to export performance data and forecasts are crucial. This allows you to cut back on gathering and arranging data in presentations and lets you pull up the needed information in just a few clicks. 
Since you know which five aspects to check your RMS for, it's your turn now. How well does your current or potential future RMS perform? If you find that it doesn't tick all the boxes, it may be time to look for another option…
If you want more direction on the subject, get HotelTechReport's free Ultimate Guide to Revenue Management Systems for expert guidance on finding the RMS that works best for you.