How Smart-Room Tablets Can Fill in Gaps for a Reduced Staff
By Pilar Caballero
Last updated January 26, 2022
2 min read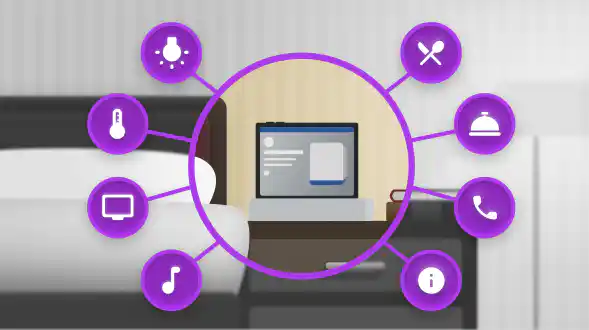 In 2020, the hospitality industry had to quickly jump on board with mobile platforms as a result of the pandemic requiring a focus on contactless options. After a year of focusing almost exclusively on mobile, the topic on everyone's mind now is the industry-wide staffing shortage. For many hoteliers, conversations around investing in new tech have been put on the back burner in the scramble to address staffing issues. But staffing concerns and contactless tech are not unrelated; in fact, smart-room tablets specifically have a lot to offer reduced staff teams to elevate guest experience and, for properties with mobile platforms, complement existing tech.
The Lean Team's Perfect Companion
First and foremost, a smart-room tablet is an information hub that frees up valuable time for staff. It provides quick communications, service requests, and updates. It can take over the role of compendium and act as an in-room concierge—all while remaining easy to maintain and update. And with tablets creating better staff workflows and saving employee hours, a reduced staff can spend their time attending to in-person needs.
Replacing clunky physical compendiums with digital compendiums saves staff from having to manually update information. Instead of needing to print out new sheets and replace them in every room for even a minor update, your staff can add changes at any time, with just a few taps. Beyond that, there's also a huge potential for new revenue; in-room tablets offer a landing point for high-impact visuals for promotions—if there's something you want to make sure your guests see, this is the place to put it.
The Always Available, In-Room Helper
One problem facing the entire industry in the wake of staffing shortages, is inability to have the same standard of personalized guest experience as when all positions are filled. For hoteliers looking for solutions to add a personal touch to every guest's stay, tablets can help. It can be as simple as setting a custom greeting to welcome them by name when they walk into their room for the first time. Or, for an even more luxurious experience: putting temperature controls and a digital compendium within an arm's reach of their bed, offering a dedicated in-room device that can meet their needs any time of the day or night. Both a practical tool and a luxury experience, tablets offer an opportunity for hotels to go above and beyond to impress guests, without adding extra work for staff.
And for properties that don't have an app, the tablet can be a one-stop shop for dining, amenities, service requests, and more. Smart-room tablets provide nearly all of the benefits of an app, while remaining easily accessible to guests and requiring little upkeep from staff.
Meet the Perfect Mobile Companion
For properties that do have a mobile platform, tablets offer a more holistic digital experience for guests when they are in their room. As guests continue to become more tech-savvy, dedicated in-room devices for all things information, communication, and control is right up their alley. Mobile and tablets work together to make the guest experience as smooth and simple as possible at every step in the guest journey. It's a better experience, one that facilitates better service and builds guest loyalty.
Plus, one distinct and powerful advantage smart-room tablets have over mobile tech is a nearly 99% guest engagement rate.1 One thing you can know for sure when looking to invest in in-room tech: if the tablet is there, guests will use it.
So there you have it. Without an app, tablets provide the convenience and communication opportunities of an app plus the extra features exclusive to the in-room experience. And paired with an app, smart-room tablets create a holistic digital experience for both guests and staff. Either way, tablets can help shoulder the burden of having reduced staff while heightening the guest experience overall. 
1 Internal INTELITY reporting and customer data, 2021.