Service Delivery & Optimization
Digital Workspace Software RFP Checklist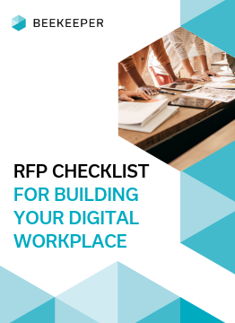 Overview
Our RFP Checklist Template is your go-to resource to better understand and assess what to look for when it comes to building a digital workplace. From accessibility, functionality, integrations, and analytics capability, our RFP Checklist Template presents key items you need to consider when evaluating digital workplace tools, such as:
What's Inside
Does the digital workplace tool provide operations and communication solutions for both desk and non-desk workers?
Does the platform provide a central hub for documents, policies, and integrate with existing operational systems?
Is the communication platform mobile, secure, and GDPR compliant?
Special thanks to Beekeeper for providing this free content to educate hoteliers!
In exchange for providing this free content to our users, Hotel Tech Report shares download information with the owner of the content. By downloading you agree that Hotel Tech Report can share your contact information with the content owner and that the owner may reach out to offer assistance in your search for a new Service Delivery & Optimization vendor.
Learn more about Beekeeper