HT SCORE
0 out of 100
Hotel Tech Score is a composite ranking comprising of key signals such as: user satisfaction, review quantity, review recency, and vendor submitted information to help buyers better understand their products.
Learn more
Reviews Summary
Ranked #134 out of 134 in Distribution Channels
Verified Customer Support
HotelsByDay's customer support processes haven't yet been verified by Hotel Tech Report.
Learn more
Distribution Channels
Marketplace for Luxury Hotel Experiences & Gift Vouchers
Distribution Channels
Travel metasearch engine for lodging reservations.
Distribution Channels
Suiteness is a hotel tech company with the first suite-only booking platform offering users more bedrooms in the best hotels and a complimentary concierge. Suiteness offers exclusive luxury suites as well as more affordable connected suites for families and group travelers.
View HotelsByDay alternatives
FIND THE PERFECT FIT
Want to find out if HotelsByDay is the best fit for your hotel?
Take the quiz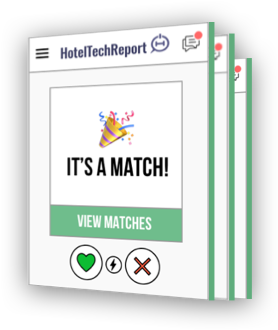 Two Way Data-Sync
Virtual Card Payments
Pre-Paid Reservations
filter 0 verified HotelsByDay reviews
There are not enough reviews of HotelsByDay for Hotel Tech Report to provide buying insight. Below are some alternatives with more reviews:
86

82

16

Can't find the answer to your question about HotelsByDay?
Submit your question to get help with a specific inquiry about your interest in HotelsByDay.
Commission or Revenue Share
% of room upsell revenue