Hotel Tech Community Raises $393,227 in Ukraine Relief Funds Through HospitalityforPeace.org
Hotel tech companies fund nearly $400,000 in aid for immediate Ukrainian humanitarian relief

HospitalityforPeace.org is an alliance of hotel tech companies organized by Hotel Tech Report to provide direct aid to those affected by the Ukrainian humanitarian crisis which has escalated in recent weeks.   The group raised $393,227 from hotel tech companies, venture capital firms and individuals in the broader hotel industry exceeding its goal of reaching $350,000 in donations by April 15th.
"We have been blown away by the community's response.  We set $350k as a reach goal and have been humbled to call so many incredible philanthropic organizations our partners and peers.  As we watched the humanitarian crisis unfold in Ukraine, the hotel tech community agreed that we couldn't stand idly by.  Collectively we decided that we'd be able to make more of an impact by working together to rapidly raise and deploy funds directly into high impact charities.  The fact that we raised close to half a million dollars in under 30-days speaks volumes about the quality of businesses in the hotel technology ecosystem," says project organizer Adam Hollander.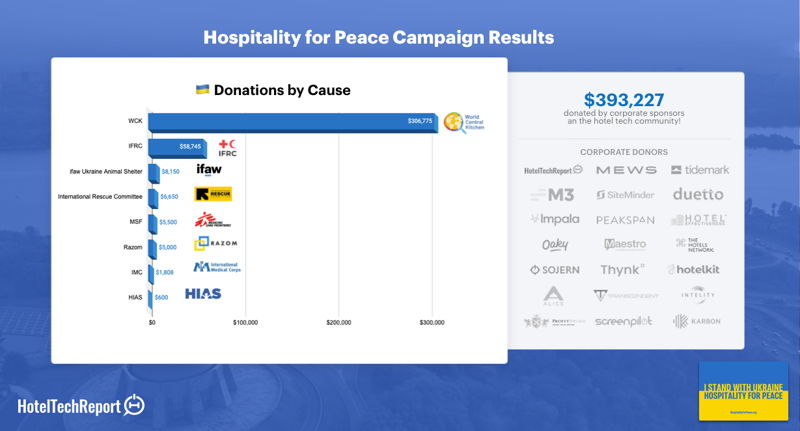 "I'm incredibly proud of everyone's efforts to raise money for those in Ukraine who truly need it," said Richard Valtr, Mews Founder.  Valtr's firm Mews is a HospitalityforPeace.org founding partner. "It's a reminder that kindness transcends borders and that we can make a real difference when we work together."
Members of the hospitality industry can contribute to the initiative by sharing the link with friends and colleagues as well as by donating directly to a cause that is certified by HospitalityforPeace.org and sharing their donation receipt with campaign organizers.  Individual donations will be matched by corporate partners to amplify the impact of each dollar raised.
Global peace is central to travel demand and a broader European conflict could potentially damage the travel industry even more than COVID. Additionally, Ukraine is an innovation hub with hundreds of hotel and hotel tech companies employing engineers in the country. Each day that Ukrainian engineers are holding rifles instead of writing code – innovation slows down.
Corporate donors included the following organizations:
HotelTechReport.com

Mews

M3

Siteminder

Duetto

Tidemark

Impala

hotelkit

The Hotels Network

Thynk

Peakspan

Maestro

Sojern

Oaky

Hotel Effectiveness

Screen Pilot

ProfitSword

ALICE

INTELITY

Karbon

Transcendent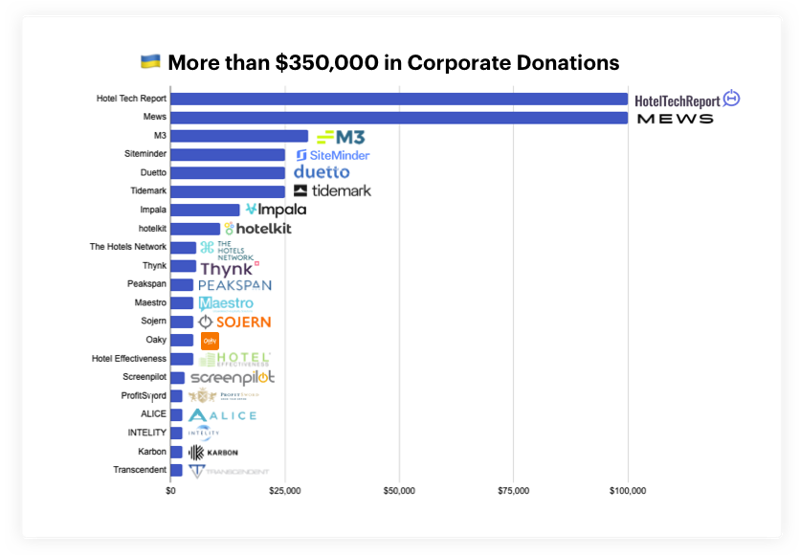 About HospitalityForPeace.org
Hospitality for Peace is an industry wide pledge to donate funds towards verified Ukrainian humanitarian causes.  Donors simply select the certified 501(c)3 nonprofit of their choice and forward their donation receipt to the campaign email address for inclusion in the matching program.