Dusit Thani Laguna Launches GTRIIP's Contactless Hotel Check-in Solution Amidst Global Covid-19 Endemic to Ensure Customer Safety, Convenience and Digitisation
Heeding the call from the Singapore Government, this announcement marks a key move by Dusit Thani Laguna Singapore to embrace digital transformation in line with national initiatives. Providing a seamless and fully digital end-to-end guest experience, this innovative technology not only ensures the safety of staff and guests amidst a global endemic, but lays the foundation for a revolutionised customer service experience
Today, the luxury resort Dusit Thani Laguna Singapore officially launches an innovative solution that provides guests with contactless access into the property, using only their own smartphones. This is done in partnership with GTRIIP, a digital identity software provider and a global category leader in hotel check-ins with a selfie.
As Covid-19 has swiftly accelerated the digital age, and as Singapore begins to open up its borders in the coming months, there is now greater importance placed on businesses and individuals to leverage technology in the fight against the virus. By moving the hassle of checking in online, digital solutions and partnerships like this are helping to make travel quick, convenient and safe by reducing unnecessary physical contact between travellers in accordance with local regulations, to prevent the spread of Covid-19 in communities.
A New Digital Normal - Assisting the Industry's Post-Pandemic Recovery
The implementation of a contactless check-in solution is gaining traction in the hospitality industry, with both hoteliers and guests standing to benefit from this initiative. GTRIIP's digital identity software will now welcome all guests of Dusit Thani Laguna to an uplifted experience backed by technology – a completely web-based check-in and check-out, and the availability of a selection of service requests and facility bookings, all through their mobile phones. The solution allows guests to check in to the hotel with their smartphone selfie, which integrates necessary information to Singapore Tourism Board's E-visitor Authentication Service (EVA).
For hoteliers, the technology promises greater efficiency at the front desk by eliminating the need for paperwork, and enhances security with GTRIIP's hotel biometric check-in software. Being a software-as-a-service product where no new hardware is required, it is also inherently more scalable and sustainable for properties to enjoy the full benefits of the solution without incurring extra capital expenditure. This shift of physical human interaction to a digital one, is set to redefine the next generation of service – allowing simplicity, convenience, and distance.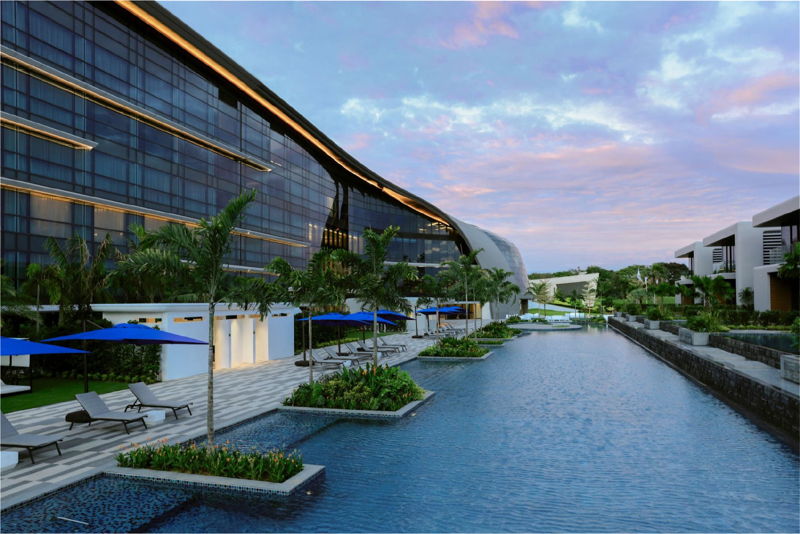 Beyond providing a safe environment to facilitate an industry that is poised to make its recovery from the pandemic, the technology offered in the partnership is likely to set precedence for a new digitised hospitality industry.
"The Singapore government has been a strong advocate of digital transformation and is also what we believe will resonate well with travellers in this digital savvy era. We are committed to delivering Thai inspired personalized experiences to our guests and working with forward-looking partners like GTRIIP allows us to implement an innovative technology where we can provide our guests and team members a safe and conducive environment to stay, work and play," said Mr Eric Piatti, General Manager, Dusit Thani Laguna Singapore.
"It's been an honour to partner Dusit Thani Laguna Singapore in their mission to provide a contactless and safe environment for guests and staff during the pandemic. We are deeply committed to deliver solutions that will not only improve productivity but are also innovative. We certainly look forward to supporting the hotel's continued success and finding new ways to facilitate the recovery of the travel and hospitality industry in Singapore and the region," said Mr Vetri Mayandi, Chief Commercial Officer, GTRIIP Pte Ltd.
Dusit Thani Laguna Singapore is a part of the Dusit International which is a group headquartered in Bangkok, Thailand. To date, the group is operating in 12 countries, managing more than 36 hotels and resorts globally.
About Dusit Thani Laguna Singapore
Dusit Thani Laguna Singapore is located within the grounds of the acclaimed Laguna National Golf & Resort Club, comprising 198 tastefully-decorated rooms and suites showcasing the best of contemporary Asian design. The resort is equipped with facilities for both business and leisure with a wealth of experiences for guests to enjoy, including a variety of renowned restaurants, bars and lounges, along with privileged access to the driving range and Laguna National's championship Classic and Masters golf courses.