Impulsify Releases Volume 1 of Their Retail Guide To Help Hotel Owners and Managers Optimize Grab & Go Retail Spaces
Impulsify's Retail Guide Is A Go-To Resource For Hotel Retail Design & Data Insights

Hospitality's Grab & Go retail innovator, Impulsify Inc., is excited to announce Volume 1 of their Retail Guide, which you can view online here. Volume 1, the Covid edition, is focused on the current state of hotel retail during the pandemic and features the latest trends in product assortment, design service recommendations, a case study on the Kiosk Effect, and more. The information is also relevant to other markets including luxury apartments, campgrounds, shared workspaces, gyms, etc.
Impulsify has compiled this resource for hotels to simplify Grab & Go with three core objectives in mind: guest safety, guest F&B satisfaction, and incremental revenue. Impulsify aims to help the only way they know how; successful, safe, and super convenient Grab & Go retail.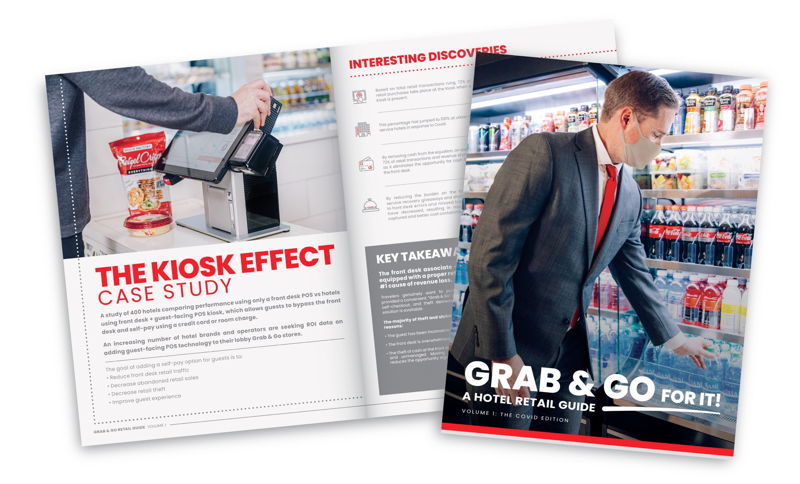 Self-service Grab & Go markets have never been more essential than in today's Covid world. That lobby market that once offered water, snacks, and a 2-pack of Tylenol – is now the #1 F&B source for guests at many hotels who used the space to quickly replace lost revenue and food service. Rather than closing markets, they began offering packaged breakfast items, kitchen-prepared meals, and higher quality snack items to offset the closure or restrictions on restaurants, bistros, and bars.
Savvy hoteliers grew tired of watching delivery companies funnel revenue off the property. Many reopened their kitchens or partnered with local restaurants to package quality meals-to-go on-premise without impacting local Covid restrictions.
Impulsify has seen a 68%increase in hotels adding a retail self-service kiosk to allow guests to control the transaction, avoid the front desk line, and minimize cross-contamination concerns handing food back and forth through plexiglass. The kiosk report inside in the Retail Guide includes hard data on the Kiosk Effect.
In a Covid-19 world, Impulsify's cashless, technology-driven markets allow hotel guests to avoid close quarters and long checkout lines to get their essentials and snacks with the convenience of shopping in their own hotel and charging it to their room or credit card. The self-pay kiosk reduces the hotel's concern of Covid-related liabilities such as cashier proximity and cross-contamination when cashiers handle the food and currency in the transaction.
"During this time of uncertainty and shift in economic reliability, Impulsify's new Retail Guide, self-pay technology, and easy to implement retail designs present hotel developers, owners, and managers with no previous retail experience, a turn-key solution designed to benefit both the hotel and the guests," says Janine Williams – Impulsify Founder & CEO.