M3 Named Best Reporting & Accounting Software in 2022 HotelTechAwards
Hotel Management Companies and Hotel Owners Reviewed M3 as Best Accounting Software Back-to-Back Years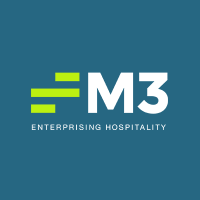 M3's flagship product, Accounting Core, the hospitality sector's #1 cloud-based accounting and financial management platform across North America, received the 2022 HotelTechAward for Best Reporting & Accounting Software by Hotel Tech Report.
More than 169,000 hotel industry professionals use HotelTechReport.com to make informed technology purchasing decisions each month. The HotelTechAwards determine the best hotel software products across every category based on customer feedback and key proprietary data signals such as integration compatibility, organizational health, market share, partner network strength, and customer support quality.
"The ranking process is simple, transparent, and unbiased--judging is based on time tested ranking factors developed specifically for the industry. Only verified hoteliers with hands-on experience using each product are allowed to participate in the voting process. This means that M3's users decided the #1 Reporting & Accounting Software," said Hotel Tech Report CEO, Jordan Hollander.
This award further solidifies M3's position as the #1 financial management and accounting software in the hospitality industry. M3 has now won the HotelTechReport award back-to-back years by leveraging its powerful back-office hotel accounting software to provide M3 customers with streamlined accounting, accurate financial snapshots of all properties, and improved efficiency and visibility.
In 2021, M3's Accounting Core usage grew by 110 customers accounting for 286 hotel properties throughout North America. The exponential growth that M3 experienced in 2021 aided the company as they focused on product enhancements and industry partnerships that improve user experience and drive savings to their customers' bottom line. 
M3 had a total of 78 free enhancements for Accounting Core alone in 2021 and completed 60,419 technical support cases throughout the year, with a 97% satisfaction rate. The enhancements included but are not limited to bank reconciliation with transactions from the bank, global tax settings and configurations, updated filtering options throughout AP, invoice copying, mass invoice payment method, and mass invoice approval/unapproval updates.
"We are honored and humbled that our customers have awarded us this honor through their unsolicited reviews, especially in such a tumultuous year for our industry" says Scott Watson, M3's Chief Sales and Marketing Officer.  Watson added, "For over two decades we have strived to deliver technology excellence while keeping our prices affordable. We thank HTR for the opportunity to showcase the accounting solution used by almost 7,000 hotels across North America and we remain committed to delivering the best products, services and support to our valued customers".
"The authentic voice of the customer decides the winners of the annual HotelTechAwards - ranking hotel software solutions based on users' experience in buying, implementing, and using those solutions," said Jordan Hollander, CEO of Hotel Tech Report. "We're thrilled to highlight the value that the world's leading software solutions deliver to their customers. By building a platform around the voice of the people actually using these hotel tech solutions, we're able to deliver actionable, peer-to-peer insights that potential buyers can trust. Winning a HotelTechAward is the highest achievement in the industry because it's based on data. With assets depreciating on a multitude of schedules, complex payment processes, third party distribution expenses and intense labor regulations - accounting and reporting in the hotel industry is a major challenge. M3 has developed a powerful solution that helps simplify and automate even the most complex hotel financial processes to give hoteliers peace of mind in tax season and beyond."
The HotelTechAwards are often referred to as "the Grammys of Hotel Tech," and M3's Accounting Core has been selected from more than 200 of the top technology products worldwide. The HotelTechAwards are the industry's only data-driven awards platform, with winners determined not by a handful of judges or popularity votes but by product reviews from a global community of verified hotel technology users across more than 120 countries.