M3 Benefits Luminous Hotel Management Through the Power of It's Top Rated Hotel Accounting Solution
M3 to offer scalability, functionality, and ease of use to streamline back office processes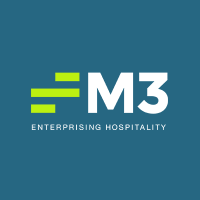 Many hotels experience back-office issues that put a strain on management teams. The right hospitality-specific accounting solution can help mitigate many issues, including data validation, manual input, non-integrated financial systems, and cash management.
With a portfolio of four hotels and growing, Luminous Hotel Management (LHM) is a full-service hotel management company with properties in Virginia and West Virginia. Currently managing Wyndham and IHG brands, LHM is responsible for asset and revenue management strategies, operations, sales and marketing, accounting and finance, financial reporting, and tax planning for its portfolio of hotels.
After over a decade of partnership with M3, LHM chose to implement a different accounting and reporting solution in 2021. However, following the implementation of the other software, Jadhav noticed several inefficiencies. For example, the new software provider could not scale as the company grew, had limited integrations with PMS systems, cumbersome cash management and reconciliations, and did not offer customized reporting.
The invoice uploading method in the new software required LHM to scan invoices into the computer system prior to being uploaded into the software, which was an extra step from what M3 offered. Not only this, but invoices were able to be entered for any company, which would cause confusion since there was an opportunity for invoices to be posted to the wrong hotel and aging reports would become inaccurate.
In addition to these inefficiencies, Jadhav was also frustrated with payment processing in the new platform, specifically manual check writing. LHM also had a critical need to process ACH payments to further streamline their Accounts Payable process, which was virtually nonexistent in the solution they had opted to use.
"Ease of use, functionality, and scalability were some of the big roadblocks we were experiencing. As we grew and added more properties, we needed to reevaluate our accounting needs," said Jadhav.
The Solution
Months after leaving M3, LHM decided to return to M3, the #1 Accounting and Reporting Solution in the hospitality industry that serves over 50% of the top hotel management companies throughout the U.S, as ranked by Hotel Business magazine and Hospitality Upgrade magazine.
LHM currently utilizes Accounting Core, M3's flagship product, and e-Pay, a state-of-the-art Accounts Payable solution geared towards hoteliers.
"Deciding to make the switch back to M3's Accounting Core has given us the control and ability to tailor the software to our company's needs. Creating and modifying customized reports, running consolidated reports across any brand or region, scanning invoices quickly, and easily referencing those invoices have helped us become more organized and streamlined in our daily accounting practices. Customizable reports have great utility and impact on hotel operations and tax planning. In addition, every time we have had a support ticket, there is a 24-hour response and a strong follow-through daily, including weekends, given that hotel operations are critical every day of the week."
A benefiting feature that M3 was able to offer LHM through the use of Accounting Core, was the ability for invoices to be scanned directly into the platform. Invoices can only be entered for the company you are working on, which results in no errors or confusion. M3 helps customers stay organized and creates a simplistic process to make uploading error-free. 
M3's e-Pay solution offers LHM the ability to pay vendors via check, ACH payments, or virtual credit card, which earn rebates, creating a new revenue stream by utilizing electronic workflow and artificial intelligence. The process is seamless, enhances automation, and helps eliminate manual work and human error.
The Results
Through LHM's return to M3, their team has been able to have the ease of use, functionality, and scalability that they desired. Their team is no longer suffering from duplicating efforts of invoice uploading or the potential of invoices being posted to the incorrect hotel, which has resulted in LHM's aging reports to now be accurate, allowing them to have actionable data.
"I can already see a change in our day-to-day operations returning to M3; that is where the impact comes in, from a macro level, and how we operate. It is no doubt that M3 is more streamlined, more efficient, and is positively driving our bottom line," said Fair.
Using M3's e-Pay, LHM no longer wastes human capital cutting checks, and there is no longer worry about checks being applied to incorrect invoices and accounts. In addition, with the payment automation power of e-Pay, LHM can now eliminate the many costs of Accounts Payable, such as bank fees, MICR toner, envelopes, and postage.
Partnering with the industry's top-rated accounting and reporting solution, built for hoteliers by hoteliers, LHM can now see time and labor savings through the power of M3's Accounting Core coupled with e-Pay. These resources can now be allocated for what is important: hotel guests.