M3 Aids GF Hotels & Resorts in Exponential Growth
M3 to offer a reliable, fully integrated infrastructure and software platform to deliver manageable scalability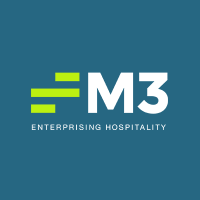 Scalability is often a daunting task that few hotel management companies succeed in, as many factors play into the success of balancing a large hotel portfolio. Recent world-wide events have resulted in large-scale change within the hospitality industry. Most hoteliers were able to ride out the storm; though, GF Hotels & Resorts was able to persevere and grow to double its portfolio size throughout the entirety of the pandemic.
GF Hotels & Resorts (GF), headquartered in Philadelphia, Pennsylvania, has mastered the art of managing nearly 140 assets, equating to over 20,000 guest rooms, and spanning throughout 31 states. Since its founding in 1988, GF has experienced unprecedented growth through delivering exceptional results to its clients, which has resulted in it being an award-winning management company in the hospitality sector.
To reach this level of scale and success, a company must have the right back-office systems to manage its portfolio effectively. It must also have data at its fingertips to make quick business decisions that can alter the company's trajectory at a moment's notice. Keith Schreiner, GF's Senior VP of Corporate Accounting, and his staff look to continue managing their growth by utilizing M3's products and services to streamline financial and operational processes.
The Tools to Manage Scalability
Having used M3's Accounting Core for its accounting and financial reporting since 2007, GF has been able to manage its portfolio growth easily and seamlessly. The company also utilizes M3's Document Imaging and the newest version, Intelligent Imaging, in conjunction with Accounting Core, which aids in reducing manual labor by offering the ability to scan in invoices, apply workflows and provide drill-down capabilities from almost anywhere in the system.
In 2019, GF opted to utilize M3's business intelligence platform and dashboard tool, Insight. Since the adoption of Insight, GF has the capability to stay ahead of the ever-shifting technological curve. The tool also allows KPIs to be shared with owners and asset managers instantaneously and automatically. Examples include: Occupancy, RevPAR, ADR and POR's.
"Insight's ability to integrate with third-party data, such as Smith Travel and brand Guest Satisfaction Scores (GSS), is important because owners want to see more than just the revenue from the day," said Schreiner. He continued, "The ability to look at above property level consolidated reporting in Insight is huge, especially when looking at over 100 properties, and that makes us a lot more efficient in supporting our portfolio of properties."
M3 has built a reliable, fully integrated infrastructure and software platform to deliver manageable scalability to GF and over 1,000 other management groups and hotel owners. Some of the features that have aided GF throughout its growth are the ability to streamline the addition of new properties into Accounting Core. The standardization of charts-of-accounts and financial reports have made growth almost effortless and straightforward for GF with the process being as simple as copying and pasting to get a new property added to its portfolio within Accounting Core within minutes.
Going Forward
GF has been using M3 tools for over 15-years and the team couldn't be more pleased with the results they have seen in their accounting, finance, and operations departments. The company plans to continue to scale and serve more hotel properties throughout the US.
"GF is looking to leverage everything that M3 has to offer. We have experienced cost and time savings by utilizing Accounting Core and Insight and are looking forward to adding on to those savings by taking advantage of the Insight mobile app while also looking into other M3 products to increase our top-line revenue while improving our bottom line," said Schreiner.
Looking forward, GF believes the Insight Mobile App will catapult and keep the company ahead of the competition. By using the app, it will allow the ability to access customized dashboards, daily reports, financials, GSS, STR Data, and much more from anywhere, at any time.
GF finds Accounting Core and Insight crucial to managing and growing a portfolio of hotels. M3, the #1 Hotel Reporting and Accounting Software, as ranked by HotelTechReport, is currently used by over half of the Top Management Companies throughout the US, helping to streamline processes and grow hotel portfolios.