Everything You Need to Know Before Listing on Vrbo and Homeaway
By Adrienne Fors
Last updated May 27, 2020
6 min read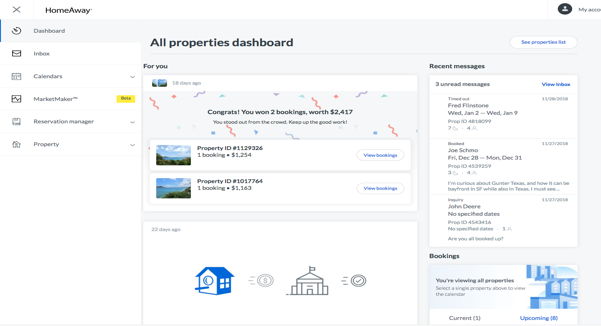 Want to know more about Vrbo and HomeAway? What's the difference between Vrbo and HomeAway, or are they part of the same company? This comprehensive article covers everything you need to know about Vrbo, including payment and refund policies, company history, and an analysis of Vrbo's competitors. Whether you already have a thriving vacation rental business on Vrbo or you're considering getting started, keep reading to learn more about the Vrbo family of sites.
What is Vrbo?
Let's start with the name. You might wonder what's behind this vacation rental platform's name, which is pronounced "verbo." Vrbo was launched in 1995 as Vacation Rentals By Owner, which became more commonly known with the acronym VRBO. VRBO was one of the first websites where vacation home owners could list their properties online. A decade later, a company called HomeAway acquired several vacation rental websites to create a consolidated vacation rental marketplace. One of these acquisitions was VRBO, which had grown to offer over 60,000 properties by 2005.
HomeAway, as the parent company of VRBO, Vacationrentals.com, OwnersDirect, and more, was acquired by the Expedia Group in 2015. In addition to Expedia.com, the Expedia Group owns Orbitz, Travelocity, Hotels.com, Hotwire, and several more travel brands. In 2019, the Expedia Group rebranded their vacation rental division to make Vrbo (lowercase letters, this time) the lead brand. Today all of the vacation rental sites, including Vrbo.com, HomeAway.com, and Vacationrentals.com share the same property inventory, but use unique branding and logos.
Vrbo and HomeAway both started in the United States, and they still have a large footprint in American markets. The sites have listings for more 2 million properties in 190 countries, which include homes and condos in addition to some less traditional properties, like castles and treehouses. However, shared space listings are not allowed, so you won't find hostel beds or shared apartments on Vrbo sites. Vrbo's specialty is traditional vacation rental properties and the site is popular in leisure destinations and beach markets.
What do people think about Vrbo?
Vrbo has been around for a decade longer than Airbnb, so it has generated both a loyal following and some strong opinions. Vrbo has a rating of 2/5 on rating site Consumer Affairs (here) and a 4.3/5 on Trustpilot (here) as of April 28, 2020.
Vrbo has received many negative reviews recently from both property owners and guests that criticize the company's handling of cancellations and refunds related to the COVID-19 crisis.
Even excluding Vrbo's COVID-19 policies, property owners say that the site's payment policy isn't favorable, that the site charges high fees, and that it's difficult to get in touch with a customer service representative.
Positive reviews, however, mention that Vrbo has high-quality guests, that their search results algorithm is accurate, and that customer service representatives are friendly.
Where can I find forums about Vrbo?
Property owners around the world participate in online discussion boards to get advice, resolve issues, and share best practices. Vrbo's official forum is the Partner Community, where property owners can browse and engage in discussions on topics like communication with guests, payment policies, new site features, and industry trends. In the "Tips" section, you'll find a few articles written by Vrbo staff with advice on how to take good property photos, how to reduce energy costs, and more.
Besides the Partner Community, property owners can find Vrbo-related discussions at the Airhosts Forum, which has over 13,000 members who list properties on a variety of sites, not only Airbnb. Starting a new thread about a Vrbo-specific topic is completely acceptable, and you can get advice from professional or experienced hosts who participate in the discussion boards.
Vrbo FAQs
Curious about some specifics? Let's answer a few commonly asked questions about Vrbo.
What commission does Vrbo charge property owners? Vrbo offers two options for property owners: a commission model and a subscription model. For owners who choose the commission structure, they pay a 5% fee to Vrbo on each reservation, and they may also pay a 3% payment processing fee depending on how their payouts are set up. Alternatively, property owners can purchase a 12-month Vrbo subscription for $499 and pay no additional commission on reservations. The subscription model makes sense for hosts who estimate they'll book at least $10,000 on Vrbo annually. Property owners can switch from the commission model to a subscription at any time, but subscriptions cannot be refunded.

Do Vrbo guests pay a booking fee? Yes, guests who book on Vrbo pay a service fee, which goes directly to Vrbo. This fee is equal to roughly 10% of the nightly rate, but could be slightly higher or lower. Vrbo doesn't give much transparency to how they calculate this fee. The service fee is added on top of the nightly rate, taxes, and any additional fees.





Does Vrbo collect taxes? Vrbo collects and remits tax to local authorities in many regions. Find the most up-to-date information by searching for your region + "tax" in Vrbo's help center.


Vrbo Payment Policy
Guests can pay for their Vrbo reservations with a Visa, Mastercard, or American Express card. Payment is generally taken in full at the time of booking, but property owners can set custom payment policies that require a partial payment upfront and the remainder at a later date.
Vrbo processes the credit card payment (usually with a 3% processing fee) and pays out the rest of the funds to the property owner's bank account, minus the 5% commission if the property owner is on the commission model. Vrbo disburses payments one day after check-in.
Vrbo Cancellation Policy
Property owners can select from five different cancellation policies: Relaxed, Moderate, Firm, Strict, and None (non-refundable). By default, the cancellation policy is Moderate. Property owners need to manually select another policy if desired.
Guests can cancel their reservations online or by calling Vrbo's support team.
Vrbo Refund Policy
If a guest cancels their reservation during the refundable period of the cancellation policy that applies to their reservation, then they will receive a refund issued to their original payment method. Property owners do not need to approve these refunds, and Vrbo will issue the funds back to the guest automatically.
If a guest requests a refund due to an extenuating circumstance or an issue during their stay, then the property owner can usually decide whether or not to issue a refund.
Vrbo Competitors
Other online booking sites like Airbnb, TripAdvisor Rentals/FlipKey, and Booking.com are major competitors of Vrbo. TripAdvisor acquired FlipKey in 2008. Though all of these sites offer vacation rental listings, they are each slightly differentiated and have their own strengths and weaknesses.
In addition to these big players, Vrbo faces competition from regional booking sites, especially those that operate in traditional vacation rental markets. For example, FloridaRentals.com, which is popular among Florida beach markets, is a strong competitor for Vrbo in that specific geographic area.
Vrbo's listings are on a level playing field with a portion of Airbnb and Booking.com listings, since Airbnb and Booking.com offer shared accommodations while Vrbo does not. However, all three sites list vacation homes and condos.
How to log into Vrbo
Vrbo's property owners and travelers can log into their accounts via their internet browser or one of the Vrbo/HomeAway mobile apps.
Logging in to Vrbo is quite straightforward. On your browser, simply click "Login" in the top right corner and choose either "Traveler Login" or "Owner Login." Then, enter your email address and Vrbo password in the box that appears.
On the Vrbo Property Owner mobile app, the login screen appears immediately after you open the app.
If you forget your password, click the "Forgot Password?" link and an email will be sent with a link to reset your password. If you're logging on from a new device for the first time, you may be prompted to enter a text or email verification code to keep your account secure.
How to contact Vrbo support
Wondering how to reach Vrbo's support team? Vrbo offers several support options for property owners, including phone, online chat, and FAQ pages.
Vrbo's help center is a great place for property owners to search for answers. There are two versions, an Owner Help Center and a Property Manager Help Center for partners who use connectivity providers or manage many listings. These databases contain answers to lots of frequently asked questions about reservations, editing your listing, communicating with guests, and cancellations. You may be able to find the answer to your question here without speaking to a support representative.
If self-service support just doesn't cut it, Vrbo has support representatives available 24/7. Vrbo's toll-free number in the United States is 1-877-202-4291.
Besides phone support, property owners can get help via Vrbo's online chat system. To start an online chat session, click the "Contact Us" button at the bottom of any page in the Help Center. Select the topic that relates most closely to your issue, and follow the prompts until you see a button for "Chat."
Eager to learn even more about Vrbo and HomeAway? Learn more by reading our articles about logging into Vrbo, contacting Vrbo support, and analyzing Vrbo's competitors.
More helpful content and tips for Vrbo (Homeaway) Hosts: