Property Management Systems
Cloud vs Legacy Property Management Systems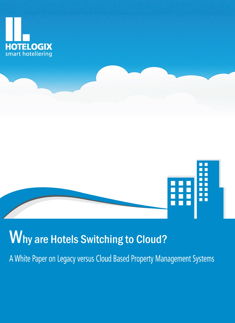 Overview
A complete guide detailing the onset of cloud computing technology The onset on cloud technology has revolutionized hospitality – powerful management and distribution tools that were beyond the reach of independent hotels are now accessible to all accommodation providers! However, the downside is the increased competition – with these tools now available to anyone, small and mid-sized hotels need to adopt technology that can help them remain competitive & stay profitable.
What's Inside
Why cloud adoption is growing rapidly in hospitality
Advantage of cloud computing for organizations
Why legacy systems inhibit hotels in today's market
Special thanks to Hotelogix for providing this free content to educate hoteliers!
In exchange for providing this free content to our users, Hotel Tech Report shares download information with the owner of the content. By downloading you agree that Hotel Tech Report can share your contact information with the content owner and that the owner may reach out to offer assistance in your search for a new Property Management Systems vendor.
Learn more about Hotelogix