Revenue Management Software
The House that Analytics Built: What hoteliers need to know about advanced analytics in revenue technology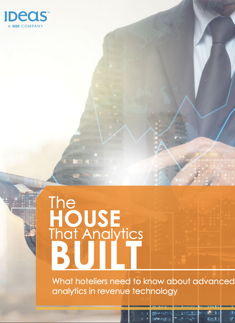 Overview
Hotels face an increasing amount of threats to their business. So much so, in fact, that the substantial spike in industry rivalry has influenced discussions on how to tackle these mounting challenges. Big data, machine learning and business intelligence have quickly become hot topics with both hotel executives and technology providers alike, begging the question: How can your hotel organization use analytics to increase profits?
What's Inside
How analytics improve your business strategy
Different types of analytics and what you get out of them
Why analytics have your rate changes covered
Big data—and why getting it right is so important
How to get the most out of your technology
Is it time to clean house?
What you need to know about machine learning
Where does AI fit into all of this?
Your prudent—and profitable—guide to hotel analytics
Special thanks to IDeaS for providing this free content to educate hoteliers!
In exchange for providing this free content to our users, Hotel Tech Report shares download information with the owner of the content. By downloading you agree that Hotel Tech Report can share your contact information with the content owner and that the owner may reach out to offer assistance in your search for a new Revenue Management Software vendor.
Learn more about IDeaS