Event Temple Selected as Choice Hotels® Canada Qualified Vendor
After a thorough vetting process, Event Temple is pleased to join the Choice Hotels Canada Qualified Vendor Program.

Event Temple, the award-winning hotel sales and event management software company, is proud to announce that it has entered into a Qualified Vendor Agreement with Choice Hotels Canada. Choice Hotels Canada is one of the largest and most successful lodging franchisors in Canada, with more than 350 properties currently open or under development. The Choice™ family of hotel brands provide business and leisure travelers with a range of high-quality lodging options, including limited to full-service hotels in the upscale, mid-scale, extended stay and economy segments.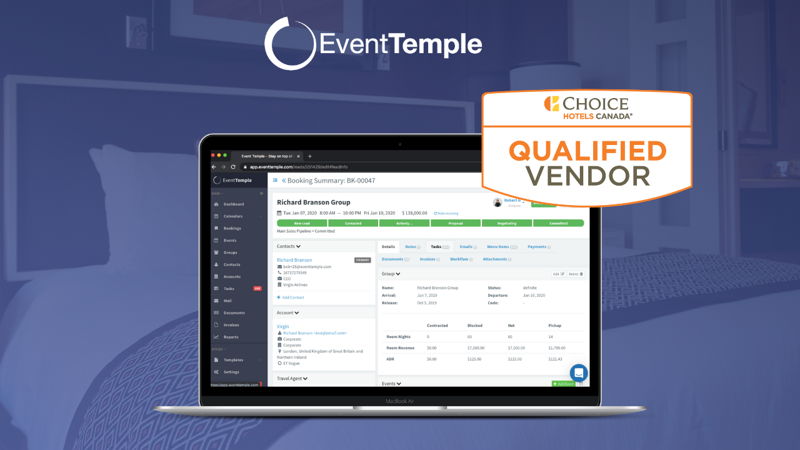 The agreement will give Choice Hotels Canada franchisees access to exclusive pricing and packages for Event Temple's products and services.
"We are excited to be a Qualified Vendor for Choice Hotels Canada," said Bob Graham, Event Temple CEO, "After a thorough evaluation and vetting process, it became evident that Event Temple and Choice Hotels Canada have clear alignment on hospitality sales strategies and how leveraging technology can help achieve those goals."
"As the industry heads into recovery, we know that we are going to see an increase in competition for the available market share," Graham continued, "Proactive sales teams who are currently hunting for business and building relationships are going to see the greatest success. Our goal at Event Temple is to support these hotel sales teams by providing them with the sales education and technology necessary to thrive in 2021 and beyond."
Choice Hotels Canada franchisees who choose to use Event Temple will be able to use the Sales CRM and Event Management platform as a tool to bridge the gap between digital and traditional sales tactics.
"Choice Hotels Canada and Event Temple are both Canadian-based companies," said Graham, "Our country, like everywhere else in the world, has struggled this past year. We're thrilled to team up with Choice Hotels Canada to play our part to assist the Canadian hospitality industry as we head towards economic recovery."