M3 Looks Ahead to 2021 AAHOA Convention
M3 invites its current customers and industry peers to learn about its latest product offerings, company updates and more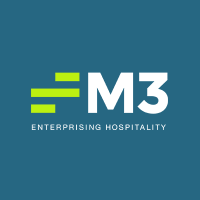 M3, the hospitality sector's #1 cloud-based accounting, financial and data management platform in North America, announced its upcoming participation at the 2021 AAHOA Convention & Trade Show on August 3-6 in Dallas. 
M3 representatives will be available at Booth #1322 to offer product tutorials and answer questions about M3's forward-thinking technology and ongoing updates. Information packets, whitepapers and recent press materials will also be made available to interested attendees.
Used by over 950 management groups and owner operators and nearly 7,000 hotels, M3 works seamlessly with other key systems and tools in the hospitality industry to offer robust accounting and financial analysis across entire portfolios with optional operations and time management features. Through consistent product enhancements, non-committal service plans and expert customer support services, M3 helps hoteliers boost bottom lines and increase efficiencies by driving cost savings, revenue enhancement and business insight.
So far, 2021 has seen several new developments and announcements from M3, including:
Industry Support
• Donated $100,000 to organizations supporting COVID-19 relief in India, matching AAHOA's equal contribution of $100,000
• Published two whitepapers, titled: "How Hoteliers Should Reach to New Forecasting Challenges in 2021" and "How to Choose a Hotel Accounting Package"
Product News
• Successfully launched a mobile app to support its popular Labor Management platform
• Entry-point software, Accounting Core, named Best Reporting & Accounting Software in the 2021 HotelTechAwards; Labor Management platform named a finalist in the Best Scheduling & Labor Management System category
• Business intelligence solution, Insight, named Gold Winner in the 2021 Golden Bridge Business & Innovation Awards
Company News
• Over 25 hotel management companies onboarded onto M3's entry-point software Accounting Core, in Q1 and Q2 2021, adding 320 new hotel properties onto the M3 platform
• Announced two all-new corporate divisions, DataOps and Business Intelligence, dedicated towards embracing new technologies, automation and continuous delivery for M3 products and services