M3 to Showcase Latest Offerings and Developments at 2021 HITEC Dallas
M3 also invites registrants to attend its live "Financial Re-Focus" session on Sept. 29 for a discussion on cash-flow management and best spending practices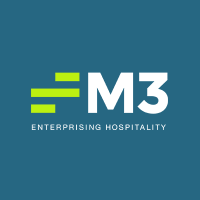 M3, the hospitality sector's #1 cloud-based accounting, financial and data management platform in North America, announced its upcoming exhibition at HITEC Dallas 2021, which will take place September 27-30.
Company executives, key managers and sales representatives from M3 will be available at Booth #3818 to offer product tutorials and answer questions about M3's suite of services to registrants. Additional information, including whitepapers and recent press materials, will be made available to interested attendees.
"HITEC offers an invaluable opportunity to connect with our industry partners and customers and share innovative insights that help drive hospitality technology forward," said M3's Chief Sales and Marketing Officer Scott Watson. "For more than 20 years, M3 has provided customers with operational savings, simpler workflows and greater efficiencies, and we look forward to attending HITEC each year to further our commitment of putting money back in hoteliers' pockets with seamless financial technology." 
M3's Chief Operations Officer Casi Johnson and Business Practice Consultant Shane Middleton will present a live "Financial Re-Focus" session from 1:30-2:45 p.m. on Wednesday, September 29, in Ballroom C2, Level 2, available to all registrants. After a challenging year that has forced many hoteliers to question financial priorities, this presentation will explore areas where hoteliers can improve cash-flow management, discover best spending practices and empower non-financial positions to improve financial security.
In 2021, M3 has launched premier products, announced new and expanding customer partnerships, distributed industry-leading publications and received award recognition for several of its products.
Industry Support
• Donated $100,000 to organizations supporting COVID-19 relief in India in June, matching AAHOA's equal contribution of $100,000
• Published two whitepapers, titled: "How Hoteliers Should Reach to New Forecasting Challenges in 2021" and "How to Choose a Hotel Accounting Package"
Product News
• Successfully launched a mobile app to support its popular Labor Management platform
• Entry-point software, Accounting Core, named Best Reporting & Accounting Software in the 2021 HotelTechAwards; Labor Management platform named a finalist in the Best Scheduling & Labor Management System category
• Business intelligence solution, Insight, named Gold Winner in the 2021 Golden Bridge Business & Innovation Awards
Company News
• Over 25 hotel management companies onboarded onto M3's entry-point software, Accounting Core, in Q1 and Q2 2021, adding 320 new hotel properties onto the M3 platform
• Announced two all-new corporate divisions, DataOps and Business Intelligence, dedicated to embracing new technologies, automation and continuous delivery for M3 products and services