M3 and Trintech Announce Strategic Partnership to Help the Hospitality Industry Streamline and Automate the Financial Close Process
Adra by Trintech Added to M3's Financial Solution Portfolio for BPO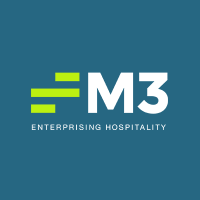 M3, the hospitality sector's #1 cloud-based accounting, financial, and data management platform in North America, and Trintech, an industry-leading global provider of Record to Report software solutions for the Office of Finance jointly announce a strategic partnership. This exciting new partnership was launched to help organizations in the hospitality industry streamline the financial close process by automating key processes and ensuring better internal controls. As a result of this partnership, M3 will offer Trintech's Adra Suite as part of its financial solution portfolio for Business Process Outsourcing (BPO). 
"M3 has a thorough vetting process for all potential service partners. We pride ourselves on bringing the best of the best to our customers. Adra is not only cost-effective for our customers, but one of the most comprehensive solutions of their kind in the market. Our M3 Professional Services division recognizes that scaling a shared services product is challenging, especially when the labor costs are at an all-time high. Adra delivers the ability for us to spread our workload, manage our teams, and deliver best-in-class services to our customers more efficiently. As an added value, even M3 customers that do not utilize M3 Professional Services support, get access to proprietary pricing and exceptional functionality to better scale their organizations in the same way," said M3's Business Practice Consultant, Shane Middleton. 
Just a few of the many benefits finance & accounting departments will gain with this partnership include:
Visibility across all tasks in the financial close process 

Control and automation of reconciliations 

Shortened close cycle through efficiency gains

Automated notification of balance changes throughout the close 

Reduction in write-offs 
"Multiple industries, including hospitality, are facing critical labor shortages in highly skilled positions. While positions associated with Financial & Accounting operations are rarely considered core competitive differentiators, they are essential for reporting obligations and supporting business insights," said Russ Hubbard, Chief Revenue Officer of Trintech. "Together, Trintech and M3 mitigate this issue in a seamless, scalable, and resilient fashion for organizations with both centralized and decentralized functions. Timely, accurate, and reliable financial data supporting both critical decision-making and reporting are now available through Trintech's Adra Suite offered by M3."
M3 and Trintech are looking forward to further developing their strategic partnership and creating a customer-friendly framework for onboarding future M3 clients. Trintech's Adra Suite will be included with any M3 Professional Services Agreement free of charge and available to all other M3 customers at a discounted rate.