Nor1 Sees Higher YOY Price Point for Upsells Even as RevPAR Declines
Guests Still Want to Customize Their Stay, and Are Willing to Pay for It
Nor1, the global leader in hospitality upgrade, upsell, and merchandising technology, has dived into its 15+ years of buyer behavior data to understand how the COVID-19 pandemic has affected guest demand for hotel upgrades, and the results might just surprise the industry.
By engaging the guest across the reservation lifecycle from booking through check-in, and by managing 1 million global hotel rooms, Nor1 has accumulated the largest set of guest/buyer behavior data in the hotel industry.  That rich data set, unique to Nor1, shows us that guests traveling in August 2020 have a greater appetite for upgrades, at a higher price point, than in August 2019.
"In a year-over-year comparison between August 2019 and August 2020, STR reports global RevPAR has dropped 57%" says Jason Bryant, Founder and CEO of Nor1.  "But our global data show hotels that actively engage the guest by presenting relevant upsell offers have seen a 20% YOY increase in the number of guests requesting an upgrade, along with a 9% YOY increase in the price per night of those upgrades.  So even though occupancies have decreased and booked rates are lower, guests still want upgraded rooms and services, and are willing to pay more for them now than at this time last year."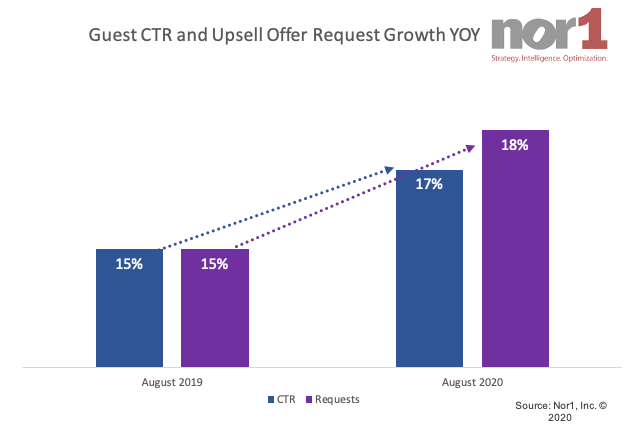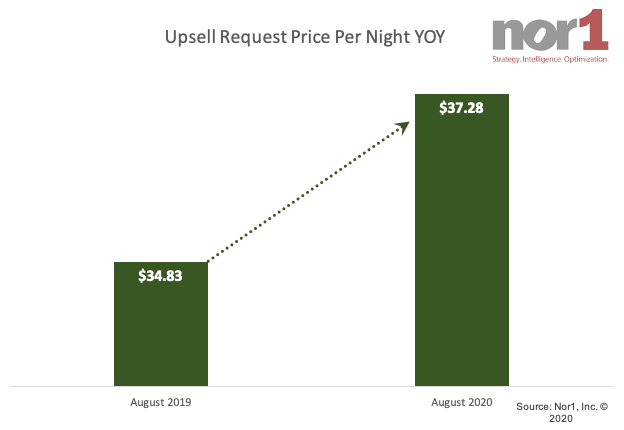 How can hotels act on this data?  Property executives, front office managers, and revenue managers should focus on upselling revenue, even during low occupancy and low demand. 
With lower occupancies, hotels have more inventory to upsell

Guests are paying lower rates, and have lower travel costs, so have additional funds available for upgrades

Guests are sensitive to the location and size of their room due to safety concerns

Guests will pay for non-room inventory items like parking, early check-in, and late check-out
Many hoteliers believe they don't have the resources to manage upselling, but Nor1's AI-based automation takes care of that.  Guests see offers on the booking engine, on the confirmation email, and on a pre-arrival email, all completely automated – no time is spent on pricing, selection, presentation, or approvals.  Managing guest requests takes less than one hour per week and can be completely eliminated with integration. 
Hoteliers who ignore upselling during this time of disruption are missing out on a regular source of revenue and losing the opportunity to engage guests in a meaningful way.  Why ignore revenue and risk guest dissatisfaction?