Top 50 Women in Travel Celebrated With Collection of Personalized NFTs
The Hotels Network honored the industry leaders selected by GBTA with individual portraits as unique digital identifiers

The Top 50 Women in Travel for 2022 have been named by the Global Business Travel Association (GBTA) WINiT. Nominated by their peers and colleagues within the industry, the winners were chosen for inspiring growth and success amongst women in travel. Mercedes Blanco, VP of Strategic Partnerships at The Hotels Network (THN) and founding member of Women in Travel Thrive, was selected as one of the winners. To honor these industry leaders, THN created a collection of personalized NFTs to celebrate their success.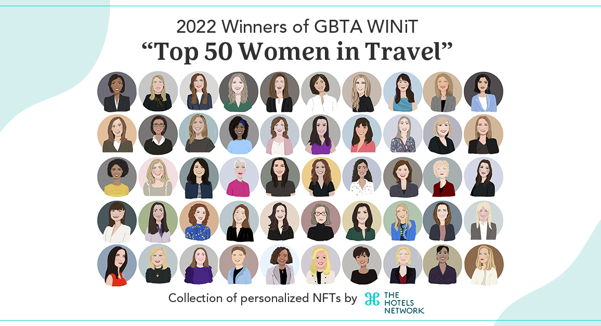 WINiT by GBTA is a network of women and men focused on driving positive change for the career mobility of women in travel-related industries. They offer unique career development opportunities within the industry including leadership and education, training and mentoring, and inspirational and networking events.
Supporting women in the industry is central to the values of THN, an innovative technology company boosting direct bookings for hotels worldwide. It is a core belief that lifting women up and encouraging success in their careers is the kind of actionable recognition that should continue within the industry. To contribute to the celebration of these women at the forefront of their field, THN honored them by utilizing leading technology.
The hotel website personalization platform fittingly honored the Top 50 women with an innovative and personalized collection of NFTs. The unique digital identifiers, unable to be copied or substituted, bring a literal sense to the irreplaceable work of these women. Personalization and innovation, pillars at the heart of THN's mission, led to the one-of-a-kind hand-drawn portraits of these industry leaders to further shed light on their career wins and success within the travel industry.
Mercedes was recognized alongside the other winners at the GBTA WINiT Awards and Gala, held on October 27th at the Westin New York Times Square. She is an experienced and dedicated member of the travel industry at-large, bringing high-level intellect and industry experience to her role at The Hotels Network. Mercedes spoke of the award, "Women are the primary decision makers in travel and make up the majority of the travel workforce, yet the number of women filling top roles is far from representative. We need female role models in this business, and I could not feel more humbled receiving recognition from WINIT and GBTA as one of them."