The Ultimate Guide to Vacation Rental Revenue Management
By Adrienne Fors
Last updated September 08, 2023
7 min read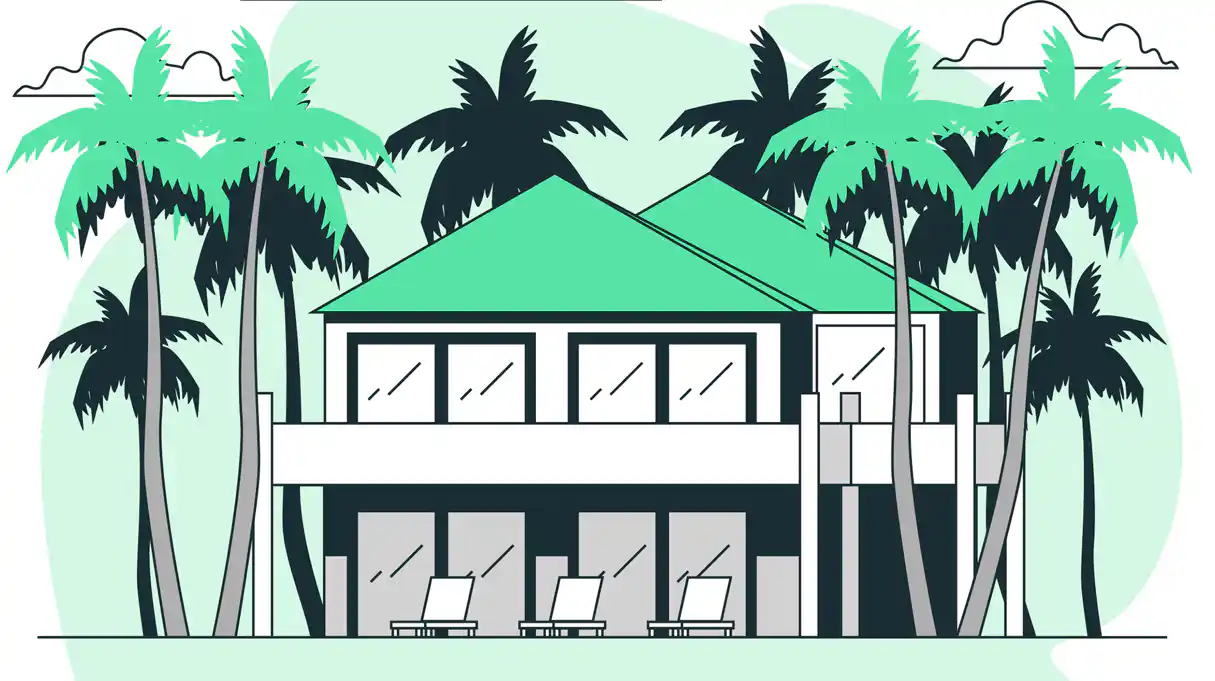 Are you wondering where to start getting more reservations at your vacation rental? Or maybe you're looking for tips as you refine your vacation rental revenue management strategy. Capturing revenue and maximizing profitability isn't as easy as setting your rates and moving on. In the vacation rental space, revenue management is key to booking high rates during peak demand times and generating demand in the slow season. Effective revenue management is accessible to any property manager or operator, even if you have a lean budget and a small team. In this article, we'll cover the basics of revenue management in the vacation rental space and share actionable steps you can take to stay competitive, make more money, and delight your guests.
Understanding the Vacation Rental Market
The vacation rental segment is a growing sector of the global travel industry, with a market value of nearly $100B in 2022. Besides a small hiccup during the pandemic, the vacation rental has been growing steadily, especially as booking sites like Airbnb and Vrbo have skyrocketed in popularity in recent years. Airbnb, for example, now has over 6.6 million active listings hosted by over 4 million hosts around the world. Travelers enjoy the authenticity and amenities that vacation rentals have to offer, and many travelers opt for vacation rentals over traditional hotels, especially when staying for a longer period of time. However, the vacation rental industry isn't all roses; in recent years, local municipalities have cracked down on regulatory requirements for vacation rental properties, and sites like Airbnb have gotten negative press for their policies around cleaning fees. Despite these headwinds, the vacation rental market is expected to continue its growth for years to come.
Setting Up Your Vacation Rental for Revenue Management
How can you capture your share of the $100B vacation rental industry? Setting up your property for revenue management starts by understanding how it fits into the market. Start by assessing your property's strengths and weaknesses, especially compared to similar properties in your area. Is your property smaller or larger than the average property nearby? Do you offer some unique amenities? Does your design and decor stand out? Next, consider who your target guests are: who would book your property? Does your property suit the needs of families, couples, solo travelers, friend groups, or people traveling for work? Knowing your target guests and your position in the market will help you set rates that are attractive and competitive.
Vacation Rental Revenue Management Tools and Technology
Now that you understand the basic principles of vacation rental revenue management, how do you put it all into action? Many owners and property managers – especially those seeking to grow their businesses – work with a modern tech stack to stay competitive and even automate pricing changes. Some property management systems have built-in revenue management tools that help you price your property competitively, while other PMSs allow you to plug in revenue management systems or dynamic pricing tools through an API. Depending on the size and scale of your business, you might find the more basic PMS tools work well for you, or you may want to invest in an enterprise-level pricing intelligence system. Coupled with a customer relationship management tool, a smart lock system, and a digital guestbook, you can deliver a fully automated and seamless vacation rental experience.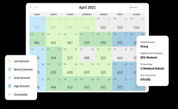 THE PITCH
RATINGS
BEST FOR
82
HT Score
Hotel Tech Score is a composite ranking comprising of key signals such as: user satisfaction, review quantity, review recency, and vendor submitted information to help buyers better understand their products.
Learn More
Maximise revenues and boost occupancy with data-driven automated Dynamic Pricing & Revenue management software

PriceLabs Dynamic Pricing
Revenue Management Systems
THE PITCH
RATINGS
82
HT Score
Maximise revenues and boost occupancy with data-driven automated Dynamic Pricing & Revenue management software
Learn More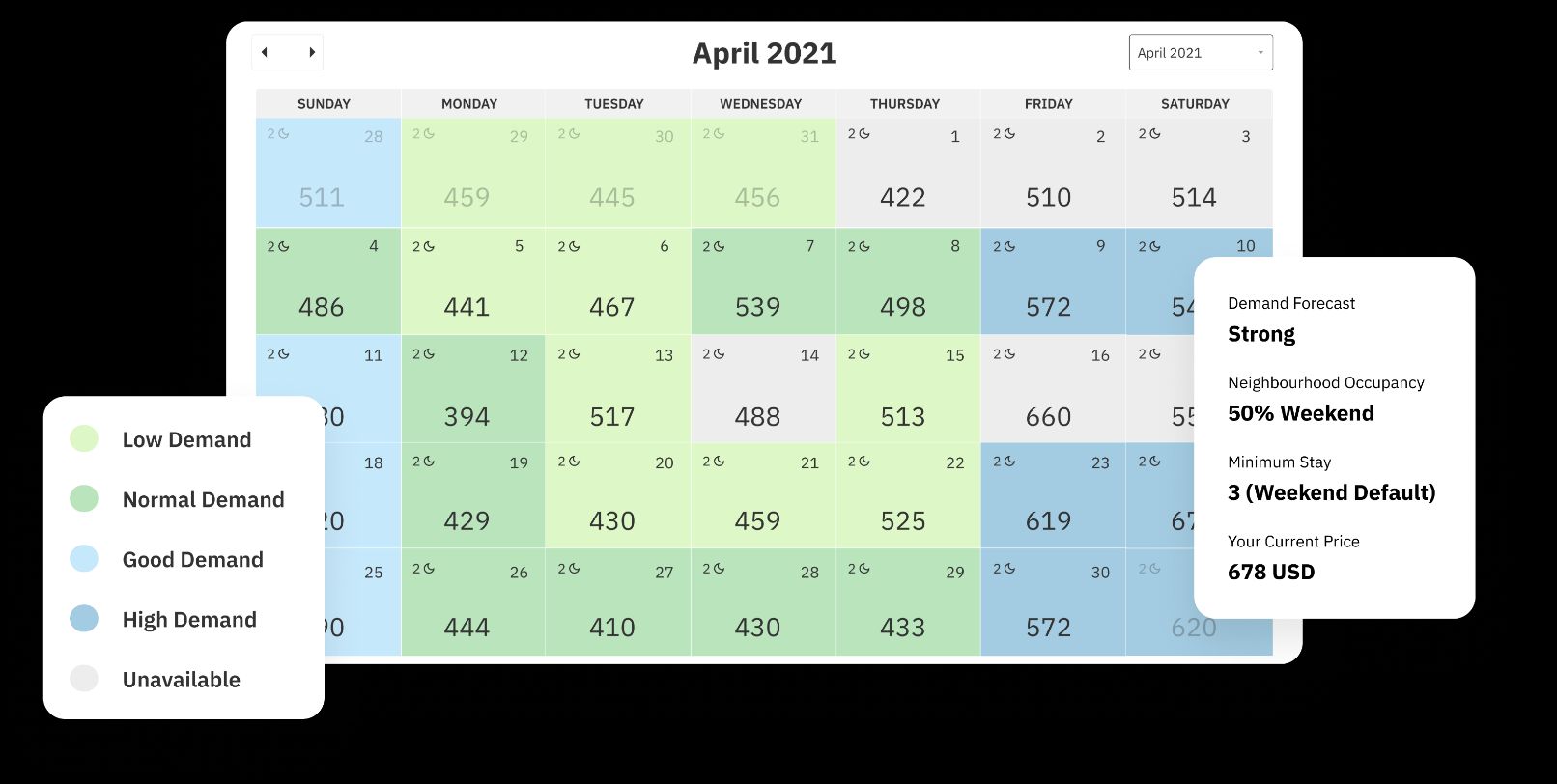 ×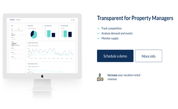 THE PITCH
RATINGS
BEST FOR
0
HT Score
Hotel Tech Score is a composite ranking comprising of key signals such as: user satisfaction, review quantity, review recency, and vendor submitted information to help buyers better understand their products.
Learn More
Track the alternative accommodation demand and rates around your hotel

Transparent Intelligence (by Lighthouse)
VR Dynamic Pricing
THE PITCH
RATINGS
0
HT Score
Track the alternative accommodation demand and rates around your hotel
Learn More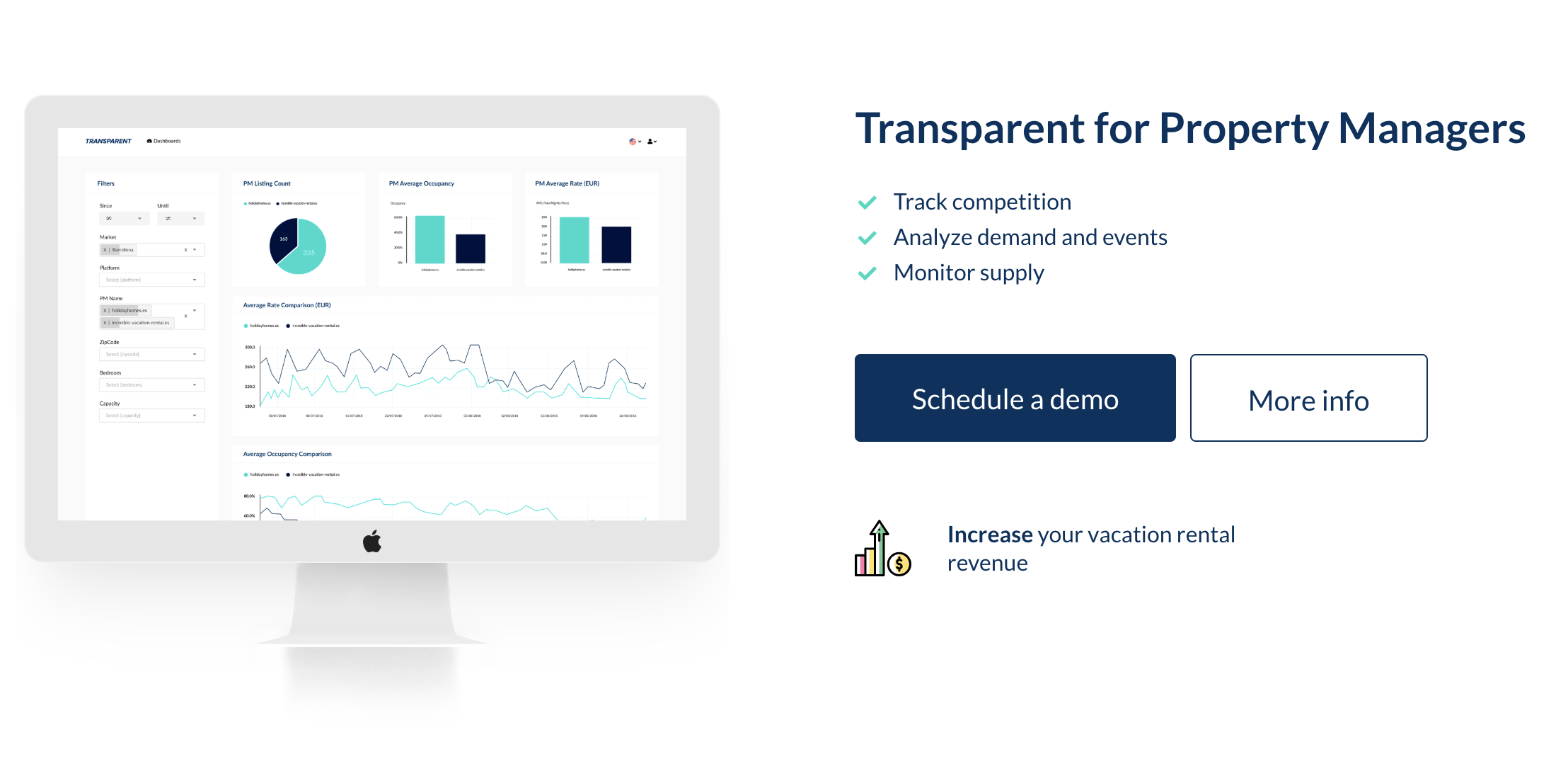 ×
Vacation Rental Pricing Strategies
The main component of your vacation rental pricing strategy is your nightly rate, which is the rate you charge for one night at your property. You might also choose to apply discounts, which would take a percentage or a flat amount off your nightly rate to make your rate more attractive to potential bookers. Vacation rentals often apply a pricing strategy to maximize potential revenue, such as:
Seasonal pricing: This basic pricing strategy applies different rates in different periods of the year. For example, if winter is your high season, you might set your highest rates in December, January, and February, with slightly lower rates in your shoulder seasons, and cheapest rates available during the summer.

Dynamic pricing: This more sophisticated pricing strategy incorporates data about your market and your competitors to continuously adjust prices. For instance, if your competitors all raise their rates, your dynamic pricing strategy will increase your rates too. 

Length of stay discounts: If your vacation rental is well suited for longer stays, and you want to actively get more of these types of reservations, consider offering discounts based on length of stay. Two common ways to do this are to offer a discount for weekly stays (any reservation 7 nights or longer) and a deeper discount for monthly stays (any reservation 28 nights or longer).
You can also adjust pricing to make your property more compelling to different types of guests. For example, to attract more families, consider allowing kids to stay for free. Or, if you want to generate more weekday business, consider running a 4th night free promotion that encourages weekend guests to extend a few extra days.
Managing Reservations and Occupancy
But pricing isn't the only component of your vacation rental revenue strategy; managing your reservations and occupancy will ensure you maximize your availability and get the most visibility to potential guests. It's important to note that being fully booked all the time, or achieving 100% occupancy, isn't always advantageous. Very high occupancy might increase your operating costs, and non-stop reservations might prevent you from taking care of preventative maintenance or deep cleaning at your property. Considering an occupancy strategy can help you stay profitable in the long term.
One way to manage occupancy is to set length of stay limitations that encourage stay patterns that you want. For example, if your market gets reliable weekend demand, you probably don't want to fill up all your Saturday nights with 1-night stays that prevent you from accommodating a 2- or 3-night stay. Setting a 2-night minimum stay on Friday and Saturday nights will ensure you maximize your revenue during busy periods. Similarly, if your property is in high demand over the winter holiday period, consider instituting a 5- or 7-night minimum stay. In addition, you can leverage more restrictive cancellation policies, even non-refundable policies, to limit cancellations over these high-demand dates.
Guest Experience and Reviews
In addition to setting competitive rates and availability, your vacation rental listing needs to maintain a high guest review score in order to convert shoppers into bookers. Every host wants to deliver a good guest experience, but in today's market conditions, with most guests booking online, your digital reputation is more important than ever. To get those positive guest review scores, you'll need to deliver an excellent experience from the moment your guests book all the way through checkout. In general, you should be available to answer questions and fix any problems that arise during each guest's stay. If you aren't on-site, be sure to have a backup plan in case of an unexpected maintenance or cleanliness issue. And after each guest checks out, sending a personal request for a five-star guest review is a helpful reminder for guests to post about their experiences at your vacation rental.
Vacation Rental Marketing and Distribution
Another crucial part of your vacation rental revenue management strategy is your plan for marketing and distribution. Many vacation rental properties take advantage of the exposure that third-party distribution channels, like Airbnb and Vrbo, can provide. These third-party channels charge a commission, usually between 3% and 15% of revenue generated through them, but their marketing power is huge, making them a reliable source of reservations. Most vacation rental owners and property managers also maintain a website where they can get direct bookings. It's very common to list a vacation rental on several third-party channels in addition to having a direct site. Third-party channels often run promotional campaigns that you can opt into and get extra visibility or a boost in their search results. These channels, together with your own site, can help you reach your target guests.
Finding success in the vacation rental industry doesn't come easy; with more and more travelers and hosts engaging in the vacation rental ecosystem, a revenue management strategy is critical if you want to stay competitive and maximize your revenue. Thinking through what makes your property unique, then setting appropriate pricing and occupancy strategies, will help you achieve visibility and conversion on third-party and direct channels. Working together with technology, you can start achieving higher revenue and great guest review scores for your vacation rental today.
In the ever-evolving vacation rental industry, staying competitive demands a keen focus on revenue management. This strategic approach is pivotal for vacation rental managers seeking to optimize their property's performance and maintain a competitive edge. Here's why it's imperative to incorporate cutting-edge revenue management tools and tactics right now:
Within the vacation rental business, effective revenue management is akin to a compass guiding managers through the fluctuating tides of the market. It's not merely about setting a nightly rate; it's about understanding how to leverage data points, historical data, and real-time market data to make calculated decisions.
Pricing strategies are at the heart of revenue management. The ability to adapt pricing dynamically in response to market trends, high seasons, and the length of guest stays is paramount. This agility ensures that your property is consistently priced at the right level to maximize revenue.
Occupancy rates are the lifeblood of the vacation rental business. Maintaining healthy occupancy levels means more revenue. Revenue management tools help managers balance occupancy rates by adjusting pricing during low-demand periods.
Market data and trends serve as a compass in the revenue management journey. Access to real-time insights and market data through integrations with providers like AirDNA empowers managers to fine-tune their pricing strategies.
Direct bookings are the holy grail for vacation rental managers. By offering competitive rates and personalized incentives, managers can entice guests to book directly, reducing reliance on online travel agencies (OTAs) like Airbnb, Vrbo, and Booking.com.
Property owners and homeowners who entrust their properties to vacation rental managers seek maximum returns. Effective revenue management not only maximizes income but also builds confidence in the manager's ability to deliver.
Integration with a robust channel manager ensures efficient distribution of pricing and availability across multiple platforms, enhancing visibility and competitiveness.
Performance metrics, including Average Daily Rate (ADR), Revenue per Available Room (RevPAR), and length of stay data, provide vital insights to assess a property's performance and make data-driven decisions.
Advanced tools utilizing algorithms for demand forecasting and pricing optimization, such as PriceLabs and Wheelhouse, offer a competitive advantage by predicting market fluctuations and adjusting pricing accordingly.
Adapting to the post-pandemic landscape is crucial. Revenue management tools help managers stay agile, responding to evolving guest behaviors and expectations in a changing rental market.
Incorporating cutting-edge revenue management tools and tactics is no longer a luxury but a necessity in the vacation rental industry. Managers who leverage data-driven insights, dynamic pricing, and real-time integrations are better positioned to thrive in a competitive market, maximize revenue, and provide property owners with the best returns on their investments. Staying informed about the latest pricing tools and technologies through webinars ensures managers maintain their competitive edge.