Visual Merchandising: Here's What You Need to Know
By Jordan Hollander
Last updated January 26, 2022
6 min read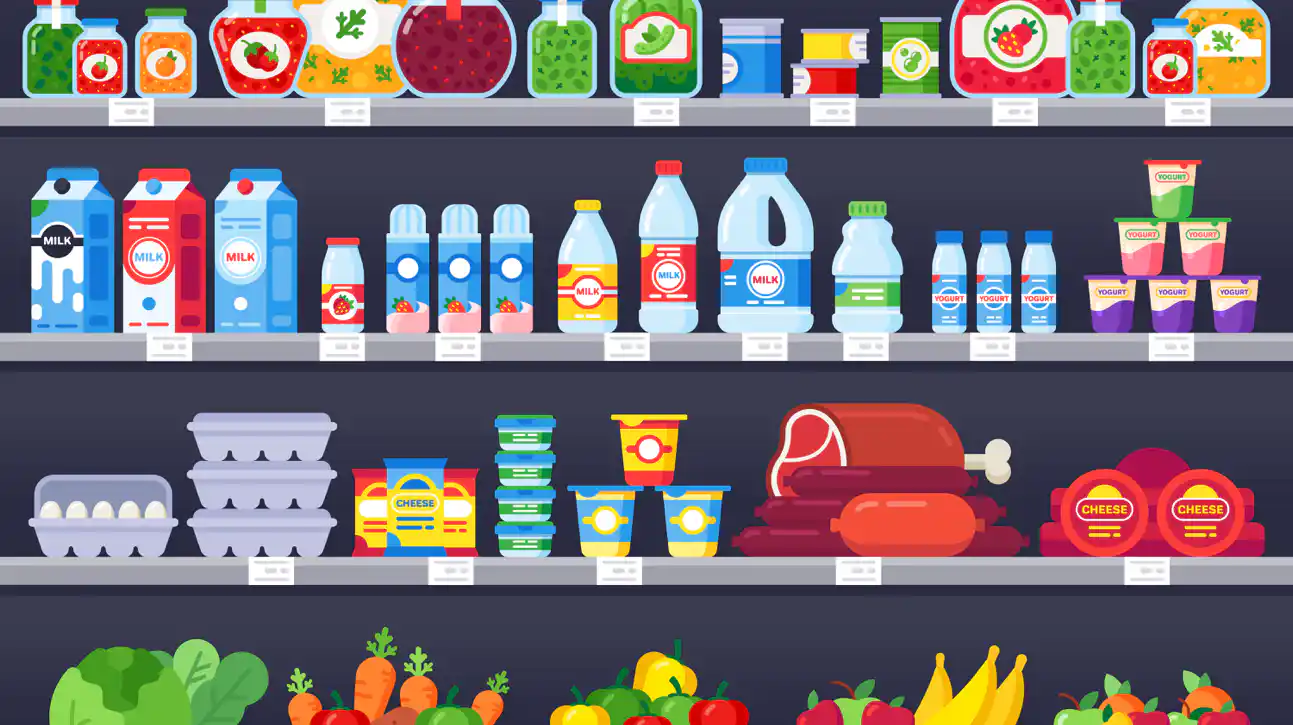 Interested in revamping your hotel pantry this year?
Many hotel owners know they need a lobby shop, but they're not sure how to make the most of their inventory, space, and pricing scheme. The answer lies in visual merchandising, a practice mastered by grocery stores and retailers that use shopper marketing techniques and psychology to improve profits through simple, yet powerful design choices. Smart hotel owners can apply lessons from supermarkets to their lobby shops and on-site gift stores to increase profit and improve the guest experience.
Intelligent retail that uses visual merchandising with a data-driven inventory and retail solution can lead to a dramatic increase in profit. Infor POS is one such solution that's proven to help hotels grow profit from their lobby pantries. Here's how to improve sales while minimizing deadstock inventory by using visual merchandising.
What is visual merchandising?
In the retail industry, visual merchandising refers to building window displays, floor displays, and floor layouts to attract customers, highlight products, and boost sales. Visual merchandising meets the need of customers to see and experience a product before they make a purchase.
According to the US Department of Commerce, only 14.3% of total retail sales occurred online in 2018. Retail analysts found that "the ability to see, touch and feel products ranks highest among the reasons consumers choose to shop in stores versus online." Visual merchandising plays a critical role in retail – and hotel owners should take note when they think about how to layout gift shops and lobby pantry stores.
Visual merchandising isn't limited to display windows, though those are a common type of visual merchandising. Other examples include: 
Store layout: the floorplan of a retail location or showroom

Interior displays that show the technical details of a product (e.g., a cross-section of vacuum cleaner to show how it works). 

Mannequins 

Point-of-sale displays: products displayed around the register, front-desk, or checkout line to incentivize an impulse purchase. 

Lighting and interior design, like carpets, window fittings, and ambient light

Seasonal displays for holidays like Halloween and Christmas

Cross merchandising: displaying products from different categories that go together to increase upsell and cross-sell opportunities (e.g., showing barbeque tools next to charcoal and fire starters).
Retail stores like Amazon Go complement the visual displays outlined above with technical elements, like self-checkout, cash-less checkout, or scent and music cues which further entice customers to complete a purchase. Visual elements – like color and design – combine with frictionless checkout to make it easy for customers to buy. 
Elements of visual merchandising
Visual merchandising in retail is as much a science as it is an art. There are five important elements that play a role in visual merchandising:
Color: color affects a customer's mood, brand associations – and even appetite. Use coordinating color to catch the eye of a customer and draw them into your display. 

Space: every store and hotel has empty space; be thoughtful about taking up that space with signage, customer testimonials, or another product display. For hotels, that might include redesigning your lobby, integrating a retail promotion in your restaurant, or adding displays in hallways between rooms. 

Focus: create a focal point, or hotspot, around your product. Hotspots can increase sales by 229 percent.  Make sure the focal point is at eye-level (or lower) so the customer can actually see what you're promoting.  

Narrative: what story does your display tell? Give your display a narrative in three bullet points that tell a customer what they need to know about the product. Signage may not be necessary, but your display should clearly convey a certain message to a viewer. 

Exposure: The more products customers see, the more they buy. That doesn't mean you should cram every product into one display. For instance, instead of stuffing as many products as possible into one window, tactfully use a circular store layout to present as much merchandise as possible as the customer browses.
Bottom line: use color to catch a customer's eye, add products as much as you can without looking cluttered, provide powerful signage to tell a story, and make sure the focal point of any visual merchandising display is always the product. 
Visual merchandising techniques
Your sales team and front desk staff can easily integrate these elements of visual merchandising to your guest rooms, front lobby, and other otherwise unused spaces at your hotel.
Great visual merchandising starts with discovery. "Who are your target customers? That's an important question when designing displays. Aim to appeal to their lifestyle or the lifestyle they desire. Draw guests in with great signage, colorful displays, and simple elements that align with your hotel branding. Your on-site store branding shouldn't deviate from the overall hotel brand experience. Know what your guests expect, and deploy techniques that match your target audience.
Visual merchandising works best when you combine the elements of design outlined above with frictionless checkout. A huge piece of this strategy can be executed automatically by implementing the right software and tech tools.  Infor, for example, offers full-stack systems to manage inventory, design your hotel pantry, and reduce front desk retail traffic by 90%, making it easy for guests to make a purchase in your lobby shop, gift shop, or pantry without stress. Visual merchandising techniques draw in the customer, but it's the guest's ability to use self-pay kiosks that integrate with your PMS that result in less inventory shrinkage and higher sales. 
Use technology to improve retail profits
There are some common themes that can be easily rectified by combining cutting edge (yet affordable) retail management software like Infor with a fundamental understanding of visual merchandising.
First, let's review the low hanging fruit that's solved by software automatically.
If you aren't using data to determine prices, you're likely leaving money on the table.  The average hotel pantry is underpricing their retail by nearly 25%. Most hotels are anticipating that guests are going to "flinch" when they see the prices listed in the hotel pantry and as a result, most hotels are pricing on the low end, and losing profit in the process.
Hotels also make the mistake of not recognizing the goal of a guest when visiting a hotel pantry: convenience. Set up your pantry to help guests find what they need, quickly. Consider ways you can group products together to make it easy for guests to fill their basket without a lot of searching – putting Tylenol next to the bottles of water, for instance, or grouping together toiletries. Use signs and a price sheet to make it easy for your guests to get in and out.
You can ask front desk agents and bellmen what items guests most commonly request.  Your retail management software provider should also be able to provide high level data to get you started on what's selling in hotel pantries.  If they're really good, they'll even be able to get you data on what's selling in your market segment and geography.
Perhaps the biggest error that hotels make in their retail operations has to do with the front desk. Front desk agents simply don't have the capacity to help customers with retail purchases. Picture it: there's a line of guests waiting for check-in, and a few phones ringing just as someone wishes to checkout with a bottle of soda. In that customer's calculation, your lobby is too busy to make the soda worth waiting for. It's a missed sale that can be easily avoided with a pantry POS system. It's easy for customers to see that barcode scanners and self-checkout tools offer a more appealing option than the zoo at the front desk.
Finally, use data to shape product mix and placement. Infor's massive database of transactions can show you what inventory will yield the highest profit. Generally, you should categorize your pantry into four groups: sweet, salty, healthy and indulgent. Keep candy bars together, health foods like granola bars separate, and salty foods in their own zone. Infor's planograms – a visual merchandising planning tool that uses popularity, preference, and relevancy to place products strategically – can help you optimize your layout by category.
These are the retail problems that are easily solved by great tech, now let's dive into ways to grow your hotel's retail revenue today by implementing visual merchandising techniques.
The importance of visual merchandising in hotel retail
Visual merchandising can go a long way to reducing wasted inventory and improving profit. First step: prioritize. Hotel guests experience the same challenge as a shopper in a supermarket – choice overload.
"In many product categories, reducing the number of choices you offer a customer will improve the odds of making a sale," explains Forbes.
Limit the number of products you offer and a guest will have an easier time choosing a product to buy. For your property, you'll benefit from spending less on inventory. The incremental revenue achieved when the store is properly merchandised and supplied with quality product offerings is substantial and the guest experience.
Once you have your pantry layout mapped according to category, make your pantry more visually appealing. Apply visual merchandising elements – signage, color, and exposure – help guests zero in on what they need. Put candy bars in glass jars or chip bags in baskets to give your pantry the look and feel of a general store. Make sure personal care products are on hooks, forward-facing and easy to grab.
Lastly, keep track of what products are being purchased together with a keen focus on tracking inventory, profitability, and sales performance. Once you see that your guests are buying certain products across categories – ginger ale along with anti-nausea pills, for instance – you can be smarter about how you layout product displays. Use data insights upsell opportunities and sunset products that simply aren't flying off the shelves. This data will help reduce waste while providing your guests with the convenience they really need.