Guest Messaging Software
Guest Service Report: Expectations & Experience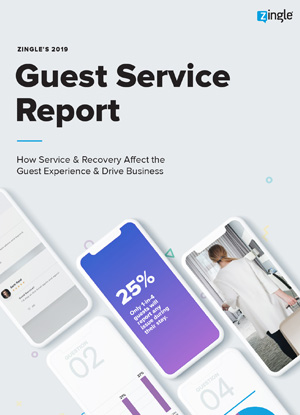 Overview
With entire guest experiences being defined in micro-moments, Zingle commissioned a research study to more than 1,100 consumers to help hoteliers understand how guest expectations and effective service recovery impact the guest experience and drive business.
What's Inside
Only 25% of guests say they will report any issue that impacts their guest experience.
Gen Z & Millennials were the least likely to say that they would report any issue that impacts their stay (17% and 18% respectively).
Nearly 1-in-3 respondents of those who say they don't report issues don't because there is "not an easy or quick way to do so." • 51% of respondents say online reviews "greatly" impact their decision to give a hotel their business.
More than 1-in-3 guests are willing to pay up to $50 more for hotels that provide better service than nearby competitors.
Only 1-in-5 guests say that they will share a guest experience online or in review if it "meets their expectations," while more than 1-in-3 guests (37%) report that a guest experience must "surpass their expectations" in order for them to share it online or in a review.
42% of respondents say they would return to a hotel if it were able to turn a poor experience into a positive one by solving a problem immediately, and an additional 52% would "certainly consider it."
87% of respondents report that they at least sometimes feel "more emotionally connected" to a brand when their customer service solves a problem for them.