Automating Hotel Operations from the Lens of Hotel Owner and Tech Startup Founder Amelia Gain
By Jordan Hollander
Last updated October 28, 2022
9 min read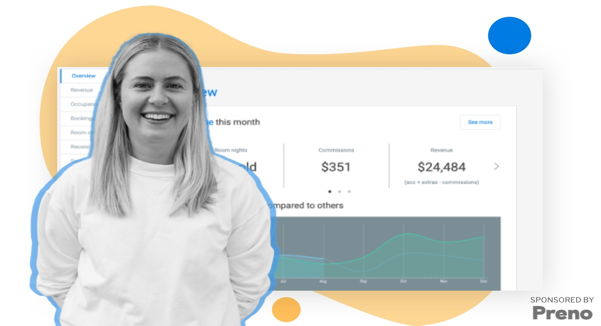 Savvy hoteliers today view the PMS as "mission control" of their operations; with the right technology in place, a hotel can run more efficiently while enabling staff to craft the ideal guest experience.
Preno is part of a new wave of hotel management systems designed to enhance and support hotel operations with intuitive interfaces and handy automated features that reduce the need for manual work - a far cry from the limited, enigmatic systems of the 1990s and early 2000s.
In this article, we'll introduce you to Preno's co-founder and CEO, Amelia Gain, and explain how a modern PMS like Preno can transform your hotel's operations and meet the expectations of today's guests. Want to hear it straight from the expert? Scroll down to read the full transcript of our interview with Amelia.
Amelia started Preno alongside co-founder and CTO Max Podolian in 2015, although it wasn't Amelia's first venture in the technology and hospitality worlds. Amelia studied IT in college, giving her a solid foundation for a career in technology.
Amelia later embarked on a new adventure, purchasing a small, independent hotel where she felt the challenges of using the legacy technology that they had inherited from previous ownership.
In our interview, Amelia explains how she "went on a long search and trialled every PMS available at the time," but she couldn't find one that was user-friendly, transparent with pricing and contracts, and integrated with other on-site systems. Knowing there could (and should) be a better alternative, Amelia partnered with her college classmate, Max, to build Preno, drawing on both her background in IT and her personal experience as a hotelier.
Preno officially launched in 2015 with the goal to provide an autopilot platform for hoteliers that eliminates time-consuming administrative tasks. The company prides itself on being built by hoteliers, for hoteliers which allows their software to be most relevant and useful for owners, operators, and managers of small, independent hotels.
Shifting expectations and possibilities for hotel technology
When Amelia started working at her own hotel, she recalls "I didn't understand why hoteliers should have to deal with confusing software systems when modern cloud technology could make it so much more effortless." This was Amelia's motivation for starting Preno: technology was preventing hoteliers like herself from delivering exceptional guest service. In the early days of property management systems, they essentially functioned as reservations databases which were only slightly more efficient than organizing paper reservations in file cabinets, and despite the incredible advancement in technology, the humble PMS hadn't changed much in a couple of decades.
Today, reservation management is just one feature of many you'll find in a modern PMS. A 21st-century PMS will not only allow you to manage reservations and guest profiles, but it can also accept online reservations through a booking engine you can add to your website and connect your rates and inventory to third-party channels with global reach. A modern PMS will power back-office tasks like payment processing and invoicing, and thanks to integrations with complementary systems, many PMS' will also eliminate duplicative work by piping data between various on-site software. For example, Preno's integration with Xero, an accounting system, enables hoteliers to automatically generate invoices based on data from reservations in the PMS. Without this integration, employees would have to manually type up the invoices, risking manual errors and wasted time.
In addition, a modern PMS should be easy to use. While out of date legacy systems might require extensive training, lengthy contract negotiations, and frequent updates, a cloud-based system like Preno is both easy to access from anywhere and designed to be as user-friendly as possible. This seamless user experience means less time spent on training and more time spent building relationships with guests.
Travelers want a tech-forward experience with a personal connection
It's not just hoteliers and employees who realize the benefits of a modern property management system; today's travelers expect technology that smoothes pain points in the traditional guest experience. In addition, in light of the pandemic, as guests increasingly prefer a contactless experience, technology can be a powerful tool to craft your desired guest experience. At the same time, as some of Preno's customer success stories illustrate, adopting modern technology at your hotel doesn't mean you'll lose a personal connection with your guests; in fact it does the opposite - Preno's technology frees up time so that you can spend more time with guests.
-- Want to learn more about modern hotel technology and Amelia's vision for Preno? --
Read our interview with Preno's co-founder and CEO Amelia Gain below
Tell us about your career background in hotels.
I was studying IT before going into owning and running a hotel with my sister. My sister was initially the one with a background in hospitality, and working for hotels when we first went into the venture. However, together with that mix of skills, we made a great team. Working in a hotel, I was surprised how much I liked creating amazing guest experiences, meeting with guests, working with our team each day and spending time improving our internal systems. What I disliked was the hours of repetitive admin tasks, the double handling of data, and dealing with the existing tools we inherited when taking over the property. That's when I started to think about developing better tools that would help me and my team.
When did you first become interested in leveraging technology to become a better hotelier?
I think given my background in studying IT, it was from the first month of being at the property. Once I understood the current systems and challenges, I started to look for and develop solutions. I didn't understand why hoteliers should have to deal with confusing software systems when modern cloud technology could make it so much more effortless.
I started with tech and went into hotels, then came back to tech! I studied IT (with my now co-founder Max), but I had always wanted to go into business with my sister. Her background was in hospitality, so when we had an opportunity to buy a unique hotel, we jumped at it. It was a beautiful hotel, however, we worked really hard. We put in a lot of creativity when creating the guest experiences we offered, and we surround ourselves with an amazing team who are equally as passionate. The one thing that was not helping us were the tools and software we had at hand to manage our property. So the idea for Preno came about. I sought software expertise from my University friend Max to go into developing this with me. From there, Preno has flourished into what it is today - a powerful hotel management software that provides an autopilot platform for hoteliers.
What was one technology that you couldn't live without when running your hotel business?
Xero accounting software - it's easy to use and a comprehensive accounting tool. I had no background in accounting and the hotel was my first business. With Xero, I could still jump in and do all the day-to-day accounts, without any prior experience with accounting. Xero's intuitive software design inspired me to create something similar for hoteliers.
As a hotelier what was your biggest frustration with technology?
Where do I start - when my sister and I took over the hotel, we inherited a legacy system that was very frustrating. I then went on a long search and trialled every PMS available at the time. What I found is that they were disconnected from our accounting tool and other key tools we used, overly complex, required far too much manual administration, and were generally just hard to use. The ease of use was important as with the complicated systems, this meant extra time training new team members. Important to me was the support as my business was not 9am to 5pm 5 days per week. The hotel industry is a 24/7 operation. Other tools were also not transparent on pricing and had a whole lot of hidden costs - they would try and lock you into very long contracts and the whole experience lacked any care for my business. 
What would you say is the most widely held misconception that hoteliers have about technology?
I think one of the most widely held misconceptions that hoteliers have about technology, is the need to be using "flashy" tech (physical kiosks, hotel TV systems etc). I personally believe that some types of hotel technology are not well-thought-out about how they fit with the guest experience. Often some of those tools, and where they're used, add no value to the guest stay and can make workflows complex for the team.
What was the most challenging part of moving from hotels into technology?
I feel like with any business there are challenges. Running a hotel has parts that are challenging, just as there are challenges to running a software company. With a tech company, you're constantly pushing to get out new products that add even more value to customers, break into new markets and see further growth. The challenges you can face are so varied and are at a fast pace. This energy is actually what I enjoy and it motivates me. I'm fortunate that I have an incredible team, so we're always sharing ideas and I never face these challenges alone.
For those in our community who may not be familiar, tell us about Preno.
Preno is a hotel management software that works like magic. It's the autopilot for short term accommodation properties saving them up to 10+ hours per week on average. There are over 7000 hoteliers currently using Preno in over 25 countries and we're very passionate as a team in seeing our hoteliers succeed. We love being able to support hoteliers with an effortless, stress-free system - especially during uneasy times like during the current pandemic.
You work with a lot of hoteliers, which properties or operators are innovating ahead of the pack?
I think the common theme among all three properties that come to mind is that they all have a strong mission that they're passionate about, they're giving back to their local communities, and the experience they offer is unique to their property and part of the world.
Change Overnight Hotel (Australia) has a unique business model that I believe we will see a lot more of. A converted warehouse, it's bright and has a lot of personalities. But it's their mission and purpose which sets it apart. When a guest stays at Change Overnight, each night of their stay comes with the opportunity to give back to one of the hotel's carefully chosen charities. It has become so popular, initial funding targets to give back to the local and global charities were smashed! 

Maruia River Retreat (New Zealand) is run by very caring operators who felt the impact of Covid-19 strongly. This pivoted into what they care about most - mental well-being. Not only is Maruia River Retreat a beautiful property, located in a stunning natural landscape, the experiences they have on hand are unique to them. They host yoga workshops, writing retreats and more. The owners are passionate about the experiences they have on offer and this shines through.

Aura Accommodation (New Zealand) is run by two friends who love their town, went into owning and running a motel. They refurbished the motel at a low cost, resulting in a property that is fun, tidy and comfortable. The team at Aura make sure the property is closely connected with their local community, through activities and events that bring a lot of energy. They shifted procedures and suppliers to be environmentally friendly and supported local charities that were important to their team.
Imagine that you're going to open the hotel of your dreams tomorrow.  What kind of hotel would it be?
I would love to get back into running hotels someday! The focus these days is on giving unique guest experiences at any price point. So I would want an accommodation business in any of the market segments, as long as the experience is meaningful, fun, unique and sustainable.

My passion has always been for independent hotels, as there is a lot of freedom, you get to develop your own brand that you believe in. In terms of size, I've not thought too much about it, as I would love a property with 10 rooms, but would be just as passionate if it had 200 rooms, so long as I had a great team to work with. A name; how about "Preno Stays"! 
What technology would you leverage at your hotel?  Tell us what the perfect tech stack would be and why?
I would choose Preno All-in-one (because it's the best) as my main tool, Lightspeed for my Point of Sale, Xero for accounting and Stripe for payment gateway. I'm a fan of Goki, so I would add that in the mix too.
What's one piece of advice you have for hoteliers who have dreams of working in tech?
If you're looking to be a founder of a new startup developing a product, test and validate your idea with a lot of people (ideally the target market) as early as possible. You do not need to build a product to test your idea. Have a clear idea of your ideal customer profile. Make sure you connect and talk to other founders or people in tech, share your ideas and challenges. There are a lot of meetups you can find online and this is the best way to explore ideas with a friendly and passionate group. 
What is the most exciting technology you've seen in the hotel tech space that is not built by Preno? Why?
Our team is really excited about our new integration with Goki. For years I've been looking for the right keylock technology that fits our market. Not only do the Goki locks look great and are easy for guests to use, but they're affordable and can be self-installed. The big bonus is that you do not have to replace all the door locks in your hotel. With Goki connected with Preno, it can automate check-in's and provide guests with access to their unit/room using just their phone or a code. 
Fast forward 5-years, how will the hotel tech stack be different from today?
My vision for tech in hotels is that the technology is invisible, but is a powerful engine that automates activity for the operator. The guest arrives and the stay is seamless and effortless. In fact, their stay is so good that they never even think about the technology driving it, it seems organic. I do not see the point of removing all human components, it's what sets hotels apart from Airbnb, but the human interactions are all value-adding - making it an even better stay, with no repetitive admin tasks. 
This content was created collaboratively by Preno and Hotel Tech Report.