Hotel Accounting Made Easy with Preno and Xero
By Hotel Tech Report
Last updated October 28, 2022
3 min read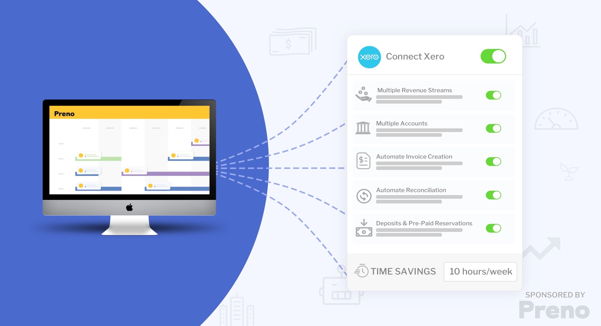 Hotel accounting can be really hard. Between agency commission tracking, deposits, invoices, chargebacks, and reconciliations – we humans just aren't equipped to handle this level of complexity.  Small business accounting software like Xero makes accounting a breeze, but given very specialized accounting requirements in the hotel industry - even great accounting software like Xero can fall short without a proper integration to your property management system.
Whether you're tracking agency commissions or configuring payment policies for groups – it is vital for hotels of all sizes to have a seamless integration between their property management system (PMS) and hotel accounting software. Why? It saves countless hours of tedious administration via automation.
In this article, we're going to walk you through the easiest hotel accounting process you've ever experienced - powered by a seamless integration between PMS Preno and accounting software Xero. An integration that will automate and simplify your hotel's financial activities.
Ready to put the headaches of hotel accounting in your rearview mirror and automate your repetitive processes? Let's dive in!
Why Use Preno with Xero?
Got things to do and places to go? Here's the abbreviated version of our deep dive into the Preno + Xero integration:
Preno automatically generates invoices in Xero to make daily, monthly, or yearly reconciliations a breeze.

Xero can handle multiple accounts, revenue streams, room types, fees, and more.

Preno and Xero are the dream team for managing deposits and prepaid reservations.

Xero's automation functions can save your staff hours of valuable time each day.

Preno's integration with Xero is the most complete of any PMS, and is rated a perfect 5 out of 5 stars in the Xero App Store.
Automated Invoices
Without an integration like the one between Preno and Xero, hoteliers and accounting staff spend up to 10 hours every week creating invoices and reconciling accounts. Staff would usually need to manually enter payment information or deposits in their PMS, and accounting system – essentially doing double the work.
If your property management system doesn't communicate with your accounting software, you need to manually type in data like guest's name, booking dates, room rates, fees, and more. Does that sound like the most efficient way to run things?
With Preno and Xero working together, reservation data syncs automatically with Xero's accounting software so that invoices are complete and accurate without any busy work. The only thing you'll need to do is ensure your bank statement line matches Xero's invoice. Easy enough!
However, if you want to make any adjustments to the automated invoice, that's possible too. When you open a reservation in Preno, simply click a link to access the Xero invoice, there you can make any desired changes, and easily print or email the invoice.
Deposits and Prepayments
Does your hotel require deposits or offer prepayment options? When using an old legacy PMS (not cloud-based like Preno), you can almost see the system on the brink of freezing or giving you that spinning wheel of death.
Preno, on the other hand, is built to handle deposits with ease and speed. When a guest pays their deposit (or prepayment), the payment is recorded in Preno, and an invoice is automatically generated. Xero automatically allocates the payment to the full invoice.
Within the guest's reservation record, a link to the record in Xero also pops up for quick reference. Upon check-out, you can generate a complete invoice for the guest that details payments they made before, during and after their stay, and print or email is at the click of a button.
Multiple Account Support
If the thought of reconciling multiple revenue streams at the end of the month gives you anxiety, then it's time to upgrade your accounting software, and seamlessly integrate it with your PMS.
Many hotels work with a variety of agencies, individual travel agents, and other accounts – and without a system that can balance all of them, month-end reporting can be a daunting task.
Preno and Xero make invoicing accounts easy (and fun), because you can automatically generate invoices for reservations with a couple of click.
Simply pull up an agency reservation, add a deposit or payment, and choose "Invoice Agent" as the payment method. An invoice will be automatically generated – voila!
Time-Saving Benefits
Preno and Xero will save your staff hours of time each week – and because time is money, your hotel will have some extra moolah in its metaphorical pocket after making the switch to these apps.
By reducing the hours of repetitive, administrative tasks, your staff can dedicate more time to tasks that enhance the guest experience.  Reducing the amount of time spent on "busy" work isn't the only benefit, you'll also reduce the chance of human error on invoices and payments, thus reducing the amount of time spent on service recovery or corrections.
Modernizing your accounting process will also yield some interesting insights. For example, Preno's integration with Xero includes details like a breakdown of fees, room service items, and surcharges to provide your hotel greater visibility into real-time business trends. The automated reporting tools in Preno and Xero can reveal your most popular fees, less popular room service orders, and provide opportunities to achieve incremental revenue growth.

Still have questions about Preno's integration with Xero? Let us know!
This content was created collaboratively by Preno and Hotel Tech Report.