How Customer Insights Helped Duetto Reimagine Hotel Forecasting and Rate Management
By Hotel Tech Report
Last updated October 28, 2022
4 min read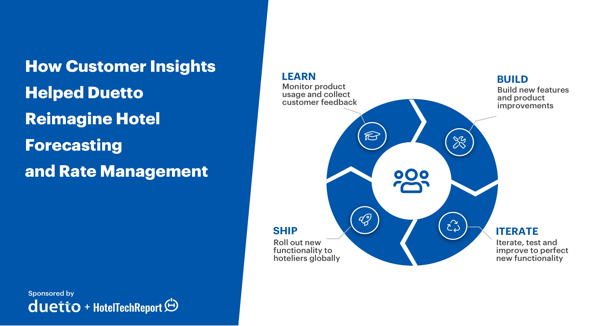 While technology obsessed consumers have grown accustomed to clamoring around big splashy launches like the latest iPhone or social media app, innovation in the hotel technology space is more nuanced, often requiring a refined eye to understand them. This complexity leads to a unique challenge for hospitality tech buyers and users: how do you spot innovation in hospitality? Cutting-edge hotel tech rarely makes the headlines, and you won't see star-studded launch events in this ecosystem. Instead, innovation in hospitality is won in the long game.
In this article, we'll study real-world examples that show how Duetto, a leading revenue management system, ideates and prioritizes product changes, then develops and rolls out new features via the Cloud to help their customers gain readiness for rapidly changing market conditions.
Customer-Powered Innovation
Duetto innovation is powered by both customer usage and feedback. Any Duetto user can engage with their community hub and feature board, where users have a direct line of communication with the Duetto product and customer success teams. On the feature board, users can view all the ideas submitted by other hoteliers and vote on features they want to see added to the system. Users can even see ideas submitted by other users from their property, and sort them by category. The features that get the most votes are then prioritized by Duetto's product managers who make the final call on whether the feature lands on the development team's product roadmap. 
If a customer-suggested feature is confirmed for inclusion in the Duetto product,, the customer(s) who suggested and voted on the idea are instantly notified. They're also encouraged to become beta users, which gives them the chance to share feedback with the product team so the feature can improve before it gets rolled out system-wide. Since Duetto's revenue management system is cloud-based, once a feature is officially rolled out, every user can access it without needing to upgrade or install updates. The cloud-based nature of the system enables innovation to happen at a continual pace, with no downtime required for system updates, extensive re-training etc.
Duetto users don't need to worry about being confused or overwhelmed by new features. Whenever a big rollout happens, Duetto hosts a series of webinars and develops in-depth content to educate users on how to best leverage the new features. The app contains helpful tooltips to guide users through the new features too. Although these practices are commonly used in modern SaaS companies, they're found less frequently in most hotel technology, showing another way that Duetto stands out as an industry leader.
How Duetto Reimagined Rate Management
Speaking of new functionality, Duetto recently unveiled updated rate management features that got rave reviews from beta testers who used it for six months before rollout. In Duetto's rate management system, rates are updated several times per day, and revenue managers, who are more strapped for time than ever before, need a user-friendly way to configure rate rules and apply rate updates in bulk. For many revenue managers, it can be nerve-wracking to let your revenue management system run on autopilot (similar to turning on auto-drive in your car), so Duetto's new rate management experience adds transparency to their autopilot feature to help revenue managers save time while maintaining control.
How did the new rate management experience become reality? The feature was initially requested on Duetto's feature board a few months ago, and it received 125 votes from Duetto users. Duetto's product team engaged with users who submitted and voted on the feature request, and they asked for beta testers directly in the thread. Iterations between customers and Duetto's product team helped to ensure the requests delivered the right balance between usability and function.
Jamie Chang, the Regional Director of Revenue Management at Pacifica Hotels, was one of the most fervent users of the new rate management feature. According to Chang, "It's easier to maneuver and streamlines the whole process. Having all the data on one screen helps when I'm looking at it over the weekend from my phone. I have everything at my fingertips. This enables me to work smarter, not harder, where I don't feel tethered to my laptop every day." Another power user, Jaime Abraham Garza, Corporate Revenue Manager at Playa Hotels & Resorts, added that: "Duetto's new rate management experience is very user friendly. You have all of the data points like daily pace in the same tool. I don't make many rate changes anymore because I only have to take the recommendation from Duetto. It's awesome! I optimize in three minutes or less." This feedback shows that the partnership between Duetto's product team and Duetto customers leads to new features that users truly appreciate - and, most importantly, actually use.
Behind the Scenes with Duetto's New Forecast Builder
The new rate management updates aren't the only recent releases that Duettou has unveiled to better serve their hotelier user base. The Forecast & Budget Builder feature in ScoreBoard was announced in June 2022, just in time for budget season. Since Duetto keeps a pulse on the challenges and blockers facing their users, they understand that hoteliers are grappling with a volatile business environment and have to do more with fewer employees and less time these days. In hotels, the bulk of the budgeting process typically happens from July to November each year, but revenue managers are constantly making updates to their budgets, often based on newly booked events or cancellations. Therefore, Duetto saw - and heard - an opportunity to streamline the budgeting process.
The goal of the Forecast & Budget Builder is to boost revenue manager confidences in the budgets they set. In a world that's always picking up the pace, revenue managers need the ability to quickly update forecasts so they can better plan for the future. Forecasting and budgeting can be tedious, manual tasks. Revenue managers need help automating repetitive tasks so they can dedicate more focus to critical, analytical work. Within Duetto's new tool, revenue managers can customize their interface and quickly forecast at the segment level. Sophisticated analytical features also adjust forecasts to account for out-of-order rooms, and reports can be imported and exported for seamless use with third party software.
Like with the new rate management experience, a handpicked group of Duetto users beta tested the Forecast & Budget Builder for several months, and they gave it the stamp of approval. "The new functionality allows me to see the business changes right now and to select which order is most important. I use the customizable setup to see the system forecast right in front of my forecast so I can compare it and see where we have differences now," said Juliane Ziesmer, CRM at NH Hotel Group. 
Duetto's latest rollouts are just two examples of the exciting things happening in the hotel technology world - no glittery product launch to events required. By listening to users and collaborating with them on new features over the long run, Duetto leverages constant iterative innovation and paves the way for advancement in hospitality technology.

This article was created collaboratively by Duetto and HotelTechReport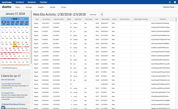 THE PITCH
RATINGS
BEST FOR
100
HT Score
Hotel Tech Score is a composite ranking comprising of key signals such as: user satisfaction, review quantity, review recency, and vendor submitted information to help buyers better understand their products.
Learn More
Duetto's GameChanger is a revenue strategy powerhouse that lets your team develop and implement unique strategies quickly and easily. Ingesting more data than any other RMS, GameChanger puts advanced pricing analytics and segmentation tools at your fingertips to help you maximize booking revenues.

Gamechanger by Duetto
Revenue Management Systems
THE PITCH
RATINGS
100
HT Score
Duetto's GameChanger is a revenue strategy powerhouse that lets your team develop and implement unique strategies quickly and easily. Ingesting more data than any other RMS, GameChanger puts advanced pricing analytics and segmentation tools at your fingertips to help you maximize booking revenues.
Learn More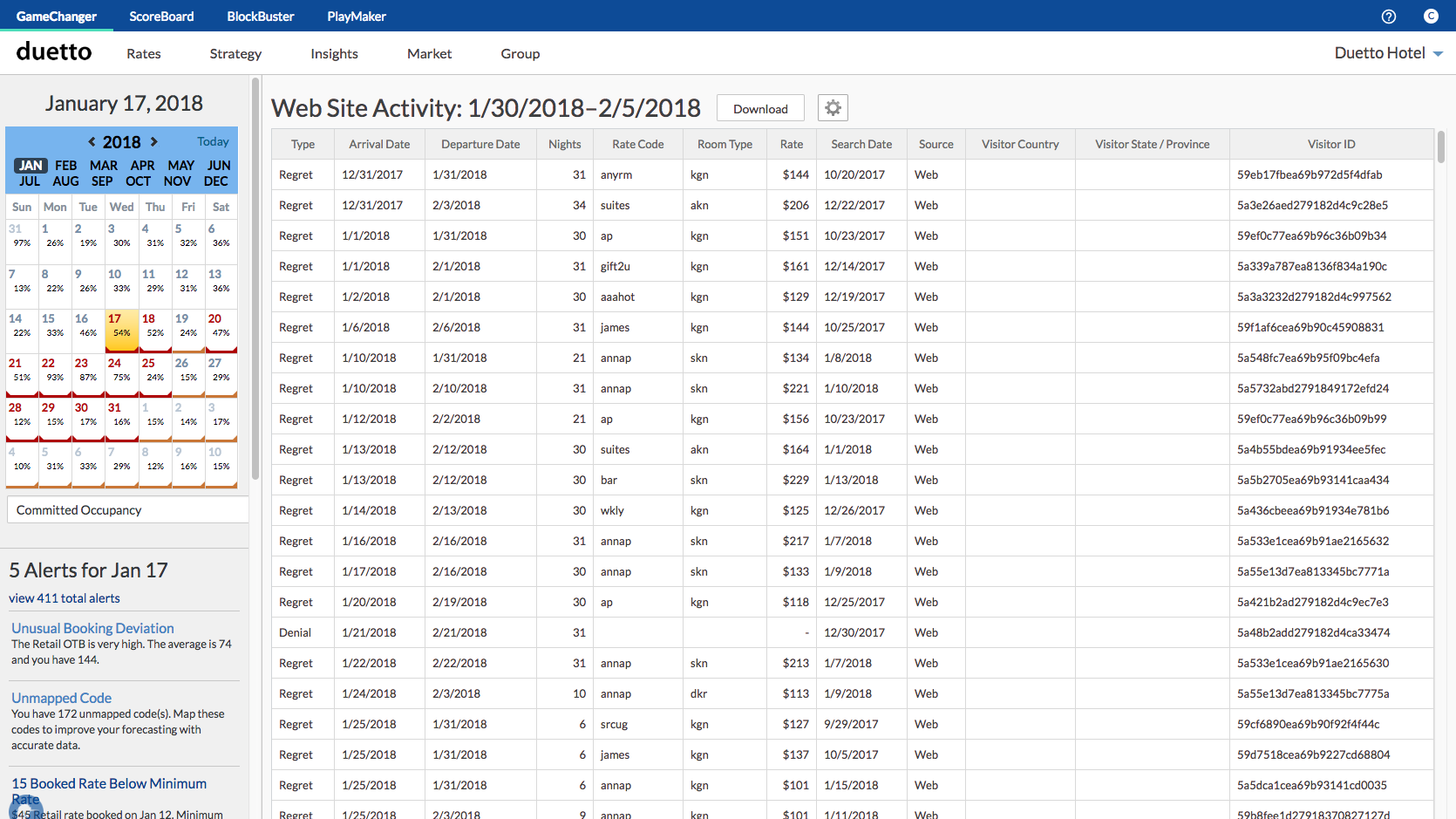 ×