Guest Messaging: 7 Stats Every Hotelier Needs to Know
By Jordan Hollander
Last updated May 18, 2022
3 min read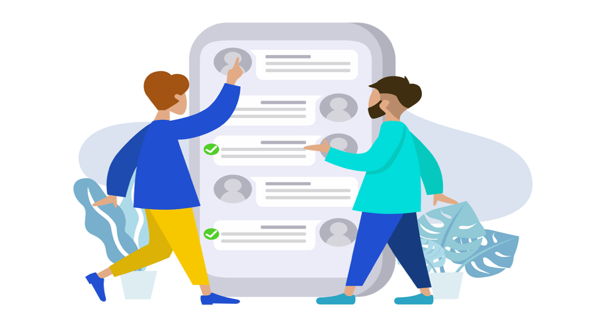 It's no secret that text messaging is an increasingly popular way to communicate. You text your kids, you text your friends, and you may even get a text from your dentist when it's time for a cleaning. But how can text messaging be an asset to the modern hotelier? Communication platforms like Alliants provide a breadth of guest messaging solutions that not only solve communication challenges, but also enhance the guest experience and lead to higher guest satisfaction scores. In this article, we'll explore how hoteliers can implement guest messaging strategies in response to 7 recent statistics about texting.
1. Text messaging is the fastest way to reach someone
When today's consumers want information, they want it ASAP. 78% of US consumers say receiving a text message is the fastest way to reach them for important service updates and purchases, so when information needs to be communicated quickly, text messaging is the perfect way to do so. For instance, if crucial details about an event must be communicated to a guest, email may not be the best way to do so, since they might not even open the email until after the event happens. A text messaging strategy will ensure guests receive the right information at the right time.
2. People actually read their text messages
Have you ever had a guest ask a question about a policy or hotel amenity when the answer was definitely already sent to them via email? Perhaps it's time to switch to text messages for those important details, since the open rate for text messages is a whopping 82% in the US. Instead of letting upsell offers or marketing messages sit in your guests' spam folders, send text messages with the most critical information for maximum impact - and more incremental revenue.  In addition, Alliants' integrations with property management systems like Opera allow hoteliers to personalize messages with details about the guest's stay.
3. Text more, talk less; millennials prefer to text
Wondering how to best communicate with millennial guests? Phone calls are so last decade; over 83% of millennial consumers said they text more than they talk on their smartphones. What does that mean for hoteliers? Millennial guests are less likely to call the front desk when something goes wrong or they have a question. With Alliants, hoteliers can easily connect with the next generation of travelers by opening a channel of communication where these guests are most comfortable.
4. Most people keep their smartphone at arm's reach
When 89% of people always have their smartphone easily accessible, mobile communication is undoubtedly going to be the most intuitive method of contact. When sending a text message is the most convenient way to contact the hotel, front desk teams might receive an influx of questions and comments. But incorporating texting into your hotel's operations doesn't have to be a hassle. Instead of using front desk agents' valuable time, let a guest messaging platform automate the routine communication tasks, like replying to frequently asked questions or routing guest inquiries to the correct department.
5. Compared to email, consumers read more texts than emails - and faster
Communication with guests isn't limited to the time they're on-site; the pre-stay experience begins before the guest even books their reservation, and the post-stay experience continues after the guest departs. When 82% of text messages are read within 5 minutes, but consumers only open 1 in 4 emails they receive, hoteliers want to ensure that guests actually read their confirmation messages, marketing blasts, and reminders to write a guest review. Alliants' customizable platform can optimize any hotel's messaging cycle, from pre-stay to post-stay.
6. Text messages from brands get positive reception
Adding texting capabilities is a fantastic way to add value to your brand, since 91% of users who opted in to receive texts from a brand see those messages as "somewhat" or "very useful". Keep a pulse on the real-time guest experience with a guest messaging platform that can automatically send text messages asking for mid-stay feedback. These text message conversations can provide personalized service and valuable insight about what's going well and what needs resolution. If the guest reports an issue, Alliants can route the case to the correct department, for example, housekeeping, so service recovery can happen immediately.
7. Young consumers see companies who text favorably
How can a text messaging strategy impact your hotel's guest review scores? 77% of consumers aged 18–34 are likely to perceive positively a company that offers text capability, which means simply offering texting as a method of communication can enhance a guest's experience. Furthermore, mid-stay feedback requests and quick responses make personalized, attentive service easy to deliver. After guests depart, popular messaging platforms can also send a gentle reminder to write a guest review, which helps to ensure those positive service experiences leave an impact on the hotel's guest review scores.
Bring your hotel into the digital age with a comprehensive guest messaging strategy that utilizes guests' preferred communication method: texting. Guest messaging platforms can provide property management system integrations, inter-department communication, and even automated responses to frequently asked questions, so your operational efficiency will increase along with guest satisfaction. In addition to text messages, most messaging providers allow guests to use their preferred method of communication, whether it be email, WeChat, or Facebook Messenger. Upgrade your hotel's guest messaging platform and reap the benefits of happier guests and more efficient staff.