Payments as a Growth Driver in Hospitality
By Jordan Hollander
Last updated August 08, 2023
5 min read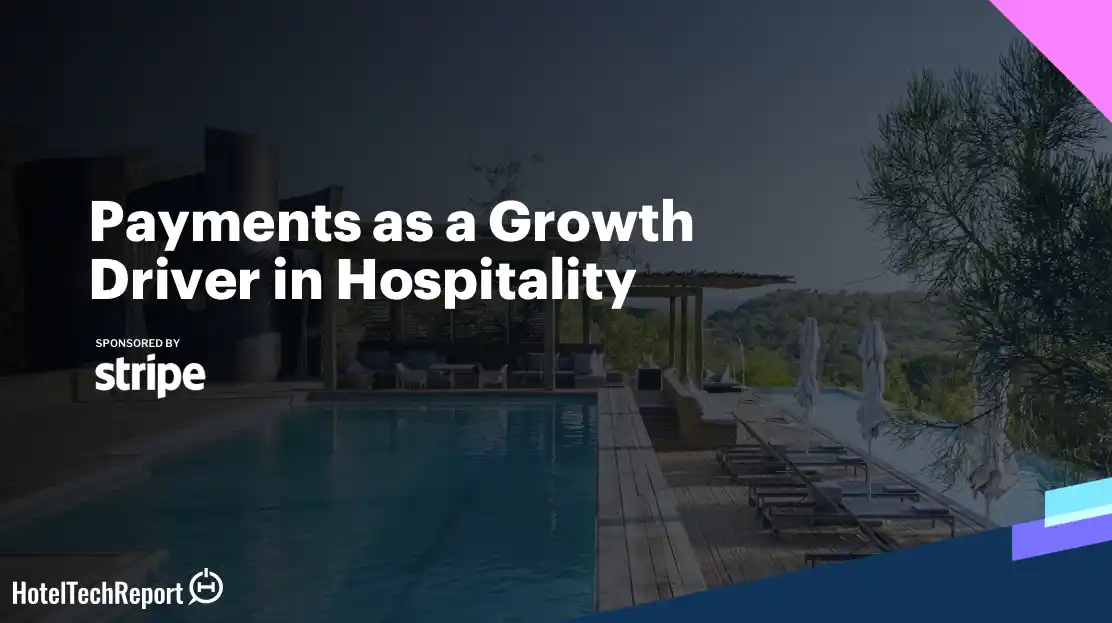 Hotels and hotel chains that have been awaiting a post-pandemic travel boom are now facing an economic downturn that's likely to constrain both business and consumer travel. As these businesses look for levers they can pull to increase revenue, reduce costs, and offer an outstanding customer experience, "payments processing" probably isn't an obvious option.
That's probably because historically, payments providers have provided a commodity service that's at worst viewed as an unavoidable cost center and at best treated as an afterthought. But this legacy model is now being replaced with a new way of thinking about payments, which is why we've partnered with Stripe to discuss how payments can catalyze growth for the hospitality industry.
Modern providers need to do more than just process payments, because modern businesses have increasingly complex needs and consumer preferences are constantly changing. That's why Stripe offers software to create optimized payments experiences, streamline revenue management, and facilitate a range of different business models from subscriptions to multi-sided marketplaces.
These are the kinds of capabilities that hotels need to be thinking about as they're exploring new ways to grow amidst our current economic climate. It takes a provider truly focused on technology to deliver what's needed, and modern providers like Stripe are much more focused on building new payments technologies than traditional providers. For example, about 37% of Stripe employees are engineers, compared to only 11-12% of the teams at two major incumbents (according to LinkedIn employment data). By working with a tech company like Stripe, your business is able to build on flexible modern infrastructure–and ultimately execute faster.
In this article we'll explore the paradigm shift in hospitality from the legacy view of payments as a cost center to the modern view of payments as a revenue driver. We'll cover the different ways that hotel businesses of all sizes can use payments innovation to their advantage using a modern provider like Stripe.
Monetize payments and financial services for franchisees
Payments don't have to be a cost center–they can become a revenue-generating line of business for companies that are in a position to offer payments as a service for other businesses. Hotel brands that have a franchise business model can offer payments as a service for its franchisees. In effect, the parent hotel brand can become a payments provider itself by building with a platform like Stripe.
For example, let's imagine a hotel brand called Sunshine Inn. A franchisee, Amy, owns a Sunshine Inn in Phoenix, Arizona. Instead of using a third party payments provider, Amy uses Sunshine Inn Payments Service, and thus pays her payments processing fees go to the Sunshine Inn company. Amy gets a necessary service, and the Sunshine Inn company is able to turn payments processing from a cost center to a new revenue stream.
The economics are compelling: payment fees are typically around 2-3%, meaning that the parent hotel brand may be able to capture multiple additional percentage points of all revenue that franchisees are bringing in. After subtracting the card network costs, let's say the hotel company ends up netting about 50-70 bps. For a hotel brand bringing in $100M per year from its franchisees, offering payments as a service would bring in an additional $500,000 - $700,000 of profit. If the hotel company's EBITDA margin were 25%, the payments revenue would yield a 3% increase in NOI.
Offering payments as a service for franchisees is also a stepping stone to additional revenue streams. For example, Stripe can use a business's historical payments volume data as the basis for offering working capital loans–and this lending service can also be offered by a parent company to its franchisees, and monetized via a revenue share on all loans extended.
By using a modern provider that enables capabilities like monetizing payments and lending, hotels are able to build additional streams of revenue and build operational efficiencies across franchisees.
Optimize Payments Experiences, Globally
While traditional payments providers may only enter the picture when a booking is already made, modern payments providers offer solutions to help hotel brands expand the pool of potential guests, increase their conversion to a successful booking, and build brand loyalty. This can be achieved with a frictionless checkout flow by providing customers their payment method of preference, offering returning guests the option to pay in one click with a saved payment method, and supporting local payment methods, which can significantly affect whether or not they go through with their booking.
For example, Stripe enables hotels to accept mobile wallets like Apple Pay and Google Pay.  According to McKinsey, 15% of digital wallet users say they leave their residence regularly without their physical credit card. When your hotel doesn't provide a mobile wallet payment option, you are instantly alienating those users. Mobile wallets as a share of overall purchasing are projected to surpass credit cards in the next few years.
Mobile wallets furthermore provide a quicker checkout experience, which naturally drives higher conversion rates. Look no further than Amazon's one-click checkout to understand the power of a frictionless purchasing experience, something that Stripe can deliver for your hotel website.  The less information like credit card details a consumer needs to input, the more likely that consumer is to buy a product regardless of whether that product is clothing, electronics or even travel products like flights and hotels.
Stripe also enables hotels to accept online bookings via dozens of local payment methods unique to specific markets, which is critical for succeeding in our increasingly globalized economy. Why are local payments so important? Here's just one example: if you own a hotel in Mexico, you're probably familiar with OXXO, a Mexican chain of convenience stores. OXXO enables customers to pay bills and make online purchases with cash, via vouchers that are paid in store. OXXO payments represent nearly 20% of all online transactions in Mexico, but many legacy providers can't support this payment method. Through Stripe, hotels are able to accept OXXO payments in Mexico with a click of a button–along with dozens of other local payment methods in markets around the world making it much easier for customers to complete their purchase.
"Receiving payments is a basic building block of commerce, but payments can also unlock new consumer experiences. Self-service technologies like contactless check-in and order and pay at table give customers more optionality and can reduce labor costs. Payments also provide data and insights that can be used for personalized offers and services like commercial lending for merchants," says Tidemark founder David Yuan, who has invested in hospitality tech firms like Toast and SiteMinder. "Payments are fundamental to the customer experience and the ability to build a strong franchise over time."
Bring new ideas to market
The possibilities for hospitality innovation around payments are endless–and a modern provider like Stripe provides the necessary infrastructure to make it easy for hotel brands to implement both their own creative ideas and those that are already being proven out by new players in hospitality or forward thinkers in other industries. While hospitality used to be on the forefront of financial services innovation, with credit card partnerships (starting with the historic Starwood American Express card) and loyalty programs as notable examples, that innovation hasn't kept up in recent years. The industry is due for change.
Let's consider some of the blue-sky possibilities for payments innovation in hospitality:
Buy now, pay later. Hotels benefit from increased average order values, conversion rates, and repeat purchases by offering BNPLs, the fastest growing non-card payment method. For example, BNPL platform Affirm has been proven to grow average booking value on travel sites by a staggering 48%. Stripe makes it easy for hotels to offer BNPLs (Affirm, Klarna, Afterpay) as a payment option to their customers, globally.
Subscriptions. Depending on a hotel's market, guest profile, and offerings, they could quickly build a subscription business to increase recurring revenue and grow income.  Perhaps they have an incredible co-working space like the Hoxton Chicago and want to sell desk subscriptions. With Stripe they could quickly spin up that new product, integrated with the rest of their payments infrastructure.
Multi-sided marketplaces. The same technology that lets hotel brands offer payments as a service for franchisees also makes it easy for those same companies to create multi-sided hospitality marketplaces. Potential applications include a private vacation rental property marketplace like Airbnb or VRBO, a booking marketplace for making bookings across multiple subsidiary brands and property types, and managing hundreds of relationships with event organizations or travel agencies. Stripe enables complex multiparty funds flows, enabling platforms to both accept payments and make payouts between different parties globally.
With modern payments platforms like Stripe, hotels can access the same tools used by some of the world's largest tech companies like Google, Shopify, and Amazon to grow their businesses.  As inflation continues to rise, hotels will need to get creative both to eliminate every ounce of friction around potential bookings, and to identify new revenue streams. Everything in the hotel business is centered around payments, whether that's customer facing guest purchases and bookings or back office accounting and reconciliation. Without a modern technology infrastructure provider, it'll be that much harder to stay ahead.
This article was created collaboratively by HotelTechReport.com and Stripe.