Hotel Effectiveness: Boost NOI with A Labor Management System Built For Hotels
By Jordan Hollander
Last updated January 26, 2022
4 min read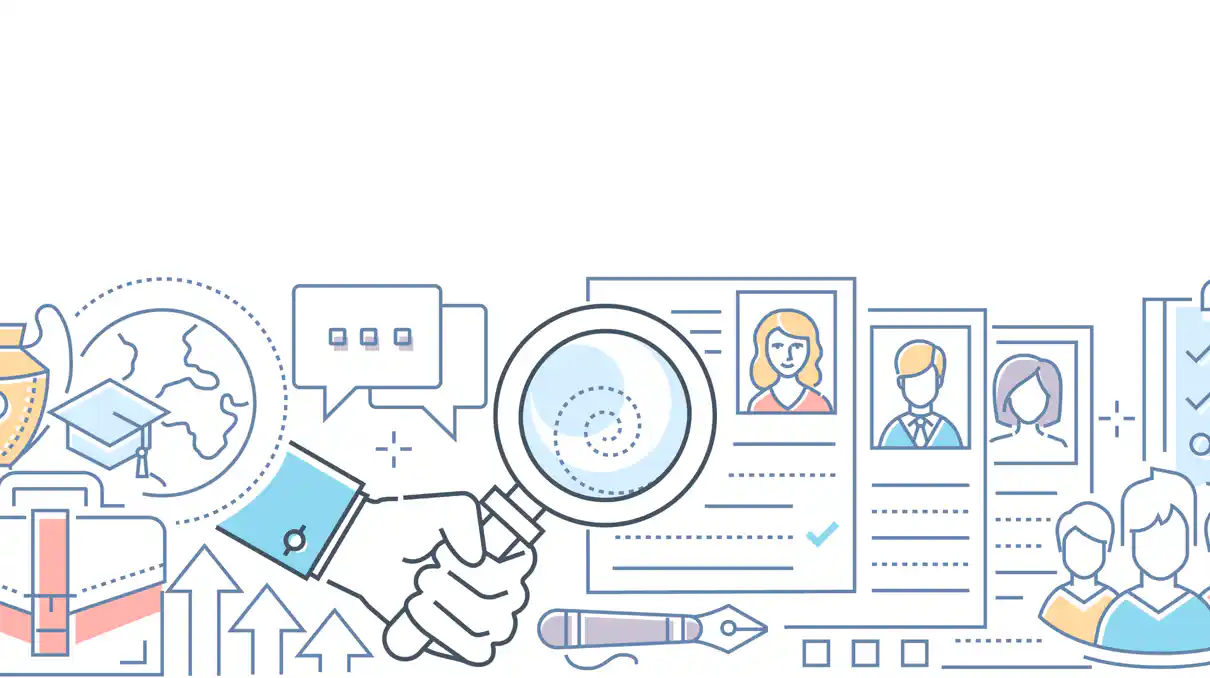 Labor Management Systems provide tools to reduce labor costs by more effectively allocating resources and scheduling shifts.  Labor is the largest expense on any hotel P&L (~44.2% of all costs) so managing how that labor is deployed is critical to operational efficiency.  Managers use the software to get a high level view into optimization of employee shifts, to minimize overtime risk and more. Workers use the software to request time off, schedule shifts and view their schedules in real time.
Hotel Effectiveness offers a solution to rising labor costs in the hotel industry. The product is an intelligent, easy to use labor management system that has proven to reduce total labor costs by 5% or more. The system utilizes staffing rules developed for each hotel combined with key operating drivers to produce dynamic work schedules for each manager. Full visibility into forecasted staffing needs, active trends, and individual employee productivity and hours enable real-time decision making to achieve 100% perfect labor costs. 
The firm touts major clients such as Heritage Hotels & Resorts, Interstate Hotels & Resorts, Pacific Host Hotels, Chartwell Hospitality and Spire Hospitality
Decrease operating costs with Hotel Effectiveness
Hotel Effectiveness claims to reduce total labor costs by 5% or more.  The primary way they deliver on this promise is by creating a set of rules for each hotel client and notifying managers when those rules are at risk of being breached.  For example, managers receive alerts when overtime risk is approached to avoid costly overtime and compliance violation penalties.
Hotel Effectiveness conducted a case study with two select service hotels in the same suburban market.  In the test hotel, the team set different room cleaning metrics for MPR (minutes per cleaned room) for guests staying over and those checking out.  In the control hotel, they maintained a flat target. The test hotel achieved a 7.4% decrease in housekeeping costs based on Hotel Effectiveness' recommendations with no change in brand quality scores.
Hotel Effectiveness can decrease operating costs for clients by setting labor goals such as hours worked per employee and delivering real time insights to managers with recommendations of which staff to reduce hours with and which they should be ramping up to meet goals.  This avoids overtime and maintains compliance with local labor laws.
Hotel Effectiveness also ran a case study for a portfolio of 20 small limited service hotels that implemented its labor management system.  In just 2-3 months after implementation of the software, the portfolio was able to eliminate 10,000 labor hours with cost savings in excess of $100,000.

In an increasingly squeezed labor market - clients seek optimization
"We have been in the business for 25 years and know how to operate high performing hotels. Hotel Effectiveness has helped us to control our labor costs. They are hotel professionals who get the hotel business." ~Naren Shah COO, Imperial Investments Group, Inc.

"Hotel Effectiveness has made a significant difference in our hotel's ability to control labor, save money, and streamline work. We have never worked with a more accommodating and customer-oriented company. Our General Managers love the products and timely information." ~ Jim O'Brien Executive Vice President, Wilson Hotel Management, LLC
As with any product, there are weaknesses but Hotel Effectiveness is committed to improving them
User interface for labor standards can use some modernization and updating for ease of use

The learning curve requires training your entire team on the software which can make implementation challenging for disorganized properties or groups

The data needs to be updated in real time with regard to labor rates

We'd like to see an owner's view

The budgeter needs more data points to maximize benefits

Benchmarking tool needs to be a bit more granular by enabling same brand comparisons

The software needs budget comparisons in relation to the plan.  Integrating budget forecasts would be a huge upgrade to provide more context.

We've heard some complaints around room cleaning data accuracy when not integrated (2-way) with property management systems

Key Features
Labor standards: Cut your labor budget into precise and actionable labor standards that can be tracked against

Dynamic scheduling: Develop a set of automated rules to adjust labor based on a combination forecasted occupancy and labor standards

Automated labor monitoring: Get notifications for key risk areas such as employees 'riding the clock' and housekeeping productivity issues

Corporate visibility: identify at risk or underperforming hotels in your portfolio by creating enforceable and trackable labor goals.

Robust reporting: Real time insight into how your hotel is performing

Benchmarking: compare your hotels against similar properties to see how you stack up and make necessary adjustments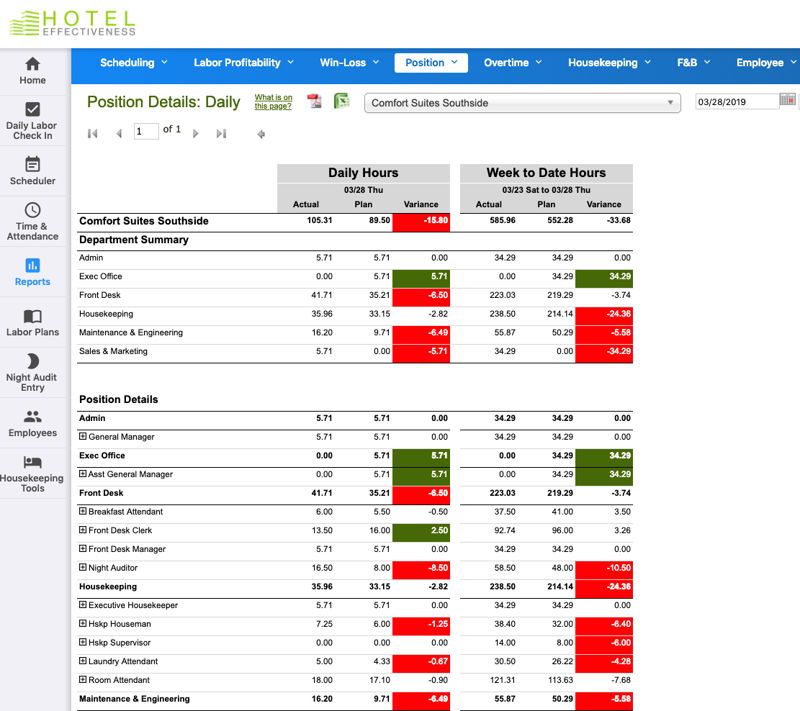 Key Integrations
Time & Attendance Systems: ADP, M3 RightTime, Attendance on Demand, Kronos, Netchex, Paycom, Swipeclock, Ultipro, Workday, WorkRecords
Property Management Systems: Oracle Micros, Hilton OnQ, Marriott Fosse
Payroll Software: A1HR, Execupay, Paycom, ADP, Fortune Business Solutions, Paycor, APS Payroll, Heartland, Payentry, Asure Software, Insperity, Paylocity, Avintus, iSolved HCM (Infinisource), PayMaster, Certigy, Microsoft Dynamics GP, Payroll Rx, CYMA Payroll, MPAY, PrismHR, Engage PEO, Oasis, Progressive, Evolution Payroll Services, Oracle Peoplesoft, Sage 300, ExcelPay, Paycheck, Shaner Solutions, TriNet, Workday, Valiant
Hotel Effectiveness Pricing
Pricing is based on number of employees and starts at $99/month for companies with fewer than 1-15 employees.
Pricing is on a per month per employee basis
35+ employees: $4.90

100+ employees: $3.80

200+ employees: $2.70

301+ employees: $2.30
Additional cost associated with:
Automated data integration

Time & Attendance service

Custom reporting & professional services
Conclusions
Most hotels are coming off of pen and paper or excel when it comes to labor management protocol.  Hotel Effectiveness builds on Time & Attendance platforms such as Tsheets and ADP with tailored solutions to help hotels run their businesses more efficiently.  Our main complaint with Hotel Effectiveness is around its user interface that is a bit dated; however, they seem to be updating consistently making the software easier to use for clients.  When working with Hotel Effectiveness, realize that implementation does take work and focus - but once implemented the software will save more than the time you invested setting it up for your team.
Hoteliers should strongly consider working with a specialized provider such as Hotel Effectiveness because combining PMS data with reporting solutions and time/attendance software allows hotels to unlock insights that can't be acted upon in real time when any of those components are removed.  We are most encouraged about Hotel Effectiveness' ability to help hoteliers create rigorous and trackable labor standards. While the software is valuable in itself, Hotel Effectiveness provides industry specific benchmarking solutions and contextual data that is critical for success in the hotel industry.  These insights can't be gained through generalist providers or with Time & Attendance software alone. The platform is best suited for management companies looking to gain more visibility into their portfolio operations and is least likely to impact small hotels with minimal labor forces.