HotelTime Sends Employees to Work Remotely for Month to Learn Local Markets
HotelTime Solutions' Best Kept Secret

Etymology is the study of the origin of words and, even if we work in technology, we understand and respect their power. In fact, at a better look, that's the central concept behind brand creation. We may not catch it consciously, but our minds do. An example? When we read "Nike" on a billboard, our mental association with the idea of "victory" is almost subliminal. That's the power of branding. So, when we launched our latest initiative, we had many discussions on how to name it. But let's rewind to the beginning of the story...
Over the last few years, HotelTime Solutions has grown exponentially, especially on destinations far from our HQ in Prague, such as Thailand, UAE, and Sri Lanka. To stay true to our customer-centric approach, during the expansion, we hired local people who comprehend the particular needs of these markets and also speak their native languages. As a result, our CEO started to visit them regularly, making the Czech staff… jealous! Well, it's worth remembering that, here in the Czech Republic, the average temperature in winter is -4°C. Hence, the prospect of working in a warm, exotic destination takes a whole different meaning.
That's why we came up with the idea of letting our employees pick a place of their liking to work remotely for a month, fully paid by the company. The initiative's primary goal was to bring knowledge from the headquarter to the respective markets, cheer up our remote colleagues, and, what the heck? Have some fun during the process! Of course, the whole crew was pretty excited about it, and even before we came up with the definitive name for the project, two people from our team (Jana and Martin) had already packed their bags!
We're serious as a heart attack: as we publish this piece, they're, respectively, in Thailand and Dubai.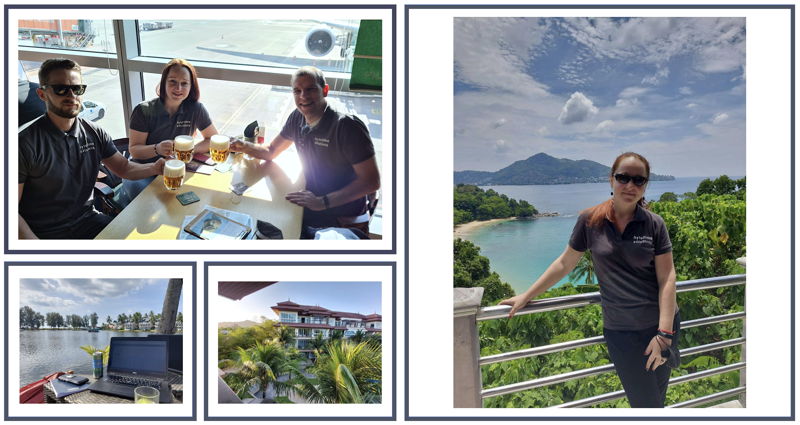 But, back to the name: while Jana and Martin were impatient to leave, we had many conversations about how to brand the initiative. At first, we played with the concept of digital nomadism, and exotic monikers such as "Yubokumin" (meaning "nomad" in Japanese), "Siddharta," and "Project Boheme" were discussed. Yet, we weren't fully convinced. We then explored the world of literature, with names such as "On the Road," and "Earthling." Nah!
It was probably after the tenth meeting that we got it right. Jan, our CEO, discussed the concept with Pavlina, our Marketing & Partnership Manager, one more time, by saying: "The purpose of these trips is to get to learn the local markets and customers better, help out our colleagues, and be CLOSER to them."
Bingo!
Closer to the culture of these new markets. Closer to our customers. Closer to our employees. Closer. That's when we knew we had it (thanks, Pavlina!).
The adjective "close" comes from the Old French "clos," meaning "confined" and "secret." The Latin origin (clausus) has similar implications and can be translated as "reserved." It may sound odd, but it was only during the 16th Century that "close" started to indicate proximity and, since then, we have used it as a synonym of "near."
When we discovered the origin of the word, we knew it did fit the new initiative perfectly. We wanted our staff to be able to leave as soon as possible (cold January, remember?), but we had to keep the project secret.
Well, today we're finally uncovering it: HotelTime Solutions officially launches the Closer initiative. To stay true to the etymology of the name, we had to create an aura of mystery around it, but Jana and Martin can't wait to post some pictures of them working in flip-flops, bermuda shorts, drinking Mojitos on sandy beaches.
So, here it is.
We always felt HotelTime Solutions' primary mission was to be close to its people: its customers, its staff, its partners. Well, it turns out we were wrong. Our mission was not to be close to them, but CLOSER to them.
We like to think we took another step in the right direction; wherever that direction may lead us (and our team).