How Whistle used Lean Startup strategy to become the hotel industry's favorite guest messaging platform
By Hotel Tech Report
Last updated January 26, 2022
8 min read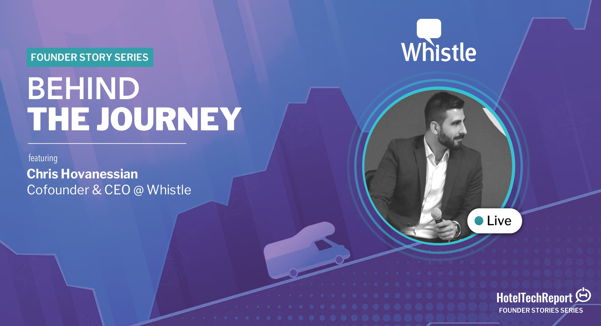 When non-technical entrepreneurs start a tech company, they usually start by spending ~$50,000 for a software development agency to go build their cool new idea. Startups that begin this way often burn through resources quickly and double down on markets before they even understand them.
Steve Blank's Lean Startup methodology has helped thousands of startups avoid these pitfalls. The methodology teaches startups to run a series of experiments that help founders learn quickly about the markets in which they're operating without burning through resources too early. Running lean also forces entrepreneurs to get out of their comfort zones (usually behind a computer) and perform deep market research with prospective clients.
Blank's Lean Startup strategy is centered around the concept of an "MVP" (minimum viable product). The idea with an MVP is to build the absolutely least amount necessary to prove or disprove a hypothesis. According to Blank, creating a successful business from scratch begins with developing a hypothesis, analyzing the risks involved, then setting out to disprove each of those risks using the least resources possible.
Lean Startup practitioners are non-technical hackers in their own regard, they start by asking the right questions and then build creative low cost solutions to answer those questions.
Chris Hovanessian's journey and the founding of Whistle is straight out of the Lean Startup playbook. Whistle's guest messaging software is world renowned today, but when Chris started his business most hotels didn't even know what "guest messaging" was. Chris, like most entrepreneurs, started with a problem. While working in the corporate relocation business he noticed that he was able to give clients great customer service when they were at home but when they got to their respective destinations, many of them didn't have local phone (or data) plans so they were left in the dark and it created tons of problems from a customer experience perspective. He also noticed that they were communicating on a variety of platforms like SMS, Viber and WhatsApp when they were home and that messaging was becoming both cheaper and more widespread. Chris believed that messaging was the future and had a hunch that it would completely change the way businesses delivered customer service.
"Texting is the most frequently used form of communication among Americans younger than 50. Sending and receiving text messages is the most prevalent form of communication for Americans younger than 50. More than two-thirds of 18- to 29-year-olds say they sent and received text messages "a lot" the previous day, as did nearly half of Americans between 30 and 49." ~Gallup
To validate his hypothesis, Chris began talking to dozens of local business owners from all walks of life. One day, while speaking with a hotel manager, he realized that messaging could add a ton of value for hotels given their complex operational needs, employee shift schedules and given hotels' maniacal focus on delivering a great guest experience. After coming to this realization, Chris scheduled a series of meetings with local hoteliers to validate his hypothesis.
Before meeting with a second hotelier, Chris created mockups of what the messaging product would look like so that he could get more detailed feedback on the concept. Before the end of the meeting, that hotelier inquired about pricing and asked when they could go live. Chris partnered with co-founder Jonathan Rojas, a sales guru and college friend, then found a technical partner and built an MVP for that client since they didn't even have a product yet - the rest is history. Chris' partner Jonathan even started working part time as a front office manager to perfect the product and deeply understand how it was being used by clients. Steve Blank often tells entrepreneurs to "get outside the building" and Jon's decision to work at a hotel while starting the business was exactly that.
Hotels may not have known about guest messaging when Chris and Jon started the business, they certainly do today. Whistle has won Top Rated Guest Messaging Platform in the HotelTechAwards for 2 years in a row and the company is now in hundreds of hotels around the world. The old guard often saw technology as a risk to the human experience of hospitality and messaging has proven to do exactly the opposite by creating stronger connections between hotel staff and guests. Our cell phones are highly personal to us, they're the first thing we check in the morning and the last thing we see before we go to sleep. They're how we connect with friends, family and colleagues. Any hotel that doesn't offer the ability for guests to text for service is missing a huge opportunity to surprise and delight.
I had an incredible messaging experience while traveling to Mexico recently. Before we arrived at the hotel we were asked if anyone in our group had allergies - a proactive touch that likely saved us a trip to the hospital due to my friend's severe pumpkin seed allergy. Our room was below the rooftop bar so when the DJ got too loud we texted the front desk late at night. To our surprise, the hotel staff told us that they felt terrible and were happy to upgrade our room at no additional charge to get us away from the noise. Messaging enabled the staff to turn what could have been an awful experience into a moment of surprise and delight. The best part is that we didn't even have to pick up the phone.
We caught up with Chris to learn about the Whistle founding story, how hotels can transform the guest experience through messaging, the biggest mistake that hotels make today and more.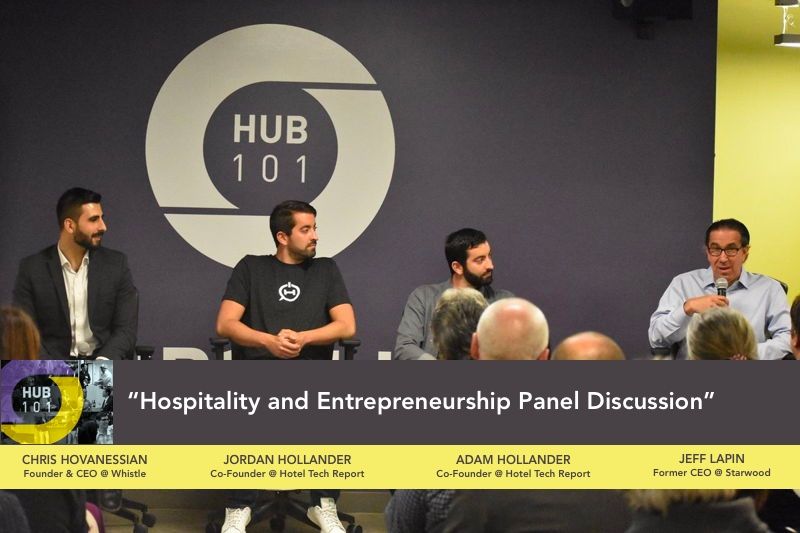 Whistle CEO Chris Hovanessian speaks on a hospitality panel with former Starwood CEO Jeff Lapin
What was your background prior to starting Whistle?
I attended Loyola Marymount University (LMU) in 2011 with a major in Business Administration - Entrepreneurship. At LMU, I gained hands-on experience with starting companies from A-Z, met my cofounder Jonathan Rojas, and was also a chapter founding member of professional business fraternity, Alpha Kappa Psi - Psi Epsilon.
During my last semester and after graduating from LMU, I began working in corporate relocation. There, I worked with Fortune 500 companies to relocate their executive and personnel between headquarters, and to the U.S. Through this position, I gained exposure to certain aspects of hospitality, and immediately realized the importance of streamlined communication.
What made you decide to create a guest messaging company before most hotels even knew that they needed this kind of software?
In the corporate relocation world at the time, my clients came to the U.S. and primarily stayed in hotels. Once they arrived, their mobile phones were essentially useless, as they did not have new data plans in place and would have been charged enormous fees. As a result, all logistics were planned weeks in advance via email. If I needed to get in touch with the client, one of the only ways was to call their hotel and ask to be transferred to their room. As you can imagine, they were not regularly boarded up in their rooms.
Through this frustration, I quickly found a better solution: ask clients to download various mobile messaging applications that were popular in their country at the time (e.g. Skype, Viber, and many others), and to connect to WiFi as often as possible. With this approach, I was more likely to engage in real-time communication.
Then one day, when coordinating with multiple clients at once through multiple channels, it hit me - I need an aggregate solution, which supports all channels! We jumped in and started Whistle thereafter, using the lean methodology and identifying Hospitality as the most apparent application for the software.
Who was Whistle's first customer?
Al Munguia, of the Jupiter Hotel in Portland, Oregon. Before we even built a product, we used the Lean Methodology to get off the ground. I was conducting interviews with willing participants to determine the pain points, and eventually to shape the MVP. Al was the second interview I conducted during the "Solution Stage", which is where you show mockups or a wireframe of the potential product, and then gauge feedback for improvements and enhancements.
10 minutes into the call, he asked, "this looks great, how much does it cost?" I wasn't prepared to answer that question so I just threw out a number, and he told me to let him know when they could start. I said one-week, and then we got to work building the platform!
Most hoteliers know that guest messaging is a must have today and there are lots of players in the market but Whistle has won top rated guest messaging platform for 2 years in a row, why do you think that is?
Messaging started off as a nice-to-have, but is quickly evolving into a requirement, similar to WiFi a decade ago. Whistle is the easiest GMP to get started with; we offer a free trial with no commitments, you can get setup in minutes, and you will see results on the first day of usage. Whistle will boost your guest engagement levels, drive up your guest satisfaction scores, provide ancillary revenue, improve your operational efficiency, and streamline all of your departments' logistics -- our customers can't live without it.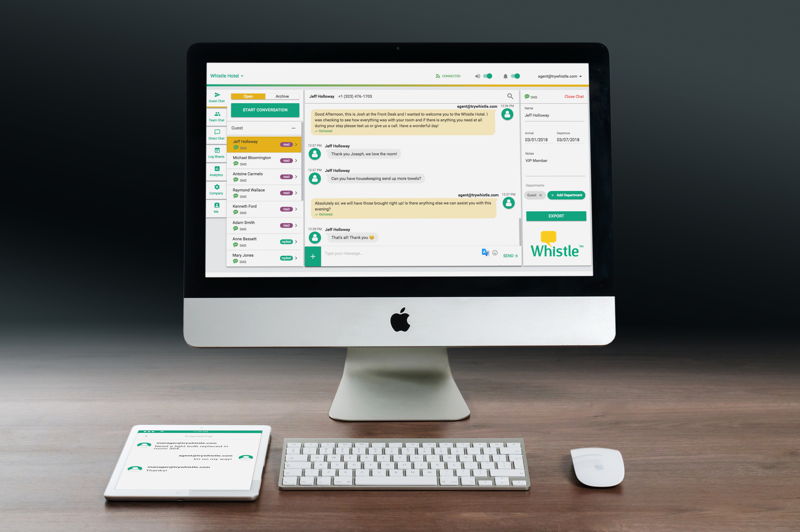 Whistle's guest messaging software helps hotels run more efficiently and deliver impeccable service
Who is one mentor that has really helped you scale the business?
We're so lucky to have such a strong circle of mentors, it's truly amazing - I wish I could name them all! Someone who's been there with us every step of the way is Michael Panesis: President and Chairman Emeritus of Tech Coast Angels Central Coast, Founding Member of Santa Barbara Angel Alliance, and the Executive Director of the Center for Entrepreneurship for Cal Lutheran. Mike has helped us in nearly every aspect of the company, and we wouldn't be where we are today without him. The one piece of advice that really stuck with us was, "Keep selling!" We followed through with this approach, gained more ground, and eventually the pieces started falling into place: more people started believing in us, the product evolved, the team grew, and our impact tremendously improved.
What's one commonly held belief that most hoteliers believe to be true that actually is false?
"Messaging is impersonal, you can't replace in-person interactions."
The aim of messaging is not to replace in-person interactions or even phone calls, it is to fill the customer service whitespace or void that exists today. There are a large portion of travelers and consumers today who are not communicating with your organization because you may not have the proper means. With the increasing influx of technology separating the hotel staff and guests (e.g. OTAs and Mobile Room Keys), messaging is one of the main components connecting hotels with their guests today.
What's the most surprising thing you've learned about scaling technology into hotels?
The hotel industry is very hard to break into as a new company, but then gets easier as your brand grows. We've all seen overnight virality in the B2C space, but hotels tend to have their guard up more-so than any other industry I've experienced. It's a tight-knit community, and as a result, it takes time to grow organically and reach the inflection point. You can pump out all the marketing and metrics around your company's impact that you want; if no one knows you, they're likely not going to work with you.
Have been a particularly good partners that have helped Whistle scale along the way?
For Whistle, PMS partnerships in general have been especially powerful for both us and our PMS partners. It gives us the opportunity to grow, while providing tremendous added value to our PMS partners, making their product more sticky because we can ultimately extend their reach into the guest journey whereas the PMS usually is just used by the hotelier.
Where do you see Whistle and the guest messaging space in 5-years?
For the guest messaging category as a whole, artificial intelligence and machine learning will become more prevalent. AI has progressed significantly within the last two years, and we are beginning to see it provide more value. Messaging will also begin to touch more hotel software categories, beyond the guest and past the PMS/CRM. I think we'll also begin to see consolidation within the category, speaking from the business perspective.
We see Whistle in tens of thousands of hotels around the globe, providing a holistic messaging platform for guests and all departments/aspects of the hotel. People think messaging capabilities have matured, when realistically we've barely scratched the surface.
Is there anything that the hotel tech community can do to be helpful for you?
We'd really like to learn more about marketing best-practices in hospitality tech. We have a great solution with strong impact on direct bookings, and we'd like to get the word out more!
What's one piece of advice that you have for entrepreneurs looking to get into the hotel tech space?
It's hard, but definitely worth it! The hotel industry is fun, traveling is literally part of the game, and everyone knows the importance of letting loose every once-in-a-while. Just like in any other industry: make sure you do your research ahead of time, find early adopters/partners, and do everything in your power to learn from them over time and keep them happy.
What is the best book you've read lately and why?
"The Hard Thing About Hard Things", by Ben Horowitz. It came out a few years ago, but I just got around to reading it last year. This is a book for founders by a founder, now VC. It's all about the ugly bits and hard truths of entrepreneurship, not the glory. It's very comforting to learn of others' horror stories, because it's usually largely untold. You come away from this book understanding that most of the hardships you go through are actually very common, and that you're not crazy after all! I highly recommend it.
What is your favorite podcast
I love The Joe Rogan Experience
What is one thing that most people don't know about you?
For the past 7 years I've practiced a form of intermittent fasting called time-restricted eating, where I eat only one meal per day and am fasting for the rest of the day. Fasting has helped me feel a lot healthier.