Oaky and OTA Insight Join Forces to Maximise Total Revenue with Dynamic Room Upgrade Rates
Dynamic Room Upgrade Pricing

Oaky is pleased to announce a game-changing collaboration with leading data intelligence platform OTA Insight. Oaky has integrated with OTA Insight to receive real-time data on room pricing, which translates into dynamic room upgrade rates that are automatically presented to guests. This means consistently optimised room upgrade rates and the ability to instantly take advantage of revenue opportunities without the need to spend time on manual adjustments.
A new approach to room upgrades
In the swiftly changing landscape of today's industry, hotel revenue management needs to be adaptable, progressive, and highly efficient. Yet, research conducted on industry practices showed hardly any hotels offering truly dynamic room upgrade pricing, and the reason was clear: there wasn't yet a solution on the market that could offer this feature simply and automatically. Enter Oaky and OTA Insight, combining their USPs to make this feature a reality.
How does the integration work?
OTA Insight collects real-time pricing data on all room types for the coming 30 days and sends it to Oaky

Oaky calculates the dynamic room upgrade supplement based on the difference between the booked room type and available room upgrades

Oaky presents the dynamic room upgrades to the guest before arrival, enabling the guest to buy it straight away.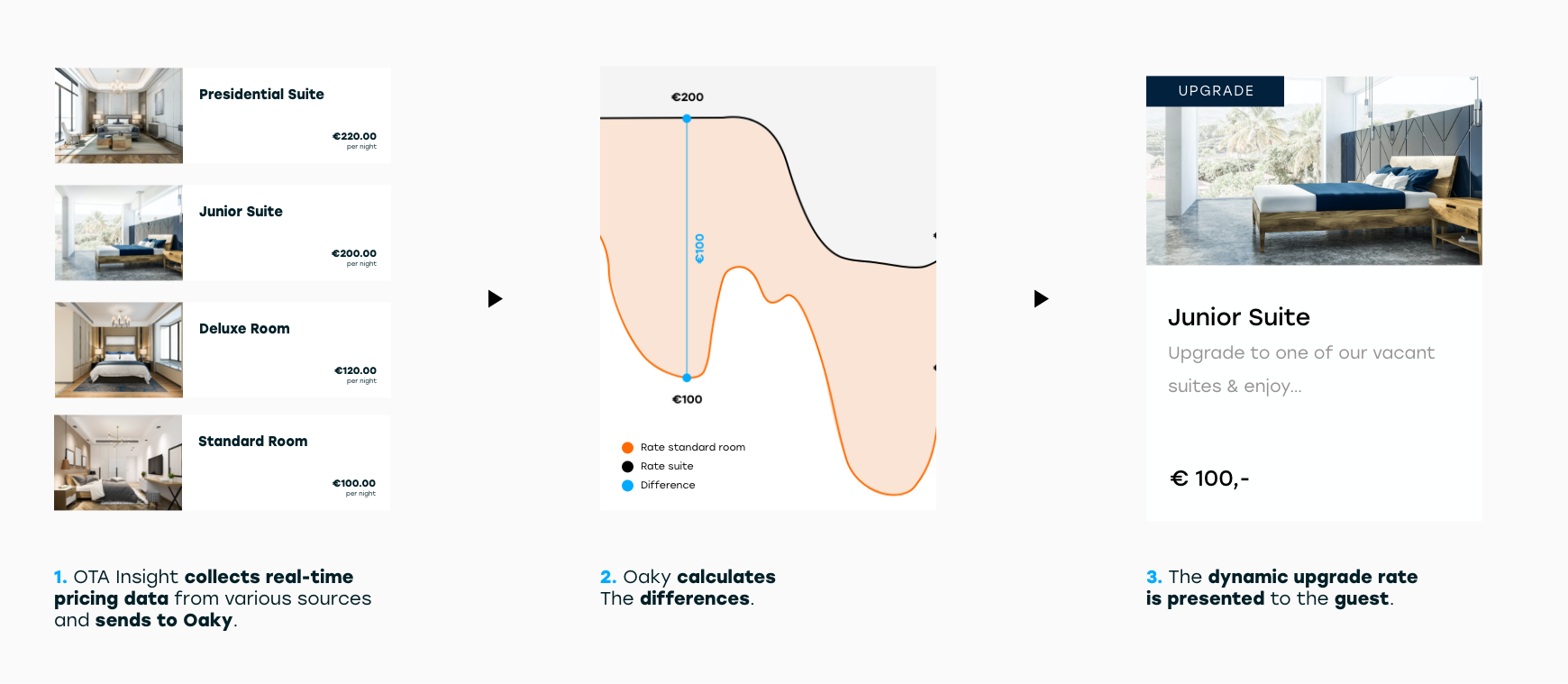 "The development team found great joy in distilling the immense data-handling and complex calculations of the integration to a single switch of a button for our hoteliers. It was important for us to make it as easy as possible for hoteliers to start benefiting from this feature."  
Raymond Yong Ern Wei, Oaky Developer
The benefits of dynamic room upgrade rates
Take advantage of fluctuations in room type rates. On days when suites are selling at a high price, make sure you're getting in on the action. Upgrade rates will be automatically adjusted to demand and inventory availability.
Enjoy higher revenue conversion rather than number of upsells. 
Free and simple to start using. If you are already an Oaky customer, the Oaky team will reach out to you to see if you'd like this feature activated.
Keep your rates realistic. Your upgrades will never sit too high above what is being reflected in the market, so you'll always have competitively priced rooms on offer. Ensure the gap between online selling price isn't too far from the upsell offer for shortlead booking.

Automatically apply discounts to your room upgrades to keep your offering competitive.

Keep your upgrades available no matter what. The Oaky and OTA Insight integration will default to a fallback rate taken from Oaky if no 'upgrade from' rate is available.

Keep your data secure. OTA Insight has secured  ISO/IEC 27001:2020 certification for 2021, and Oaky has secured a SOC2 Type II certification for 2021 - both international standards for information security management systems that confirms the company's commitment to the highest level of security protocols.
Park Plaza Westminster Bridge London
Park Plaza Westminster Bridge, one of London's most iconic hotels and part of PPHE Hotel Group, immediately recognised the potential of room upgrade dynamic pricing to streamline operations and increase conversions. During their time piloting the feature in a period with less leisure demand, the hotel showcased impressive results – seeing a 17% increase in spend per upgraded night and 20% increase in total upsell revenue.
"Static rates and supplements were already losing ground compared to dynamic pricing and offers, but the current trading environments require even further agility, responding quickly to changes in the market place. More than ever before, hotel revenue management needs to be flexible, dynamic and adaptable. Oaky's partnership with OTA Insight ensures that our upsell programme is aligned to our room type strategy and drives additional uplifts to the total revenue without the need to invest hours of manual adjustments to the room type supplements."
Stefan Kettenbeil, Director of Revenue UK at PPHE Hotel Group 
"We are thrilled to partner with Oaky, as we both have a similar mission; to help hotels drive more revenue with real-time data. With demand levels lower due to the pandemic, it is more important than ever that hoteliers work more efficiently and save costs. This partnership integration will bring automation for hoteliers and drive room upgrades to help maximise profitability."
Joris Beerten, Global Commercial Director at OTA Insight
"By partnering up with OTA Insight, we identified a big opportunity for hotels to drive more profit by moving from static to dynamic room upgrade rates. Room upgrades were already very relevant thanks to their high profitability and not being so labour intensive, but we saw a significant room for optimisation on how they were being priced. Today, we're very excited to launch our partnership that enables hotels to align their upselling programme with their room type strategy, driving additional revenue uplifts without any manual work."
Erik Tengen, Co-founder of Oaky