An Open Letter to Hotel Technology CEOs: It's Time to Embrace Blue Ocean Strategy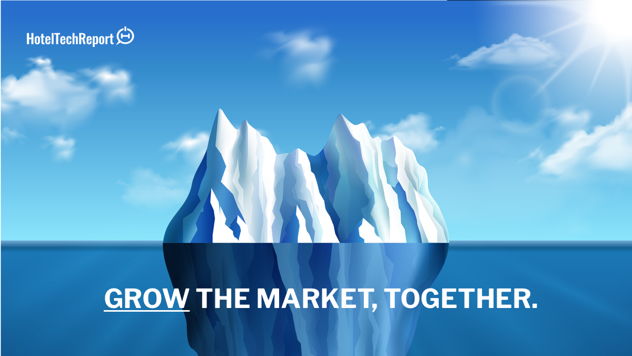 Letter originally published on October 15, 2017 via LinkedIn
This is an open letter to hotel technology CEOs around the world. Many of you are good friends who have helped shape our vision for the future of hospitality through a combination of cross-continental conference calls, in person office visits, cocktail infused off-sites and even an impromptu Wyclef concert in Toronto. Along this journey we've made new friends from Moscow to Montreal, Prague to Cusco and everywhere in between - it's been quite a ride.
For those of you who don't know me, my name is Jordan Hollander and I'm the co-founder of Hotel Tech Report, the #1 ratings and reviews platform for hotel technology. I co-founded the business with my identical twin brother Adam who frankly does about 90% of the work around here. Warren Buffett says that the most talented people are 10x more productive than the average person - and that's pretty representative of Adam.
Adam designs every page, email and interaction by hand. Have a problem and he'll figure it out in minutes: automation sequences, analytics configurations, Zapier triggers, dynamic surveying, data visualization - there's literally nothing he can't do.
I'm the business development guy and marketer - together we're building towards a vision that we're both incredibly excited to be a part of.
Today, thousands of hoteliers use hoteltechreport.com to research the best technology products for their business problems. We're humbled to have hundreds of the most customer centric hotel technology companies use our platform to engage their customers and provide a safe environment for honest feedback that helps to both improve their products and promote those products to prospects.
In the short time since we launched our site, we've had incredible support from both hoteliers and technologists around the world. Our entire ethos is built upon the foundation of transparency so I felt that I owed it to our community to return that favor.
In the spirit of promoting that transparency: I encourage you to leave feedback below about our platform and the vision that I lay out in this letter to hold us accountable. At Hotel Tech Report we don't choose favorites between praise and criticism. There are no egos here and our only aim is to manifest our vision more quickly - your feedback is critical to that end.
We started this journey by engaging you, the thought leaders, the creators and the influencers. You are the men and women who push the industry forward by taking big risks and putting it all on the line. Some of you are focused on delivering delightful experiences for guests, others are focused on creating great work environments for staff and others aim to increase profitability which leads to further investment in both of the aforementioned.
This is the most important industry in the world precisely because we connect people in truly authentic ways. Travel's ability to forge global connections creates understanding and empathy - hotels are the platform on which these connections are enabled.
We also love that we are operating in one of the largest markets on the planet with global hotel retail sales hovering near $500B and growing quickly. It's not all rosy though, hotels have historically underinvested in technology and today spend ~3% of sales (vs. 8% for an industry like Fintech) on such products. It wasn't until major disruptors came into the market that hoteliers realized they'd need to innovate or dwindle into obscurity. These disruptors are neither evil nor malicious, they have been the catalyst for for change and we should thank them for their contributions.
Hotel technology is projected to be the highest growth sector for Enterprise IT spending over the next 5-years at a 4.1% CAGR which reflects the fact that hoteliers know it's time for change. There are two core problems to be addressed in this market: (1) interoperability and (2) information asymmetry.
People far smarter than me are addressing the first problem: interoperability. People like David Turnbull and his company Snapshot are building the connective tissue that will drive innovation. Our good friend Mike Blake ([email protected]) is teaming up with Dimitry Koltunov ([email protected]ALICE) to create an open API registry that is working towards a similar goal.
At Hotel Tech Report, we're solving the second problem - the information problem. Our journey is far more behavioral where Mike, Dimitry and David are technical. This is fitting since Adam studied psychology and I received my undergraduate degree in Philosophy and Political Science - both from Williams College.
Yesterday I had a really interesting call with Jasmine over at Digital Alchemy. She began by saying "now we know how it feels for hotels to be on TripAdvisor". As I began to express my empathy, Jasmine completely surprised me. She said that she was excited to embrace unbiased reviews.
In her thousands of hours spent with hotel clients, she's found that the ones who encourage the highest volume of reviews on TripAdvisor always drive more traffic and bookings than the ones who aim to get only positive feedback. Consumers just don't trust a profile with all 5-star reviews, they know that nobody is perfect and won't purchase until they feel comfortable with both sides of the story. Many of you have heard my example about buying a backpack on Amazon.
Several months ago I was looking for a backpack that would fit my 13-inch Macbook and found one that I really loved. I immediately scrolled to the negative reviews because I wanted to know what people like me really thought about the product.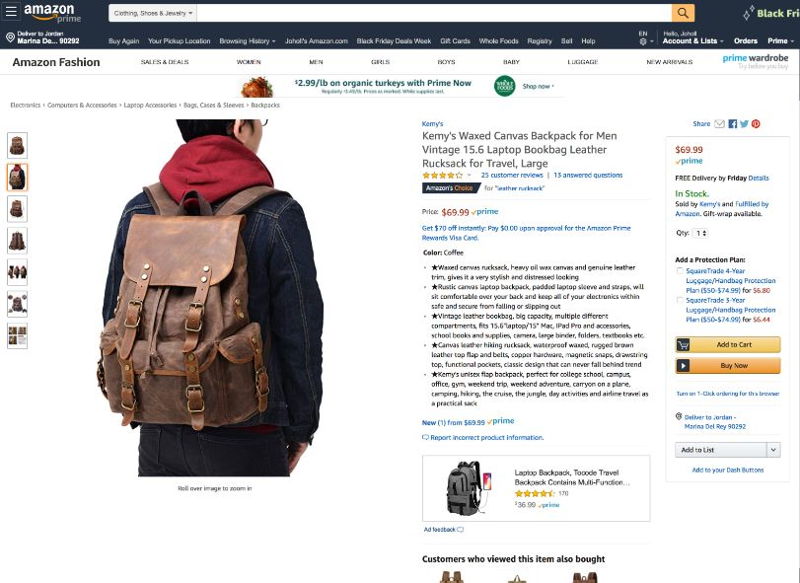 The first 1-star review coming from Zach in New York City read "I loved how this backpack looked but it's so small that it doesn't even fit my 18-inch MacBook Pro!" I knew immediately that it was a perfect fit since I only needed to fit my 13-inch laptop and purchased immediately.
Our vision at Hotel Tech Report is to make researching and buying easy for hoteliers, not to pick and choose vendors. There are so many great ones out there and the most important thing is to know which product is best for each buyer's needs - that's where value is created.
Despite the perception around technology, this is as much about personal preference as it is about data. Most case studies are cherry picked and tend to over promise - every buyer knows that. That's why they have diminishing importance in our digitally driven world.
I know that many of you are probably feeling just like hotels when they first joined TripAdvisor, everyone wants to be #1 and that's just not possible. I urge you to focus on the means and not the end. It's the act of transparency that creates value, not the superficial rankings that ensue.
To illustrate this point I'll defer to some data points. Did you know that only 7% of hotels use revenue management software today and only around 3% use SMS to communicate with their guests? There are still thousands and thousands of hotels globally that are yet to adopt even a basic property management system.
This means that there is massive whitespace in the market. We are operating in nascent markets here and the only way for everyone to win is to take a unique approach. My favorite marketing mentor Kent Grayson says:
"Growing the market is ALWAYS more profitable than stealing share."
Why? Because stealing share leads to price cutting which destroys value where growing the market has the opposite effect. In the words of W. Chan Kim, author of Blue Ocean Strategy:
"The natural strategic orientation of many companies is toward retaining existing customers and seeking further segmentation opportunities. This is especially true in the face of competitive pressure. Although this might be a good way to gain a focused competitive advantage and increase share of the existing market space, it is not likely to produce a blue ocean that expands the market and creates new demand."
A Stylized Illustration of Blue Ocean Strategy in Action:
Let's use a simplistic and hypothetical example to elucidate. If the average price for guest messaging software was $5/room/month and we had 1M rooms in our market - the market potential would be $5M per month. If 10% of hotels use this category of product, then our market size is $500k per month.
Option A:
If we all drop prices 20% to beat each other in the competitive process, our market size drops to $400k.
Option B:
If we work together to grow penetration of guest messaging platforms from 10% to 20% our market size increases from $500k to $1M per month.
For the majority of you who have raised venture capital, you know that market size is everything. You and your investors know that there is no such thing as "winning" in a small market and that there are usually many winners in large ones. I urge you to pursue 'Option B' every day of the week.
So how do we grow the market? We work together to create great products and deliver incredible services. We partner, integrate, create co-branded webinars for hoteliers and generate high quality content.
At Hotel Tech Report, we believe that transparency has the potential to be more impactful than all of the above combined.
We believe that by consolidating demand for products into a simple, trustworthy and intuitive platform we will grow the market across all categories bar-none. We truthfully want you all to win and believe that if we are great at our job, namely, making it easy for hoteliers to research and buy technology - that every single one of you will win.
We are so appreciative for your early support, couldn't be more fired up about the road ahead and about the opportunity to take the industry to heights never seen before.
We believe that by making it easy to buy hotel technology we enable hoteliers to be more fulfilled at work and guests to have incredible experiences on the road (leisure and corporate).
Perhaps most importantly, by making it easy to buy hotel technology we also make it easy to sell, which means that technology leaders like you get to realize your vision more quickly and focus on doing what you love - building great products.