80 Different Types of Hotels Explained
Di Jordan Hollander
Ultimo aggiornamento Gennaio 26, 2022
11 minuti di lettura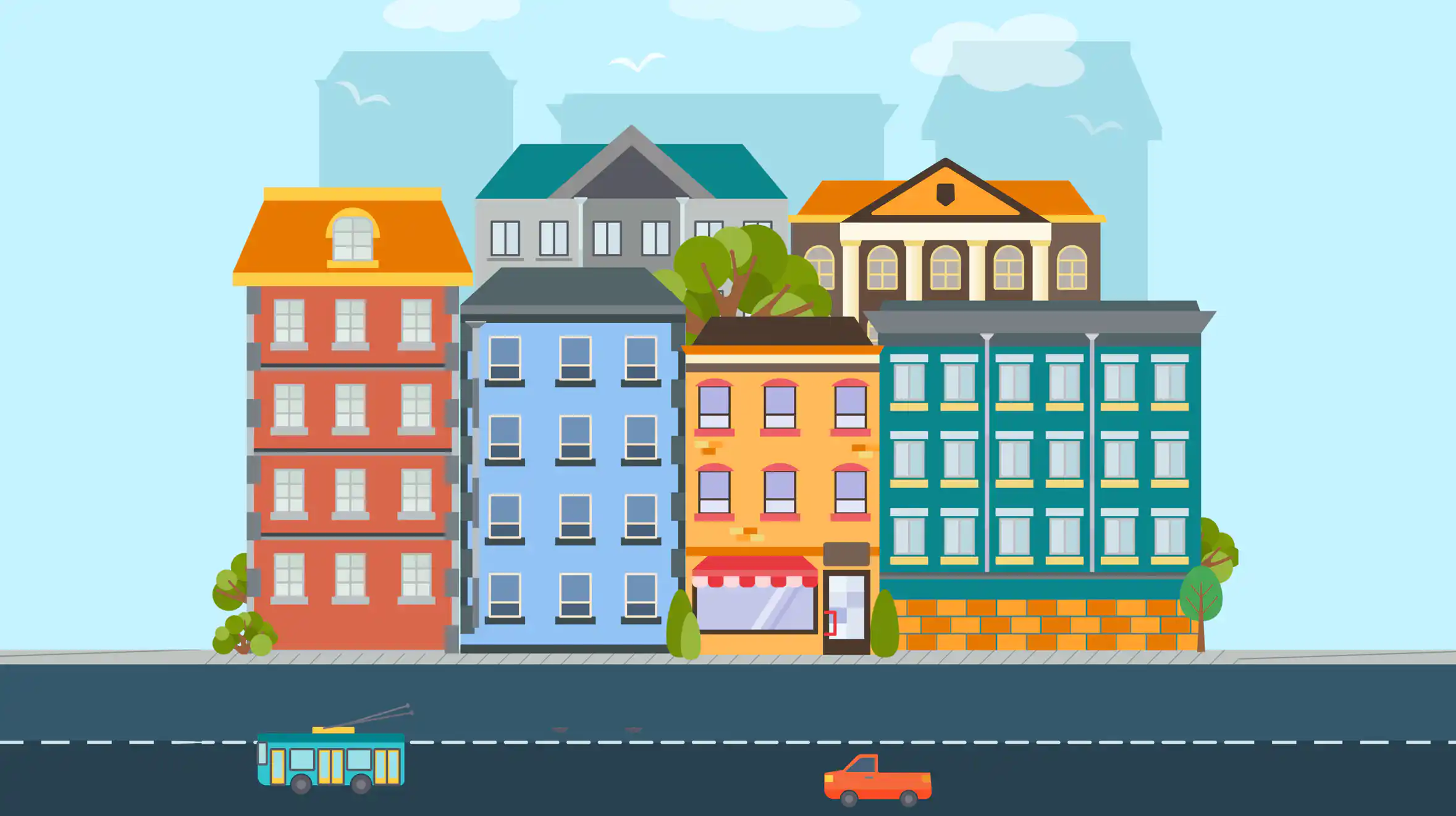 Want to explore a plethora of types of accommodations? You've arrived at the right place. We've researched over 80 kinds of hotels, resorts, vacation rentals, and more. By the end of this article, you'll discover which accommodations are right for you.  The classification of hotels is no easy feat so we. decided to make it easy for you.
We've broken down this article into 7 categories (by type of hotel): 
The hospitality industry is changing rapidly.  Vacation rental companies like Airbnb are looking more like hotels and hotels are looking more like vacation rentals with the invention of serviced apartments and apartment hotels.  As a guest you want to know what each hotel has to offer.  Does a 3-star hotel offer room service? Does a five-star hotel need a spa?  What kinds of hotel amenities does a resort hotel have?  Are budget hotels dirty? 
Ready to dive in? Let's go!
Popular Hotel Types
These hotel types are the most common, and you can find them all over the world.
Chain Hotel: Also known as a "branded hotel," a chain hotel is affiliated with a brand that may have strict guidelines for amenities and design. Some chain hotels are part of a larger ownership group, while other chain hotels have independent owners but follow the same brand standards. Popular hotel chains are Courtyard, Holiday Inn, and Westin.

Independent Hotel: A hotel that is independently owned and operated with no brand standards or guidelines. 

Boutique Hotel: A hotel that incorporates unique design and personalized service, often with a theme or local influences. Boutique hotels are usually small (under 100 rooms) and independently owned, though some boutique hotels are part of collections like Leading Hotels of the World or chains like the Curio Collection by Hilton.
Pictured: Four Seasons Resort Maui at Wailea
Resort: A resort offers everything necessary for a vacation on-site, such as restaurants, bars, pools, spas, recreational facilities, kids clubs, and entertainment venues. Popular resort brands include Sandals and Four Seasons, though there are many independent resorts too.

Airport Hotel: An airport hotel is located near - you guessed it! - an airport. Airport hotels usually provide free airport transportation for a seamless transfer.

Conference Hotel: Catering to business travelers and groups, conference hotels have extensive function space, catering services, and event planners to suit trade shows, conventions, or other large events.

All-Suite Hotel: A hotel which contains only suite-style guestrooms, which are guestrooms that have separate sleeping and living areas. Embassy Suites is a popular all-suite hotel brand.

Extended-Stay Hotel: Designed for people who need a place to stay for several weeks or months, extended-stay hotels provide guestrooms with full kitchens and more spacious layouts than a standard hotel. Some extended-stay hotels also offer laundry events and social events. 

Motel: Short for a "motor hotel," motels are often located next to a highway in rural areas and offer basic amenities at a low price.
Pictured: Aparthotel Baden, Switzerland
Apart-Hotel: Also known as a condo hotel, apart-hotels are made up of apartment-style units which can contain full kitchens and several bedrooms. Apart-hotels offer all the services of a hotel, like a front desk and housekeeping.

Serviced Apartment: An apartment unit with hotel-style services available for nightly rentals, often catering to business travelers. Serviced apartments can be found in apartment buildings that also house long-term residents.

Hostel: Popular among young budget travelers, hostels offer beds (usually bunk beds) in shared dormitories with shared bathroom facilities. Other on-site amenities can include lounge areas, bars, games, restaurants, and self-service laundry.
Chain Scales
The hotel industry uses "chain scales" to categorize hotel brands. Smith Travel Research developed the chain scale system and decides which chains fall into each category, usually based on the hotel's average daily rate.
Luxury: These hotels are the cream of the crop. Luxury hotels offer exceptional service, distinctive architecture, award-winning restaurants, and amenities like spas and golf courses. Luxury chains include Aman, Peninsula, and Ritz-Carlton.

Upper Upscale: Like luxury hotels, upper upscale hotels deliver unique experiences with stellar service and amenities - but with a less eye-watering price tag. Upper upscale chains include Hyatt Regency and Wyndham Grand.

Upscale: Upscale hotels are full-service hotels with solid amenities and classic decor, usually including a restaurant and a fitness center. Upscale chains include Courtyard and Hilton Garden Inn.
Pictured: Holiday Inn Boston Bunker Hill Area
Upper Midscale: Ranging from traditional to modern, upper midscale hotels offer comfortable accommodation and basic amenities, like free breakfast and fitness centers. Upper midscale chains include Holiday Inn and Red Lion.

Midscale: This segment includes both modern and legacy brands with basic design, sparse amenities, and, often, free breakfast. Midscale chains include La Quinta and Ramada.

Economy: These hotels offer no-frills accommodation at a low price. Economy hotels are often found in rural, suburban, or airport areas and include limited amenities. Economy chains include America's Best Value Inn and Motel 6.
Star Ratings
Star ratings give travelers information about the level of quality at a given hotel. Generally speaking, hotels with higher star ratings can sell higher rates. Star ratings are either assigned by a third-party rating entity, such as Forbes Travel Guide, or by a governmental body in certain countries, like Australia and the United Kingdom.
1-Star Hotel: A hotel with basic amenities, perhaps with shared bathrooms or no dining options. 

2-Star Hotel: A hotel with basic amenities and slightly elevated decor, breakfast service, and/or public areas like a lobby or gym.

3-Star Hotel: A full-service hotel with a restaurant, front desk, intentional decor, and housekeeping service.

4-Star Hotel: An upscale hotel with on-site dining, premium amenities, and a signature look and feel.

5-Star Hotel: A luxurious hotel with personalized service, high-end dining venues, wellness facilities, and elegant design.

7-Star Hotel: Though it's not officially part of the star rating system, a few "7-star hotels" in destinations like Dubai and Fiji have such over-the-top amenities that the 5-star designation just doesn't cover it. At Dubai's Burj Al Arab, you can expect Rolls-Royce car service, a suite with a private movie theater, and a private beach.
Pictured: Burj Al Arab, Dubai
In many European countries, you can find the HOTREC Hotelstars Star Rating System. This organization uses a rubric with almost 300 points of comparison to determine which category a hotel falls into. In addition to these categories, a hotel can earn a "Superior" designation if it falls between two categories.
Tourist Hotel (*): These hotels include guestrooms with private bathrooms, daily housekeeping, and a front desk with limited hours.

Standard Hotel (**): These hotels include toiletries, towels, linens, and a breakfast buffet.

Comfort Hotel (***): These hotels include bilingual staff, internet, hair dryers, and laundry and ironing service.

First Class Hotel (****): These hotels include minibars, a restaurant, a lobby, and an extensive selection of toiletries and personal items in the bathrooms.

Luxury Hotel (*****): These hotels include 24-hour reception, concierge service, in-room safes, and nightly turndown service.
Did you know? AAA uses a "diamond" rating system to evaluate the quality of hotels and restaurants.  Check out our guide to hotel star ratings to learn more about these types of hotels.
Niche Hotel Types
Looking for something specific? These niche hotels cater to a particular type of traveler or embody a certain theme.
All-Inclusive Hotel or Resort: Don't want to worry about dining out while you travel? All-inclusive hotels or resorts provide all of your meals on-site. Most all-inclusives have several restaurants, cafes, and bars that are included in the room rate.

Beach Resort: Set directly on the beach, beach resorts let you go from your room to the sand in just a few footsteps. Beach resorts usually provide beach chairs, towels, umbrellas, and watersports equipment.
Pictured: Union Street Inn, Nantucket
Bed and Breakfast: With an average of only six rooms, these charming properties offer a homey atmosphere, daily breakfast, and social interaction with other guests and the proprietor, who usually lives on-site. Many bed and breakfasts are luxurious or historic.

Business Hotel: These properties cater to business travelers and are located near business districts, airports, or convention centers. On-site amenities include meeting rooms, business centers, and restaurants for breakfast on the go.

Casino Hotel: Feeling lucky? Casino hotels have on-site casinos, usually in addition to restaurants, bars, spas, and shops. Las Vegas and Atlantic City have high concentrations of casino hotels.

Eco Hotel: Staying in a hotel doesn't need to hurt the environment. Eco hotels range in size and style, but they all have a focus on environmental-friendliness. Eco hotels might come with limited housekeeping service, organic restaurants, LEED-certified architecture, and sustainable decor.

Family Hotel: Traveling with the kids is easier when you choose a family hotel, which are found in popular vacation destinations like Orlando. These properties offer family-friendly rooms with bunk beds or separate bedrooms, restaurants with kid-approved menu choices, childcare or day camps, and activities for all ages.

Gastro Hotel: A hotel with a culinary focus, sometimes featuring a Michelin-starred hotel or an on-site vegetable garden.
Pictured: Boulders Resort & Spa, Scottsdale
Golf Resort: A resort with a golf course, perfect for golf getaways. Golf resorts are usually found in vacation destinations like Hawaii or Scottsdale.

Heritage Hotel: Take a step back in time at a heritage hotel. These iconic properties are known for their classic architecture and rich history. In some countries, they may even receive an official "historic" designation from the government.

Microstay Hotel: Need a place to rest your head for a few hours? Microstay hotels can be booked by the hour, which is ideal for travelers with long layovers or quick turnaround times that don't align with the standard check-in and check-out policies.

Patient Hotel: Patients traveling to out-of-town hospitals can benefit from a patient hotel, which is usually located within or near a medical facility and offers services and amenities for pre- and post-treatment stays.

Railway Hotel: Located next to railway stations, these hotels offer convenient accommodation for train travelers. The first railway hotel, the Great Western Hotel in England, opened in 1844.

Ski Resort: Set in ski destinations like Aspen and Park City, ski resorts are ideal for a vacation on the slopes and offer the convenience of dining, wellness facilities, equipment rental and storage, and lessons on-site.
Pictured: Park Hyatt Tokyo
Skyscraper Hotel: Looking for a hotel with a view? You can find skyscraper hotels in metropolitan areas around the world. The hotels usually occupy several floors within the skyscraper; the other floors might contain offices, residences, shopping, or dining.

Spa Hotel: If you're in the mood for a relaxing getaway, then a spa hotel might fit the bill. Spa hotels have world-class spa facilities and often incorporate wellness into their restaurants, decor, and amenities.

Tennis Resort: Channel your inner Serena Williams and head to a tennis resort for an active vacation. These properties offer not only tennis courts, but also lessons run by on-site pros and restaurants where you can fuel up between matches.

Wine Hotel: A trip to Napa or Bordeaux isn't complete without a stay at a wine hotel. Often set directly on vineyards, these hotels incorporate a wine theme in their dining venues, decor, and even spa treatments.
Regional Accomodations
Some accommodation types are only found in certain parts of the world. Rather than choosing a chain hotel when you travel, you can get a taste of local culture at a region-specific accommodation.
Albergo Diffuso: In an effort to lure tourists to small towns in Italy, the albergo diffuso concept offers accommodations in restored homes scattered throughout the town, giving travelers a unique sense of community.

Bunkhouse: Similar to a hostel, a bunkhouse (also known as a camping barn) offers shared dormitory accommodations, shared bathrooms, and either a simple breakfast or a shared kitchen. Bunkhouses can be found in rural areas in the United Kingdom.

Casa Particular: A staple of Cuban hospitality, the casa particular is similar to a bed and breakfast in that it offers travelers a room in a home and breakfast (additional meals too), plus basic decor and a low price.

Country House Hotel: Popular in the English countryside, these tranquil hotels provide the ideal setting for a weekend away from the hustle and bustle of the big city. Country house hotels offer comfort food, afternoon tea, and activities like hunting and horseback riding.

Gasthaus: This classic German accommodation offers guestrooms and a restaurant or tavern. These properties feature traditional architecture and are found in small towns throughout Germany.

Hostal: Not to be confused with a hostel, a hostal includes private guestrooms or apartments plus a restaurant or cafe. Hostales are usually family-run and are located in Spain and Central and South America.

Pension: Found worldwide, but mostly in Europe, pensions are modest guesthouses which provide guestrooms and meals. When booking your room, you can usually choose between full board (all meals included) or half board (breakfast and dinner included).
Pictured: Riad de Tarabel
Riad: Surrounded by an exterior wall, a riad features a lush courtyard garden and stunning Moroccan design and architecture. While a riad is simply a type of luxurious Moroccan home, many have been converted into hotels in destinations like Marrakech.

Ryokan: A traditional Japanese inn which offers minimalist rooms with tatami mats instead of Western-style beds. Other ryokan amenities include communal baths and restaurants, and guests are usually requested to remove their shoes inside.
Unique Hotel Concepts
Why stay in a typical hotel when you can have a one-of-a-kind experience? These innovative accommodations prove that there's more to the hotel industry than the big-box chain hotel.
Boatel: Even those prone to seasickness can enjoy a boatel, which is just a fancy name for a boat that doubles as sleeping accommodations while it's moored in a harbor or marina. Boatels can be small boats perfect for a family or out-of-service cruise ships that offer hundreds of cabins.
Pictured: Capsule Hotel Hakodate
Capsule Hotel: Also known as a pod hotel, a capsule hotel offers micro-rooms with single beds and shared bathrooms. These efficient hotels give budget travelers an affordable place to sleep with more privacy than a hostel, and they're popular throughout Asia.

Castle Hotel: Want to sleep like royalty? A castle hotel is housed in a real castle, often found in rural parts of Europe, that has been converted into a fully functioning hotel complete with running water, electricity, and WiFi (usually!). 

Hotelship: During high-demand periods when a city doesn't have enough hotel rooms, hotelships come to the rescue. Passenger vessels like river cruise boats or ocean liners temporarily dock in a city to provide additional sleeping capacity.

Hotel Barge: Set on canals in France, the Netherlands, Germany, and other European countries, hotel barges provide a few luxurious rooms and day excursions to wineries, markets, or castles.

Pop-Up Hotel: A temporary hotel which is only open during limited dates or a holiday period. Some pop-up hotels are constructed for festivals or sporting events, while others can be part of elaborate marketing strategies for brands like Jack Daniels.
Pictured: A Rotel in Germany
Rotel: Short for "rolling hotel," a rotel is what you get when you merge a tour bus and a hotel: bus in the front, hotel in the back. Rotels are popular in tourist destinations in Europe, Asia, and Africa.

Underwater Hotel: Forget counting sheep; at an underwater hotel, you can count fish as you fall asleep. Set in resort destinations like the Maldives and Singapore's Sentosa Island, these luxurious hotels offer underwater rooms with sea views - literally.
Hotel Alternatives
Hotels aren't your only choices when it comes to places to sleep during your travels. A growing segment of "alternative accommodations" puts a twist on the vacation experience with options available for every budget and style.
Cabin: A home located in the forest or mountains, usually made from natural materials like wood. Cabins can range from simple accommodations to luxurious retreats in rural destinations.

Campsite: Want to get back to nature? A campsite is as close to nature as you can get. Book your campsite, bring your tent, and enjoy a night (or a few) under the stars. Campsites have access to shared bathroom facilities.

Farm Stay: For city dwellers, a farm stay can be quite an adventurous vacation. On a farm stay, you might wake up to the sound of roosters crowing and help your hosts harvest vegetables for your dinner, since guestrooms are either attached or adjacent to the host's home.
Pictured: Istra Premium Camping Resort
Glampsite: If campsites had star ratings, then glampsites would surely earn five! Glamping puts a luxurious spin on camping with posh tents that incorporate high-quality materials, chic decor, modern bathrooms, 

Guesthouse: A simple accommodation which offers guestrooms within the host's own home. Guesthouses can have up to a dozen or more rooms, and most provide free breakfast.

Holiday Park: A group of mobile homes or cottages with community amenities like swimming pools and tennis courts. 

Homestay: A room for transient guests within the host's home, which is a popular accomodation type in rural areas. Homestays usually include breakfast, and some invite you to dinner with the host family.

Ranch: Ever wanted to be a cowboy or cowgirl? Ranches offer the quintessential Wild West experience, complete with horseback riding and plenty of nature. They vary in quality from luxurious resort ranches to working ranches where guests help with daily operations.

Recreational Vehicle: The perfect road trip solution is a recreational vehicle (RV), which looks like a bus or large van on the outside, but features all the comforts of home on the inside, including at least one bed, a kitchen, a bathroom, and living space.

Short-Term Rental: This new term refers to vacation homes or apartment rentals that travelers book for a short period of time, from one night to a few weeks. Short-term rentals can be managed by individual hosts or brands like Sonder.

Studio: A single-room accommodation that includes a kitchen or kitchenette, a bed, and a bathroom. Studios can be found in guesthouses, apart-hotels, or as short-term rentals.

Timeshare: This innovative solution to vacation home ownership lets you purchase a condo or villa for a certain time period (usually one week) each year. Some timeshares include use of just one property, while other timeshare membership programs allow you to redeem your week at your choice of several properties.
Tiny House: A trendy, Instagram-ready, and efficient accommodation that offers a bed, a bathroom, and a kitchen in just a few hundred square feet of space. 

Treehouse: Ideal for the young at heart or anyone searching for a truly unique accommodation, treehouses offer a bed in the trees. These eclectic properties can be basic, open-air platforms or magical, luxurious palaces in the sky.

Vacation Home: Simply put, a vacation home is a house rented for short-term use. A vacation home is a great solution for families or groups who want their own kitchen and living spaces and prefer not to book multiple guestrooms.

Vacation Rental: The broader term for vacation homes, apartments, condos, villas, timeshares, treehouses and more that are booked for the purpose of a short leisure stay.

Villa: Usually found in tropical vacation destinations, villas are like small, private resorts with multiple structures (standalone bedrooms, living areas, gazebos) and outdoor pools.

Yurt: A halfway point between a hotel room and a tent. Yurts are permanent structures with walls and roofs, unlike tents, but they often lack electricity and climate control and use shared bathroom facilities.
Ready to pack your bags? Let us know if we missed any types of hotels.