M3 Launches Labor Management Mobile App
Leading hospitality software provider debuts time-saving mobile application to support on-the-go hoteliers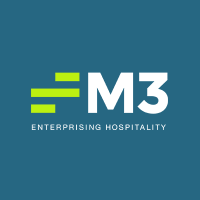 Today, M3, the hospitality sector's #1 cloud-based accounting, financial reporting and data management platform, launched M3 Labor, a comprehensive mobile application supporting the company's popular Labor Management tool. As the hospitality industry further embraces mobile technology, M3 has developed a robust cloud-based solution designed to give more time and greater flexibility to hoteliers through data-driven workforce management tools delivered to their smartphones.
M3 Labor offers all current and future Labor Management customers instant access to M3's exclusive, cloud-based reporting system, providing seamless labor monitoring from time clock to paycheck. Delivering real-time labor dashboards, customizable labor views and on-the-go punch management, the app is designed to help hoteliers monitor associate hours and proactively avoid unnecessary overtime.
"The launch of M3 Labor for iOS and Android delivers timely data to all hotel property staff," said Steve Pappas, Labor Management Product Manager at M3. "General managers can monitor and manage labor proactively via M3's patented visual bubbles, keeping them engaged with guests rather than at their desks. With the app, staff members are always aware of future schedules and accumulated hours, reducing questions historically posed to supervisors."
M3's proprietary workforce management solution, Labor Management, is used by over 27,000 employees working in 1,000 hotels across North America. Now, app users can easily monitor hours and performance KPI's from their mobile devices via custom labor variance dashboards presenting metrics such as hours worked, labor dollars, POR and more. Time punch management provides a comprehensive overview of missed punches, shift schedules and more so managers can monitor on-the-clock employees in real time. Employees can also easily view schedules and timesheets, including hours worked and overtime hours, at their convenience via their smartphones.
For added cost-saving opportunities, M3 Labor can also be coupled and enhanced in conjunction with M3's business intelligence solution, Insight, which collects and reports critical data from various M3-supplied sources, including accounting data, labor management data, operating statistics, Smith Travel Data and guest satisfaction surveys (GSS), to drive profits and boost efficiencies across entire organizations.
Current and future M3 Labor Management customers can now download and access the app in the Apple App Store or Google Play Store using their Labor Management login credentials. The app is available for both iOS and Android devices.