Vacation Rental Management 101: A Step-By-Step Guide to Launching Your Homesharing Empire
By Hotel Tech Report
Last updated January 26, 2022
5 min read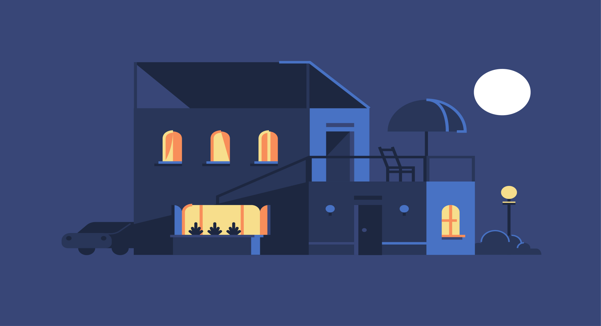 In this article, we'll explain how you can make money and delight guests through a vacation rental business. Vacation rentals aren't just a niche for family reunions or spring break parties; travelers are increasingly choosing extra space and privacy that comes with a home of their own over a traditional hotel room. Are you a homeowner that wants to get a piece of the pie and start your own short-term rental business but don't have experience as a property manager? This guide will walk you through the 8 essential steps to starting a vacation rental empire of your own.
Let's get right to it. Here are the 8 steps to launching your homesharing empire:
Choose your first market

Acquire and set up a property

Make an operational plan

List your property online

Welcome your first guest

Reflect and read your reviews

Build your brand

Add to your portfolio
1. Choose your first market
If you're going to launch a vacation rental business, you need to decide where to launch. If you're looking to make some extra income from your vacation home - you can obviously skip this step. Think about a few considerations when making this decision. Do you want to manage vacation rentals in the city where you live? Or a market that you know pretty well? Or maybe you want to try a totally new market that looks promising. Research tools like Transparent, AirDNA, Mashvisor, and Zillow can help you crunch the numbers. Success is largely dependent on supply and demand. Ideally, you want high rates and occupancy for vacation rentals relative to longer-term multi-family rental prices. Property management companies can succeed in any market but favorable "rent arbitrage" and growth in local vacation rental demand set you up to acquire multiple properties in shorter periods of time.
We also recommend scouting out your competition by shopping around on Airbnb and Vrbo. Is there a lot of availability? How high are the rates? What about the review scores? If you notice less availability online, that could mean the market can support new entrants. When choosing a market, it's important to keep local regulations in mind too. Some cities have strict laws around vacation rental ownership and operations, while other markets are less restrictive.
2. Acquire and set up a property
Once you've settled on a market, now it's time to find your actual vacation rental property. Depending on the market you've chosen, it may be a home, an apartment, a condo, or something else. But how do you actually get access to it? Purchasing the property is one option, but if you don't have that kind of capital available, you can also lease a property or find investors to help you get started. You could also establish a vacation rental management company that manages properties for owners on a commission basis.
With keys in hand, you'll need to set up the property for guests. If your property is unfurnished, you'll need to furnish it. If you're managing a furnished property, you still may need to update the furniture, stock the kitchen with dishes and cookware, and purchase towels and linens. Equipping the property for guests might also mean setting up WiFi, cable, and utilities.
3. Make an operational plan
Although it's good practice to start your operational plan before inking the contract for your property, once you know the specifics of your property, you can finalize that plan. Running a vacation rental business is a complex operational challenge - especially if you're running it remotely. Some property owners prefer to commission full-service vacation rental property management companies that handle all facets of operations but these firms do not come cheap - after all, running a successful vacation rental business is a lot of work. Whether you hire a VR management company or go it alone - thinking through each step will help you prevent in-stay issues and maximize your efficiency.
Your operational plan includes processes for each step of the stay experience, including:
Do you need help with full-service management property management services?

How will guests book your property?

What vacation rental management software will you use?

How will guests check-in? Will you have a door code, a lockbox, or an in-person key handoff?

How can guests get help during their stay?

Who will help with maintenance issues? Do you have round-the-clock support?

What do guests need to do upon check-out (taking out the trash, starting the washing machine, etc.)?

Who will clean the property between guests? How will they know when guests check-in or out? And where will they do laundry?

What is your vendor services strategy? Will you use 3rd party cleaning services or hire a dedicated housekeeper? Will you provide concierge services?

How will you handle guest communication and encourage them to book with you again? Will you provide any guest services in stay or is it too much of a hassle?

What will your channel mix look like and which listing sites will you focus on? Is Homeaway hot in your area? Airbnb? Maybe you plan to design a website to capture direct business.
To be extra sure your operational plan will work, consider hosting a friend or family member for a test stay.
4. List your property online
Now that you know how you'll operate your vacation rental, it's time to book some guests! Most guests book travel online, so the best way to market your property is through online channels. Popular vacation rental booking sites include Airbnb, Vrbo, Tripadvisor, Booking.com, and Expedia. Depending on where your property is located and who your ideal guests are, you might also find relevant niche channels that target specific traveler segments and geographical areas.
In order to set your property up for success online, you'll want to follow a few best practices:
Take professional photos in good lighting, including photos of the bathrooms and exterior views.

Set competitive prices, perhaps with the help of a dynamic pricing tool.

Write a compelling, informative description.

List your property on multiple channels.
5. Welcome your first guest
Congratulations, you got your first booking! Now the real work begins. Your first few guests are the most important since they can determine the fate of your online reputation. It's important to provide a great experience for all guests, but the first guests are responsible for writing your first online reviews. If your first guests have terrible experiences and write negative reviews, you might not get any more bookings from that channel. You'll probably also need to issue refunds. On the other hand, if your first guests have fantastic experiences, those five-star reviews can help you score more bookings and charge higher rates in the future.
6. Reflect and read your reviews
Speaking of reviews, feedback from guests isn't just about earning that 5-star rating. Your guest reviews contain valuable insight into the guest experience - both the pros and the cons. By reading each review carefully, you can resolve problems and play up highlights that will make each future guest experience even better.
For instance, if a review mentions annoying street noise, you can consider adding a "sleep machine" that will play white noise to block out the horns and sirens. Make sure to mention the new addition in your listing descriptions! Or, maybe a guest wrote that they loved the taco restaurant down the street. Consider creating a local guide so all future guests can take advantage of the hidden gems the neighborhood has to offer.
7. Build your brand
Adding thoughtful touches like a sleep machine or a neighborhood guide won't just lead to good reviews, they'll also help you build guest loyalty. As your vacation rental business grows, you can start to build a brand - whether you put a logo and a name to it or just keep guests coming back to your Airbnb listing. Some vacation rental managers want to shift business away from platforms like Airbnb and Vrbo to save money on commissions, and focusing on repeat business is a great way to do that. In addition to maintaining relationships with your past guests, you can market your property to new guests through a dedicated website, social media profiles, blog posts, and partnerships with local businesses or travel agents.
8. Add to your portfolio
When you've mastered your first property, you might be ready to expand your empire to include new properties or new markets. Of course, managing one property is plenty of work, so don't feel any pressure to sign new leases or purchase new assets before you're ready. But once you are ready, you'll find that the processes and learnings from your first property often apply to additional properties, so the ramp-up is much easier the second and third time around. Before you know it, you'll be running your own homesharing empire.
Now that we've shared the 8 essential steps to launching a vacation rental business, we want to hear from you!
Which step are you most excited about?
Are you going to start laying out your operational plan?
Or maybe you're already brainstorming branding ideas.
Let us know what you think by leaving a comment or sending us a note.