Top 30 Vacation Rental Software to Manage Properties in 2023
By Adrienne Fors
Last updated January 04, 2023
20 min read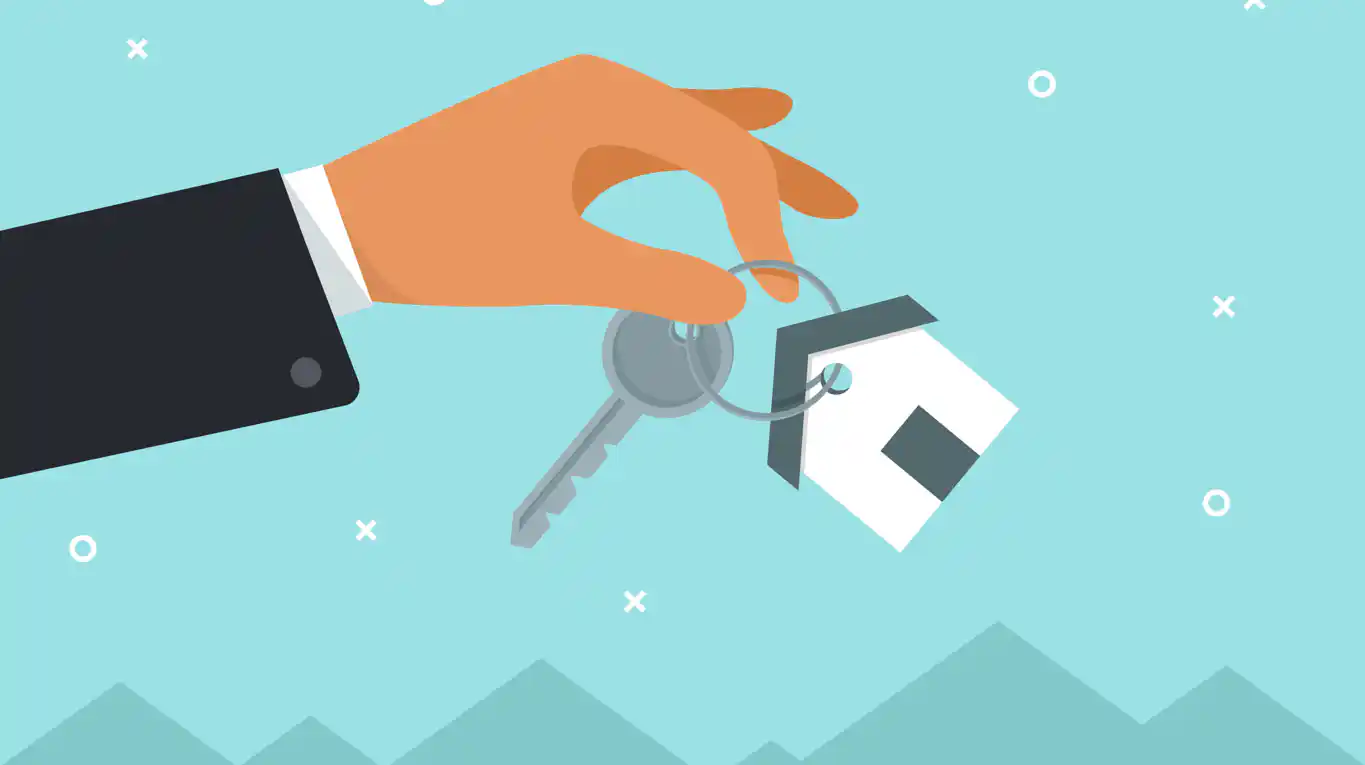 Are you wondering how you can streamline and simplify your vacation rental management operations? You don't necessarily need to hire a third-party management company or a big reservations team to drive online bookings; property management software can do the heavy lifting and make your vacation rental business much smoother.
But what exactly can these systems offer you? And which vacation rental property management systems are the best? In this article, we'll explain exactly what you can expect from a short-term rental property management system and help you pick a system that works well for your business. With a system in place, you can not only run a more efficient business, but also take advantage of marketing opportunities, new listing channels, and exciting integrations with ancillary services.  Before you know it your property won't just be live on major hotel booking sites or vacation rental websites but you'll even have your own website and operations system!
What is Vacation Rental Management Software?
In short, a property management system centralizes the reservations and operational tasks for your vacation rentals. Rather than logging into Airbnb, Vrbo, and Booking.com separately to manage reservations and communicate with guests, a property management system lets you do it all in one place.
Most vacation rental property management systems offer these basic features:
Multi-calendar: One calendar where you can see all reservations from all channels for all of your listings.

Reservation management: The reservation system module or CRS as it's called in more sophisticated hotel software gives the ability to change dates, prices, and other details for existing reservations.

Channel management: Synchronizing rates, availability, and sometimes content across all listing sites such as AirBnB, VrBO, Homeaway and Flipkey. With a channel manager, you can change your availability in your property management system and let the change be sent across all of your listing channels.

Booking engine: Booking software provides the ability to enter direct reservations booked offline (over the phone or in person) or online (via your own website or booking widget) and increase revenue coming from direct channels.

Integrations: Most property management systems offer a library of integrations that range from payment processors to dynamic pricing systems to keyless entry solutions.

Mobile app: Many vacation rental owners run their properties remotely so if you fit into that category you'll want a dedicated mobile app to run your business on the go wherever and whenever.
What are the Benefits of Vacation Rental Software?
Although property management systems do come with a subscription fee or commission, that fee is far less than what it costs vacation rental managers in time and lost bookings when trying to complete those same tasks without them. From the moment you set up your system and sync all of your channels, you can rest assured that you won't receive a double booking or lose a reservation in the shuffle. These systems also allow vacation rental owners to automate many operational tasks from bookings to guest experience. For example, you can configure check-in templates to be sent automatically before arrival. You could also set up automated text messages for your cleaning staff to alert them when you need a new cleaning. Many property management systems also offer a booking engine, which lets you easily accept direct bookings with major credit cards and other mainstream payment methods to rely less on the online travel agencies.
Vacation Rental Software Basics: Property Management Systems
Let's dive right into some vacation rental property management systems. Note that these are just a few of the many systems available, but they all offer a good combination of features and value.  Each system has its own unique user experience and design to facilitate vacation rental owners in customer acquisition, guest management and general business operations.  Many of these software solutions are also used by small b&bs who need real-time business management capabilities.  These smaller properties are often staffed and run similar to vacation properties of a similar size.
Guesty
As one of the most well-known companies in the vacation rental technology space, Guesty offers a lot of value to short-term rental owners and managers who are looking to take their businesses to the next level. The company has generated a lot of buzz, having graduated from the Y Combinator startup incubator and raising nearly $60M in funding (including a $35M series C investment in 2019).
Guesty offers all of the standard property management system functionality: a multi-calendar, a messaging tool, and reporting and analysis tools. The system also allows you to set up multiple user accounts with different access levels, create automated message templates and tasks (charging the balance of a reservation on the day of arrival, for example), and manage your listings' content and photos from one central place. Guesty pushes rates, availability, content, photos, fees, and policies to its direct integration channels, so you don't need to update this information on each channel individually. 
Unique features: The owner view allows you to configure special accounts for property owners to view only their specific properties - a major plus for property managers who manage listings on behalf of several owners. With certain subscription plans, you may also receive access to a dedicated account representative or a 24/7 support line.
Integrations: Guesty offers full, direct integrations with Agoda, Airbnb, Booking.com, HomeAway/Vrbo, Misterb&b, and TripAdvisor. Guesty also connects to Rentals United, a channel manager, which provides connections to more than 60 additional channels like Expedia, Housestay, Trip.com, and Google. Guesty's extensive Marketplace offers integrations with dynamic pricing software (Wheelhouse, PriceLabs), payment processors (Stripe), home automation and monitoring systems (Noiseaware, Minut), luggage storage solutions (LuggageHero), and keyless entry solutions (RemoteLock) - just to name a few.
Pricing: Guesty charges a commission between 2% and 5% per booking (including cancelled bookings), depending on how many listings you have. Accounts with more listings receive a lower commission rate. Guesty may also charge a setup fee (sometimes over $1000) depending on the plan you choose.
Disadvantages: While Guesty's direct integrations with the most popular channels are handy, the system does not offer iCal integration. If you use smaller, regional channels (or use an iCal feed for some other purpose), then Guesty may not be the best solution for your business.
Bottom Line: Guesty is one of the best short-term rental property management systems available, due to its impressive set of features and integrations. However, the system is also one of the most expensive (especially for high-end properties due to the commission structure), so you will need to decide for yourself whether Guesty's features justify the cost.
Lodgify
Based in Barcelona, Spain, Lodgify offers a beautiful property management system that's user-friendly and functional. The multi-calendar works well for multiple units, and it's easy to input reservations manually. The customer service team is always friendly and quick to respond (you can even take advantage of personalized onboarding support), and the company maintains a robust library of resources and blog articles.
Unique features: Lodgify's website builder is one of the best in the market. The tool includes several templates so you can quickly drag and drop widgets and add your own custom text. You can even add videos, maps, and custom code.
Integrations: Lodgify connects directly to Airbnb, Booking.com, and Expedia for rate and availability synchronization. A direct Vrbo is also available if you manage at least 5 properties. For all other channels, Lodgify uses an iCal connection that syncs availability and reservations, but not rates. The system also has free integrations with Mailchimp, Google Analytics, Zapier, and PriceLabs. Some integrations, like Stripe, come with an additional monthly fee.
Pricing: After a 7-day free trial, Lodgify's annual subscriptions for one property start at $12 per month with a 1.9% booking fee, or you can opt for the Professional version ($32 per month) which has no booking fee. For 25 properties, the Professional version costs $220 per month. Monthly subscriptions without an annual commitment cost slightly more.
Disadvantages: Lodgify's automated messaging tool falls short; it does not allow for much customization, especially with trigger timing and contact assignments.
Bottom Line: Lodgify is an excellent choice for property managers who want a solid property management system and an eye-catching website without needing to hire a website designer. However, Lodgify doesn't offer many integrations with third-party services, like keyless locks and dynamic pricing software (only with PriceLabs), so if you use many of these ancillary services, you may want to opt for a different system.
FantasticStay
FantasticStay recently acquired Vreasy, a popular short-term rental property management system, but luckily FantasticStay is retaining much of Vreasy's functionality. The system offers the standard package of calendar management, booking management, and a channel manager, plus a website builder and automated messaging. The user experience is smooth, and the system has a clean, modern look.
Unique features: One of FantasticStay's add-ons is a 24/7 guest response service, so your guests can receive quick responses to inquiries and messages even during the middle of the night or when you're busy with other things. You can also purchase a revenue management add-on that provides pricing guidance and a customer support add-on that gives you phone support around the clock.
Integrations: Direct connections to Airbnb, Vrbo, and Booking.com allow you to update rates and availability from FantasticStay rather than on each site individually. For all other sites, you can sync reservations and availability with an iCal connection. Through Vreasy, integrations to PriceLabs and Quickbooks are available.
Pricing: FantasticStay's basic plan has no monthly subscription fee, just an 0.8% booking fee, for an unlimited number of listings. This plan does not include integrations or any add-ons, like customer support. Higher-tier plans include all integrations, no payment processing fees, and personalized support. The annual Pro plan costs $214 per year for 20-29 listings.
Disadvantages: FantasticStay does not offer a direct connection to Expedia (yet), and since the software was originally built for the European market, some tax settings may not work properly for other markets.
Bottom Line: FantasticStay is a fantastic choice for Europe-based property managers. It's also great for property managers who want a low-cost, basic software to manage listings on Airbnb, Vrbo, and Booking.com with no additional integrations via the free plan.
Hostfully
In 2018 Hostfully acquired Orbirental, and today Hostfully's property management system still looks and feels a lot like Orbirental. The system offers a multi-calendar, automated messaging, a booking engine, and channel management for Airbnb, Booking.com, Vrbo, and Tripadvisor. Hostfully also connects to a couple other channel managers, like Rentals United and myBookingPal, which allows you to distribute rates and availability to additional sites.
Unique features: When many property management systems are shifting toward self-service customer support, Hostfully offers plenty of phone support. Even the most basic plan includes two setup calls with a support rep. Hostfully also offers its Digital Guidebooks feature, which is actually separate from the property management system. Even if you don't use the property management system, you can still purchase a guidebook-only subscription.
Integrations: Hostfully has a huge "Integration Zone" which includes integrations with dozens of complementary systems. You can connect to dynamic pricing tools, home automation solutions, cleaning management systems, and even HelloSign for digital signatures.
Pricing: Hostfully offers three plans: 1-4 properties pay $79 per month, 5-19 properties pay $189 per month, and 20+ properties pay on a sliding scale depending on the number of listings. 50 listings cost $375 per month. Monthly subscriptions come with a $400 setup fee, but the fee is waived (and you get a small discount!) if you sign an annual contract. 
Disadvantages: Some features, like automated text messaging and multiple user access, are not available for accounts with fewer than 5 properties. Hostfully itself doesn't offer an Expedia connection, but you can connect to Expedia via an integrated channel manager like Rentals United.
Bottom Line: Hostfully is perfect for property owners or managers who want a little extra support in the setup process and on an ongoing basis. Though it's slightly more expensive than other systems, there are no hidden fees or add-ons.
Hostaway
As noted front and center on their home page, Hostaway truly is an all-in-one vacation rental software offering not just the essential property management features to manage reservations and guests, but they also offer a massive library of integrations, communication tools, analytics, automation and so much more.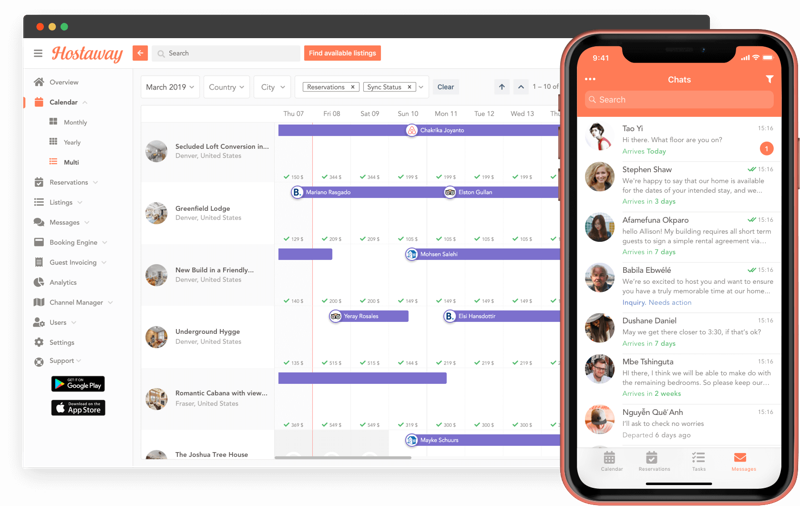 Unique features: This list could go on for a while because there are just so many.  Features like detailed financial reporting, process automation, revenue management and cross listing optimization all highlight the depth of professionalism and polish to the Hostaway product suite.
Integrations: Like many top tech firms, Hostaway has an open API which means that developers can build right to their product which is a common best practice in the tech world and is typically a leading indicator that a company offers tons of valuable integrations and in Hostaway's case this is absolutely true.  Hostaway's marketplace boasts integrations ranging from key distribution channels to payment processors all the way to advanced pricing optimization software so you can run your vacation rental with the sophistication of a major hotel chain.
Pricing: Plans start at $100/mo and vary based on which features you add on to your package as well as the scale of your operation.
Disadvantages: While depth of functionality and integrations are ideal for professional owners with multiple properties under management, many of Hostaway's features may not be needed for a single unit owner partaking in the sharing economy. 
Bottom Line: The Hostaway feature set, integrations marketplace and UX make it an outstanding SaaS solution for professional property managers with dozens or even hundreds of units under management empowering managers to run their operation with the sophistication of a major hotel company.
Beds24
Beds24 offers all of the standard property management functionality (multi-calendar, channel manager), plus a booking engine and integrations with several ancillary services. It's best for property managers who want to take full control of their operations and don't need much guidance from support representatives, since Beds24 does not offer phone support.
Unique features: Beds24 allows for a lot of customization - you can add essentially any restriction, pricing rule, fee, and policy you want, and the system makes it easy for you to set up channel connections on your own without the assistance of a support representative.
Integrations: Beds24 offers direct connections to Airbnb, Agoda, Booking.com, Expedia, Vrbo, and Tripadvisor. Several other regional channels are also available, as is iCal import and export functionality. Beds24 also integrates with PriceLabs, Duve, Mailchimp, several keyless entry solutions (igloohome, RemoteLock), and several payment processors (PayPal, Stripe).
Pricing: After a 14-day free trial, a Beds24 subscription starts at about $10 per month for one property. Additional properties/units and links to channels cost about $1 each. If you have 5 properties listed on 3 channels each, your monthly fee will be about $20. If you have 50 properties on 3 channels each, the monthly fee is about $70.
Disadvantages: Unlike some other systems on this list that have invested heavily in user experience and building a sleek, beautiful interface, Beds24 is a bit clunky. But while it's not the most fashionable system, it's certainly functional.
Bottom Line: Beds24 packs a lot of features into a very small price. If you're comfortable with a less user-friendly experience, this system is an excellent value.
iGMS
Since its launch in 2015, iGMS has grown to support over 100,000 listings with its property management system. You may know the company by its old name, AirGMS. In addition to a multi-calendar, automated messaging, and booking management, the system offers special functionality for automating cleaning team operations and notifications.
Unique features: Some systems only let you set up a direct Airbnb or Vrbo connection to one Airbnb or Vrbo account, but iGMS allows you to configure direct connections with multiple Airbnb accounts, which is a nice option for property managers who list different properties under different profiles. The cleaning management features also help to streamline cleaning operations at scale.
Integrations: Direct integrations are available with Airbnb and Vrbo (for rates, availability, and reservation); all other sites use a simple iCal connection. iGMS doesn't offer much in terms of third-party software integration.
Pricing: After a 14-day free trial, iGMS offers two plans: a pay-per-booking plan with a fixed cost (around $1) per booking, or a monthly or yearly subscription with no fees per booking. The "Pro" plan costs $100 per month for 5 properties and includes 24/7 email and phone support. Under the same plan, 20 listings cost $360 per month with an annual subscription.
Disadvantages: iGMS does not offer a direct connection with Booking.com or Expedia, making it a less strategic system for property managers or hosts who want to distribute listings on sites beyond Airbnb and Vrbo. As of today, iGMS also does not offer a website builder.
Bottom Line: Professional property managers, rather than individual owners or part-time hosts, may get the most benefit from iGMS, especially if your business is focused on Airbnb and Vrbo and not Expedia, Booking.com, or direct bookings.
OwnerRez
Catering to the traditional vacation home market, OwnerRez brands itself as "built by owners, for owners." The company believes in simplicity and transparency, but that doesn't mean the system lacks functionality. In fact, OwnerRez offers a vast array of features, from a multi-calendar to a guest database to automated message templates and responders. OwnerRez is known for its clean, user-friendly interface and hands-on customer service. The company is open to suggestions and encourages users to let them know about any features they're missing.
Unique features: OwnerRez offers their own damage protection and travel insurance products. The system also allows you to collect and analyze your guest reviews from a variety of different sites.
Integrations: OwnerRez offers integrations with dynamic pricing software (PriceLabs, Beyond Pricing, Perfect Price), several keyless entry systems (RemoteLock, among others), guest communication tools (Duve), and QuickBooks (extra fee applies). You can also add an OwnerRez widget to your website via Wordpress, Weebly, SquareSpace, and WIX.
Pricing: After a 14-day free trial, OwnerRez charges a monthly fee dependent on the number of listings and a choice of add-on features. With no add-ons, the monthly fee for 5 listings is $28.99 (as of June 2020) and $131.99 for 50 listings. The plans include unlimited bookings. Add-ons include website hosting, channel management, and QuickBooks integration for a few more dollars per month.
Disadvantages: iCal imports and exports are included in the monthly fee, but for property managers who want to use the channel management functionality to sync rates, availability, restrictions, content, and policies to sites like Airbnb, Booking.com, Vrbo, and Tripadvisor, you'll need to pay extra. OwnerRez does not have an integration with Expedia (yet).
Bottom Line: OwnerRez is a great choice for cost-conscious property managers who want a lot of features, integrations, and input into the company's development pipeline.
How to choose the best VR property management system for your short-term rental business
With so many systems to choose from, it's easy to feel overwhelmed. Take a minute to think about the functionality that matters most to your business. Do you want a great website builder, or do you want to focus on listing your properties on as many channels as possible? Do you want a dedicated support representative or are you comfortable with email support through a queue? And how much are you willing to spend?
Once you've determined which features are the most important to you - and what your budget looks like - then you can make an educated decision about which property management system works best for your business. If you're not sure which features you want, then you can sign up for a few free trials and explore several systems. It's worth investing some time in choosing the right system because your business will become much more efficient in the long term when you've partners with a strategic short-term rental property management system.
Complete Your Vacation Rental Software Tech Stack
Wondering what should be in your short-term rental tech stack? A property management system is just the tip of the iceberg when it comes to technology that can add value to your vacation rental business. If you've ever wanted to automate tasks, run a more efficient operation, offer contactless check-in, or build stronger relationships with your guests, then software can be your secret weapon.
This rest of this article will cover software that helps you in four aspects of your business: communication, pricing, operations, and home automation. These cutting-edge companies provide technology that can lead to better guest reviews and an enhanced stay experience - maybe even in ways you didn't know were possible.
Communication Software
Property managers spend a lot of time communicating with guests - and for good reason, since communication can make or break the guest experience. But what if you could automate your messages and give guests the resources they need to answer their own questions? These systems will help you spend less time answering messages like "what's the WiFi password?" and more time focusing on driving your business forward.
Hospitable: Possibly the best third-party system for automated messaging. Not only can you configure templates, like check-in instructions or notifications for your cleaning team, you can also create responses to frequently asked questions. Smartbnb will automatically send your late check-out policy, for example, whenever a guest messages you about the possibility of a late check-out. Smartbnb has integrations with Airbnb and Vrbo, with a Booking.com integration in the works. Oh, and the interface is super user-friendly.
Duve: Duve is a one-stop-shop for everything guests need to know about your property between booking and check-out. You can load upsell offers, send automated messages, create a digital guidebook, and monetize early check-ins and late check-outs. Duve integrates with many property management systems, like Guesty and Beds24, for a seamless operation.
YourPorter (by Guesty): This system started as a simple messaging tool, but it now offers channel management capabilities too. YourPorter allows you to automate every step of the messaging process, from the initial inquiry to a post-stay review. YourPorter works directly with Airbnb, Booking.com, and Vrbo.
Hostfully: In addition to its property management system, Hostfully offers a great digital guidebook system, in which you can organize a plethora of information about your property into a nicely formatted guidebook with its own URL. Hostfully's guidebooks are totally customizable and include space for you to add house manual items, check-in/out info, house rules, area recommendations, and more on "cards" that you can organize however you like. Include your guidebook's URL in your booking confirmations and check-in instructions for easy access.
Pricing and Market Intelligence Tools
You can use all the communication software in the world, but if your vacation rental isn't priced competitively, your business will suffer. Dynamic pricing tools and sources of market data and trends are two essential types of software to add to your short-term rental tech stack.
Dynamic Pricing
Do you set your property's prices manually? If you do, it's time to start using a dynamic pricing tool that does the heavy lifting for you. These pricing tools analyze tons of market data to come up with pricing recommendations that will increase the likelihood that your place gets bookings - and profitably. You can also add restrictions, blackout dates, and minimum rate thresholds so you don't need to worry about eroding your value.
PriceLabs: Based on minimum, base, and maximum prices that you enter yourself, PriceLabs will set dynamic rates for you and push those rates to Airbnb or your property management system. PriceLabs integrates with several property management systems, who can then push rates to Vrbo, Booking.com, and others. In addition to pricing, you can set restrictions like minimum lengths of stay, and you can use the Market Dashboards feature to get a sense of booking trends in your market. PriceLabs charges a monthly fee per property.
Wheelhouse: Wheelhouse offers tailored, automated dynamic pricing based on your property's goals and market performance. You can decide if you want the system to focus on more occupancy (and lower rates, likely) or higher rates (and lower occupancy, likely). Wheelhouse can push rates directly to Airbnb and Tripadvisor, and it offers integrations with several property management systems. Wheelhouse charges between 0.75% and 1% per booking.
Beyond Pricing: Like PriceLabs and Wheelhouse, Beyond Pricing also sets dynamic prices based on market data. You can add seasonal minimum rates, restrictions, and additional discounts or price increases based on how far away or close the arrival date is. Beyond Pricing can push rates directly to Airbnb and Vrbo, or it can integrate with several property management systems. Fees range between 1% and 1.25% per booking, plus an implementation fee on some plans.
Market Intelligence & Data Analytics
If you're new to the short-term rental game or considering investing in a new property, it's a good idea to do some research on average rates, occupancy percentages, and property types in your area. AirDNA and Transparent are two of the industry's best sources of market data.
AirDNA: AirDNA pulls data from Airbnb and Vrbo into its detailed MarketMinder dashboards. These dashboards are available for over 80,000 cities and neighborhoods around the world. Basic data, like the number of rental properties, average rates and revenues, and amenity trends are available for free, and to access more detailed data, you can activate a paid subscription.
Transparent: Using data from Airbnb, Vrbo, Tripadvisor, and Booking.com, Transparent offers extremely detailed insights into market trends. You can track your competitors, watch booking patterns around high-demand dates, and dive into pricing trends. Transparent's data is only available with a paid subscription.
Operational Solutions
Searching for software that will help you make your daily operations more efficient? These companies offer services that any host can benefit from, especially as your short-term rental business grows to include more properties. 
Payment Processors
Payment processors help you with one of the most important aspects of your business: getting paid! Payment processors allow you to charge credit cards and transfer the funds into your bank account. Some property management systems include a built-in payment processor, but for property owners and managers who need a third-party system, two of the best and most popular are Stripe and PayPal. The two systems are very similar (they even charge the same transaction fees - 2.9% plus $0.30 per transaction), so your decision will come down to simple personal preference or which or the two integrates with your property management system.
Cleaning Management
Just as important as getting paid is making sure your vacation rentals are squeaky clean for every guest's arrival.
TurnoverBnB: This system will manage all of your cleaning operations for you, from scheduling to payouts. After you add your cleaning staff's contact info and set up the connection between TurnoverBnB and your property's calendar, the system will automatically notify the cleaning team when cleanings are needed. It has a handy mobile app too!
Properly: Properly's cleaning checklists mean you will never let a guest check in to a property that's not totally clean again. The system, which offers a sleek mobile app, offers checklists that your cleaning staff can complete as they clean each unit. Cleaners will receive notifications about new cleanings, and you can even set up automatic payments for completed cleanings.
Luggage Storage
How many times has a guest asked you if they can drop off their bags before your check-in time? Unless you have a building with a front desk or some other storage facility, you probably can't offer much in the way of luggage storage - unless you partner with one of these baggage storage solutions!
LuggageHero: LuggageHero doesn't just offer a solution for baggage storage, but property managers can also earn some incremental revenue with their referral program. LuggageHero partners with local businesses to provide secure places to store suitcases. If your property has extra space, you can even become a LuggageHero yourself.
Stasher: Like LuggageHero, Stasher partners with local businesses to offer places for your guests to store luggage. You can earn affiliate income when your guests use the service, and you can automate the entire process by including your Stasher link in your booking confirmations or check-in instructions.
On-Property Systems
If you manage multiple properties - especially if your properties are scattered across the country or the world - you might want to have insight into (or control over) what's happening at the property level. On-property devices and software can help you monitor noise, allow self-service check-in, adjust the temperature, and even turn lights on and off.
Noise Monitoring and Automation
It happens to every host: your neighbors complain about a lot of noise, your guests say they didn't throw a party, and you're stuck in the middle. These monitoring and automation systems help you keep a pulse on what's happening on property even if you're far away.
NoiseAware: NoiseAware offers indoor and outdoor noise sensors that alert you whenever loud, sustained noise happens on property. The system doesn't record the actual noise, so your guests' privacy is protected.
Roomonitor: Roomonitor monitors noise and sends alerts to you, your guests, or both when the noise level reaches above a certain threshold.
Minut: Minut monitors noise, temperature, humidity, and motion. With this information, you know if guests have checked out, if the heat or A/C is still on, or if windows are open. Minut also has a home alarm function for extra security.
Operto: If you use a variety of smart devices in your properties, Operto organizes all of them in one single dashboard. You adjust the temperature via your smart thermostat, check noise levels via your noise monitoring system, manage keyless entry, and even send automated messages to your guests without logging in and out of multiple apps.
Brivo: This system enables you to control all of your properties' smart devices from one place, including smart locks, garage door openers, climate control systems, and noise monitors. The system integrates with several channel managers for even smoother operations.
Lynx: Like Operto and Brivo, Lynx offers integrations with many home automation devices - from intercom systems and smart locks to speakers and window coverings.
Lock and Entry Solutions
More and more hosts are shifting to tech-powered check-in processes, especially as social distancing guidelines require property managers to adopt contactless check-in procedures. You can find many check-in options that are fully self-service for the guest and don't require much time investment for the host, like smart keyboxes and keypads.
igloohome: igloohome offers stylish entry solutions that work for pretty much every property type and budget. You can choose between keypad locks that you install on your doors, or if you don't want to do away with keys entirely, igloohome also offers a keybox with a smart keypad. You can reset codes remotely, and the locks do not require WiFi, which greatly extends their battery life. igloohome integrates directly with Airbnb and Booking.com.
RemoteLock: RemoteLock provides software that works with many different smart lock brands, like Kwikset and Schlage. The locks use either WiFi or Bluetooth to allow secure entry with either a passcode or a smartphone confirmation, which you can manage and track from the system's dashboard. RemoteLock integrates with Airbnb, Vrbo, and many property management systems.
Ready to run a more efficient, effective, and profitable short-term rental business? These smart software solutions can help you reach your business goals while delighting guests and keeping your neighbors happy.
***
What is the best vacation rental software?
HotelTechReport's ratings, which incorporate real user reviews and software functionality, name Guesty, AxisRooms, Maxxton, Ciirus, and Lodgify as the best vacation rental software solutions. All of these systems are tailored specifically to the unique needs of vacation rental owners and property managers.
What is the best short-term rental software?
According to HotelTechReport's user reviews and analysis of software functionality, the best short-term rental software is Guesty. With features like a reservations multi-calendar, task assignment, and payment processing, Guesty is HotelTechReport's top pick for a property management system designed for short-term rental operators, and other highly-rated systems include AxisRooms, Maxxton, Ciirus, and Lodgify.
Which is better to rent from Airbnb or VRBO?
Whether you opt for an Airbnb or Vrbo property depends on your needs and preferences. Airbnb offers more options than Vrbo, with over 6 million active listings that range from apartments and houses to treehouses and yurts. Vrbo has fewer listings, but the majority of them are traditional vacation homes, which are great for families and groups.
What is the best rental property management software?
For residential property management, top landlord software options include Yardi, Buildium, and AppFolio. These systems have features like tenant screening, maintenance request management, automated rent collection, and messaging. If you're managing vacation rentals, Guesty is the best vacation rental property management software, according to HotelTechReport's rankings.
What is the best affordable property management software?
TurboTenant is one of the best free property management systems for landlords, but tenants must pay a fee to use it. Another great option, TenantCloud, is free for the first 75 units, and it has features like rent collection, maintenance requests, and lease and notice templates. Two of the best-value paid systems are Buildium and AppFolio.
Is QuickBooks good for rental property?
QuickBooks is a good accounting system for many businesses, but it lacks some key functionality that add value to landlords and property managers. While smaller-scale property managers can customize QuickBooks to manage their accounting needs, it does not offer a tenant portal, maintenance requests, or reports specific to property management.