8 Tactics to Improve Your Hotel's Digital Marketing Strategy Right Now
By Valeria Santalla
Last updated September 30, 2020
4 min read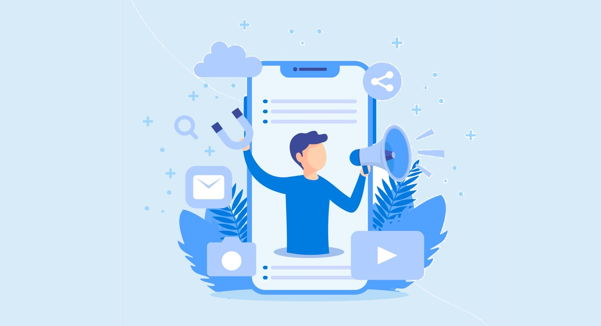 Behind every successful hotel in the world, a group of heartwarming staff makes a unique experience for their guests. The other part is a hotel digital marketing strategy that gets your brand out for the world to see.
Sometimes, very known digital marketing strategies might still apply to the hotel industry, but a few other moves are particularly great for hotel businesses!
For instance, this would be a great time to take a look at your marketing approach and ask yourself if it is too directed to millennials. These generations are no longer kids, and they have now become an essential piece of the market you need to address.
When "the customer is always right" is not enough, we give you a few tips on hotel marketing strategy to get your vacancies up!
1. You Need a Stunning Web Design
Although many travelers tend to go to sites like Booking.com, they might still refer to your own site in order to take a closer look at you. You definitely need a great web design and a sharp SEO to attract the right customer and make a great first impression.
Let's talk SEO, optimize your keywords, and external links to your site to improve your search rankings (Google, for example).
On-site SEO
Optimize your online SEO (all your digital presence) to increase visibility online. This means optimizing titles, images, descriptions, and tags to use relevant keywords.
Off-Site SEO
Offsite SEO includes positioning your site on external resources. Putting backlinks on other websites, blogs, social media, directories, and others that you don't own, can give your hotel's site more visibility and more authority.
Use Chatbots
Chatbots can enhance your user experience.
Mobile-Friendly Site
Keep in mind more searches are made over phone devices, so you should assume most of the searches for hotels will happen that way too! A mobile-friendly site makes it easy for the mobile user to enjoy your beautiful website and have a great experience too.
When a website is not responsive for mobile, it leaves a wrong first impression on the users.
2. Content Marketing is Also for You
Content is the best way to drive authentic traffic to your site, with highly intended customers, that paid ads not always seem to get. You can work a content marketing strategy with different sources! You can write entertaining blog posts, build custom landing pages with different themes, seasonal topics, for example. Social media is another great source to create content around your hotel brand but more on it ahead!
Share relevant, interesting content about your locations and what visitors can do while staying at your hotel. Overall, give details about your location, for example, food, places to visit, museums, etc.
To have great content, you need high-quality images and juicy descriptions! An SEO-focused text is essential, too, to get your content on your perfect customer's radar!
3. Join Community Apps
Apps like TripAdvisor, Yelp, and others are great to direct potential guests to your website. Take your time to optimize your information on these listings and build your hotel's reputation. Even Google My Business is a must for every hotel business. Make sure you have created an account and added descriptions, images, location, hours, and basically anything they need to know about your hotel.
Local SEO
Optimize for local SEO by adding your location every time you mention your hotel. This can help you rank higher for local searches like "hotel in Orlando" for example. This makes it easier for your hotel in Orlando to be found rather than trying to make it to Google's first page on a very generic search like "hotels in USA."
Work On Your Reviews
Obtaining positive reviews is golden. Remember your guests to give you a review and if they are valuable, share them for the rest of the world to see. Positive, honest reviews help create your hotel's reputation.
More than 70% of hotel website traffics comes from travel agencies like Kayak, Expedia, etc.
4. Create Videos
Show rather than tell your future guests all about your amenities, local activities, and best features! Now that video footage is more affordable than ever. You can create engaging videos for your business in just a few clicks. Tools like Placeit allow any business owner to create their own high-quality content.
According to Worldhotels, 80% of internet users prefer to watch a video than read the same content tent.
If your video is entertaining enough, it gets a real chance to be shared on social media and gain more exposure!
5. Hotel Social Media Moves
A strong social media presence gives your hotel brand awareness, helps you build customer relationships, and lets you target new audiences. Using social media templates, you can create eye-catching posts to share every day because they are easy to use. Choose designs that keep in line with your hotel's vision. You can use, for example, wellness to create posts for your hotel's retreat and more.
User-generated content is definitely very valuable, and you can get from your social media. Whenever a guest tags their hotel at an amazing view, you can always share that content!
Social media has also given hotel brands a new opportunity to make their reservations using new modern ways. Facebook now has features for businesses to accept reservations and even payments! Even more, reasons to develop unique social media strategy and content.
Trivago recently awarded a resort in Mexico for their outstanding social media campaigns, which resulted in an especially large number of direct bookings via Facebook
Always keep a casual yet professional tone to talk to your customers. We promise nobody wants to talk to a machine.
Influencer Hotel Marketing
Choose relevant traveler influencers and make relationships with them; you can collaborate, and more. Influencer marketing can increase your brand awareness, redirect potential guests to your website, and overall increase your popularity.
Social Media Ads
Paid social media ads allow you to target a very specific niche you are looking to attract to your destination! Remember, your ads should be clean and clear, feature a stunning image, and have a very clear call to action on them!
6. Social Listening
Enable your Google Alerts to stay sharp for any mention on the web that might point to your business! You can read what customers truly say about you, and use that information in your favor!
You can also try apps like Curalate or Buzzsumo to manage your social media and website while also keep looking for outside mentions.
7. Email Marketing
Segment your audience with the right interests and send highly custom messages; they shouldn't be generic. Make your emails attractive, use deals, promotions, special discounts, and more. Reward your customer's loyalty and build meaningful relationships. This will motivate them to open your emails and look for a surprise!
Use eye-appealing, clear layouts. You can also write about your latest news, upcoming events, and more.
8. Use Remarketing Ads
These ads appear whenever someone is looking at your site and, at some point, leaves. The goal is to get these users to revisit your page. It works because these users are already looking for a hotel to stay in!
Final Thoughts
Use practical digital strategies that apply to the hotel industry. Get ahead of your competition in the industry with a solid marketing plan. Good marketing in hospitality requires continuously evolving and experimenting. There is no secret formula! You have to figure out what works best exclusively for you and your guests. WWithe previous tips, we hope you now have all the insights you need to build your own hotel strategy.