The Ultimate Airbnb Cleaning Checklist (Step by Step)
By Hotel Tech Report
Last updated November 18, 2022
3 min read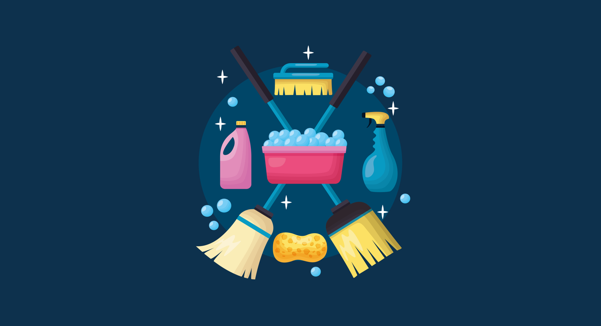 What's one of the most effective ways to score five-star reviews and stand out among the competition? It's easier said than done, but maintaining a sparkling-clean Airbnb will make your property a winner in guests' eyes. Cleanliness is essential, especially in post-pandemic times: guests who check into an Airbnb that's dirty will post a one-star review and never come back, and, if it's really bad, guests can report the situation to Airbnb, which could get your listing suspended or fined.
But it can be difficult to uphold cleaning standards due to turnover in cleaning staff or training challenges. We've found that one of the best solutions to ensure accountability is a simple, yet detailed, cleaning checklist. This article contains a comprehensive list of cleaning steps to follow no matter what kind of Airbnb property you operate. If you mark off each item between every guest stay, you'll be well on your way to those five-star reviews and the elusive Superhost badge.
Kitchen & Dining Area To Dos
 Clean dishes (by hand or in the dishwasher) and put them away
Sanitize all countertops and eating surfaces, like a breakfast bar or dining table

Sanitize dining chairs, high chairs, and any tabletop accessories, like salt and pepper shakers

Clean the inside of the sink and the backsplash behind the stove

Polish the faucet and any other hardware

Clean any hoods, vents, or fans

Discard any food or beverages leftover from prior guests

Wipe the inside and outside of all appliances, including the microwave and refrigerator

Restock kitchen supplies, including paper towels, hand and dish soap, dishwasher detergent, a sponge, and hand and dish towels

Refill any food or drink items you provide to guests, like coffee, tea, creamer, salt, pepper, and olive oil

Vacuum/sweep and mop the floors, making sure to get underneath any tables or chairs

Take out the garbage and disinfect the garbage bin

Do one final check to ensure all kitchen items are arranged nicely and no cleaning supplies are left behind
Living Area To Dos
Dust any shelves, appliances, wall art, ceiling fan blades, and tables

Vacuum cloth surfaces, like couches or armchairs

Vacuum floors and rugs, making sure to clean underneath the furniture

Clean windows and mirrors with a glass cleaner

Disinfect frequently touched surfaces such as light switches and remotes

Check that all lights work and replace lightbulbs if necessary

Check furniture for damage

Check that the sofa bed is operational; wash and replace the sofa bed linens if necessary

Launder and fold blankets and other living room textiles 

Organize decor, books, throw pillows, and other accessories

Set out a welcome book or welcome amenity, if applicable

Perform one last sweep of the room to ensure it looks tidy and welcoming
Bedroom To Dos
Strip and launder linens from all beds, including sheets, blankets, pillowcases, and mattress covers

Dust or wipe down all surfaces, like the tops of dressers and nightstands, ceiling fan blades, and bookshelves

Use a glass cleaner like Windex to clean mirrors and windows

Disinfect frequently touched surfaces such as light switches, remotes, and doorknobs

Check all drawers, closets, and underneath the beds for any items the prior guests may have left behind

Replace or restock bedroom amenities, such as earplugs or extra blankets 

Check furniture and decor for damage

Make sure all lights and electronics are functional, replacing lightbulbs or batteries if necessary

Vacuum or sweep floors and rugs

Take out any garbage, replace garbage bags, and sanitize garbage bins

Make up all beds with fresh sets of linens

Do one last scan to ensure all decor is arranged nicely and the bedding is wrinkle-free
Bathroom To Dos
Launder all dirty towels and bathroom textiles

Clean mirrors, windows, and glass surfaces with a glass cleaner

Clean the sink and polish the faucet

Scrub the inside of the shower and/or bathtub and polish the hardware

Clean or replace the shower curtain and liner, as necessary

Sanitize all surfaces on the toilet, including lids, the bowl, and behind the toilet

Dust vents and shelves

Take out any garbage, replace the garbage bag, and sanitize the garbage bin

Check drawers or cabinets for any items guests may have left behind

Inspect the bathroom fixtures and amenities for damage

Vacuum or mop the floors

Replenish toiletries and paper products, like toilet paper and facial tissue

Place fresh towels and top up inventory of extra towels

Arrange all bathroom items nicely, including hairdryer and toiletry products

Scan the bathroom one final time to ensure it?s spotless

Occasionally use drain cleaner to ensure drains never clog

If your Airbnb has a washer and dryer, be sure to empty the dryer lint trap and replenish laundry detergent between every stay.
Exterior & Outdoors To Dos
Mow the lawn and maintain any landscaping

Remove leaves, branches, or other debris from the yard

Ensure the driveway is clear of snow, ice, and leaves

Clean outdoor furniture frequently

Wipe down railings

Sweep any patio or deck space

Perform any necessary annual maintenance, like painting or washing exterior windows

 

With this checklist by your side, you can rest assured that guests will never complain about cleanliness issues. Pilots, scientists, and doctors all use checklists to hold themselves and their teams accountable for performing their duties; as an Airbnb host, you can benefit from this tried-and-true method to boost your guest review scores and keep guests coming back year after year.