ALICE Housekeeping: How to Optimize Your On Property Cleaning Team
By Jordan Hollander
Last updated June 26, 2023
8 min read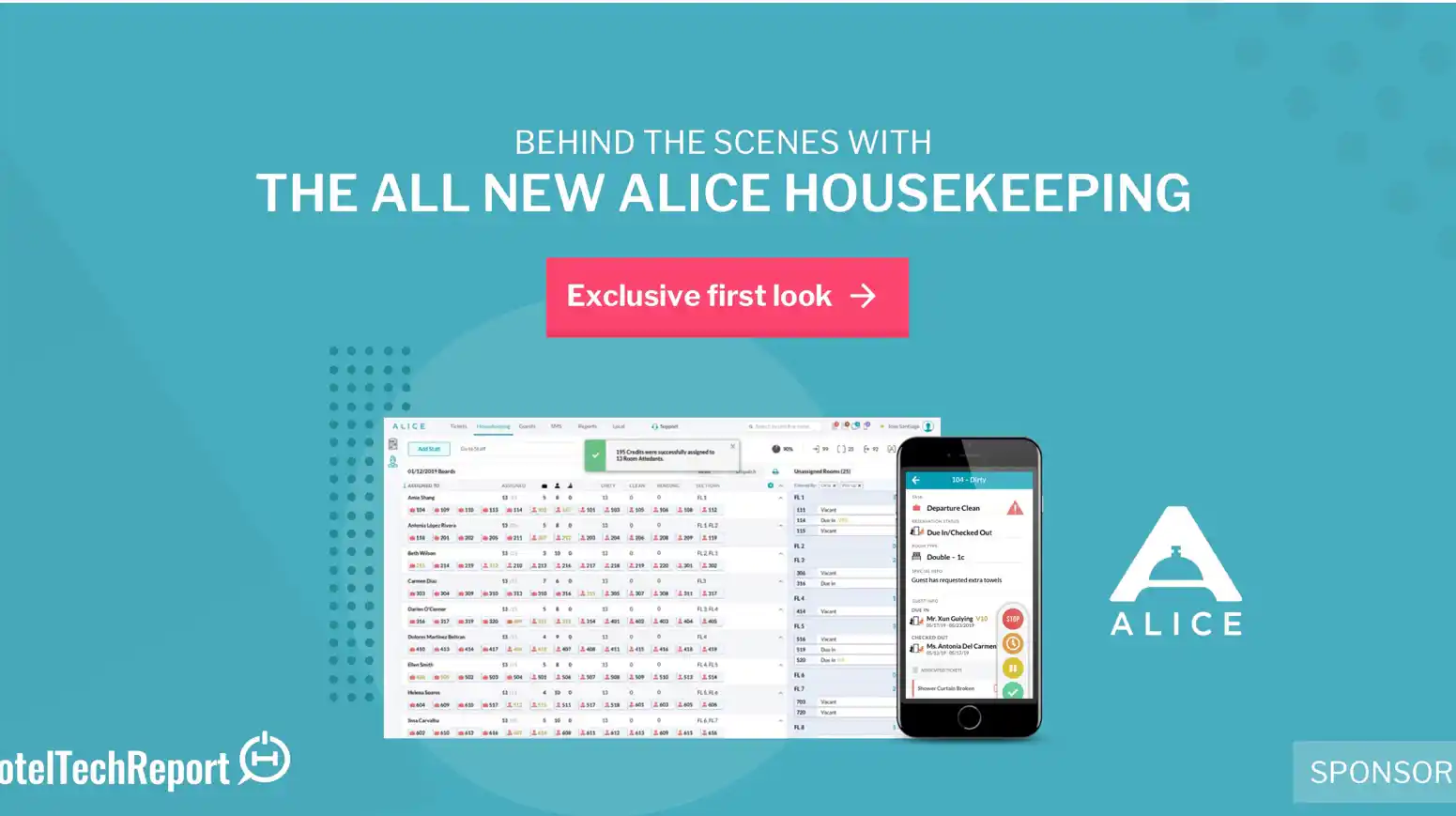 If you own or operate a hotel you know that labor is the single largest expense on your P&L and that housekeeping is typically the largest expense within your labor budget.  If you want to boost NOI, look no further than your housekeeping department.
Cleaning the average hotel room typically costs between $10 and $16 with luxury hotels often spending more than $20 (CPOR).  The majority of that cost (~65%) is spent on housekeeping salaries and wages. Hotels that are laser focused on housekeeping optimization often enjoy higher margins and ones that pioneer new housekeeping initiatives often enjoy a significant competitive advantage.
Starwood's "Make a Green Choice" program is one such initiative that not only drove company profits but also fundamentally changed the hotel industry.  Starwood's program allows guests to opt out of room cleanings in exchange for loyalty program points or F&B credit and is still running today - over 10 years later.  In fact, the program was so successful that almost every hotel in the world followed suit.
As pioneers in the "Make a Green Choice" movement, Starwood enjoyed a competitive advantage for years as the competition slowly caught up.  Today hotels around the world are enjoying a similar competitive advantage through the early adoption of cutting edge housekeeping management software.
Shockingly, most hotel housekeeping departments today still operate the same way they did in the 1980s.  Every morning, housekeeping managers create boards for their room attendants to reference in order to be able to identify which rooms they have been assigned to using age old tools like pen and paper, PMS exports, radios and other manual methods.  Due to the manual nature of the task, this process can take anywhere from a half hour to several hours each morning and the plan immediately becomes obsolete as soon as anything changes--even something as simple as a housekeeper arriving to their next assigned room to find a do not disturb on the door.  Manual methods also hamper efficiency offering little in the way of performance optimization data and lots in the way of potential human error. Housekeeping management software provides a suite of manager and room attendant tools that combine real time departmental communication and synchronization with sophisticated reporting and analytics.
This week, New York City based hotel tech darling ALICE made an announcement that is poised to shake things up for hotels across the globe with its all new Housekeeping product.

While ALICE has always offered a flexible staff communication and task management platform that is used by housekeeping teams across the globe--the all new housekeeping offering is designed from the ground up to deliver a magical experience that will leave even non-housekeepers wanting to take it for a spin.  The platform packs a punch with mission critical housekeeping management functionality like automated room assignments but delivers this functionality in an elegant and easy to use solution that integrates each department on property like a finely tuned orchestra.
ALICE gave us a glimpse into the future of housekeeping with an exclusive behind the scenes tour of their reimagined housekeeping product. Let's dive in, shall we…
The All-New ALICE Housekeeping at a Glance

A fresh take on a department that is one of the biggest cost centers for hotels, yet hasn't changed the way it operates in decades

Forward-thinking design and intuitive user interface based on a system of simple icons and labels that minimize training requirements and maximize team adoption

Push one button and watch your rooms inventory get magically assigned to the optimal members of your team based on your properties' bespoke rules and characteristics

Real time updates and notifications that make manual entry, tracking and repetitive tasks a thing of the past

Automated reporting that unlocks new levels of visibility into real time and retrospective performance to bring more to your bottom line

Platform approach enables seamless inter departmental handoff to supercharge your team's collaboration and put an end to expensive and frustrating human error

The all new ALICE Housekeeping boasts clean lines and an intuitive user interface that your team will actually want to use
One of the single biggest problems in hotel tech is adoption (i.e. getting your team to actually use software and use it correctly).  When hotel software implementations fail it's usually due to the fact that on property teams lack the product knowledge needed to properly leverage the tool.  For this reason, hotel software must first and foremost be simple and easy to use--clunky and bloated software rarely (if ever) reaches its full potential.
With ALICE, you can put this concern to rest.  The new housekeeping app design is stunningly beautiful and shockingly simple.  The product team over at ALICE has taken design hints from best-of-breed user interfaces like Facebook and Google.  Students of product design know that simplicity has long been the holy grail of product adoption and customer experience.  Housekeeping teams often suffer from high staff turnover, challenging language barriers and in many cases and a lack of formal education.  These factors make design one of the most important factors when selecting housekeeping management software for your hotels.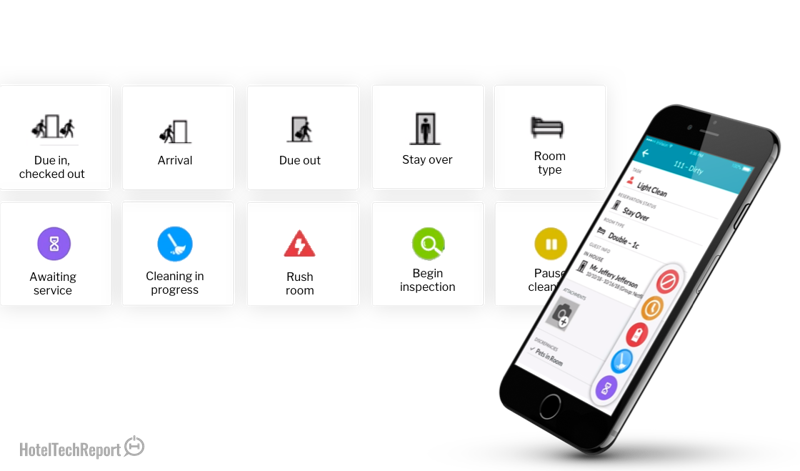 Legacy housekeeping software platforms often run on confusing code based systems (e.g. code 1724 = clean room) that can be difficult to train new employees on.  Contrastingly, ALICE runs on an intuitive set of icons and colored labels which deliver an easy to use experience for new hires and housekeeping veterans alike. Great software design delivers direct business benefits such as reduced training and generally faster on-boarding of new hires.  There's also a significant indirect benefit to ALICE's cutting edge UX design which often gets overlooked by hoteliers.
Choosing a technology vendor is as much about the future as it is about the present. Legacy software vendors often have hundreds or even thousands of features developed over the years that 90% of their users don't even know exist (let alone know how to use). ALICE's intuitive design ensures that your team will be able to easily learn and adopt new feature functionality as the platform progresses.  In fact, the ALICE interface is so simple and intuitive that your team can literally get started with little to no prior training on the software.
It's not surprising how intuitive ALICE Housekeeping is given that the product team didn't even begin designing the product until they had spent more than six months shadowing hotels and performed more than 100 user interviews with hoteliers across various segments and geographies to learn about their pain points, daily routines and what makes them tick.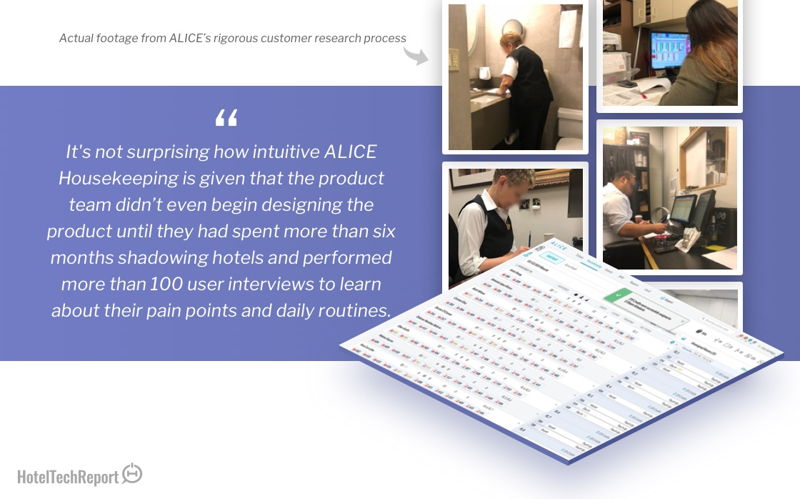 Push one button and watch your rooms inventory get automatically assigned to the optimal members of your team based on your properties' bespoke rules and characteristics
While ease of use is critical for team adoption--the true magic lies in ALICE's pièce de résistance which is (drum roll please…) automated smart room assignments.
If you operate your housekeeping department the old fashioned way (as most hotels still do), your executive housekeeper sits down at their desk each morning to assess available labor and rooms turnover.  They then spend anywhere from 30-minutes to several hours assigning 'points' to staff (ie. the standardized way of allocating housekeeping labor availability to demand on a daily basis) ensuring that all rooms that need to be cleaned are scheduled to be cleaned as efficiently and quickly as possible to accommodate incoming arrivals. This process can be extremely manual and intuition based which leads to lots of guesswork and a myriad of snowballing sub-optimal decisions that cost your hotel valuable time and money.
For hotels that want to skip the guesswork and run an efficient housekeeping department,  ALICE's new housekeeping product allows your team to press a magic button then watch everything fall into place like a game of Tetris.  
Once you press the "auto-assign" button, ALICE's algorithm instantaneously matches your staff with their optimal room assignments based on your hotel's pre-determined staffing and inventory rules. This process can save your housekeeping managers anywhere from one to three hours each morning. Your housekeeping managers can then use that time saved to focus on other mission critical items that improve the guest experience and optimize your assets.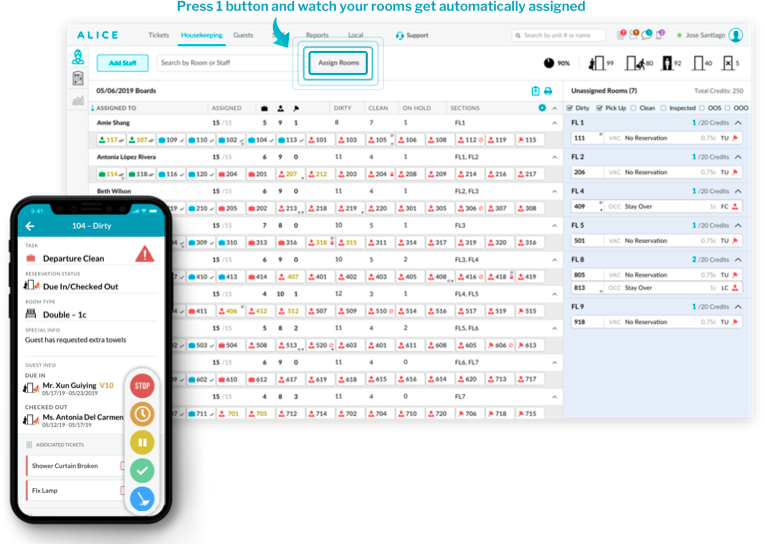 Don't want to let the computer do the work for you?
No problem, ALICE offers complete flexibility for human override coupled with a simple drag-and-drop interface.  You know what they say though, once you go auto-assign you never go back.
Auto room assignment is only the tip of the iceberg because in a hotel, things are constantly changing. These critical changes don't just happen daily, but hourly and sometimes even by the minute. A housekeeper calls in sick.  A guest arrives early. An elevator breaks down.  The list of exceptions, changes and variables is nearly infinite so keeping track of them and adjusting in real time is critical - this is where ALICE really shines.
Every room change, late checkout, VIP arrival, etc. upends your whole plan and requires you to reoptimize.  These types of real time optimizations with hundreds of variables and constraints are extremely difficult (if not outright impossible) for the human mind to compute.  With ALICE, however, things like a rushed room will trigger the software to re-optimize room assignments instantaneously sans the mental math and back and forth team coordination.
So unless your housekeeping manager is able to calculate sophisticated optimization algorithms on the fly - they'll be forever grateful for your decision to invest in ALICE.  The platform is likely to save them time, alleviate stress, make them better at their jobs and allow them to focus on the more strategic decisions within the department. Not to mention, it may even help them fend off some grey hair.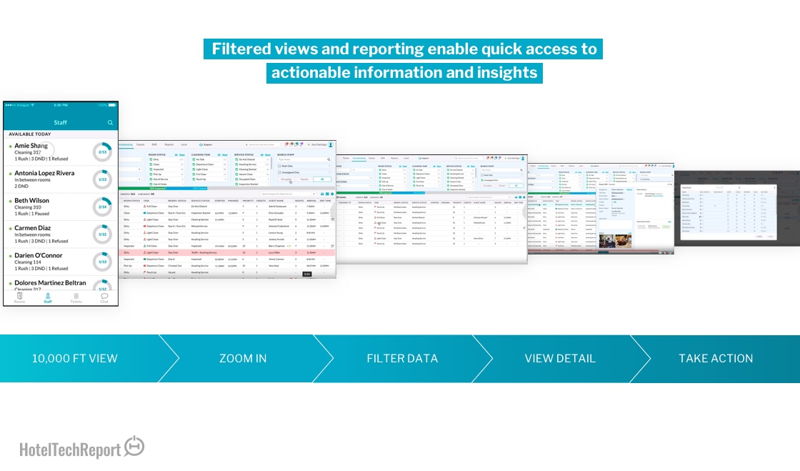 Just considering the time savings alone for each fully turned room, investing in housekeeping software should be a no brainer for bottom line focused hoteliers
The fatal mistake that many hoteliers make is that they are so caught up in the day-to-day operations that they miss the bigger picture and the impact that seemingly small boosts to efficiency can have on their bottom line at scale.  A few minutes here and a few minutes there might not seem like a big deal in the moment (especially if you don't have software to track and measure this inefficiency) but that's exactly what makes these types of invisible inefficiencies so dangerous silently sucking profit out of your operation.
Let's look at an example.  Imagine you operate a 200 room hotel running 80% occupancy and 2.5 night LOS (length of stay).  Based on those numbers, you are going to be cleaning north of 20,000 rooms each year and that's not even considering turndown service, mid-stay cleanings or special requests. So while shaving 4-minutes off of every one hour room cleaning might not seem like a big deal on its own can actually have a major impact on your hotel's bottom line.  In fact, this one optimization alone has the potential to lead to enough in cost savings to pitch ownership on upgrading your hotel's housekeeping software to the 21st century as a 2-4x ROI initiative as shown in the image below.

The new housekeeping product stays true to ALICE's platform approach creating a one stop shop for running and optimizing your hotel's operations
With this robust new housekeeping offering, ALICE's platform creates a seamless symphony between front of house and back office team members while enabling hotel owners and operators to gain critical visibility into their operations and make more informed decisions that ultimately lead to serious bottom line results.

The day-to-day operation of a hotel rests on hundreds of daily requests both internally between departments, and from guests.  Each of these requests involves subtle critical details, back-and-forth communication, execution and follow-up which is what makes seamless pass-on of critical information to the right team member, with native escalation procedures so essential when it comes to identifying and reducing human error.
Equipped with ALICE, a housekeeper can leave a note about damaged equipment which automatically creates a work ticket, assigns the ticket to an engineer and notifies them to address the issue.  A room attendant can quickly tag an item left behind for lost & found by snapping a photo so that the front desk knows which guest to expect a call from in real time. ALICE has done an incredible job converting the daunting complexity of hotel operations into elegant simplicity.
What's also great is that once you start using ALICE, you can say goodbye to all manual tracking, note taking and back and forth communication relays thanks to automated notifications, updates and task routing built directly into the platform.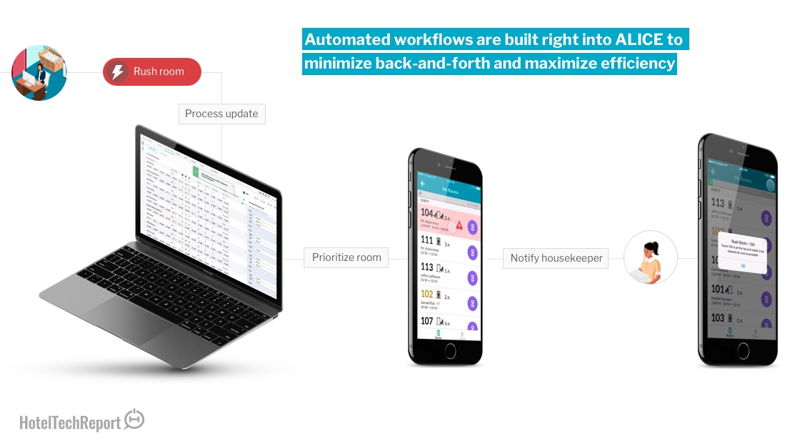 Is ALICE Housekeeping right for your property?
The platform is a fresh take on a department that for most hotels hasn't changed the way it operates in decades.
While housekeeping features like automatic room assignments and real time progress reporting stand on their own as valuable additions to the ALICE product suite, the power truly gets unlocked when the platform is utilized by your whole team: front desk, engineering, concierge and housekeeping. Leveraging the full ALICE platform gives your team the tools they need to operate at peak performance by being completely in sync with each other.
The all new ALICE Housekeeping combines the computing power of the cloud with deep operational expertise to simplify hundreds of housekeeping decisions made on property each day, and ensure that the optimal decision is effortlessly made in even the most complex scenarios.
For some hoteliers, the intuitive UI and sheer awesomeness of ALICE's new automatic room assignments feature will be enough to upgrade their hotel's housekeeping software.  But if that's not enough for you then the promise of empowering your team to make better decisions that shrink the single biggest expense on your P&L is likely to do the trick.
So the question is, if your team can save time, communicate seamlessly, decrease human error, reduce operating expenses, improve service delivery, foster happier employees and give management the visibility and tools to make better decisions from the comfort of their desk - why wouldn't you give ALICE a try?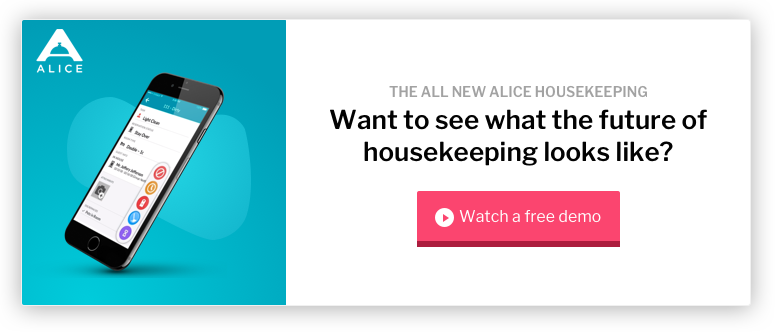 This content was created collaboratively by ALICE and Hotel Tech Report.