The 10 Best Places to Work in Hotel Tech 2023
By Jordan Hollander
Last updated January 12, 2023
7 min read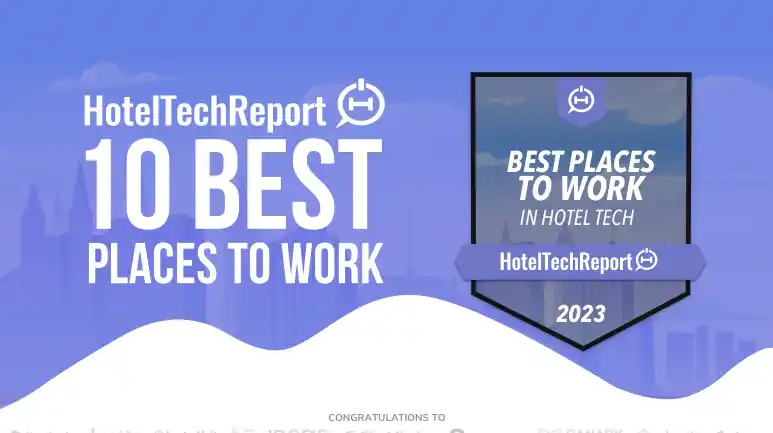 New year, new job? If you're looking to make a career move in 2023 or just learn about some up-and-comers in the industry, this is the list for you. Every year, HotelTechReport asks thousands of team members to share their experiences working for some of the top technology companies in the hospitality space. For industry professionals, this list can help you find your next dream gig. And for hoteliers who work with technology vendors, we recognize that you want to leverage not only the best tech, but also partner with organizations who treat their people well.
We asked the survey respondents about these important topics:
Work-life balance
Personal development
Gender equality
Confidence in the future of the company
Alignment with company values
Based on this year's survey responses, we noticed a few trends in the leading hotel technology organizations:
Flexibility and remote work
Stipends to cover professional development and continuing education
Structured career growth sessions and internal promotions
Women in key leadership positions
In-person team building events for remote employees 
Let's see how these trends play out in the top 10 best places to work in hotel tech.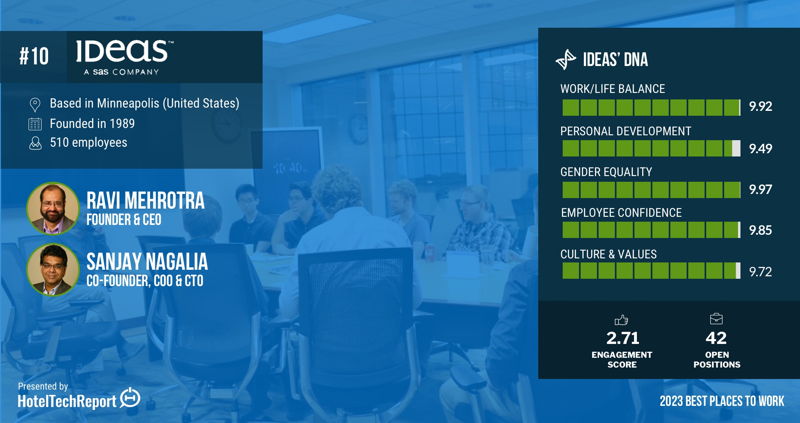 10. IDeaS
Revenue management pioneer IDeaS must have run the numbers and done some analyses to determine that building an employee-first culture pays dividends. With a hybrid work structure that allows employees to work from home or in the office, IDeaS gives employees generous PTO and unlimited paid sick days, which is incredibly helpful for parents or employees that are caretakers. In addition, the company offers many resources to support employees' mental health and encourages the team to take time away from work to recharge.
This flexibility to maintain balance in employees' personal lives means employees can be more productive and innovative at work. IDeaS has celebrated several big milestones in 2022, including signing contracts with large hotel chains and achieving profit margin goals, which shows that there's no sign of slowing down.
"The most memorable event or news was when we heard from the CEO of Choice Hotels mentioning IDeaS RMS as a game changer for their overall revenue. I cannot be more proud than this for my company."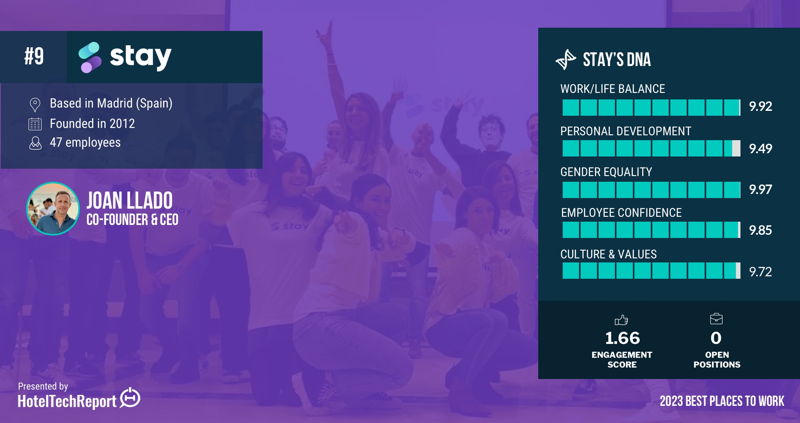 9. STAY
You can find guest experience app STAY in major hotel brands like Melia, Barcelo, and Riu, but, after more than a decade, the company culture has stayed true to its humble, family-friendly roots. Employees rave about STAY's flexible schedules and remote work options, which makes it possible for personal and professional lives to coexist. Although many employees work remotely, STAY ensures everyone gets to know each other in person through team-building events including a memorable off-site at a luxury hotel that uses their app.
"From the beginning, STAY has always ensured we as employees could combine both work and family, bringing us facilities and freedom to adjust our time to ensure both worlds are cared for."
In addition, STAY is laser-focused on the exciting road ahead. By investing in professional development, language classes, and gender equality (over 50% of STAY employees are women, including many in key leadership roles), employees are confident in the company's outlook. Throughout the past year, STAY has expanded its roster of partner hotels, and headcount grew – and is on track for further growth – to support these new partners.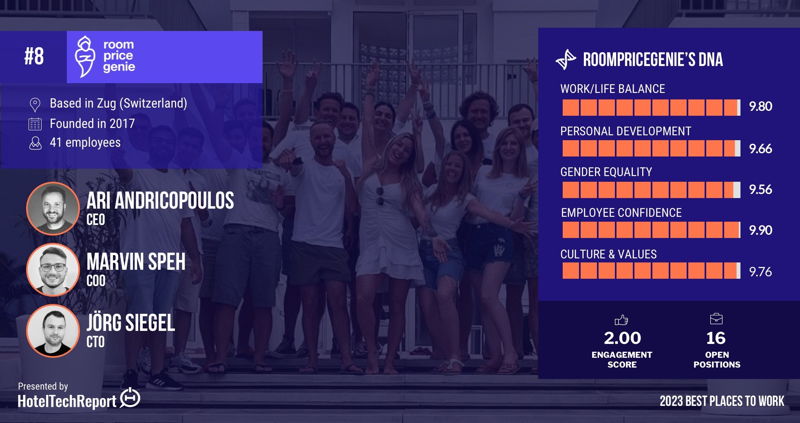 8. RoomPriceGenie
Seeking to serve independent and boutique hoteliers, revenue management tech startup RoomPriceGenie applies their passion for hospitality not only to clients, but also to their employees. Despite working remotely across several countries, RoomPriceGenie leaders make a point of keeping the company culture cohesive during the regular workday and on holiday:
"The highlight of this year was our week-long company trip to Tenerife. Everyone from our team joined this trip and it greatly helped in developing close working relationships with our colleagues, especially in the time of remote work."
Employees appreciate the flexible hours and investment in professional development. RoomPriceGenie gives 3 days off each year for professional development, employees can choose courses or workshops that RoomPriceGenie will pay for. Coupled with leaders that care about each employees' growth, it's no wonder why the RoomPriceGenie team is optimistic about hitting some big milestones in 2023. Plus, what's not to love about the five-week holiday break that employees get when they reach five years with the company?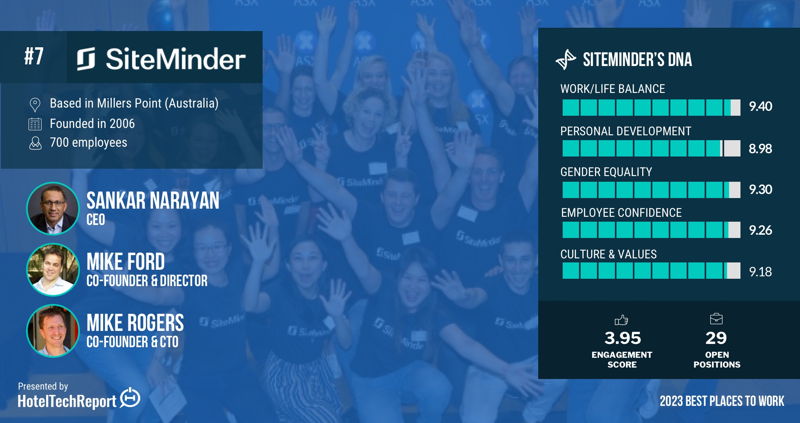 7. SiteMinder
In just 15 years since its humble beginnings in Sydney, SiteMinder has become not only a leader in the hotel tech industry, with over 30,000 hotel clients in 150 countries, but also a leader in employee engagement. With employees on six continents, SiteMinder's global team is always innovating, learning, and working on the next big thing – both in the office and remotely. Although the company has grown significantly in the last few years, team members still have opportunities to make an impact, like by building cutting-edge products or presenting at SiteMinder Sync (their virtual conference). As SiteMinder's client roster grows, so does its valuation, and in late 2021 the company went public on the Australian Stock Exchange with an AU$1.38B market cap (US$920M).
"Launching in ASX. It has been the greatest moment, as it is quite rare to see a start-up going public. The work done by our ELT for making this possible, after COVID when our industry was hit, it was remarkable. That strategy brought hope into the company and made us proud."
SiteMinder provides plenty of support to its employees that make these achievements possible: leadership training, career coaching, a buddy system for new employees, a mentorship group for women, and an expanded parental leave policy – all of which solidify SiteMinder's spot on our Best Places to Work list.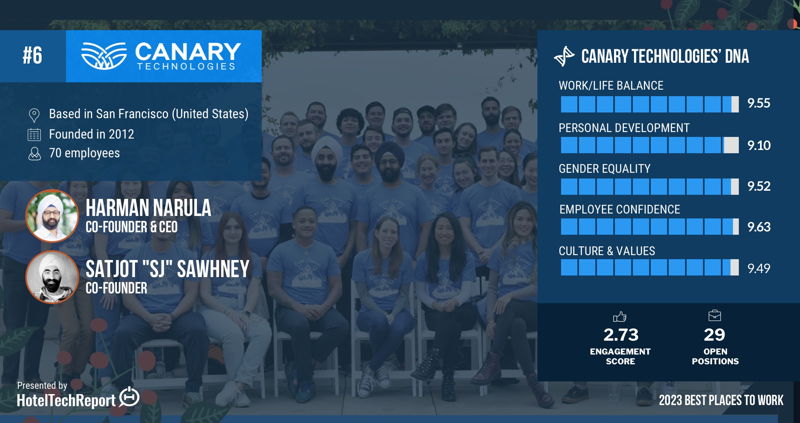 6. Canary Technologies
It's something to celebrate when a company gives a 3-day weekend every month called "Canary Days," but it's even more of an achievement when it's just one of many reasons why employees love to work there. Canary Technologies is like a Swiss army knife for hoteliers, with software that handles upselling, contactless check-in and check-out, guest messaging and more. This ethos applies to the company culture too, with a slew of benefits like unlimited paid time off, on-the-job training, fireside chats with women leaders, and career development support.
"Canary implements a very organised and thought-through review cycle every 6 months, followed by a personalised development plan that is discussed in 1-1s with your manager every 2 weeks. The managers take great interest in the growth and improvement of their team. Team members being promoted and moving across teams is very common and taken well!"
Canary's employees aren't the only ones on track for growth; the company recently closed a $30M Series B funding round, and Canary's roster of hotel clients is constantly growing, with presence in over 75 countries already!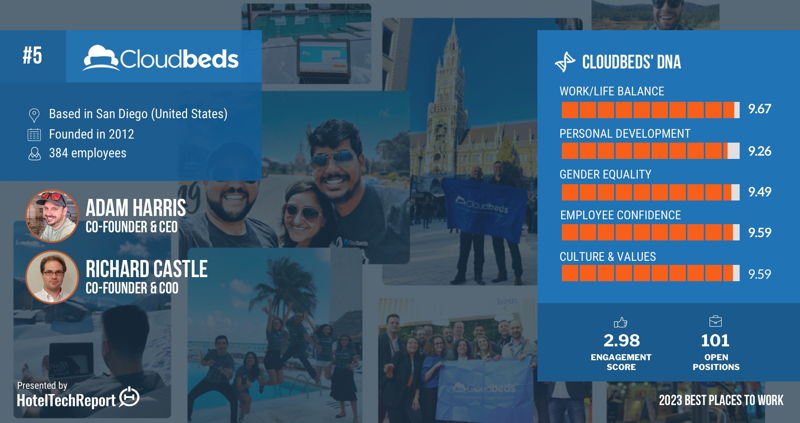 5. Cloudbeds
Cloudbeds is a Best Place to Work year after year, and after reading employees' rave reviews, it's obvious why Cloudbeds continues to make the list. In 2022 Cloudbeds celebrated its 10-year anniversary, and along the way the company has launched exciting new products, promoted many team members, and developed a tight-knit community of employees that span the globe. The support and care that Cloudbeds employees have for each other was especially evident when the conflict in Ukraine broke out.
"I don't think that it's a secret that Cloudbeds has employees living in Ukraine. The company offered hotel and food reimbursement for employees and their families who had to leave their homes to nowhere. They are also allowed not to work if they don't have possibility to. Many coworkers offered help in their home countries."
Cloudbeds continues to invest in training and development of its diverse workforce, with many leadership positions held by women, and flexibility to work remotely and maintain balance in personal and professional lives.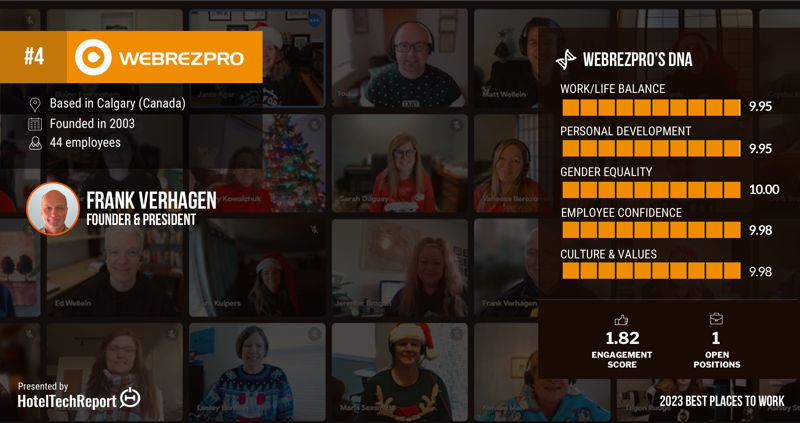 4. WebRezPro
The team behind property management system WebRezPro has won all sorts of awards for their product, but the recognition doesn't end there. Earning a spot on our Best Places to Work list for the second year in a row, employees love working at WebRezPro for their benefits, culture, and focus on growth. Employees get a week off, fully paid, during the winter holidays, and team members have the option to condense a full-time schedule into a 4-day workweek. In addition to a shortened schedule on Fridays, employees can work remotely and enjoy an inclusive, supportive culture.
"Our company fosters a very inclusive environment and the majority of our management team are women."
WebRezPro doesn't just support its employees emotionally, but also provides a stipend for training and development courses, though there are also plenty of training opportunities within the organization. Annual performance reviews help employees stay motivated and on track toward their goals as the company rapidly expands its customer base. Does WebRezPro sound like a good fit for you? Employee referrals are a great way to get your foot in the door!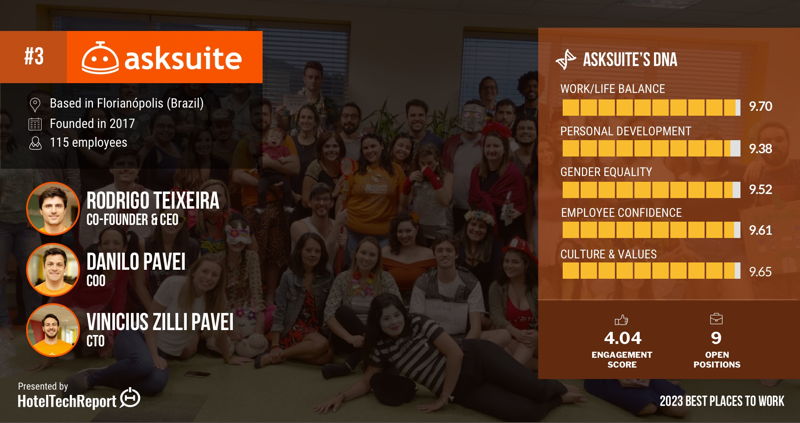 3. Asksuite
Another veteran Best Place to Work, Asksuite is well regarded for their chatbot app, which nabbed Best Chatbot at the 2022 HotelTechAwards. It's clear that Asksuite's success starts with their employees, who report being able to work flexible schedules and focus on professional and personal growth with education reimbursements and clear career ladders to show the path to a promotion. From day one, employees go through a thorough onboarding program, and the team celebrates achievements and milestones together.
"Despite being a result driven company, other core values are empathy and sensibility, not only applied to the relation with clients but among the collaborators. This is very important to create a healthy and encouraging work environment."
Asksuite has lofty goals for 2023, including working with more hotel clients, expanding into new markets, and hiring more team members to support this growth. Seeing the trend toward automation in many different industries, Asksuite's team is excited to make automation accessible to more hoteliers.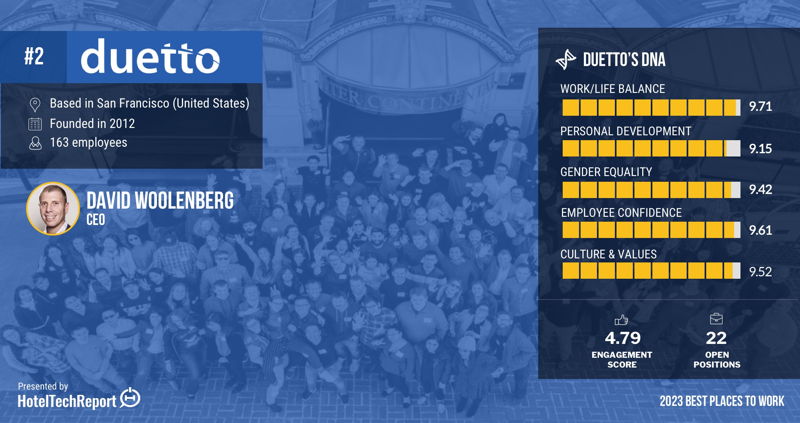 2. Duetto
Duetto might be known for their revenue management expertise, but the Duetto team should also be highly regarded for their company culture. The company has grown quickly, with teams spread across North America, Europe, and APAC, but team members share common goals and values.
"I started at the company earlier this year and have been amazed by the culture, professionalism and work ethic of everyone I've come in contact with. I really love our monthly town halls where we get to hear from leadership."
Employees mentioned many product-related highlights, from launching new features to building integrations with other hotel tech solutions. The company is on track to becoming one of the most popular revenue management systems in the world, but Duetto employees retain the humble, caring attitude of a smaller organization. Team members can work remotely, set flexible schedules, and take advantage of generous PTO, and employees report that managers are invested in their growth and provide feedback to help them get to the next level.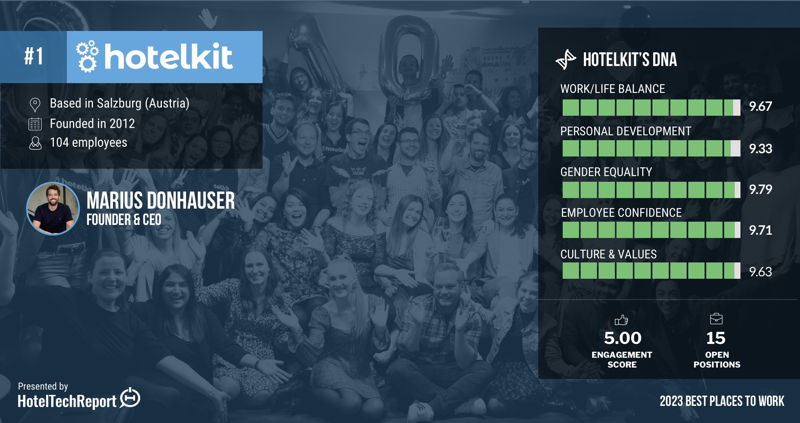 1. Hotelkit
And this year's winner, the #1 best place to work in hotel tech, is Austria-based hotelkit! hotelkit achieved big milestones in 2022, including celebrating its 10th anniversary, moving to a new office, and securing some big hotel clients. 
"Our 10 years anniversary party! It was amazing. It felt like we all celebrated our own 10th anniversary - we were super proud of our founders and of being part of this crazy cool company! it was a fantastic feeling - as if we could achieve everything only together."
But perhaps most exciting is that after all the growth and change, employees still feel valued, supported, and connected. In an age when many companies are shifting to a remote work model, hotelkit employees are happy to work from the office whenever they want to, where they can collaborate in person, socialize, and enjoy delicious, healthy food. At hotelkit, women hold almost all leadership positions, and the team regularly meets up for in-person events, including the annual team trip to Oktoberfest in Munich. Leadership maintains a high level of trust in their employees, as is evident by many internal promotions and involvement in key decisions.
Whether you're looking for a new job in the hospitality tech industry or looking for a software vendor, these companies offer a fantastic balance of award-winning products and award-winning culture.