Disney's MagicBand: Breaking Down One of Hospitality's Greatest Innovations
By Jordan Hollander
Last updated October 28, 2022
5 min read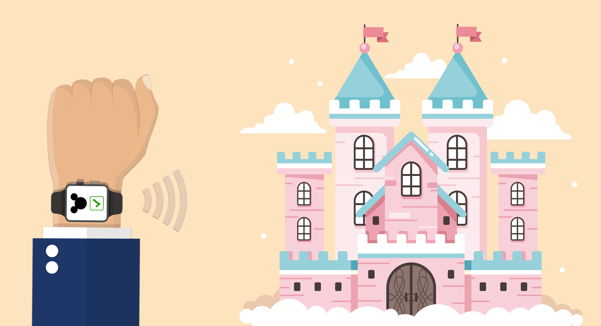 Looking for a glimpse into the future of technology in the hospitality space? At Walt Disney World, the MagicBand is not only a handy device that allows visitors to skip the line. It's also a stunning example of an innovative product that enhances the guest experience, sheds light on guest behavior, and uses technology to foster a closer connection to the brand. In this article, we'll explore the features and functionality of the MagicBand, explain how it came to life, and study the benefits of technology like the MagicBand so you can start brainstorming ways you might incorporate similar tech into your own hotel or hospitality business.  
What is Disney's MagicBand?
It looks like a simple wristband, but the MagicBand actually packs a lot of sophisticated technology into a small package. The MagicBand is worn like a watch, and it has a sensor that you tap on "touch points" throughout Disney hotels, parks, and resorts. It's fully waterproof and comes in a slew of colors and themes. Standard MagicBands come in eight different colors, or you can splurge on a limited-edition MagicBand that features Disney characters. One thing to note: MagicBands aren't free; if you have an upcoming Disney reservation, you can buy your MagicBand online ahead of time for around $20, or you can purchase it on-site.
The MagicBand is like a room key, a theme park ticket, and a credit card rolled into one device. With a simple tap on a touch point, guests can enter the theme parks, unlock their guestroom door at a Disney resort or hotel, pay for food and beverage, check in for rides, and sync photos taken of them around the resort to your account. Disney plans to launch the second generation MagicBand in summer 2022, and it will include lights and haptic elements which, for example, enable the wristband to vibrate or light up in conjunction with a fireworks show.
Guests at Disney destinations can use their MagicBand to:
Unlock the door of Disney Resort hotel room
Enter theme and water parks
Connect Disney PhotoPass images to their account
Charge food and merchandise purchases to Disney Resort hotel rooms
A MagicBand can also:
Unlock special surprises, personalized just for guests, throughout the Walt Disney World Resort
Automatically associate Disney PhotoPass attraction photos to the Photo Gallery on your Disney account
Why did Disney create the MagicBand?
In the mid-2000s, Disney executives were concerned about a declining trend in several key visitor satisfaction metrics at Disney World, Disney's flagship theme park. Citing issues like long lines and pricey tickets, around 50% of first-time visitors said they would not visit the park again. These worrying statistics were part of the impetus for Disney to launch the Next Generation Experience project in 2008, which also aimed to incorporate technology into the visitor experience at Disney parks to stay relevant among young, tech-savvy Disney fans.
To kick off the project, a task force of Disney leaders sought to completely rethink a typical day at the park. For example, it occurred to them that perhaps the traditional ticket window and turnstile entrance could become a thing of the past - along with the long lines that were, at the time, necessary to enter the park. In early 2008, John Padgett, Disney's VP of Business Development at the time, came up with the idea to create some type of smart wristbands that guests could use as a virtual "key" to the park, and then the team studied existing visitor behavior to decide how the wristband could be most useful to both visitors and park staff. After hiring some San Francisco-based designers, the MagicBand prototype came to include RFID functionality that would allow the wristband to serve many purposes: room key, admission ticket, credit card. CEO Bob Iger gave his stamp of approval, and Disney ended up spending roughly a billion dollars to roll out the MagicBand program.
How Does Disney's MagicBand Work?
Contrary to its name, the MagicBand isn't powered by hocus pocus, but rather by short- and long-range RFID chips that can transmit data up to 40 feet away. The short-range signal allows a MagicBand user to tap the wristband on a sensor, like a door lock or a payment terminal. The long-range signal allows Disney staff to monitor a guest's movement around the park or resort. For instance, a restaurant host can match a guest to their reservation immediately when they walk in the door, without having to ask for the guest's name. Disney installed thousands of RFID sensors in parks and resorts to collect and read the MagicBand data, which allows Disney's systems to connect the tap of a MagicBand to that specific guest's profile.
What are the benefits of Disney's MagicBand?
From a guest's perspective, the MagicBand creates a more seamless experience: no need to worry about losing your room key or waiting in line to enter the theme parks. Park visitors no longer need to wait in long lines at the ticket booths, and they get the convenience of not having to carry around multiple access items and payment methods. In addition, Disney fans can enjoy a more immersive experience by engaging with various activities around the park and even sporting a MagicBand that reflects their favorite Disney character.
But the benefits aren't limited to Disney visitors; Disney staff, both on-site at the parks or hotels and on corporate teams, can make use of a plethora of data points generated by the use of MagicBands. On-site employees can better anticipate guest needs and leverage profile information because they get a fast and accurate ID of every guest through their MagicBand data. And corporate teams can better understand guest behavior by studying patterns of MagicBand use throughout Disney venues. Together, the MagicBand data helps Disney create more personalized experiences, which drive guest satisfaction, and cater to guest needs, which boost revenues.
More Examples of Technology that Enhances the Guest Experience
Although Disney was perhaps the first large hospitality brand to implement technology on this scale, it's certainly not the only brand to do so. In fact, John Padgett, that former Disney VP whose idea kickstarted the MagicBand project, is now the Chief Experience Officer at Carnival Cruise Lines. He's currently working on a similar initiative which will take wearable tech to the high seas. The Ocean Medallion will act much like the MagicBand: it will allow cruise passengers to open their stateroom doors and purchase food and drinks. But perhaps more exciting is the potential for Carnival to create a hyper-personalized experience that doesn't stop at allowing staff to call passengers by name; Carnival's Compass app will serve recommendations for activities based on each passenger's behavior, which can help guests feel less overwhelmed by the choice of dining outlets and things to do onboard.
Even if you don't have a billion dollars to spend on new technology at your hotel, there are still some valuable takeaways from Disney's MagicBand initiative. It's now obvious that guests are happy to engage with tech (even wearing it on their bodies!) in exchange for tangible benefits like shorter lines or greater convenience. It's also clear that the onus is on the hospitality business, like the front desk or restaurant staff, to make good use of guest data in order to craft a memorable, customized experience. Even without a big budget, you can apply these same principles in your hotel. For instance, do you want guests to download your hotel app? Make sure to offer some tantalizing benefits when guests do download it. Or do you want guests to share their contact info and sign up for your email newsletter? Make it worth their while, otherwise they'll unsubscribe. With a thoughtful strategy and a goal of improving the guest experience, you too can introduce new technology into your hotel or restaurant.
From Mickey Mouse to Star Wars Disney and its Magic Kingdom parks have become synonymous with magical experiences. Whether you're at Walt Disney World Resort, Epcot or Disneyland in Anaheim - you know that Disney pulls out all the stops to create unique and differentiated experiences that bring us into a world of imagination. Each year families dive deep into their savings purchasing hotel rooms, fastpasses to skip lines, merchandise and now even streaming services from the media giant.
The Disney Magic band is the imagineering team's latest innovation in driving guest experience and has a myriad of lessons that hoteliers can apply to our own businesses. This is the quintessential example of using technology to eliminate poor user experiences, improve efficiency and create consistent surprise and delight.